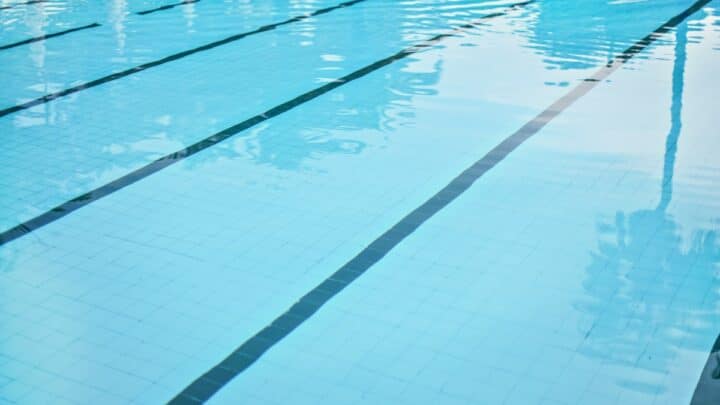 Looking for the best swimming pools in London? We've got you covered with this handy guide to the top places to take a dip in the capital.
From Olympic-sized pools and unique places to swim to indulgent spas with excellent pools to practice your backstroke, it's safe to say that London's not short of brilliant swimming pools.
Whether you're swimming for fun, for your health, or even if you're training to swim a marathon (you brave, brave soul), the benefits of this type of cardio are unmatched.
But with so many options, how do you choose where to go? We've done all the hard work for you and compiled our favourites…
The 12 Best Pools in London
The London Aquatics Centre
Stratford
Fancy swimming in an Olympic pool? Head to the London Aquatics Centre to rub shoulders with some of the top swimmers in the UK – after all, it's the most technologically advanced pool in the world (just saying).
After hosting the 2012 Olympic and Paralympic games, this pool is open to the general public, as well as clubs and professionals. The centre has three pools, a 50m pool with ten lanes, a moveable training pool, and an adjustable diving pool.
Though don't fret if you're not quite up to Olympic standards yet – the London Aquatics Centre is open to all, whether you're a total beginner or a skilled athlete.
Price: £5.35 during peak times, £5.10 off-peak.
Crystal Palace National Sports Centre
Crystal Palace
If you're looking to put in some serious laps, get ready to swim like an athlete in Crystal Palace National Sports Centre. It's set in a Grade-II listed building and features state-of-the-art facilities. In fact, we think it's the best swimming pool in London.
The centre boasts four indoor pools – a 50m pool where you can practice your strokes, a teaching pool for little ones, a training pool, and a diving pool with three platforms and four springboards if you're feeling brave.
Price: £5.65 during peak times, £3.20 off-peak.
Marshall Street Leisure Centre
If you're looking to make a splash in central London, head to Marshall Street Leisure Centre.
Not only is it one of the best pools in Soho, London, but it's the prettiest too – in fact, the pool is fully restored from the 1930s and features beautiful original marble floors.
The pool is 30.5m in length, so not quite Olympic-sized, but ideal if you're looking to keep fit, take part in an exercise class, or even bring the kids. We recommend indulging in a spa treatment after in one of the four rooms – you deserve it!
Price: Prices vary depending on time or class
Golden Lane Leisure Centre
Barbican
There's no pool in London more inspiring than the rooftop one at Golden Lane Leisure Centre. Whilst the pool is only 20m long, the gorgeous space makes up for it – as does the huge selection of fitness and swimming classes.
From group HIIT sessions to gentle family swimming, there's something for everyone at this top London pool.
Price: £6 for non-residents, £4 for residents.
Repton Park
Fairlop
Possibly one of the coolest swimming pools in London, Repton Park is a Gothic gem hidden away on the northeast fringes of the capital.
Set inside a disused chapel, the 25m pool may not be the largest London boasts, but we think that this might just be the most unique pool in London.
The only caveat? You'll need to become a member to swim in this sunken church, though we think it's very much worth it if you're living in the surrounding areas.
Where else can you swim surrounded by stained glass windows?
Price: Prices vary – you can sign up here.
The Castle Centre
After a £20m redevelopment, The Castle Centre has become one of the best places to swim in London.
The centre features a whole host of brand-new state-of-the-art facilities, including a pool, sauna, and steam room. All of which are free to residents, and included in the cost for non-residents.
Whether you fancy taking yourself off for a chilled swim on your own, or want to get involved in a fitness class (may we recommend Aqua Aerobics – it's a surprisingly challenging class!)The Castle Centre is one of the top swimming pools in London.
Price: Free for Southwark residents, £34.25 per month for everyone else.
Hampstead Heath Swimming Ponds
Feeling brave? We've raved about the Hampstead Heath Swimming Ponds time and time again – they're one of the top places for outdoor swimming London boasts.
Swimming is possible between 7 am and 7 pm throughout the summer, though it's always fun to join the surprising surge of visitors on Christmas day.
There are actually three ponds here: a mixed pond, a male-only pond, and a female-only pond. Make sure you're heading to the correct one to avoid any uncomfortable stares.
Price: Free
Ironmonger Row Baths
The Ironmonger Row Baths first opened in 1931 as a Turkish wash house, though have since undergone a huge restoration that has resulted in the brilliant London pool we see today.
Alongside a five-lane pool, the baths feature three hot rooms, two saunas, two steam rooms, and a plunge pool for a revitalising dip. And, if you're after something really special, you can also learn to scuba dive here.
Price: £5.65
Oasis Sports Centre
Boasting both an indoor and heated outdoor pool, the Oasis Sports Centre is one of the most popular places to swim in London.
It's no wonder really, as this is central London's only heated outdoor pool. There's also a gorgeous sun terrace, should the sunshine make an appearance.
Be warned: this pool gets very busy during peak times, so don't expect to get any decent swimming done – head there in off-peak hours instead.
Price: £6.85 in peak hours, free during off-peak hours for pay & play members.
Pools on the Park
Situated in the beautiful Deer Park, Pools on the Park is one of the top places to swim in southwest London.
With an indoor and outdoor option – the indoor one is the larger of the two at just over 33m long – you can flit between the two, depending on the weather (let's face it, you'll probably spend most of your time indoors).
The best part? Once you've spent a couple of hours swimming, you can head out into the park for an afternoon of picnics and deer-spotting.
Price: £5.60
The Porchester Spa
Looking to swim in a little bit of luxury? The Porchester Spa might just be hiding the London swimming pool for you.
First built in 1929, this art-deco-style pool is a bonus of one of London's top spas. Once you've spent time in the three Turkish hot rooms, head to the 30m pool or the plunge pool to cool off.
It's a pricier day of swimming sure, but it's also a fantastic experience that allows you to relax and unwind, alongside the other main perk of keeping fit.
Price: £25.50 for full use of spa facilities.
London Fields Lido
This is another pool we have featured time and time again, but London Fields Lido is just too good not to include in this London swimming pool guide.
Tucked away in the corner of London Fields park, this outdoor Hackney pool is a whopping 50m long and open all year round. The brightly-coloured changing rooms are sure to brighten up even the dullest of London days, and they offer swimming lessons for both adults and kids.
Price: £5.25
Best Pools in London: Practical Tips and Map
If you're serious about swimming, it's usually cheaper to purchase a membership that allows you to swim during off-peak hours. This avoids the crowds and means you can swim in peace.
Plenty of pools offer adult lessons (as well as those for children), which is perfect if you want to learn to swim or simply want to brush up on the basics.
Looking For More Guides to Swimming in London?