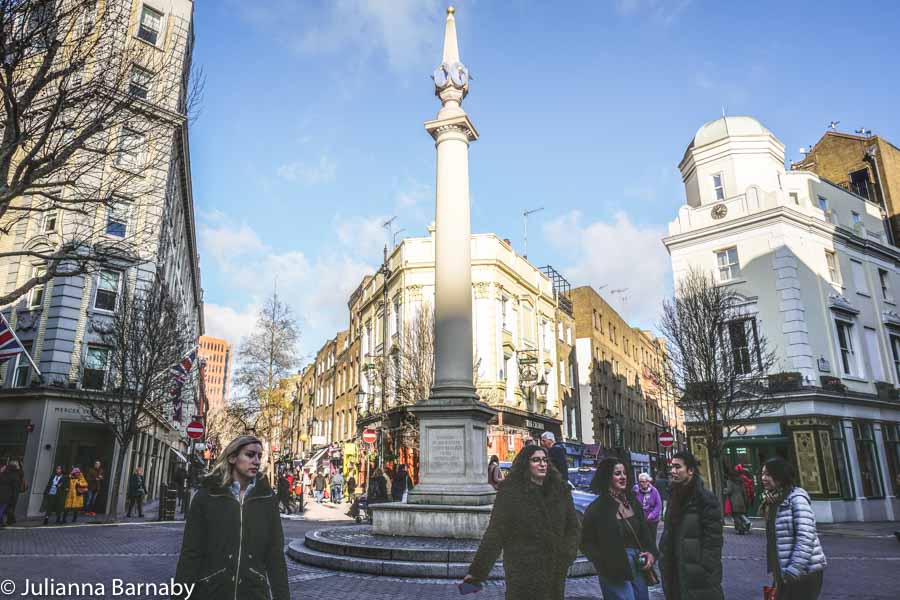 A few short steps from the hustle and bustle of Covent Garden, Seven Dials offers an alternate take on central London – one filled with quirky and independent shops and more than its fair share of cool bars. Time to explore…
Cool Things to do in Seven Dials
Sitting smack bang in the middle of theatreland, it's no surprise that Seven Dials isn't short on character. With a distinctly different vibe from the centre of Covent Garden, take a walk around. You never know what you will find.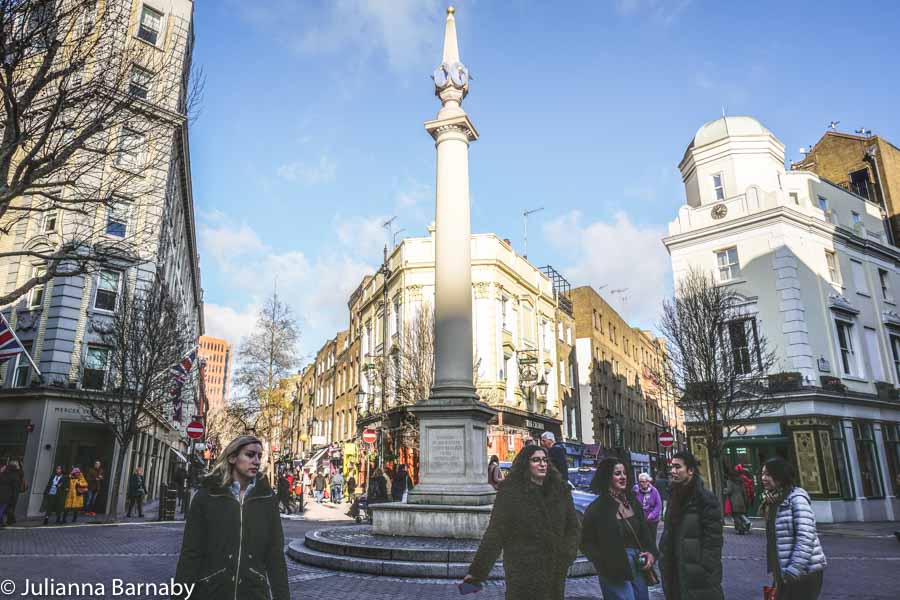 Neal's Yard
Colourful Neal's Yard is one of London's most vibrant spots – a welcome clash of colours splashed on a series of higgledy-piggledy buildings accessed by two alleys from nearby streets. It also just so happens to be the birthplace of the famous brand with the same name – you can still pop in today to pick up a herbal remedy or two.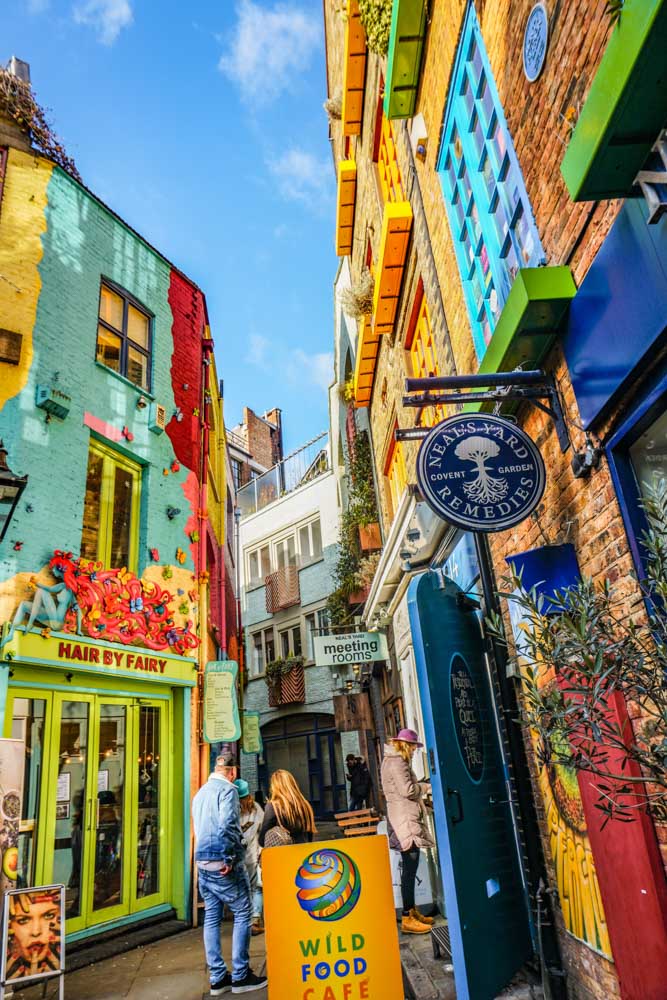 Read More: Visiting Neal's Yard: The Colourful Haven in the Centre of the City
Count the Dials
Seven Dials might seem like a bit of an odd name for an area – but all becomes clear once you've stood at it's centre and counted the seven roads radiating out in different directions. Are there really seven? Yes. But you'd probably better count just to be sure.
Donmar Warehouse
As much as I love the glitz and glamour of a full-on giant theatre production, there's no doubt plenty of charm in smaller, intimate productions.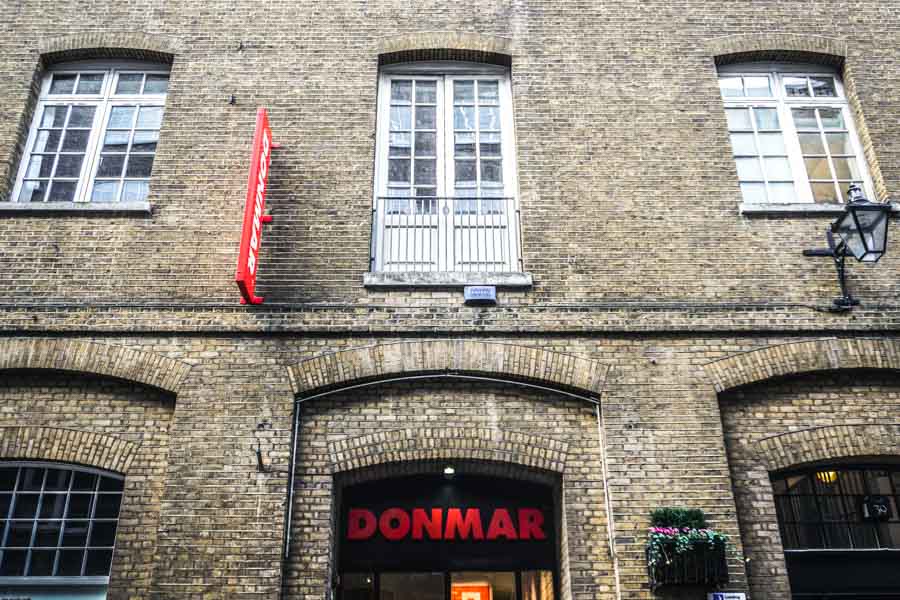 With just 251 seats, Donmar Warehouse offers a smaller space than many companies, but, under the leadership of Artistic Director Josie Rourke, they put on some of the most dynamic and exciting theatre productions in town.
The Donmar Warehouse is one of the newer theatres on the scene (it opened in 1977), but tthat hasn't stopped it from forging a formidable reputation. There are few better ways to spend an evening than dropping in to one of their shows – book ahead though, they do sell out in advance.
Read More: Cool Spots in + Around Covent Garden
Seven Dials Restaurant Picks
Whether you're looking for a bite to eat before catching a show, hoping to indulge in a long lunch or an even longer dinner, there are many great restaurants in Seven Dials – these are my favourites.
Hawksmoor
Hawksmoor serves up some of the best steak in London. Fact.
The Seven Dials London restaurant offers delicious steaks, crafted from the freshest ingredients and prepared perfectly.
There's also a great bar if you want a cocktail to accompany your steak or dessert (and why not?).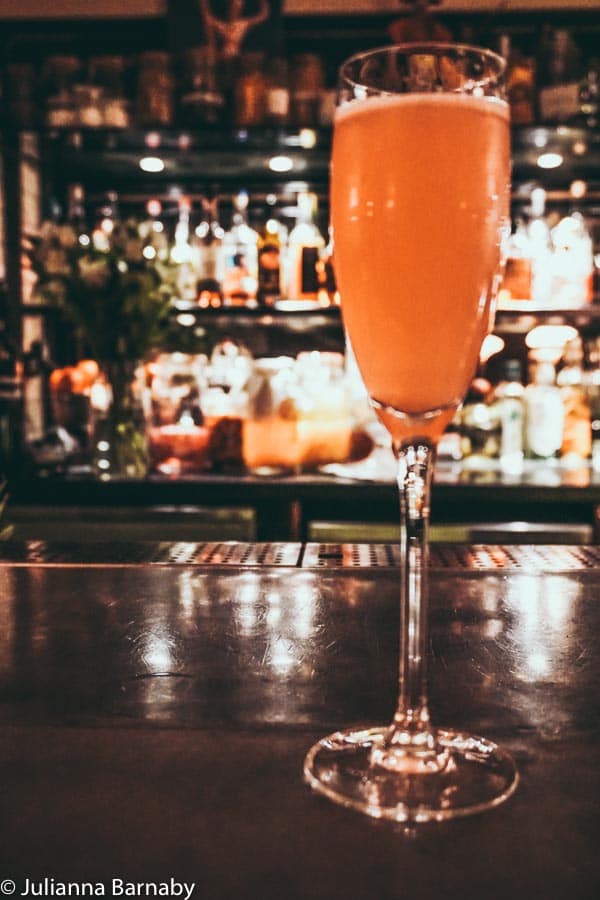 You can totally skip the steak and pop in for a drink or two – the bar just so happens to be one of the best in the area.
Wild Food Cafe
Standing in stark contrast to Hawksmoor, the Wild Food Cafe is a totally different – yet equally yummy – option amongst the restaurants in Seven Dials.
Its menu is made up of raw and organic dishes. Whether you're a total convert or raw food sceptic, the menu choices, like the Mayan Salad, are undoubtedly innovative. Zesty flavours and ultra-fresh local produce speak for themselves at this unique offering.
Timberyard
Nowadays, versatility is all the rage. Why be a coffee shop when you can be a cafe, cake store, co-working space and performance venue, all in one?
That's the approach of Timberyard, and it works – it's a bustling hub for creative types.
There's always delicious food on offer but you're never totally sure what you'll get – the producers and menu changes often. That's all part of the fun, though, and at least there's consistently great coffee.
Chick 'n' Sours
It reckons it serves the best fried chicken in London and I'm not inclined to disagree.
Chick 'n' Sours has got all the friendly charm of your local chicken shop, with a menu that's just slightly more upmarket (but not too much – it's not fried chicken without a little grease).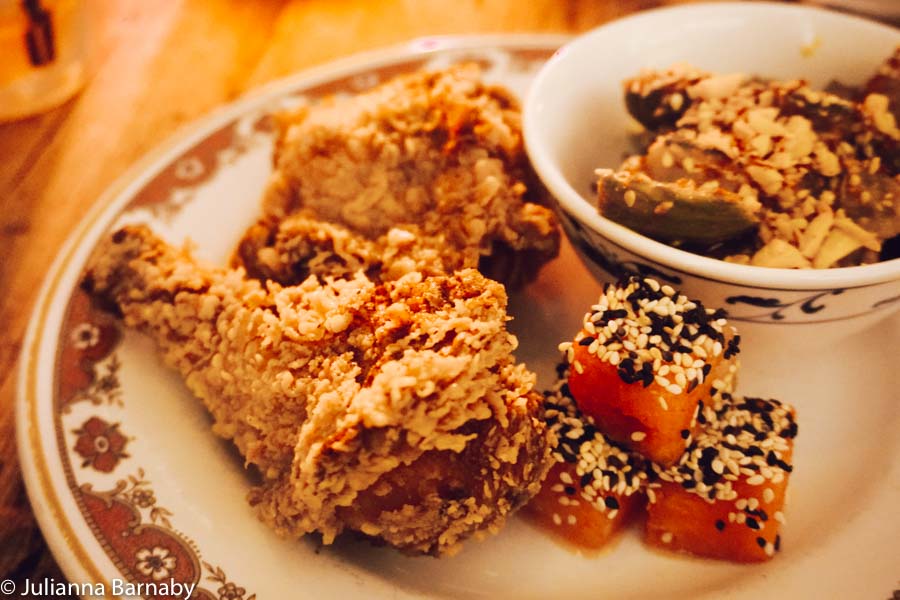 If you can't choose between the choices – think popcorn chicken, fried chicken sandwiches and a few other options like fried pickles – then you can always go for the set menu or grab a few plates to share. Wash it all down with one of their legendary sours.
The Barbary
It's hard to get through The Barbary's menu without your mouth starting to water. With choices like Octopus Mashawsha and Chicken Al Bandora, it's even harder to choose what to order.
Luckily this restaurant encourages sharing – it's just one of the ways it is inspired by traditional Berber culture. Hailing from the Atlas Mountain area around modern-day Morocco, Algeria, Tunisia and Libya, the Berbers are rich in culture… and cuisine.
This little restaurant sometimes struggles under the weight of its own popularity, so it's best to book ahead.

Brilliant Pubs and Bars in Seven Dials
Seven Dials became infamous for its liquor dens back in the day and while it's far more socially acceptable today, it's still a great little place for a spot of boozing.
The Escapologist
Who doesn't want to drink a delicious cocktail while feeling like you've been inducted into some kind of secret society?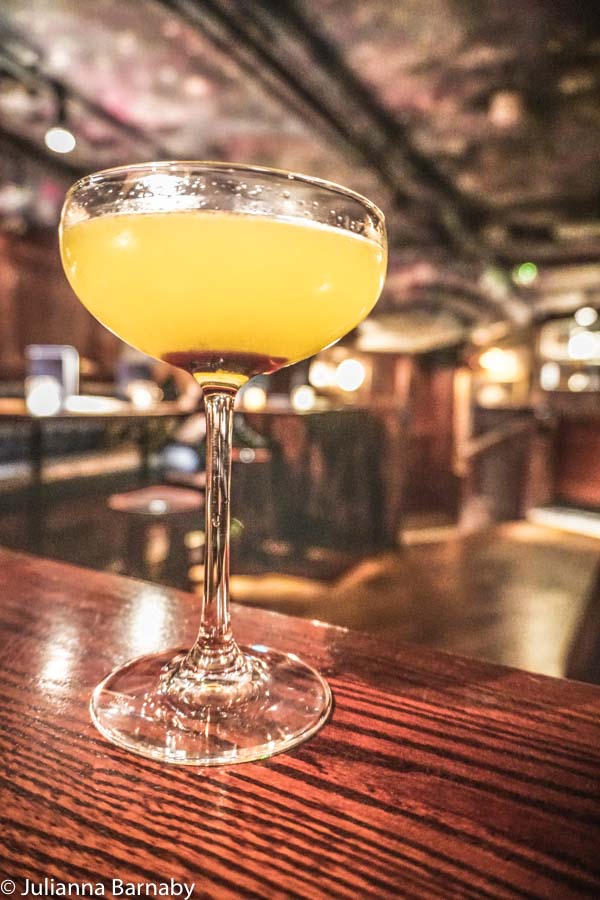 Come on, you've got to admit the charm – and it's certainly on offer at the Victorian-styled The Escapologist, one of my favourite of the Seven Dials bars.
It takes great pride in being styled somewhere between a Masonic Lodge and a historic Victorian men's club – so you've got to see it for yourself.
Compagnie du Vins Surnaturels
If you're a wine lover, Compagnie du Vins Surnaturels may present not only a great drinking haunt, but also a challenge. Can you guess the mystery glass of wine?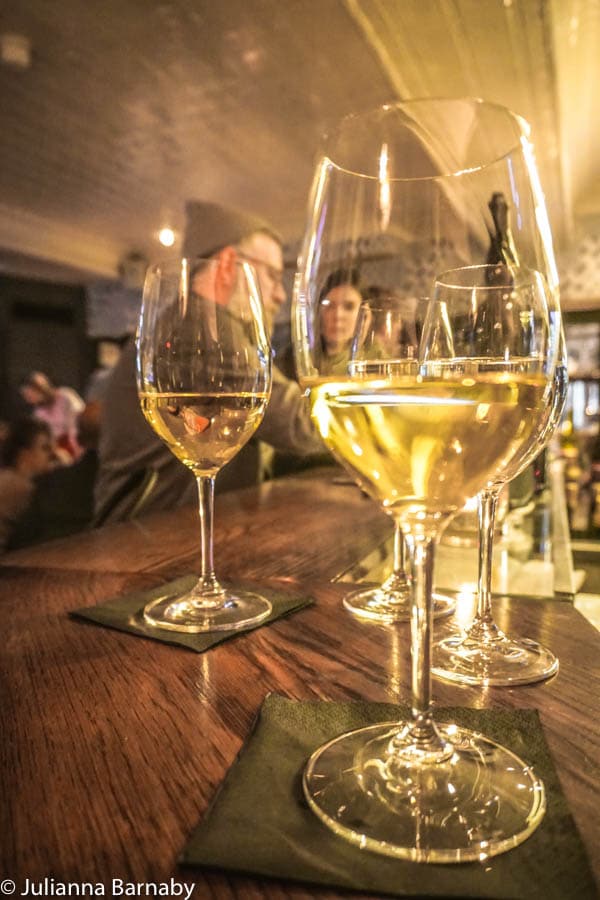 I certainly couldn't, although apparently they'll email you to put you out of your misery once you've left.
Although you might not be able to guess the mystery glass, you can enjoy plenty of others from the extensive menu. It's best accompanied with a cheese or charcuterie platter – always a great accompaniment for a delicious vin.
Read More: Brilliant Bars in + Around Covent Garden
Brewdog
For a long time, beer was a casual drink, while wines and liquors were for the tastemasters. Not anymore – today it's nothing unusual to see tasting notes accompanying a craft beer.
The brewery/all around beer aficionados Brewdog were at the forefront of this beer revolution. Today, not only is their brewery highly awarded and multinational, but they also have a super cool bar in Seven Dials near Covent Garden.

It's a no-frills beer extravaganza with tasty accompaniments like wings and burgers. Yum.
The Two Brewers
If you're looking for the authentic London experience then you have to head for a Seven Dials pub such as the Two Brewers.
This Monmouth Street pub is within easy walking distance of the West End theatres, which means it's been a popular haunt of the theatre crowd for over 150 years.
I also love the flower laden exterior and, of course, the great British beer on tap. There's also a generous gin selection if that's more your vibe.
The Crown
Also on Monmouth Street is The Crown, another picture perfect British pub – complete with hanging baskets and a tiled exterior.
While today it's the stuff Instagram dreams are made of, in the times of Charles Dickens it was known to be a "hot bed of villainy", frequented by prostitutes, philandering actors and starving artists.
What better place to raise a glass to the salacious past of London?
Read More: Historic Boozers around Covent Garden
Where to Shop
A far cry away from the bog-standard chains you find around the corner, shopping in Seven Dials is all about hunting out cool finds from independent boutiques.
Tatty Devine
London is brimming with large high street chains, but I always think the best gems can be found in independently owned shops like Tatty Devine.
This quirky boutique was started in 1999 by two art school graduates trying to avoid getting real jobs. Today, it is one of the best loved of the Seven Dials shops – and Rosie and Harriet are still at the helm.
Tatty Devine is famous for its unique and colourful jewellery. Of all their pieces, it's their laser cut name necklaces that are the most famous – they were the original and the best!
Neal's Yard Dairy
You can never have enough cheese in your life – so it's definitely worth checking out the selection at Neal's Yard Dairy.
Us Brits don't have it easy living across the Channel from France, but it's a little known fact that we also produce some great cheeses, like unique varieties such as Coolea and Cornish Yarg.
At the shop in Seven Dials, you can taste these varieties and take them home. They also run frequent cheese tasting events which are great fun.
Hotel Chocolat
Have a sweet tooth? You won't want to miss the scrumptious Hotel Chocolat.
They are really serious about good chocolate – they even have their own cocoa plantation in Saint Lucia, to ensure the quality.
Super Superficial
Who doesn't love a comfy hoodie or t-shirt? However, dressing for comfort doesn't mean you have to sacrifice all style – just ask the team at Super Superficial.
Working with local up-and-coming artists, the store prints amazing designs of comfy t-shirts and hoodies, which are then sold from heir Seven Dials store.
From the quirky to the thought-provoking, it's the place to grab a true piece of (comfortable) wearable art.
The Vintage Showroom
Entering the Vintage Showroom is, I imagine, like walking into the costume room backstage at the West End.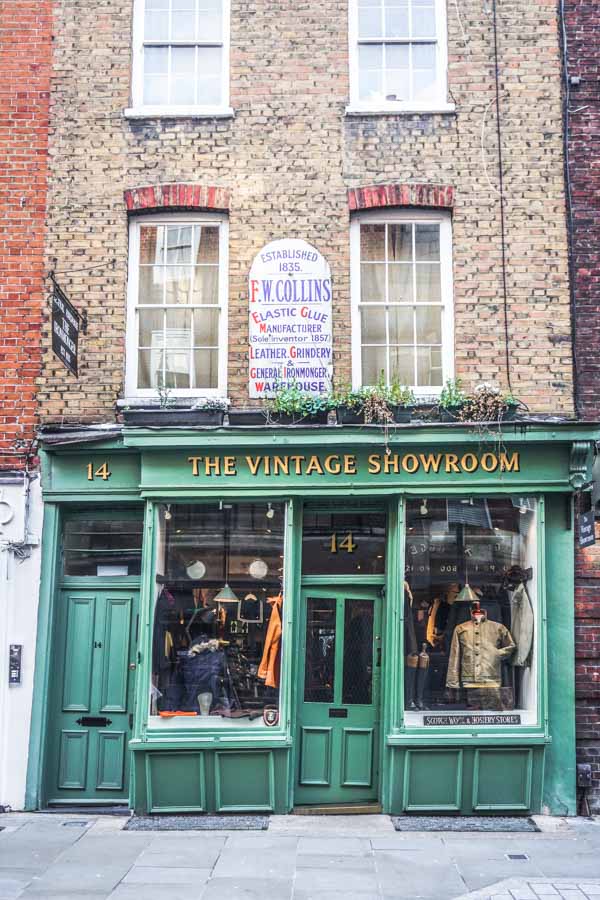 It's part boutique and part gallery, with thousands of hand-selected items of vintage mens fashion.
While vintage shopping often means trawling through hundreds of pieces of junk to find one hidden gem, here each item is spectacular. If you love fashion, don't miss it.

The History of Seven Dials
It might be considered a highly desirable area now, but Seven Dials' history hasn't always been so glamorous.
For many years, the area that is now Seven Dials was owned by one of the largest companies in the UK. Eventually, in the 1690s, they stumbled upon a great idea to build housing to sell off at extortionate prices to nobility and aristocrats.
To increase the desirability of the neighbourhood, they gave all of the streets fancy names, and built a massive sundial as a centrepiece. This had – you guessed it – seven dials (technically one was a column, but you get the idea), giving the area its name.
Unfortunately for the developers, the London housing market was not as frenetic back then as it is today. The nobility wanted nothing to do with Seven Dials, and it gradually become a slum with impoverished residents and – gasp – gin bars.
In fact, it was described by the poet John Keats as "where misery clings to misery for a little warmth." Ouch.

The area has undergone a spectacular rejuvenation, especially since the 1970s. Today, it is a bustling area that is simply overflowing with great things to do and places to eat. Luckily for all of us, there are still a few gin bars. Some things stay the same.
Practical Information for Visiting
Seven Dials is easily walkable and well-connected to the rest of London, meaning it's a great place to visit or stay.
Where to Stay
Staying in Seven Dials is a great choice if you want to be amongst the action, and conveniently located for the city's other attractions. The chic Covent Garden Hotel is a cool pick – the quirky decor and central location make it a great option for bedding down in central London.
Check prices and availability.
Nearest Tube Station
The nearest Tube Stations to Seven Dials are Leicester Square, Covent Garden or Holborn. Each is less than a ten minute walk for the heart of Seven Dials. Charing Cross is also about a 12 minute walk away.
Seven Dials Map
Click here for a map with the places featured in this Seven Dials guide.
Looking for more West End tips and guides? Check these out.