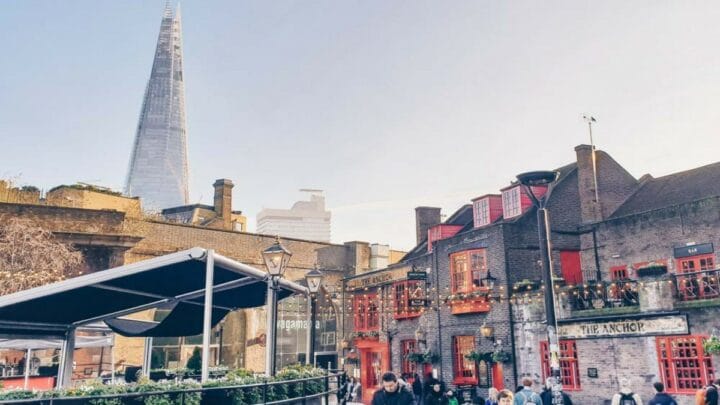 The creme de la creme of Southbank pubs to sink a pint in.
Is there anything more quintessentially British than swinging by an old-fashioned London pub for a swift pint and a nice pub lunch? Probably not.
Packed with history, the pubs on the South Bank are some of the best in the city – it doesn't exactly hurt that a lot of them come with stellar views of the river either.
Southbank Pubs You Shouldn't Miss
The Anchor Bankside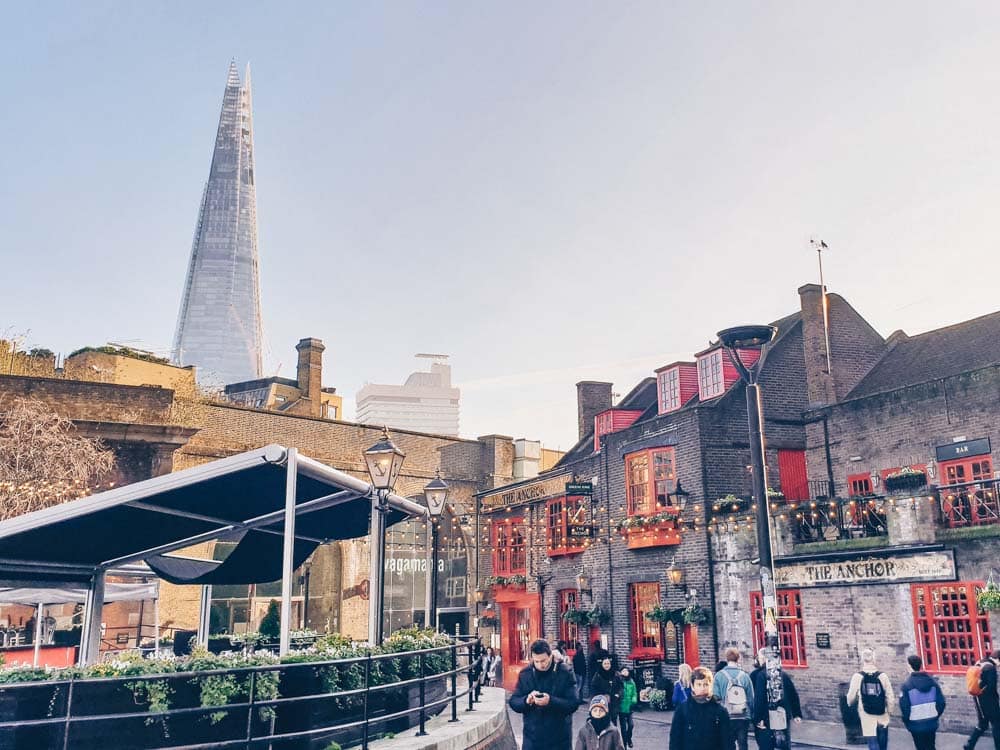 You can't write a guide to the best pubs on the Southbank without featuring The Anchor Bankside.
For over 800 years, a tavern, in one form or another, has stood on the same site, and it is often regarded as the oldest surviving tavern in Bankside. The pub that stands today, however, dates back to around 1665, and it really has stood the test of time.
Offering a huge selection of wines, whiskies, vodkas, rums, gins, and a string of bottled beers and ales from across the globe, as well as a mouth-watering menu of classic pub-grub, this is the perfect spot for indulging.
We will just point out that the central location of The Anchor Bankside, and its gorgeous exterior and fascinating history, do make it a very popular spot, so it does get very busy, but if you don't mind waiting a little while, we would definitely recommend checking this place out.
Horniman at Hays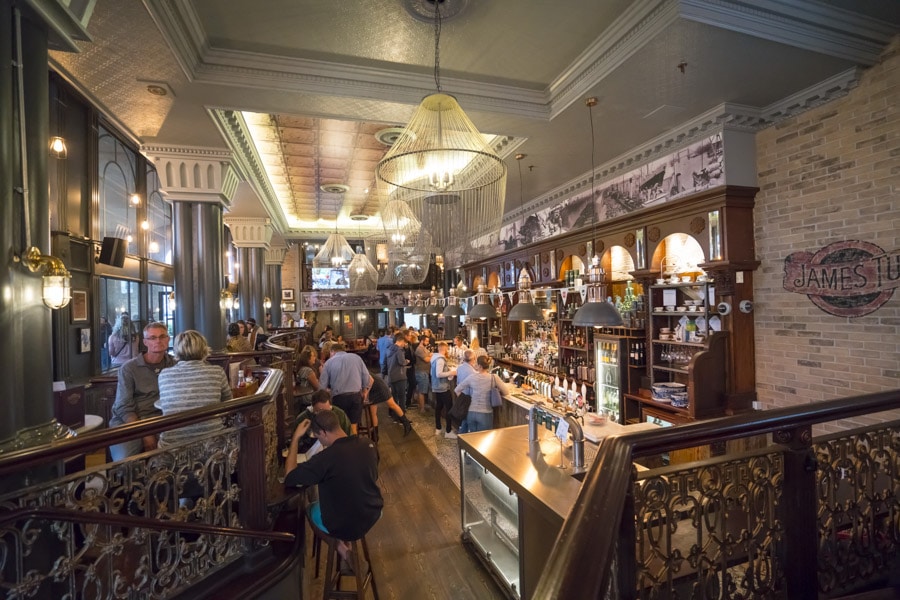 Horniman at Hays has long been one of the best pubs on the South Bank.
Boasting an impressive location that is just a stone's throw away from London Bridge underground station.
The clientele at Horniman at Hays truly ranges from colleagues sneaking in a cheeky half pint over a business lunch, to excitable-looking tourists in search of a quintessentially British pub, and pretty much everyone in between.
Set inside a former brew-house that dates way back to the 17th century, this South Bank establishment has a whole lot of history; there are even some original features, from the centrepiece staircase, marble countertops, all the way to an antique wall clock.
With an enormous fridge-full of tipples, from cask ales, fine wines and gins, this place is a top spot for an all-nighter; we would particularly recommend trying the Nicholson Original gin, which is delicious, and family made and a family run company.
The Thirsty Bear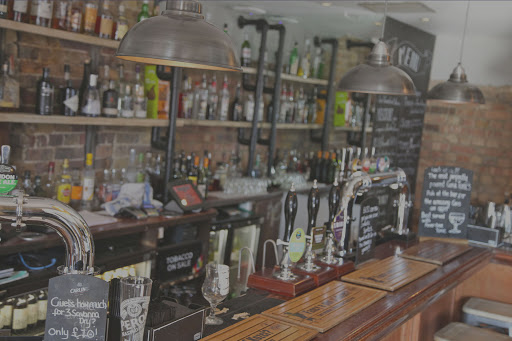 Is there any better way to drink beer than from a self-service beer wall? We don't think so; The Thirsty Bear on Stamford Street offers just the thing.
If you fancy yourself as a bit of an expert pint pourer, use this opportunity to show off your hidden skills to your friends, and have as much or as little beer as you like!
With a great selection of popular beers on tap, including Yakima Red, Lagunitas, Kozel, and the scrumptious Hop House 13, there's plenty to choose from, and the friendly staff are more than happy to offer you suggestions and guide your decision making.
Showing live sporting events in a bustling and exciting atmosphere, The Thirsty Bear is a fantastic spot to head to if there's a big game on, though we would suggest booking a table, particularly if you're planning on heading there over the weekends as it can get super busy.
Doggett's Coat and Badge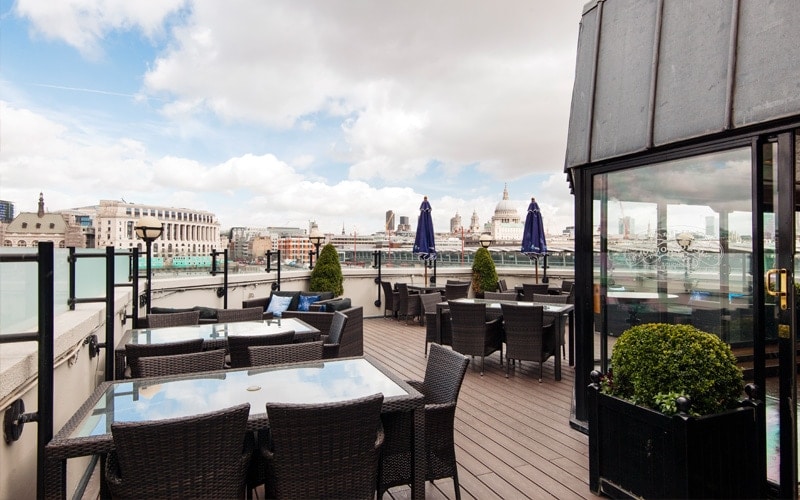 Right next to Blackfriars Bridge, Doggett's Coat and Badge pub has some terrific views of the Thames.
Though it can get a little bit touristy because of its excellent location, it is definitely still worth checking out; it's absolutely enormous, and is staggered across three floors, and also has a wonderful terrace, which is particularly enjoyable during the summer months.
Interestingly, the pub is actually named after the historic boat race, which is the oldest boat race in the entire world.
Whilst there are so many pubs on the South Bank that have impressive exteriors and exude a historic charm, Doggett's is a little harsh, and there is a lot of concrete. But, we would really recommend seeing past the façade, as the inside is great, and the views are unparalleled.
The Founders Arms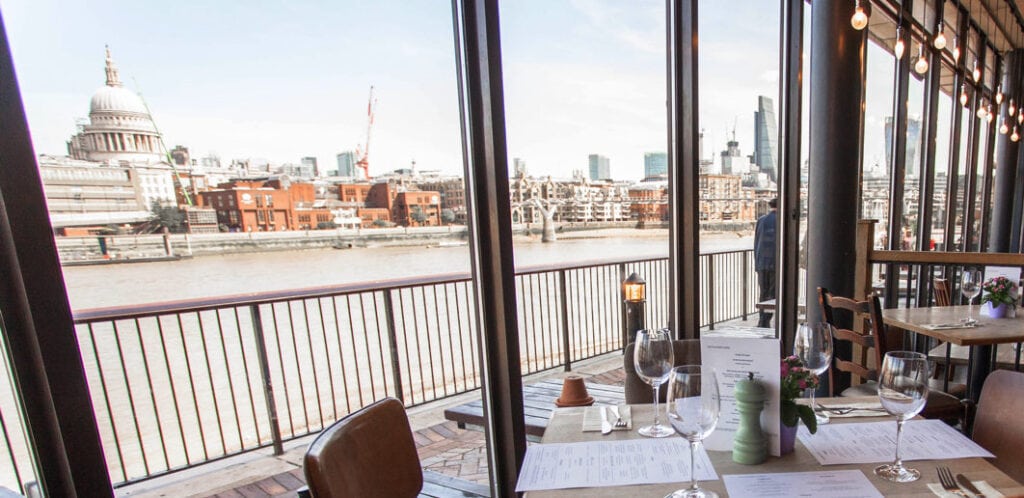 The Founder's Arms is situated between the Tate Modern and London Blackfriars – perfect when you need a nice central place to meet your mates without having to stray too far into the crowds of central London.
The Founders Arms pride themselves on being the ideal meeting place, due to the excellent transport links nearby; it is really close to Waterloo, Blackfriars and Southwark tube stations.
Offering spectacular views across the Thames through its floor to ceiling windows, and boasting fabulously contemporary interiors, there is arguably no better place to sink a few beverages and enjoy some fantastic food.
The Founders Arms is light, airy and modern, and has an enormous selection of drinks on offer, from local craft beers, unique gins from across the globe, and a wonderful wine list.
Even better, if you have a dog, The Founders Arms will welcome him or her with open arms and is totally dog-friendly, so long as you stay on the outside terrace (which is hardly a big ask, it's absolutely gorgeous).
The Old Thameside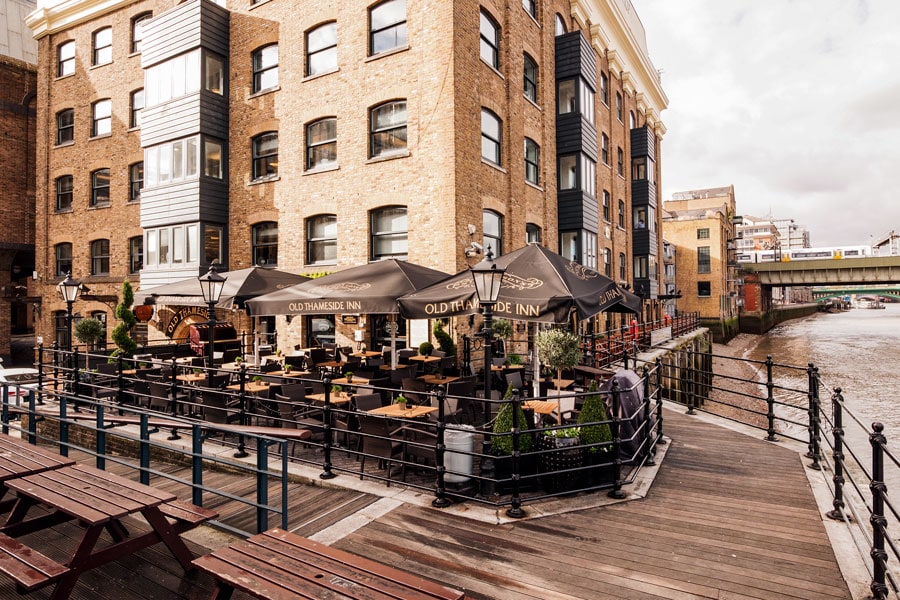 Nestled upon the banks of the River Thames, and right next to the iconic London Bridge area of the South Bank, The Old Thameside pub is a wonderful place to enjoy a pint.
The Old Thameside, like many pubs on the South Bank, is brimming with history. It started out life as an old spice warehouse, and some of the remains are actually still standing, behind the current pub.
Situated just a stone's throw away from The Clink, The Old Thameside has a really old-fashioned feel to it, and it's a great place to experience an authentic South Bank pub if you've never been to London, or the area, before!
If you thought that this pub couldn't get any better, it can.
Serving an enormous and wonderful selection of cask ales, which include their very own Nicholson's Pale Ale (which is delicious) The Old Thameside sources drinks from across the globe, and there really is something for everyone.
The Rake
Though not on the South Bank itself, The Rake is a small but impressive Borough Market-based pub and a hotspot for connoisseurs of craft ale. Not surprising given there are a total of over 130 bottled beer options.
This is one of the most popular pubs on the Southbank, and because of its tiny size, you may find that you have to stand outside with your beer, particularly if you are visiting at the weekend. However, what it lacks in size, it makes up for in atmosphere – there is a fantastic buzz.
If you are just dipping your toes in the water when it comes to the enormous world of craft beer, The Rake is a brilliant place to start; the staff here are so knowledgeable, and will happily spend the time discussing the ales available to ensure that you get your perfect drink.
Beer Hawk
Another excellent Southbank pub for craft beer aficionados is Beer Hawk.
Just a stone's throw away from Southwark tube station, Beer Hawk is the first ever craft beer and bottle shop to have opened on London's South Bank, and there is an enormous selection of beers kept snuggly inside the gigantic beer fridge.
With over 120 of the world's best beers available, and 12 on draught as well, you will be spoilt for choice.
There are loads of historic pubs near the South Bank, but Beer Hawk offers a more contemporary feel, with its bold neon light fittings, cosy booths, wood panelling and high ceilings, it has a wonderful atmosphere.
Market Porter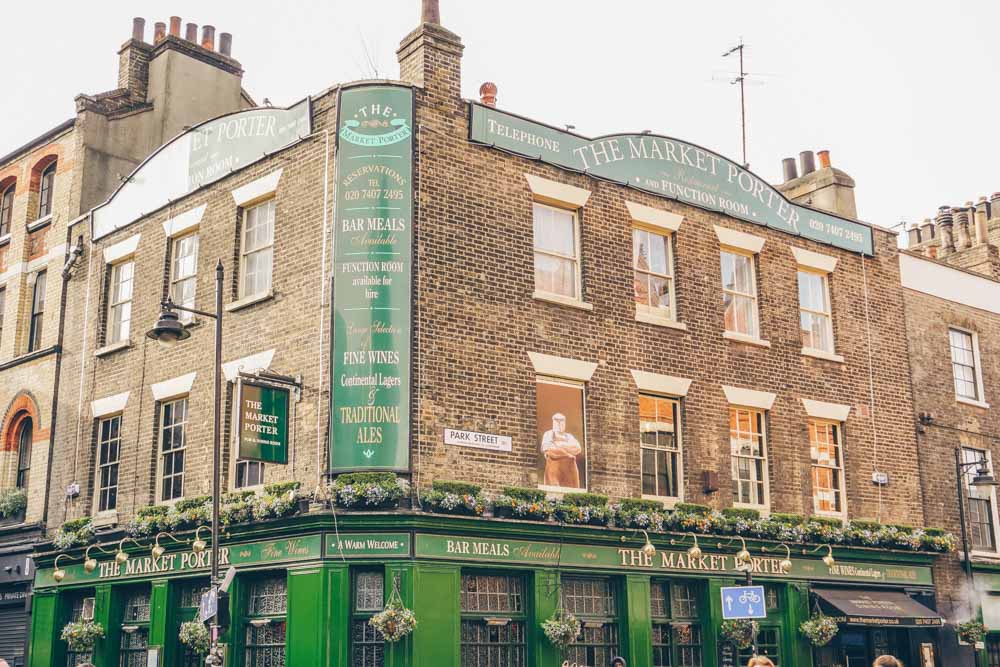 Again, not technically on the South Bank, but a stone's throw away in Borough Market, the Market Porter, is the quintessential British pub experience.
A traditional and historic Victorian public house and dining room, there is so much character here, and they have a great selection of award-winning craft beers, ales, local gins and fine wines on offer, not to mention the delicious roast dinners you can chomp down on.
With its rustic décor, warm service and charming atmosphere, if we had to recommend one pub on the South Bank for an authentic experience, Market Porter would be it.
Not content with just being an all-round stellar boozer, the pub was also the setting for the 'Third Hand Book Emporium' in Harry Potter and the Prisoner of Azkaban!
The Mulberry Bush
Hands down the best pubs on the Southbank. Right next to Gabriel's Wharf and nestled between Waterloo and the River Thames, this pub has all the comforts you need.
The food is tasty, the drinks are great and the vintage-style interiors have comfort written all over it. If you're not a meat eater, they make a fantastic veggie burger. They don't try and overcomplicate anything, just simple good old pub food.
What's even better, the prices are actually reasonable! (For London, obviously.) And there's sofas, because sometimes you just need to sink into a nice comfy sofa.
We recommend the Sunday roast with one of their craft beers and perhaps an expresso martini to top it all off.
The Understudy
A pub in the National Theatre! Who doesn't want to be drinking amongst the talented theatre extraordinaires? A lovely pit spot before the theatre, but it's actually a great pub in its own merit.
The range of beers isn't as extensive as other places close by, but it's exactly what the Southbank needed. A relaxed bar that isn't too overcrowded, simple food and good drinks.
The biggest selling point of this pub is the flaw-to-ceiling window looking out into the river.
What comes as an even bigger surprise is the fact that the prices are quite reasonable for a riverside pub.
Get in there quickly!
Fountain and Ink
Right bang in the centre is this fantastic Southbank pub, Fountain and Ink.
Newly refurbished, clean and bright, this pub is a lovely little treat. The staff are incredibly friendly, they have an enormous selection of beers, spirits and wine – again, all at a pretty reasonable price.
The big selling point for this pub is their pizzas… oh we do love a pizza and they do not disappoint.
Plenty of seating as well so mark this one down if you're coming in a big group.
Pubs in South Bank: Map