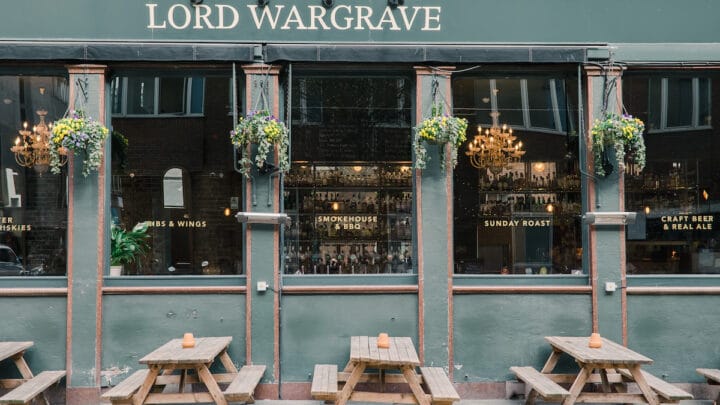 Looking for the best pubs in Marylebone? It's no secret that this area of the capital, hidden away from the explosion of people on Oxford Street, is one of our favourite places to drink in the capital.
Sure, there are plenty of cool bars and restaurants where you can grab a carefully-crafted cocktail, but there's something special about Marylebone's pubs. Seeped in history, the area sure knows how to preserve a historic boozer or two.
The Best Pubs in Marylebone
The Grazing Goat
Tucked around the corner from Hyde Park and Marble Arch, The Grazing Goat is the coolest gastro pub Marylebone boasts. Downstairs is a fancy boozer, whilst upstairs is home to a stylish hotel.
The traditional pub sits on the land that was previously the spot where Lady Portman's goats would graze – it was said that she was allergic to cow's milk so opted to keep goats instead.
Though, thankfully the drink menu expands further than goat milk – you've got all the classic beers, as well as plenty of wines, craft beers, and cocktails using spirits from small producers.
The food is, as expected, delicious. Tender steaks, chunky burgers, and classic pies make up the bulk of the menu, with a few fancy additions in the form of a kimchi scotch egg and dry-aged beef tartare.
The best bit? The Grazing Goat is dog-friendly. And if that alone isn't reason enough to visit, we don't know what is.
The Coach Makers Arms
If you're looking for a traditional British pub experience sans the air of dinginess some historic drinking holes provide, The Coach Makers Arms is the Marylebone pub for you.
Drinks span craft beers to innovative cocktails, while the pub grub here is also excellent. The Coach Makers Arms champions farm-to-fork, using crafting menus from seasonal and sustainable ingredients.
They fancy themselves as the best roast dinner in Marylebone… and we have to say, we agree. Whatever you opt for, remember to save some room for the apple pie, which comes with salted caramel, pecans, and vanilla ice cream. Drool.
Pssst… upstairs you'll find The 72 – an excellent cocktail bar worth dipping into for an hour or two post-pint.
Prince Regent
It's impossible to pop into Prince Regent for just one drink… the gorgeous interior and eclectic drink selection makes it ridiculously difficult to leave.
Craft beers and limited edition brews are on tap, as well as a selection of old faithfuls, spirits, and wine. The bartenders are also more than happy to whip up a cocktail of your choice, that is, if you can't find one you'd like to inhale from the lengthy menu.
You're not short on brilliant Marylebone high street pubs, though Prince Regent tops them all.
Lord Wargrave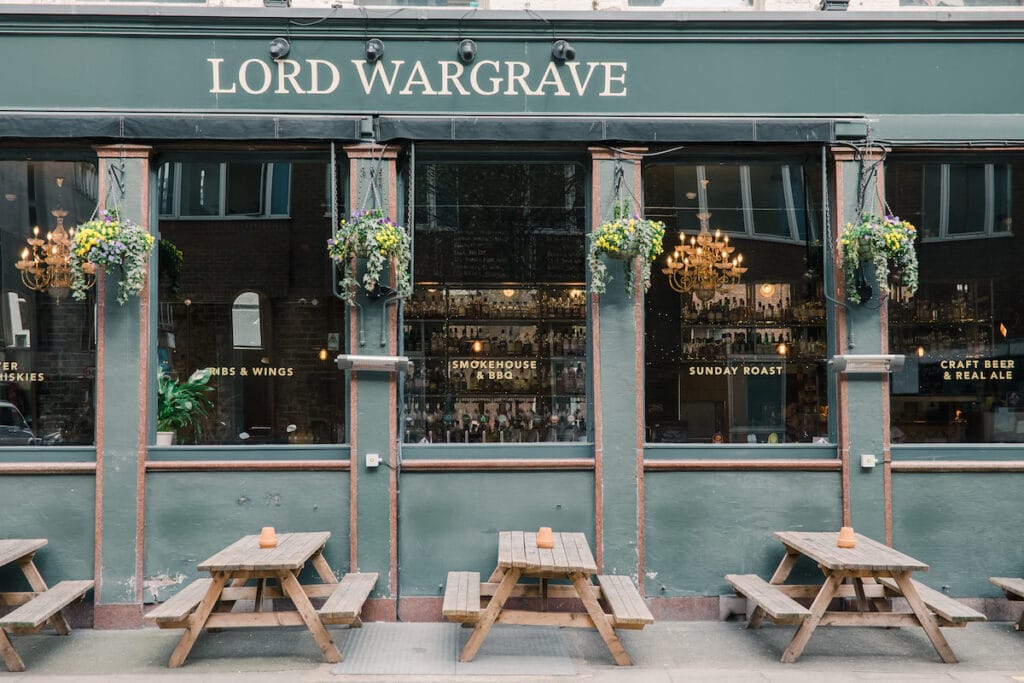 Jack of all trades, master of none? Lord Wargrave can't relate. This pub slash whiskey bar slash smokehouse manages to excel in all areas.
The pub is a millennial's vision, but trust us when we say it really works. Exposed brickwork, rich blue hues, and plants to boot create a trendy yet welcoming atmosphere reminiscent of your grandad's house, only way cooler.
Whiskey is their speciality: there's over 270 to choose between, each taking you on a journey from the Scottish Highlands to the far reaches of Japan.
Though don't be put off if you're not a fan of the hard stuff – there are plenty of craft beers, wines, and softs to make your way through.
And, obviously, it's criminal to visit Lord Wargrave and not order the St Louis Pork Ribs, cooked slowly over British hickory logs for an extra-smokey flavour.
The Barley Mow
Things are pared back significantly at The Barley Mow – there's less of this fancy-pants craft beer, but instead, the focus is on traditional British pub beers in a traditional British pub. The same can be said for their whiskies, wines, and spirits.
The Barley Mow also offers classic pub food in the form of pies. The menu changes frequently, but expect to see steak and ale, chicken and vegetable, and Scotch pies appearing frequently.
There's even a couple of veggie options – the Moo-less Moo is a ridiculously tasty jackfruit option that will have you questioning, "is this really not meat?".
The Jackalope
Founded in 1777, The Jackalope is one of the best pubs near Marylebone. Whilst the pub has had a modern makeover in recent years, it still pays homage to its Georgian roots through its rich wood decor.
The beer selection is on the smaller side, but the quality more than makes up for it: a mixture of classic options interspersed with craft ales are available. We highly recommend the Brick Brewery American Pale Ale.
Traditional pub food is swept aside in favour of chewy Chongqing noodles – head there for lunch and dinner between Tuesday and Friday if you fancy tackling a spicy bowl.
Inn 1888
Looking for a traditional Marylebone pub? Retreat down Devonshire Street and head to Inn 1888 and you won't be disappointed. Everyone knows that the number one feature needed for a pub to be top tier is a roaring fire… and this one has two.
The Victorian pub was originally built in 1898, but has since seen plenty of renovations throughout the last couple of decades. The large basement below was used as a firing range by the Ministry of Defense during the two World Wars.
Four real ales and ten draught beers, alongside spirits and London Gins make up the impressive drink selection. It's the perfect place to curl up in front of the roaring fire with your pals on a cold British evening (so, pretty much every night) and sink a few pints surrounded by history.
Globe
First off, Globe in Marylebone is not to be confused with The Globe – which is another great pub nearby.
You'll know you're in the right place when you spot the gigantic continental murals adorning the front of the building.
Globe is a Greene King pub, so you know exactly what you're getting. That's great value and even better vibes, in case you were unsure. There's a typical range of beers, wines, spirits, and soft drinks to choose from, as well as an array of elevated pub grub to scoff.
The Volunteer
Situated on the fringes of Regent's Park, The Volunteer is one of the coolest pubs in Marylebone, London.
Inside is a vision of blue and light wood decor, while the – limited – outdoor seating is the perfect place to people-watch (our favourite pastime) during the Summer months in London.
Drinks-wise, expect a wide range of beers including bottles, crafts, and ales on tap, whereas the non-beer offerings are aplenty.
You'll have plenty of fun making your way down the hefty wine list, or you can opt for a fun soft drink. Pass on the standard options for the house raspberry soda.
Marylebone Pubs: Map
Looking for More London Pub Guides?