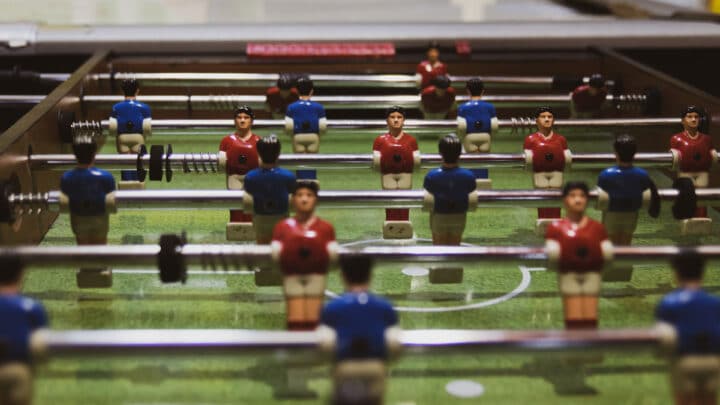 Looking for banter, booze and a place to bang your fists to the highs and lows of the beautiful game? We've got you covered with this guide to the best sports bars in London.
Ah, London — where participating in a *heated debate* over your favourite football team sparks the start of beautiful friendships and unbreakable comradery.
From the victories to the gut-wrenching losses, sports have a way to bring people together. With endless cheering and enthusiastic drinking floating about, Londoners know how to bring the electric energy of a live match to them – and these are the bars to do it in.
Best Sports Bars in London
Greenwood – Sports Pub & Kitchen
Victoria
Ready to catch the best matches of the season with your mates? From fan-favourite football to punch prominent boxing, Greenwood provides the goods when it comes to live games.
This sports bar in Victoria has huge HD television screens, which will propel you into the middle of all the action. With Victorian decor trimmings and the ultimate sharing platters, this lively hub is the place to be.
Address: 170 Victoria St, London SW1E 5LB
Sports Bar & Grill Farringdon
Farringdon
Looking for the hippest sports bar in central London? Juicy burgers, pool tables, and a seemingly endless variety of frothy pints — no one does rugged refinement quite like this Sports Bar and Grill in London.
Equipped with free Wifi amenities and powerpoints, you'll be able to switch from work to play mode at a click of a button (hopefully to the highly anticipated rugby game).
A sports bar near the City of London, this alcoholic alcove is the perfect no-judgement zone to feel all the emotions that come from the latest big league matches.
Address: 19-25 Cowcross St, London EC1M 6DH
Redwood Sports Pub & Kitchen
Southwark
A cool sports bar at London Bridge Station, Redwood will add a sense of chic flair to your favourite pastime.
Taking the sports scene all the way through, this bar offers sport-inspired cocktails named after your all-time favourite athletes. Try the Joe Frazier as it truly packs a punch (we couldn't resist).
Equipped with big screens and outside areas, this indoor and outdoor sports bar in London is the perfect place to frequent in warm sunny weather. Nothing like a cold one with the boys while watching sports outside.
Address: Bridge Station, London SE1 9SP
The Pool Lounge
Southwark
Check your racks, ladies and gentlemen — this local hangout will have you hooked. Infused with Latin music and a hip-swaying atmosphere, The Pool Lounge is everything you need for a fun break from reality.
This bar provides various televisions for optimum game watching and several pool tables to break the tension of intense nail-biters. Cue the ball, it's going to be a long and fun-filled night at this sports bar in south London.
Address: 122 Elephant Rd, Elephant and Castle, London SE17 1LB
Bar Kick
Shoreditch
Whether watching the game or looking for a much-needed drink after experiencing the cool things to do in Shoreditch, this bar has got you covered.
Located in Shoreditch, Bar Kick is an East London sports bar that has two floors and twelve screens to give you a front-row seat to the action wherever you choose to sit. If the score doesn't have you satisfied, the delectable dishes sure will.
Providing delicious food and beverages, this bar is the ultimate wingman (that comes in BBQ or hot sauce if you're feeling spicy).
Address: 127 Shoreditch High St, London E1 6JE
The Arena Club & Sports Bar
Hendon
Tucked away in a basement in Hendon, The Arena Club is a hidden gem waiting for sports fans to discover it. An Indian restaurant mixed with a sports bar in north London, this multi-functional venue will provide a unique tint to your average game watching occasion.
From chicken tandooris to king prawn curries, this underground hot spot is a great place to mix the fiery excitement of a sports game and the spicey pleasures of Indian cuisine. So, if your favourite team loses you might as well have a full stomach, right?
Address: 17 Central Circus, London NW4 3AS
Famous Three Kings
Fulham
Known as one of the best sports bars in London, the Famous Three Kings is a vibey space fit for royalty. With an array of screens to watch your chosen athletic event, you'll have plenty of opportunities to pick a prime spot made for a king to watch players fight it out for glory.
Blessing patrons with a wide variety of pound-friendly offers, such as bottomless brunch specials, this sports bar is the perfect place for every type of budget.
Top Tip: Check out their website to book your top tournament days beforehand at this sports bar in west London as spaces are limited on the day due to popularity.
Address: 171 North End Rd, London W14 9NL
Sports Bars in London: Map
Looking For More London Food & Drink Guides?