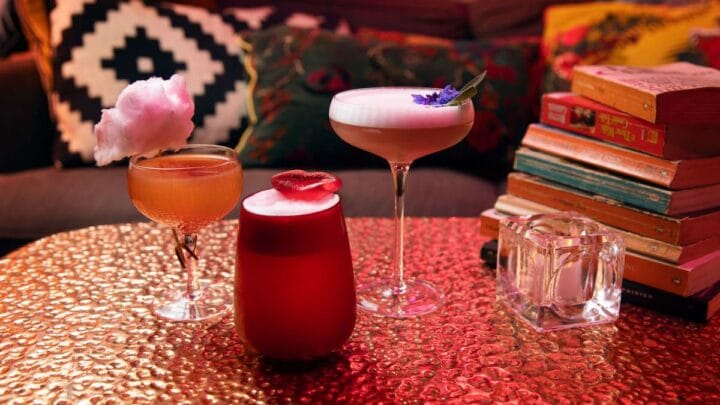 Sometimes a sleek lounge or the back of a pub just won't do it. It's then that you need a bit of a gimmick. Here's the best of London's quirkiest bars.
We're basically always on the hunt for cool London bars and sometimes this noble quest throws up some wild cards. We're talking speakeasies and bars decked out with all manner of bizarre curiosities (looking at you Mr. Fogg).
Don't be fooled by the gimmicks, they're actually really good. Some of them rank up there with the best that London has to offer. At the very least they make for an entertaining night, and a good talking point to see you through a first date.
Read on for our guide to London's weird and wonderful, quirky bars.
Quirky Bars in London
Mr. Fogg's
Multiple locations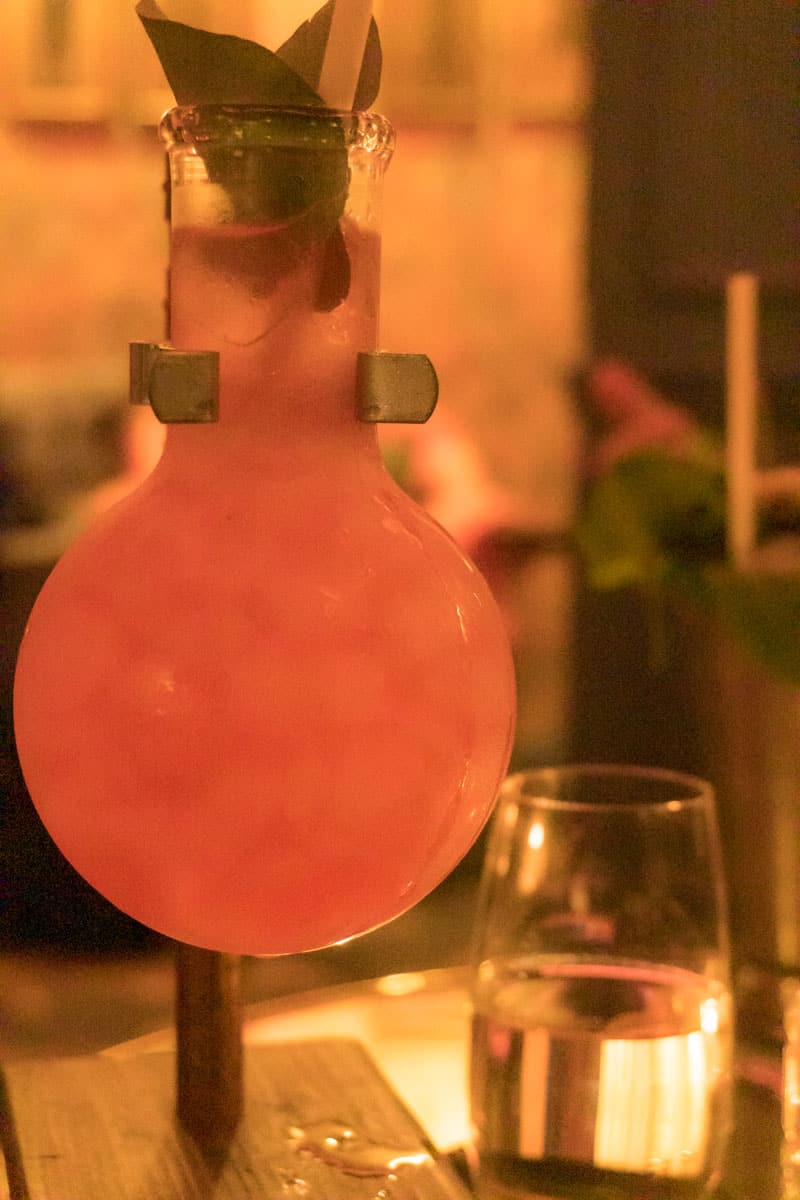 Without a doubt, the best of London's quirky bars is Mr. Fogg's. There are actually a few of them around the city, each with its own unique spin on the main theme. That theme being the adventures of Phileas Fogg – the protagonist from Around the World in Eighty Days.
Drinks are up there with some of the top shakes and mixes you'll find in the city and the interiors are always decked out with trinkets and curiosities – the items Mr. Fogg brought back with him on his travels.
If you're looking for quirky bars in London, you can't do much better than this.
The Little Scarlet Door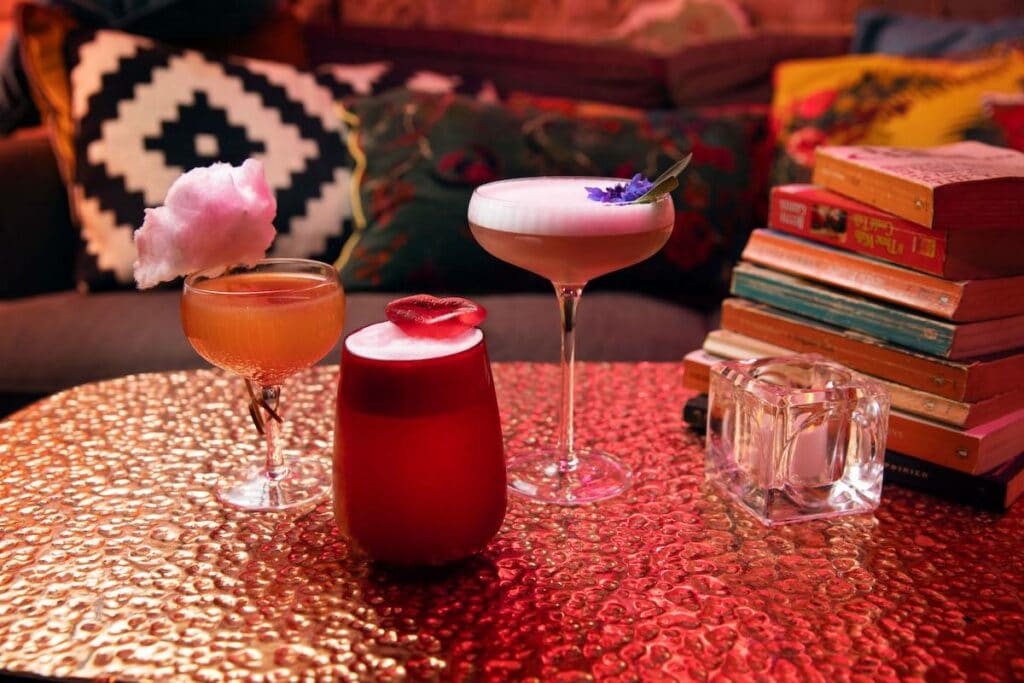 Open late seven days a week, The Little Scarlet Door is a bit of a mecca for drinkers and party goers on the Soho nightlife scene. They run a house-party-style set up that routinely turns wild and fabulous.
You have been warned: this venue is strictly over 23's only. Sorry youngsters. Small groups of under 25's will be permitted but they have a bit of a reputation for ruining the nights of young people with a harsh turn away.
Callooh Callay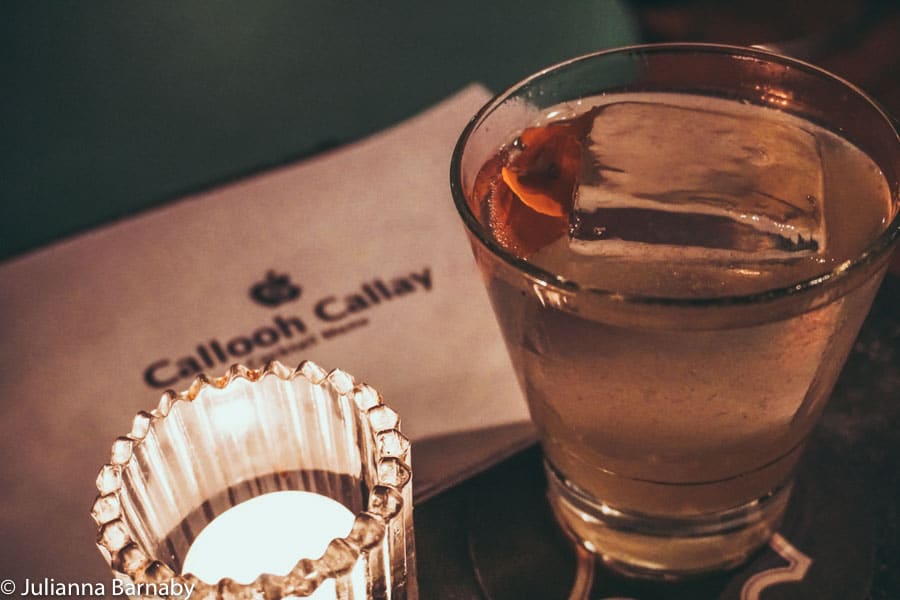 Holding down the cocktail bar scene in Shoreditch since before the neighbourhood was even cool, Callooh Callay is a bit of an east London institution.
The bar serve up a menu of very creative, playful cocktails. Don't let the quirky drinks names and strange presentations fool you. These are some of the best drinks you can find in the city.
Enjoying them in a Victorian-themed bar with all manner of bizarre gimmicks is only a plus.
The Last Tuesday Society
If the words Viktor Wynd mean anything to you, you'll know to expect something pretty wild from The Last Tuesday Society. It's the absinthe bar of the incredibly bizarre Viktor Wynd Museum of Curiosities.
The Last Tuesday Society is a cramped, neon-and-UV-lit watering hole that's won a few awards for its inventive decor and top-notch drinks.
You'll be drinking in one of the strangest places in London, but the cocktails you'll be putting away will not be short on quality.
Four Quarters
Multiple locations
Looking for good retro bars in London? Look no further than Four Quarters. This group of bars with several outposts across London – Hackney Wick, Elephant and Castle, Peckham – mixes good drinks and good entertainment.
That entertainment comes in the form of a bunch of restored retro arcade games that you can raz while knocking back craft beers and cocktails from the bar.
Thought you were hot stuff on Street Fighter? See how good you are after a couple of glasses of Donkey Kong Tropical Punch.
BYOC
Camden, The City of London
BYOC might just be one of the most unique bars London has to offer. At this point you don't just turn up and start ordering like you might in, well, basically any other bar. Instead, you've got to bring a bottle of your chosen poison which you hand over to the barman who'll mix it into some expert drinks for a small fee.
The venue is quite something too. You'll enter through an unmarked entrance and be ushered into a gloomy, prohibition-style speakeasy where the tables you'll be drinking around started life as gaming tables for what can only have been (in our imagination) the coolest gambling den in the city.
Reverend JW Simpson
Fitzrovia
If you're after funky bars in London, here's one that puts in the capital F. The space used to be the vicarage for a fella called The Reverend JW Simpson who occupied the flat until the mid 80s.
He had a pretty quirky touch to his interior design habits, to say the least. Much of the bar has been left as it was found so you can see those quirky touches in play in old wallpaper and furniture.
It's also sort of falling apart, which totally adds to the charm of putting away a few drinks at this place.
Cahoots
Oxford Circus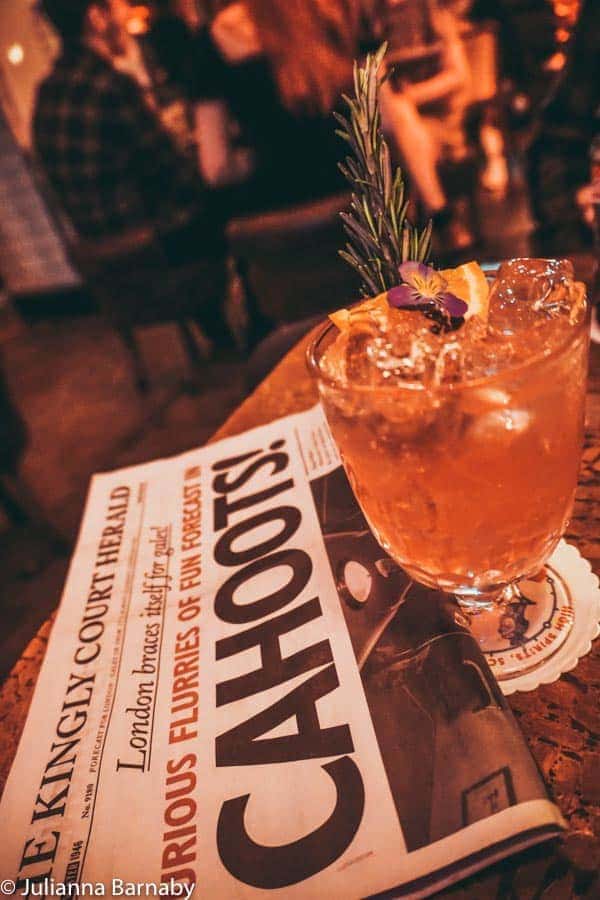 Of all the quirky bars London can offer you, Cahoots may be the quirkiest. This subterranean watering hole fills a space that used to function as a bomb shelter. They've kept up the original theme, decking the place out to look like a blitz-era speakeasy.
The place is split into three spaces that resemble a 40's tube train, signal station and ticketing office. In each spot, you can grab drinks from uniformed and period-dressed staff delivering some absolutely spiffing drinks – to use the parlance of the time.
Vaulty Towers
Run by the same folks that run the Waterloo Vaults, this hidden gem is one of our favourite unusual bars in London. It's truly wacky – words almost don't do it justice.
Pretty much every inch of spare space in Vaulty Towers has been used to hang, present and flaunt a staggering array of quirky decorations that includes everything from bright neon signage to plush velvet drapery.
The drinks? As creative and off-the-wall as the decor, and sometimes accompanied by DJs who turn the party vibes up, or a pub quiz that gets heads down, hard in quizzical thought.
Evans & Peel Detective Agency
Let us tell you: we're always on the lookout for fun bars in London. We were very happily surprised when we came across this gem then.
Evans & Peel Detective Agency is the very embodiment of a speakeasy. To get in you've got to call and make an appointment with the detectives. Once you arrive you've even got to state your case.
Once in, you'll be a part of a roaring party that often plays home to a bunch of musicians who do their thing while you sip on prohibition-era cocktails and live a little of the roaring 20's.
Knowhere Special
Kentish Town
The first time we went to Knowhere Special we were almost convinced we'd taken a wrong turn into some seedy north-London house of ill repute.
Sticking with it though, we came across another great example of the very quirky cocktail bars London has hidden away down its dark corridors and back streets.
Each cocktail you order here comes with a special side of garnish that's been specially created to go hand in hand with your drink. They can be enjoyed in the cosy living room vibes of the main floor, or in a more intimate alcove perfect for date night.
Mayor of Scaredy Cat Town
You'll also have to do some exploring to find The Mayor of Scaredy Cat Town. First you'll need to head to The Breakfast Club on Artillery Lane. When there, tell a member of staff that you're 'here to see the mayor'. They will understand.
You'll then be led to what the untrained eye would think is just a vintage fridge. Actually, it's a doorway to a speakeasy decked out in vintage furniture and designs and offering a delectable menu of quirky drinks.
The Blind Pig
Soho
Stepping through an unmarked door in Soho is often a recipe for excitement. Especially so when that door leads to a hidden cocktail bar from Gordon Ramsey's protege and London-culinary-hotshot, Jason Atherton.
If you're after ​​cool bars in London, The Blind Pig is the one. There's a quirky menu design with beautiful illustrations to entertain you as you leaf through looking for the right drink, and the handsomely decorated bar packs in the style points.
If we're honest though, the drinks at The Blind Pig aren't as good as we expect them to be from a person of such high culinary regard. You might be better off just eating at one of his restaurants.
Iceberg Lounge
Soho
One of the most bizarre, quirky cocktail bars London has to offer is the Iceberg Lounge. This is a Batman-themed boozer that takes decorative cues from Gotham City to give you a superhero-style night out.
It's part of the Park Row restaurant setup that plays on the same theme. You'll be pleased to hear it carries the same quality too. Go for a Love Me, Love My Umbrella – the house drink – a mix of grey goose, vermouth and strawberry syrup and good enough even for a member of the Wayne household.
Eve
Hidden beneath Covent Garden there's a bar that takes inspiration from, of all places, the Bible. Eve is a mild play on the lady who bit the apple of temptation and the garden she was subsequently expelled from.
The Edenesque vaulted ceilings are lined with greenery which also makes sense when you know who runs the place: Adam Handling.
He's famous for founding Frog, a sustainable, low-impact restaurant that emphasises seasonal local ingredients and having only a small impact on the environment. The drinks at Eve follow those same principles and don't disappoint.
Opium
Nothing says opulence like Shanghai in the 20s. At Opium, they lean into that hard. Head upstairs from the popular Chinatown dim sum restaurant and you'll find a long, slim bar serving up a mean drink or two.
The place is decked out with oriental themes with Chinese lanterns and lucky reds. The drinks are actually sort of tiki and play on a bit of a Chinese medicine/apothecary buzz. Most importantly, they slip down pretty easily.
Quirky London Bars: Practical Tips
Some of these bars will take a bit of finding. Don't get put off if you're lost. Just keep looking. The entrance will be around there someplace.
Make sure you book ahead for these places. Because they're so unique they attract a lot of people, making a walk in risky business – especially at the weekend.
Quirky London Bars: Map