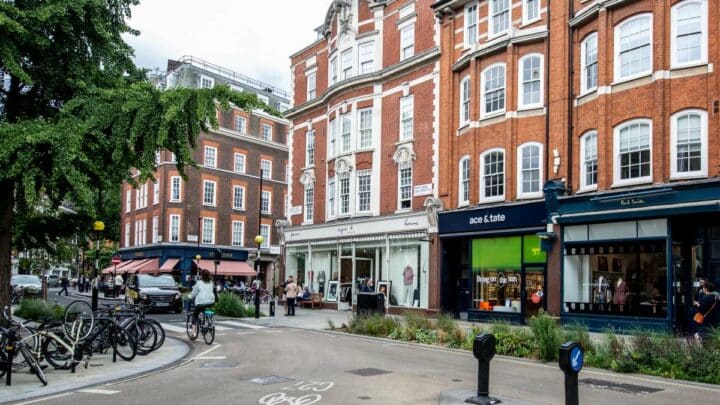 Looking to explore Marylebone Village? This leafy little enclave is one of our favourite neighbourhoods in London.
Tucked away in Marylebone, the village is an excellent place to shop and dine. Filled with independent shops, artisan coffee shops, and delicious restaurants, it makes for a dreamy getaway from the hustle and bustle of Central London.
Mixing the cosmopolitan vibe of the city with a sense of tranquillity only found in the countryside, Marylebone Village is the hottest destination in the capital right now. Here's why.
Things to do in Marylebone Village
Dinner and Jazz at 28-50 by Night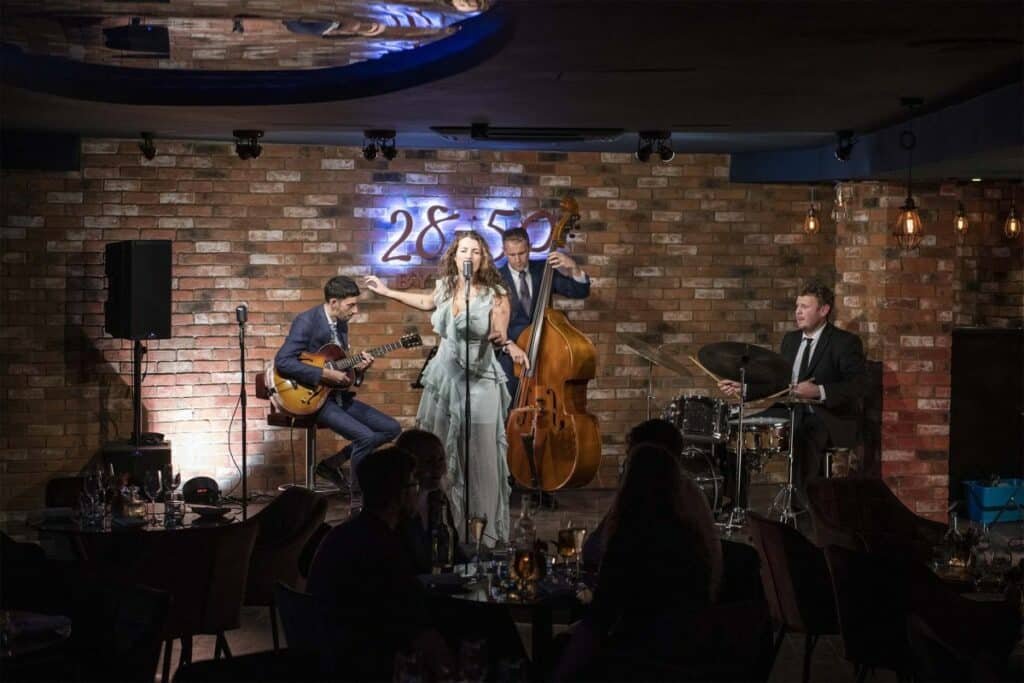 Ending a day in Marylebone Village at 28°-50° by Night is non-negotiable, in our humble opinion. Hidden around the corner from the main restaurant, head here for chilled out jazz music and a delicious dinner, situated in 28°-50°'s ultra-cool jazz club.
It's every bit as intimate as you would expect from a New Orlean's-inspired joint, oozing fun 1920s vibes. From Tuesday to Saturday, 8pm until 2am, expect your ears to be blessed with jazz, soul, and blues from the capital's top artists.
Admire The Wallace Collection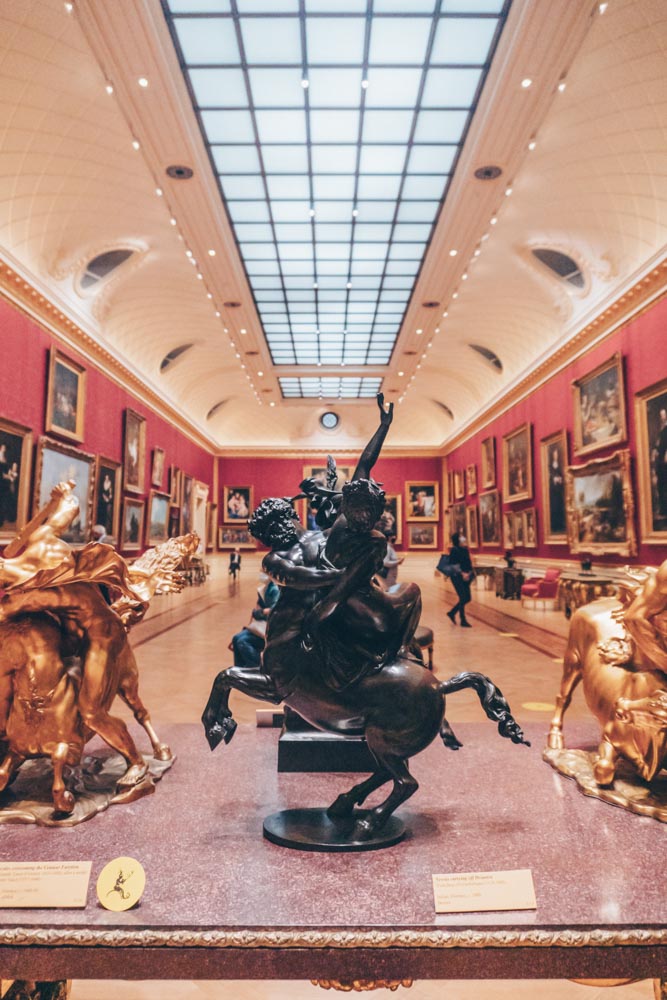 Just around the corner from Marylebone Village is The Wallace Collection, one of the prettiest art galleries in London and the best place to spot an awe-inspiring collection of French 18th-century paintings and decorative art.
The jaw-dropping 17th-century townhouse was once owned by Edward Seymour, nephew of Jane (of divorce, beheaded, died fame). Though, head inside as the paintings, sculptures, and furniture is even more impressive.
Pick Up a Novel at Daunt Books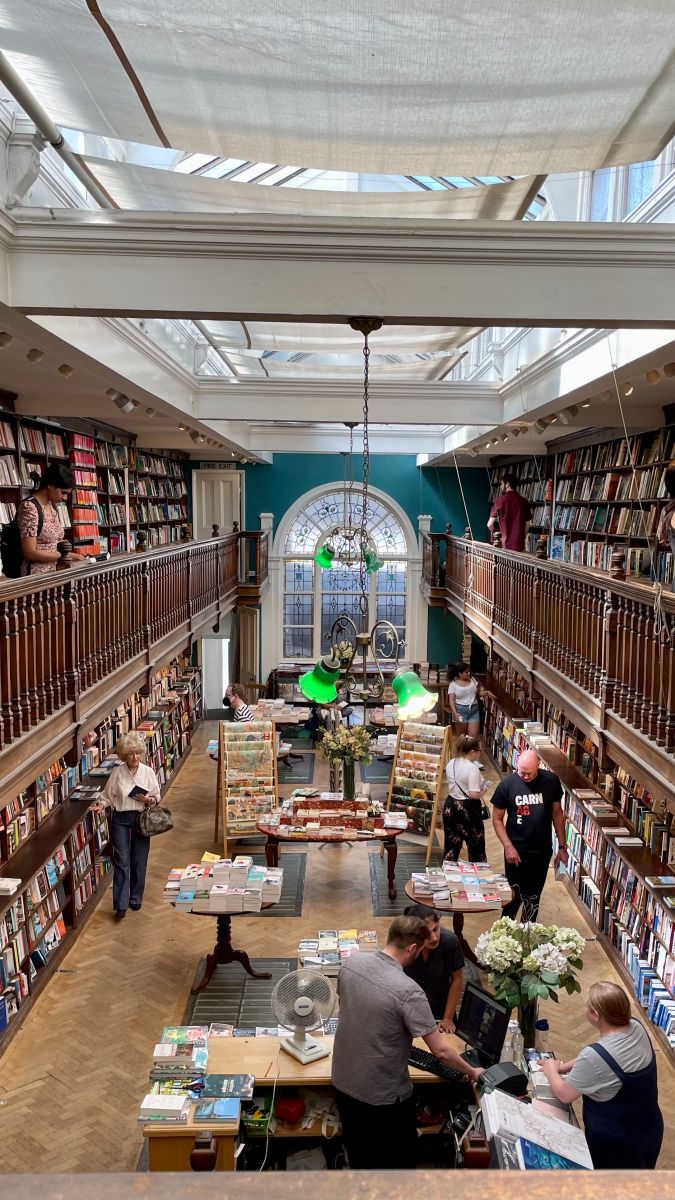 It should come as no surprise by now that we are huge book lovers, and whilst we would usually advise you to shop independently, whilst you're in Marylebone Village you have to visit the original Daunt Books.
Founded by James Daunt, the Marylebone Village branch opened in 1912 and claims to be the first custom-built bookshop in the world.
You'll no doubt have seen the beautiful wooden stairs and arched windows over on the 'Gram – make sure to head to the back right room to check out the incredible selection of travel books.
Pick Up a Cheesy Souvenir at La Fromagerie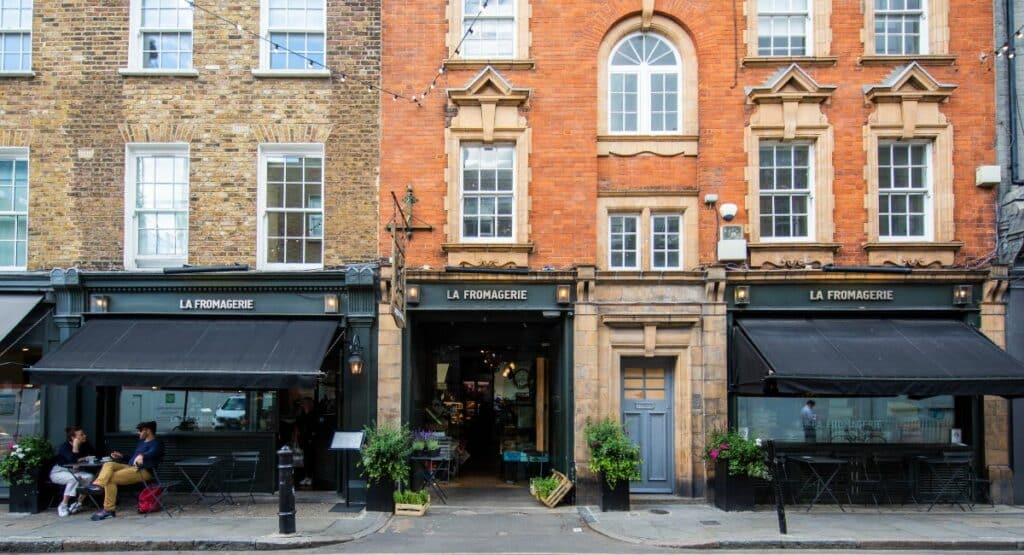 In the mood for a foodie souvenir? Head to La Fromagerie, one of the finest cheesemongers in the capital, to pick up a block of the good stuff.
There's a walk-in cheese room and an affineur (a cheese specialist, FYI) on hand to help you make a cheesy choice. Oh, and make sure to pick up a loaf of artisan bread – and a bottle of red – to enjoy with your selection.
Bars & Restaurants in Marylebone Village
The Italians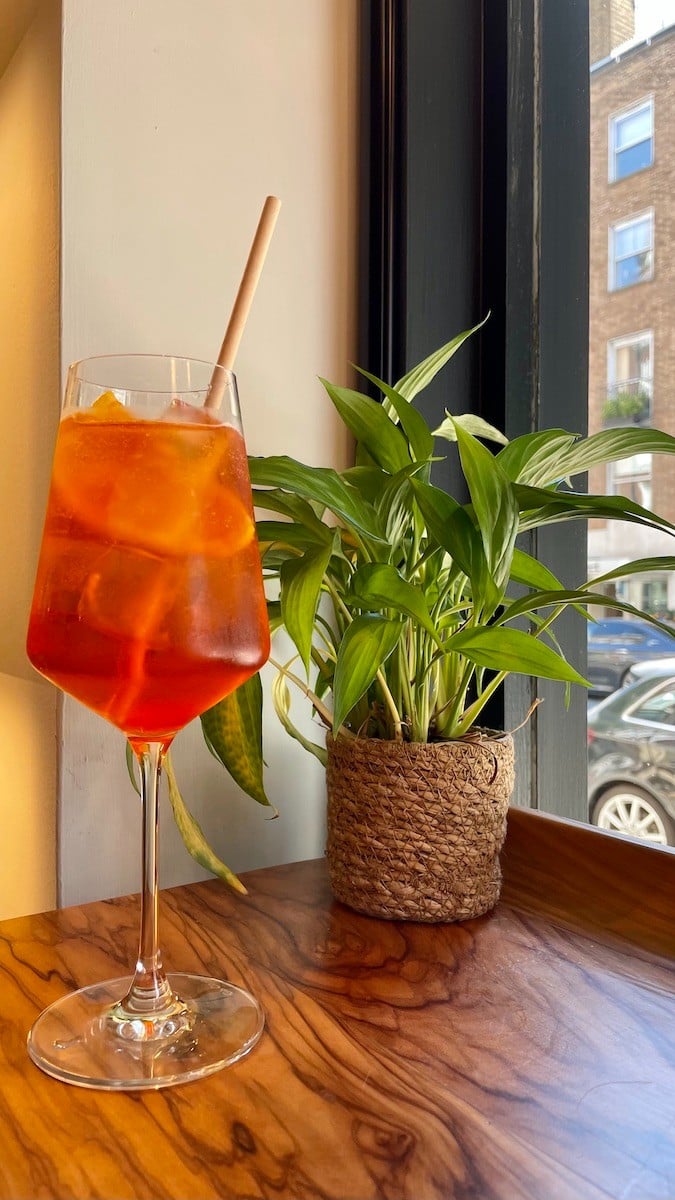 For an al fresco lunch, don't miss The Italians – a gorgeous wine bar in Marylebone Village.
Enter into the intimate dining space and the first thing you'll notice is the wine. An entire wall full of it – as well as corks dangling from the ceiling in what appears to be some kind of Italian take on fairy lights. We're not mad.
Top food picks include the bruschetta with mozzarella (we're not keen on tomatoes and even we scoffed this down) and the parma ham toastie. On our last visit we also spotted the Caprese salad on another table, which looked equally delicious.
Aubaine
With a stunning dining space, delightful French dishes, and a carefully-curated selection of wines, Aubaine is the perfect date night spot in Marylebone Village.
Floor to ceiling windows overlooking Moxon Street flood the restaurant in natural light, whilst the menu is filled with contemporary European dishes with a whole lotta French chic.
We also adore brunch here – the French toast topped with strawberries, blueberries, Greek yoghurt, maple syrup, and baby basil is particularly delish.
Taka Marylebone
Looking for authentic Japanese fare? Taka Marylebone has got you covered. Situated on the main road in Marylebone Village, this is one of our favourite places for sushi and ramen in London.
Marrying Japanese techniques with British ingredients, Taka boasts an excellent a la carte menu, though we'd recommend opting for the omakase offering. Top picks include the mouthwatering wagyu sukiyaki rice, the spicy popcorn shrimp, and the wagyu sando (can you tell we love wagyu beef?).
Top Shopping Spots in Marylebone Village
The Conran Shop
One word: Homeware. The Conran Shop is home to some of the dreamiest homeware pieces we have ever laid eyes upon.
From abstract mugs to funky coffee tables, we want everything. This is also a great place to pick up a souvenir of your time in Marylebone Village; the funky candles get our vote.
Be warned, you'll come away with bags full of new homeware. And you won't be angry about it.
Agnès B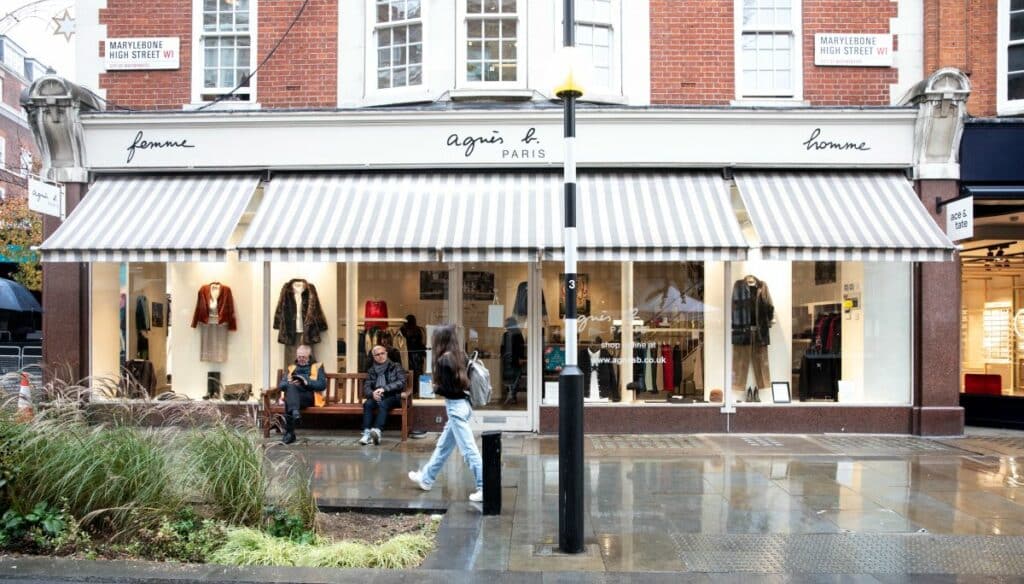 Marylebone Village is an ideal place to stop off for some retail therapy, and Agnès B should be first on your list.
It was founded by the French fashion designer Agnès Troublé and has had a place on the high street since 1999. The designs balance French chic with a contemporary edge, combining art and fashion in an array of unique pieces.
American Vintage
If you're more into retro apparel, American Vintage is your best bet.
This shop is so damn cool – it's flanked with designs that look like they've come straight from a thrift store, without the hard work of trawling through them.
Practical Tips for Exploring Marylebone Village, London
Marylebone Village is a great place to stay if you're looking to explore the rest of the capital. You can either hop on the Bakerloo line or take a regular train from Marylebone Station.
Where to Stay in Marylebone Village
The Marylebone Hotel
A sleek and stylish place to stay in Marylebone Village, The Marylebone Hotel is a luxury 5 star hotel located on Welbeck Street. We highly recommend splurging on a deluxe room – large, comfy beds, a separate seating area, and a fully-stocked mini fridge await you.
The rooms are ultra-swanky, decorated with classic yet understated furniture. Whilst the Italian marble-covered bathrooms are huge, boasting a separate bath and shower, fluffy robes, and fully stocked with complimentary toiletries.
Make sure to head to the opulent bar for a cocktail or two in the evening – or, after you've spent the night snoozing in pure bliss, make your way down to 108 Brasserie for a delicious (and generous) breakfast surrounded by Art Deco touches.