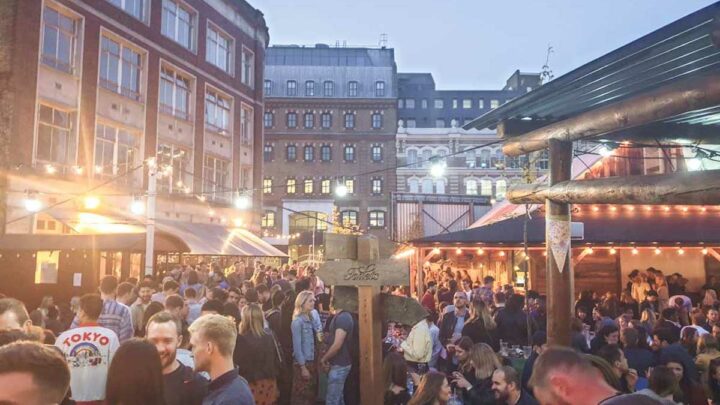 Sure, London's filled with plenty of fabulous restaurants – but if you're looking for a place buzzing with global cuisines, there's nowhere quite better than a London food court. Luckily, the capital has plenty – these are the ones you shouldn't miss.
We get it, the idea of dining canteen-style is enough to fill most people with a sense of dread. Whether it's the high-school flashbacks or the thought of having to fight for a seat, it can be easier to take a punt on a restaurant in London.
However, we're here to tell you that you are missing out. Seriously. Some of the capital's tastiest eats can be found in London food halls and courts.
Don't believe us? Stick around for the rest of the article and see for yourself.
Let's dive in.
Best Food Halls & Courts in London
Mercato Mayfair
Mayfair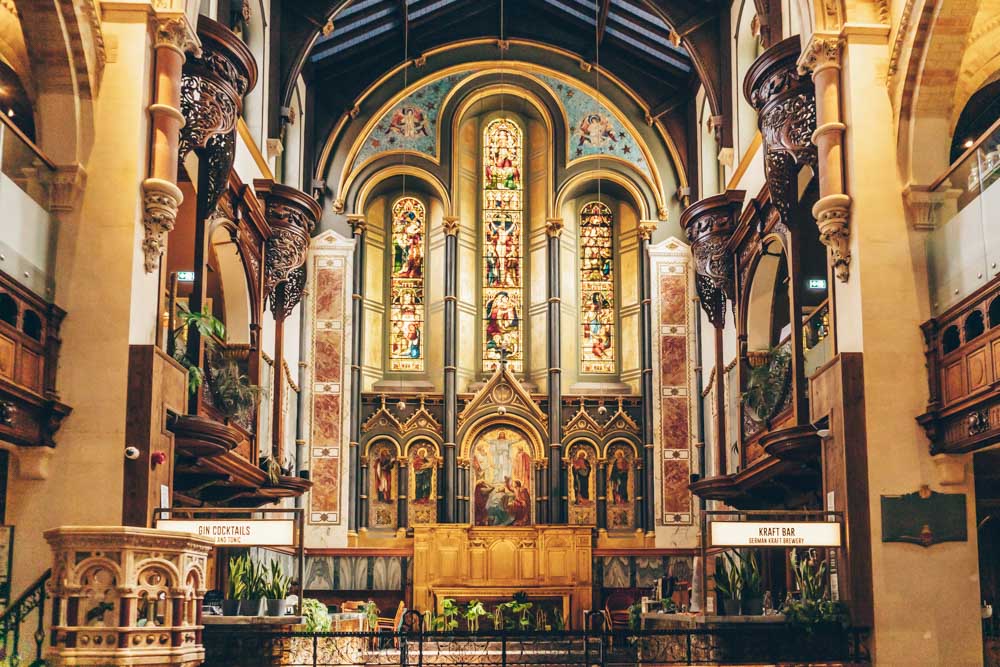 Thanks to the Mercato Mayfair, you'll never be this excited to go to church. The Mercato food hall sits just off the bustling Oxford Street at the St. Mark's church, making for a "holy" foodie experience.
It's considered one of the best food halls in London for a reason. The Spicy Lab cooks up delicious concoctions of Malaysian flavours.
Fall in love with fresh and authentic Italian dishes at the Pasta Lover. And if you still have space, we urge you to try the Pad Thai House for a tasty Asian Fusion experience.
If you're thirsty after all the munching, you can go down to the wine cellar for a perfect pairing of food and wine. Here you can munch and sip away as you enjoy live music — sounds like heaven, right?
Opening Hours: Monday to Thursday 12–11 pm, Friday to Saturday 12 pm–12 am, and Sunday 12–10 pm.
Mercato Metropolitano
Elephant & Castle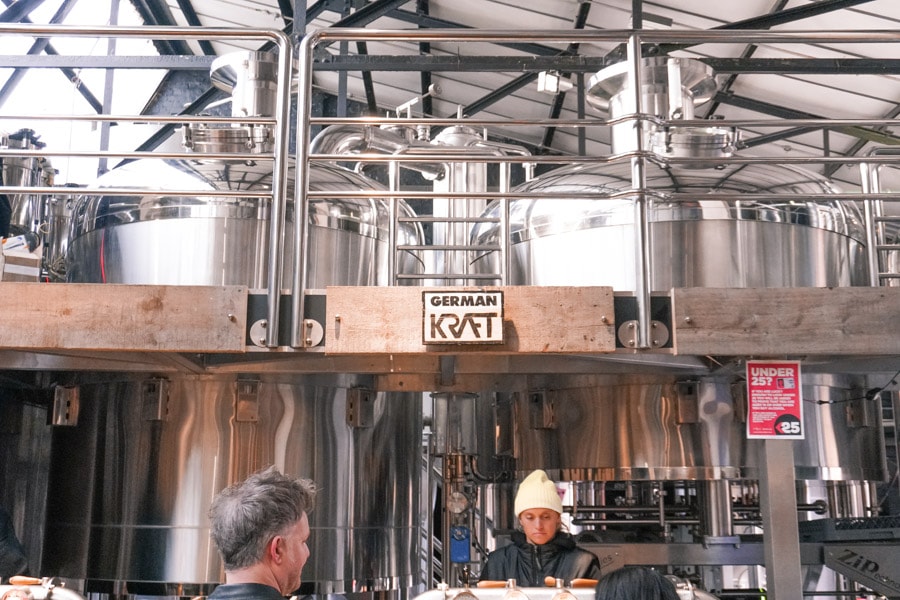 Mercato Metropolitano is a lively food hall in Newington Causeway (basically Elephant and Castle). This expansive food court in London has an impressive reputation as London's first sustainable community market, complete with a German Kraft beer garden and a more private Tea Room.
Dig into delightful cuisines from various cultures. The kebabs at Duman Doner are pretty spectacular, while Yuzu makes a mean bowl of tasty ramen. Other vendors such as Little Sicily, Vietnamese and West Indian Bake are also worth visiting.
Opening Hours: Monday to Thursday 12–11 pm, Friday to Saturday 12 pm–12 am, and Sunday 12–10 pm.
Flat Iron Square
Southwark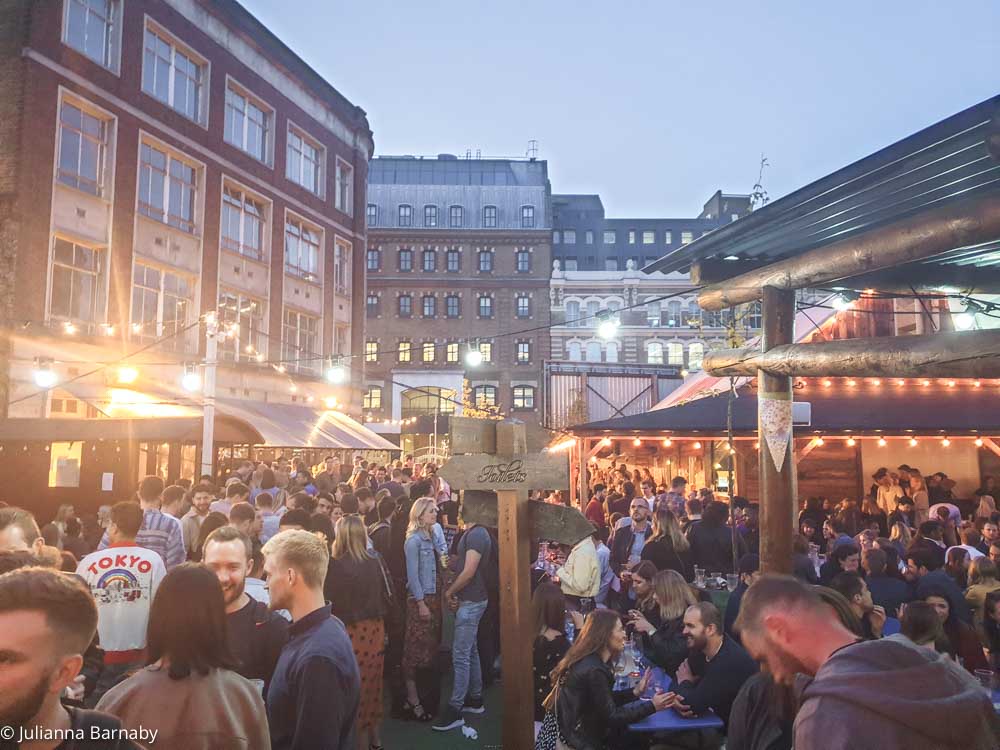 If you're looking to explore the very best of London's nightlife and music scene with delicious eateries, your best bet would be the Flat Iron Square. The trendy food court has moved to a new location, St Felix Place, just down the road and still a stone's throw from London Bridge.
The new venue hosts an onsite brewery with fewer food trucks to get things up and running again.
The burgers from the Gamekeeper food truck are popular among visitors, so do give it a try. But if you're looking for something more unique, we suggest the Po' Bros for a New Orleans culinary trip, try the Louisiana style sandwich and thank us later.
Opening Hours: Monday to Saturday 12–11 pm and Sunday 12–8 pm.
Eataly
Spitalfields
Take a trip to Eataly to discover some of the best Italian dishes in London made with locally produced ingredients. The Eataly Market and Food Hall is basically going to be your fave companion if you fancy cooking or eating authentic Italian food.
Get your hands on high-quality Italian pasta from Pasta Fresca Bar and handmade bread from La Panetteria. For a delicious dessert, head to Dolci Italiani or grab a wine at Il Vino.
Opening Hours: Monday to Friday 7 am–11 pm, Saturday 9 am–11 pm, and Sunday 9 am–10 pm.
Bang Bang Oriental
Colindale
You're in for a banging time at this oriental food court in London. Bang Bang Oriental has been making a huge noise around the city for becoming the "newest and largest Asian food court in London".
The food hall boasts over 27 vendors, including a taste from New Delhi at Patiala Xpress and Korean delicacies at Harune Kitchen. Our advice? Go hungry and scoff as much as you can.
Opening Hours: Monday to Thursday 12–9:30 pm, Friday to Saturday 12–10 pm, Sunday 12–9:30 pm.
Borough Market Kitchen
London Bridge
There's nowhere more iconic to eat than in Borough Market, which celebrates the very best of London street food and drink. You can grab many a bite from over 100 stalls, restaurants, bars and stands for a feast like no other.
Try out the Bao buns at the Taiwanese vendor (aptly named BAO) for a delicious snack. We also suggest grabbing a donut from Gordon Ramsey's Bread Street – it's indulgent but worth it.
Opening Hours: Monday to Friday 10 am–5 pm, Saturday 8 am–5 pm, and Sunday 10 am–3 pm.
Boxpark Croydon
Croydon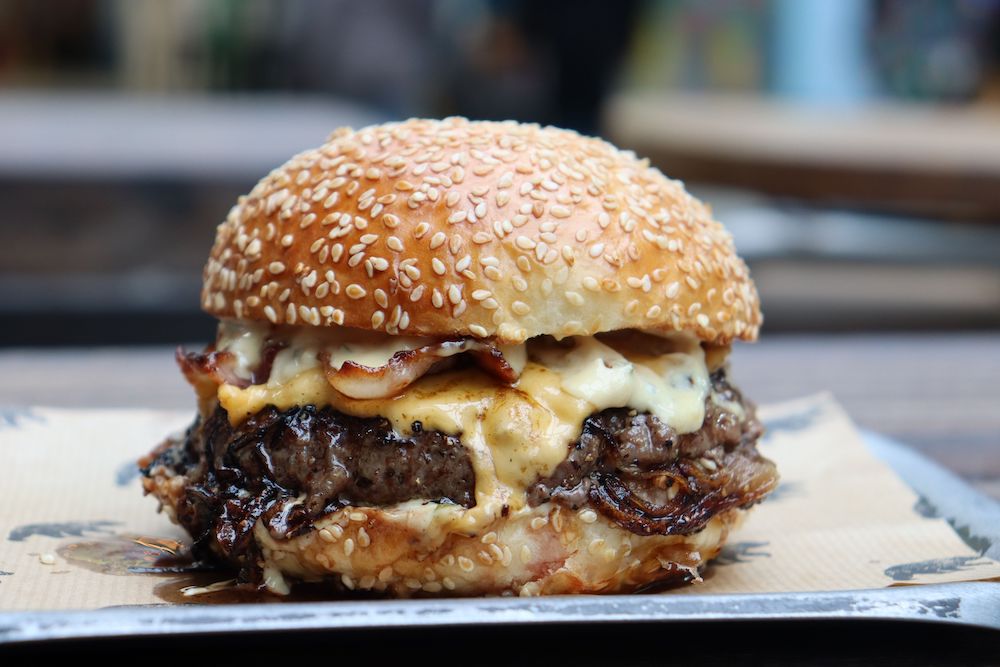 One of the best food courts in London to get a first-hand experience of why this city is the best in the world (we're not biased, we swear), Boxpark Croydon is always abuzz with laughter, mouth-watering dishes, and funky music to keep the party going.
You'll struggle to choose between the meaty Argentinian Grill, burritos at Chilango, and Kanji's delicious Korean Kimbap – and that is but the tip of the culinary iceberg.
Opening Hours: Monday to Wednesday 11 am–11 pm, Thursday to Saturday 11 am–1 am, and Sunday 11 am–10:30 pm.
Brixton Village
Brixton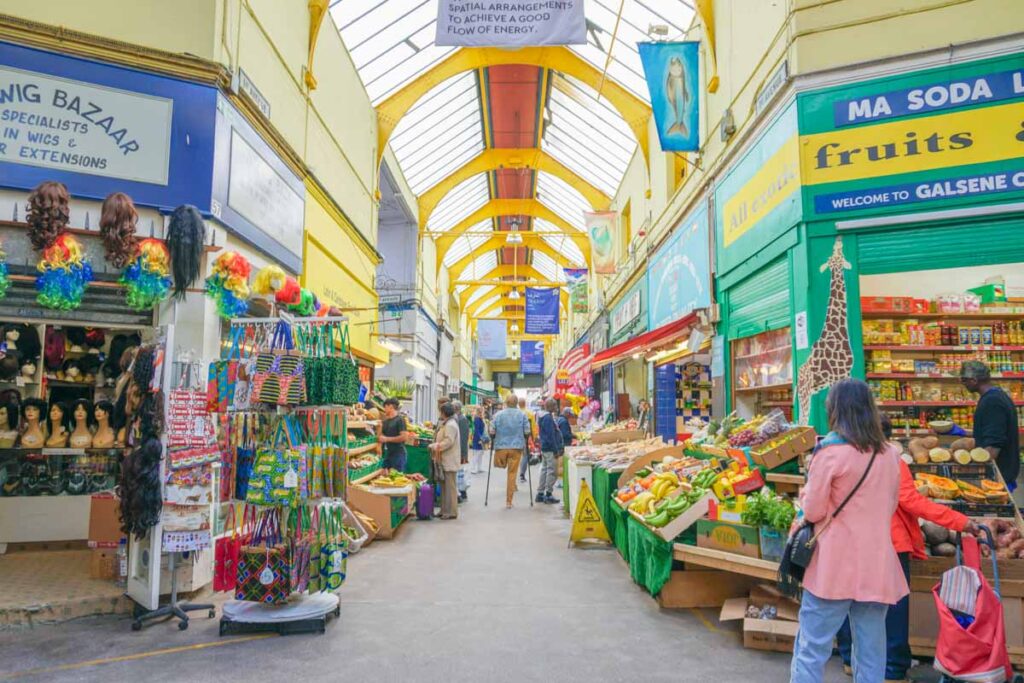 In Brixton Village, you'll find a charming market that serves up unforgettable dishes inspired by Africa, the Caribbean, and beyond.
Although, you might just get lost in a sea of vendors selling everything from champagne, seafood, jewellery, art, vintage fashion, music, etc. on your way.
Follow the tempting smells and you'll soon be rewarded with flavourful street eats. Our top picks include Light of Africa for unmissable jollof and The Joint for so-naughty-they're-nice burgers.
After a day of wandering from stall to bar and from restaurant to live music venue, you'll agree that the Brixton Market is a must for anyone looking to experience the many cultures of South London.
Opening Hours: Monday to Saturday 8 am–11:30 pm.
Seven Dials Market
Covent Gardens
Uncover London's fruitiest food hall at the Seven Dials Market – the stalls here all have fun names and fantastic food offerings. In fact, we think it's one of the very best food halls London boasts.
Pick & Cheese your ideal pairing (we love the brie), grab a margarita at Bar Nana, have your Curry on Naanstop, or swing by the Yum Bun for the yummiest treats.
Wander through to Cucumber Alley, which recently opened, for a sweet treat – the soft serve looks absolutely delicious.
Opening Hours: Monday, Tuesday: 11 am–10 pm, Wednesday to Saturday: 11 am–11 pm, and Sunday: 11 am–9 pm.
Market Hall
Victoria, Canary Wharf, Oxford Street
Consider yourself lucky if you're exploring the big smoke and find yourself with a rumbling tummy near Victoria Street. The Market Hall is the ideal spot to grab a drink or a light meal while visiting the many nearby exciting attractions such as the London Eye.
We recommend the DF Tacos for an unforgettable spicy Mexican fix while relaxing on the roof terrace, though grab anything from the stalls here and you won't be disappointed. Boazin's more-ish dumplings are another highlight.
Opening Hours: Monday to Friday 10 am–11 pm, Saturday 10:30 am–11 pm, and Sunday 10 am–10 pm.
Kingly Court
Carnaby
Take a trip to Soho near London's West End for a culinary endeavour and adventure through the city. The wonderful three-storey food hall London hides consists of the most remarkable concept bars, cafés, and restaurants.
Though, blink and you'll miss it – keep your eyes peeled as you stroll down Carnaby Street for funky floor tiles that show you the way.
Kingly Court is truly as diverse as it comes. If you'd like to indulge in the melting pot of cultures, try out food from the Indian, Japanese, and Greek eateries – the recent addition of Korean Dinner Party is a huge winner, too.
And if you're health-conscious, don't worry; the Detox Kitchen has your back with mouth-watering acai bowls.
Opening Hours: Monday to Sunday from 6 am–11 pm.
Goods Way
Kings Cross
In the heart of King's Cross sits a food hall that caters to foodies with a taste for elegance: the Goods Way market. It's smaller than other London food halls, but the quality is high AF.
You can find delectable meals at one of five vendors in the courtyard, including the Sushi on Jones, which serves up traditional Japanese Omakase, and our favourite kebabs in London at Le Bab.
You'll find some chattering guests sipping on a cocktail at Nola's bar, or join the music enthusiasts mid-groove at the Lafayette venue.
Opening Hours: Tuesday to Saturday: 12–10 pm and Sunday: 12–8 pm.
Practical Tips for Eating Your Way Around London's Food Courts
It may be obvious, but GO HUNGRY. We guarantee you'll want to try multiple stalls out – sharing lots of dishes with friends is the best way to sample the most.
Why not look at our tips for travelling to London for some helpful insider info on this marvellous city.
London Food Courts: Discover More Foodie Guides