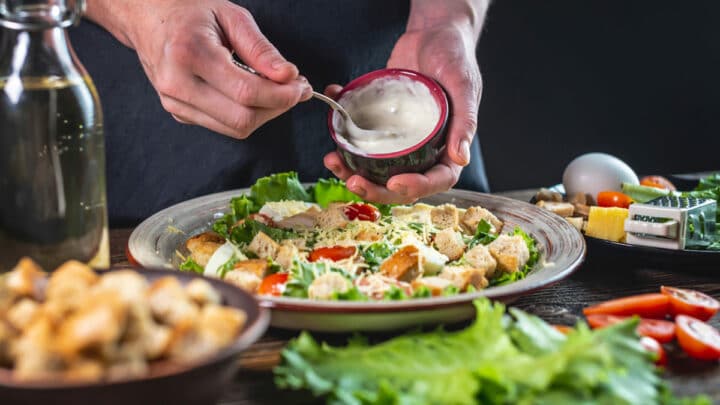 Discover the best places to eat in Elephant and Castle with this handy guide. From pizza to Polish, here's where to find the tastiest food in the neighbourhood.
Words by Olivier Guiberteau
A lot has changed in and around Elephant and Castle. What was long a major road junction for those coming in and out of the city's south, has since blossomed into one of London's most up-and-coming neighbourhoods.
And you know when this happens, top quality places to eat are never going to be too far behind.
Read on to discover where you need to dine in Elephant and Castle.
Best Restaurants in Elephant & Castle
Toulouse Lautrec
££
It may look like a rather worn pub from the outside, but inside, Toulouse Lautrec serves up outstanding quality French food at surprisingly affordable prices.
Split over three floors, with quiet a la carte dining on the ground level, live acoustic music on the first floor, and an exciting jazz club on the second, a meal here isn't just about the excellent food. You'll also be treated to a show.
Dragon Castle
££
Don't let the name or the fact it feels like one of the bland, oversized Chinese restaurants that seem to be popping up frequently these days put you off Dragon Castle.
This place fuses traditional Chinese cuisine with an exciting contemporary twist making it undoubtedly the best place to get Chinese food in the Elephant & Castle area.
With 60 dishes to choose from and some of the finest dim sum you'll find in London, Dragon Castle doesn't disappoint. Order the Char Siu Bao and the Har Kau and thank us later.
Paladar
£
This area of South London is a great place to dive into the exciting world of South American cuisine, but if you don't want to have to narrow down your options to a specific country, then head to Paladar.
With both indoor and al fresco dining, along with a wonderful array of food options, including tasting menus that are simply to die for, Paladar is the local neighbourhood food joint every part of town needs, yet few have.
Whether you order the pan-fried prawns, the crispy pork belly, or something else, make sure you save room for the purple corn churros with coffee dulce de leche and a chilli chocolate sauce. Delish.
Mamuśka!
£
Tucked away beneath an arch close to Waterloo Station lies Mamuśka! Polish Kitchen and Bar. Don't know anything about Polish cuisine? Never thought much about trying it? Well – we're here to tell you that it's worth it.
Mamuśka! quickly established itself as one of the most popular restaurants in the Elephant & Castle area – and it's not difficult to see why.
Its unpretentious location and rather unassuming interior may not immediately stand out, but for authentic Polish cuisine, including dumplings, slow-roasted beef cheeks, and Kielbasa, it's second to none.
Beza Ethiopian Food
£
If you're new to the world of Ethiopian vegan food – and let's be honest, how many of us aren't – this cosy little establishment on Sayer Street is unquestionably the place to come.
Beza Ethiopian Food flies under the radar, which is difficult to understand because the food is not only fabulous but also at a ridiculously low price.
Obviously, you won't find any meat here – but don't let that put you off. At Beza, they serve a small but incredibly tasty selection of vegan dishes from Ethiopia that haven't been watered down for western tastes.
Their Difin Misir Wot and Ethiopian Salad are particular highlights, so stop in and dive into a completely different side of food than you're used to.
Koi Ramen Bar
£
Simply, cheap, and utterly delicious. Fine dining it certainly is not, but if you're looking for a quick stop to fill up on top-quality ramen, then the Koi Ramen Bar, one of four in the London area, shouldn't be missed.
Located on Sayer Street, close to Elephant Park, the Koi Ramen Bar keeps things straightforward with a simple menu that gives you the most popular options, but also the freedom to add and build your own delicious bowl of steaming Ramen.
The prices are almost absurdly cheap for what it is, giving the place a laid-back vibe that's open and available to all.
Bobo Social
££
Bobo Social combines a chic elegance that isn't exactly common in the area (sorry Elephant & Castle) with excellent quality European food.
Open throughout the week but particularly popular for brunch at the weekend, Bobo Social serves up everything from top-quality 16 oz ribeye steaks to the ever-popular smashed avocado.
But Bobo Social is as much about the ambience as it is about the food. Stylish, yet relaxed, formal, yet not, with a wide selection of cocktails to settle into for the evening, or perhaps a lazy Sunday brunch.
La Barra
£
Think you know fried chicken? Think again. You haven't tasted fried chicken until you've tried the wildly popular Colombian version served up in droves at La Barra.
Located beneath one of the many railway arches that cut through Elephant & Castle, La Barra certainly isn't anything to write home about from the outside – we'd even go as far to say you'd probably walk straight past unless you were aware of the secrets that lay within.
There's plenty more on the menu besides fried chicken, including rice and bean dishes, empanadas, and of course plenty of meat. But it's their take on the grub made famous to the wider world by KFC that they are best known.
Yet unlike the American chain's version, which tends to leave you feeling full of regret, the fried chicken at La Barra is incredibly good. Widely considered some of the best fried chicken in all of London, this is where you need to come instead of KFC.
Theo's Pizzeria
£
Sometimes all you need is great quality pizza. At Theo's Pizzeria, they keep things simple – a few excellent antipasti to kick things off and then a limited but excellent selection of pizzas cooked in traditional ovens with high-quality ingredients.
Now with two locations, one in Elephant & Castle and the other in Camberwell, Theo's has established itself as a solid option if you want to keep your dining straightforward with some of the best pizzas around.
Other Places to Eat in Elephant & Castle
Mercato Metropolitano
£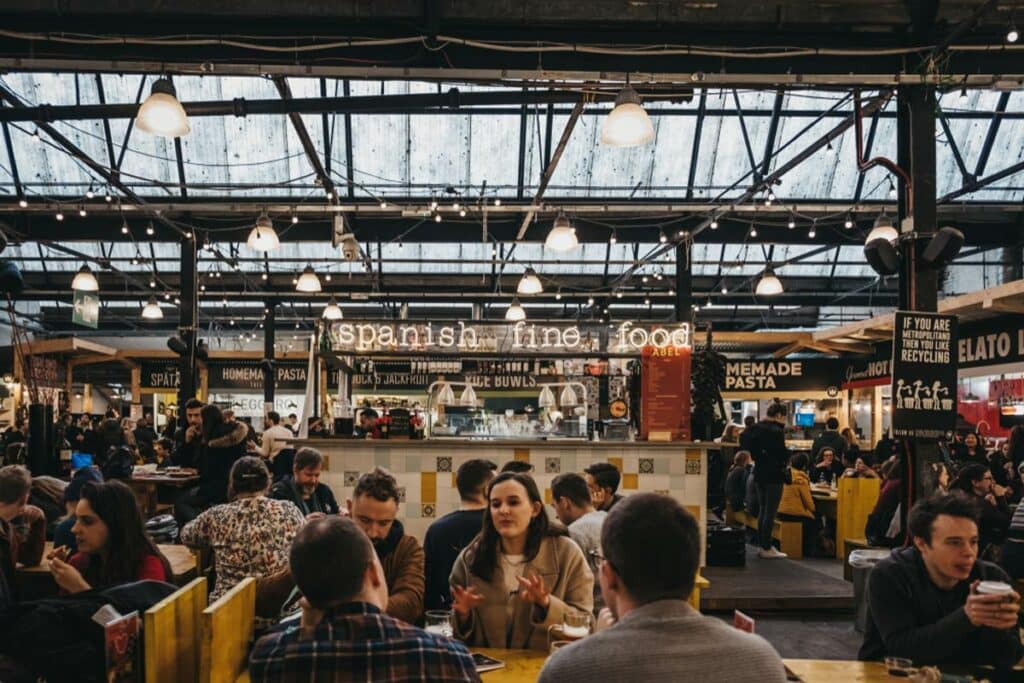 Where do you go when you're famished but don't have the desire to narrow your choices?
The Mercato Metropolitano in Elephant & Castle, like its sister locations at MMy Elephant Park, Mercato Mayfair, and MMy Wood Wharf, is a veritable foodie wonderland where you can slowly feed on a huge variety of food to your heart's content.
Whatever you're in the mood for you'll find it all here under one roof (or in the Mercato's vast outside seating area).
The Albert Arms
£
Never judge a book by its cover. The old-school boozer look from the outside is in sharp contrast to the surprisingly good-quality pub food served inside.
Any day of the week is a good time to visit for good grub and proper pub vibes, but their Sunday menu is where the Albert Arms really kicks on. Its slow-cooked Welsh lamb shoulder and Gloucester Old Spot Pork Belly are particular highlights.
What's more, the Albert Arms comes with very reasonable pub-esque prices, proving once and for all that you don't need to accept sub-standard food to enjoy the many delights of the Great British pub.
Oaka
££
A traditional pub from the outside, a mecca for pan-Asian sharing food on the inside, Oaka is where craft beers and top-quality Asian food collide with spectacular success.
Situated on Kennington Park Road, just a ten-minute walk from Elephant & Castle station, Oaka is best known for its Thai food but the menu covers a wide range of options, including curries, salads, noodles, and plenty of great sharing dishes that are great to plonk in the middle of a table when you having a few drinks with friends.
If you're looking for a fun pub with plenty of drink options, but also somewhere you don't have to rely on crips or rather sad pies, Oaka is your best choice.
Practical Tips for Exploring The Best Elephant & Castle Restaurants
Elephant & Castle isn't really the place for fine dining, but what it may lack in high-end restaurants it more than makes up for with reasonably priced top-quality food often with its roots far from British shores.
If you're unsure what to try, head to the Mercato Metropolitano for a huge selection of food and drink options. With so much on offer, if you keep your sizes small you work your way around the world without leaving the confines of Elephant & Castle.
Elephant & Castle Restaurants: Map
Read More London Restaurant Guides