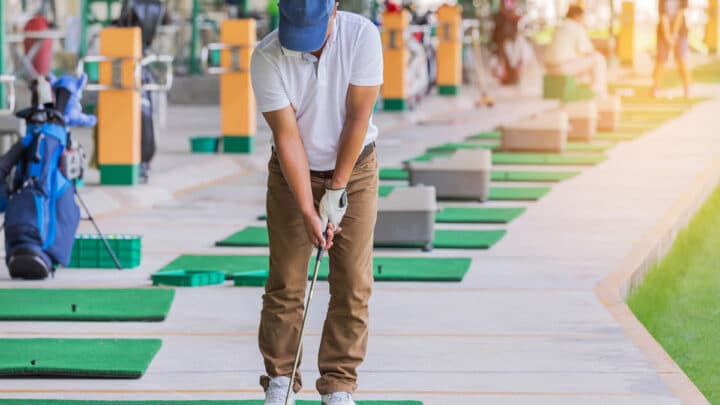 Looking to perfect your swing? Here's where you should be heading.
Sometimes the urge just overcomes you to take to the range and shoot some balls. We've been there and we know the feeling well. Having worked our way around a few of London's best we thought we'd share our knowledge.
London's driving ranges are on point and there's a good amount of them to choose from. Whether you'd prefer to test your swing at a fancy country club, or get competitive on technology-assisted driving ranges, you'll find what you're looking for in our guide to the best driving ranges in London.
Best Driving Ranges in London
Greenwich Peninsula Golf Driving Range
Greenwich
Greenwich Peninsula Golf Driving Range is far and away our favourite London driving range. There's plenty of space on the range so it's not hard to find somewhere to whack a few balls, but best of all they deliver food and drink straight to your bay so you can chow down on nachos, burgers and knock back beers for the ultimate driving-range day out.
They also integrated a bit of tech into the experience so that you can challenge yourself to hit virtual islands and measure your swing against not just your pals, but everyone else on the range.
In spite of all the above reasons we love this driving range, Greenwich adds one more: The impressive views of Canary Wharf as seen from your driving bay.
The Shire
Barnet
Another great driving range London has to offer is at The Shire. This swanky golf club in Barnet has a range where you can tee off over rolling greens that are as charming to look at as they are to shoot balls into.
The Shire also offers lessons from these bays and has won awards for their golfing school. That school, by the way, is run by winner of multiple World Long Drive titles, Lee Cox.
We should point out that being a swanky place, knocking a few balls at this range is probably going to cost you a bit more than at the other spots in this guide. You will be getting much nicer facilities though.
Metro Golf Centre
Hendon
Anyone looking for the best driving ranges London can boast should consider Metro Golf Centre. They're probably the most popular driving range north London can lay claim to and really do have plenty to offer.
Top of that list is the price of a session on this range. You can get 90 balls for the humble sum of £11 and hire clubs at £1 for an iron and £2 for woods and drivers, making this a very reasonably priced place to swing a few.
Their range has several targets and distance markers for you to aim at and stays open until 10pm on weekdays – perfect if you want to play a bit of late-night golf.
Big Shots Golf
Harrow
Big Shots Golf is high on many people's lists of London driving ranges, including ours. That's because they prioritise making the game accessible to everyone. Whether you're going with kids, a gang of golfing pals or even a pro, you'll be well accommodated here.
They really love what they do too. The company has even developed their own virtual golf simulators to help first-timers improve their swing. They've even put in three on-site places to eat and drink so you can shoot balls for the long-haul.
You'll be doing that on one of their 55 bays – bays which include VIP options, and are up to date with the latest tech to record each swing you make and chart your progress.
Dukes Meadow
Chiswick
One of the best driving ranges London can boast is found at the west-London leisure club Dukes Meadow. The range is a single story of 60 bays that curve nicely around the bottom of a long range of perfectly manicured lawn.
They have floodlights to illuminate the range if you're playing after dark and they stay open until 10pm from Monday to Thursday (9pm the rest of the week). What we like most about the range at Dukes Meadow is that for every four range cards you buy you get a free weekday round of golf for two people.
You can't argue with those deals.
Urban Golf
Farringdon
Golfing can be quite a weather-dependent sport. One way to ensure the rain never interrupts your day at the range is to play the game indoors. You can do just that in central London at Urban Golf.
They've got golf equipment as good as any other driving range in London has and a bunch of screens for you to put it to use on. On those screens you can simulate over 60 real Championship courses.
When you're done you'll have a fully stocked bar and a kitchen turning out some great burgers and snacks to chow down on.
Practical Tips for Exploring the Best Driving Ranges in London
You should try to book ahead if you can. Most places can be booked online but others you may need to call. It's not too common to be able to rock up without a booking – this is London after all. You're never the only one after that spot.
Some of these ranges will have tutors on hand to offer lessons if you want to improve your swing. You can ask at the counter or check the website of the location you've got in mind for more info.
If you've not been before, driving ranges will supply you with clubs for hire. They're not usually the best quality but they'll be fine for knocking a few balls around.
Driving Ranges in London: Map