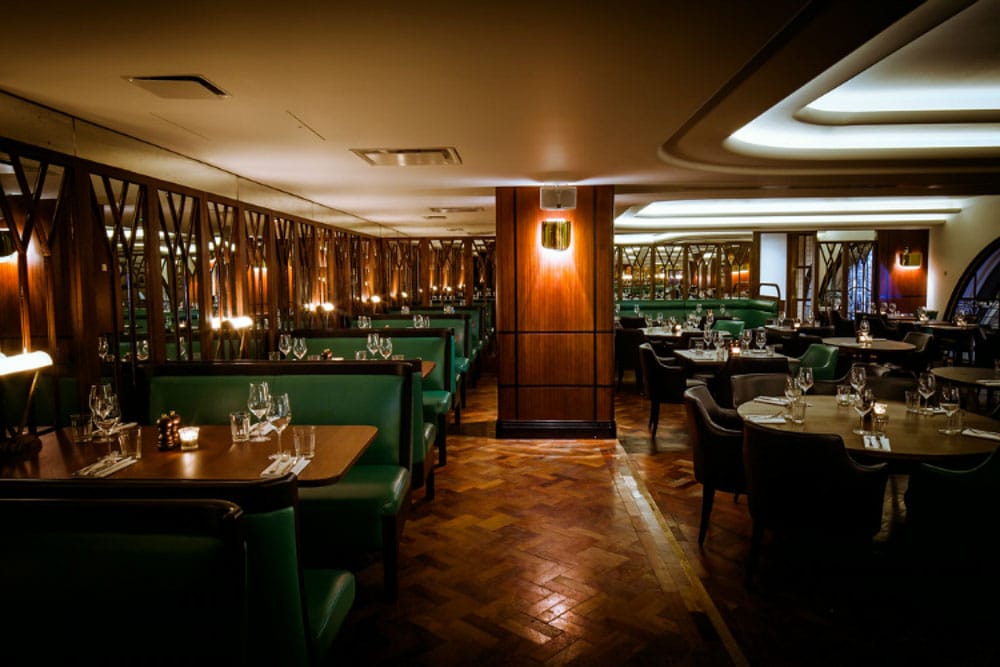 From slap-up dinners to cheap eats, here are our pics for the ten best restaurants in The West End.
Home to some of London's best theatres and some of its best restaurants too, The West End is an ever-popular place to hang out and dine out.
Comprising what's broadly Soho and Covent Garden you'll have almost too much choice when it comes to choosing a place to eat. And so being the helpful people that we are, we've tried to make it easy for you.
Here's our guide to the ten best restaurants in The West End, with a couple of options for every price point.
Best Restaurants in The West End
Bob Bob Ricard
£££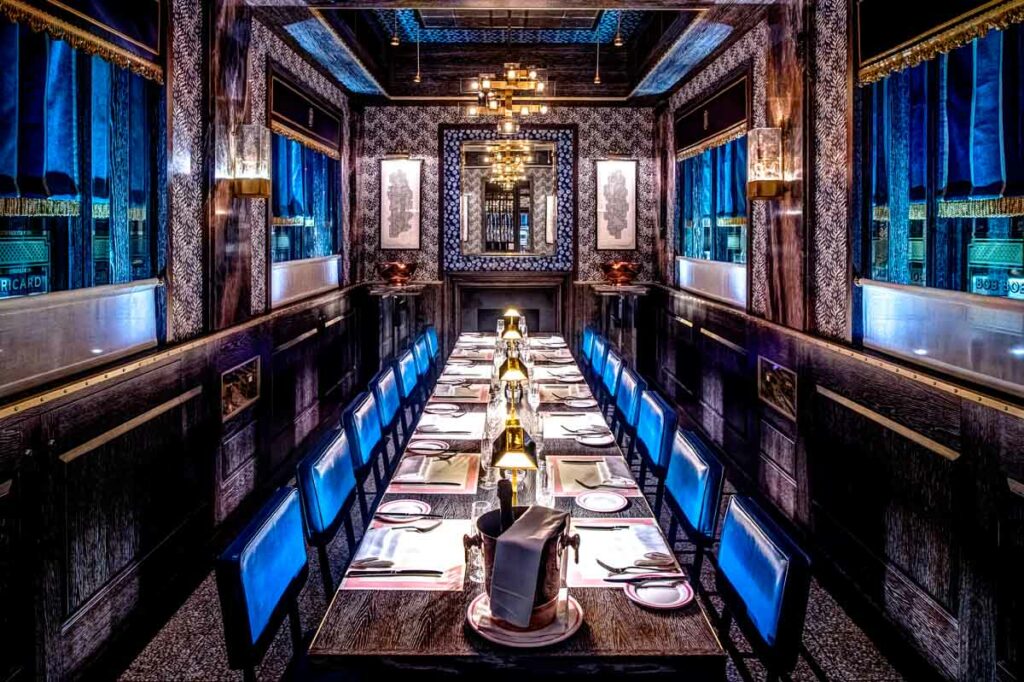 One of the most iconic restaurants in London, you can't do much better for lavish class than at Bob Bob Ricard. The place is most widely known for its famous 'Press for Champagne' buttons that you can push when your glass starts to run dry.
The food is broadly Russian but takes plenty of cues from the cooking of this rainy isle. Expect to be dining out on hearty food that's given touches of elegance with the addition of truffle shavings or spoonfuls of caviar.
Oh, and we should mention that Bob Bob Ricard looks amazing. You'll see what we mean when you get there, but let us just say that it's surprising if something isn't glittering in this place.
Hawksmoor
£££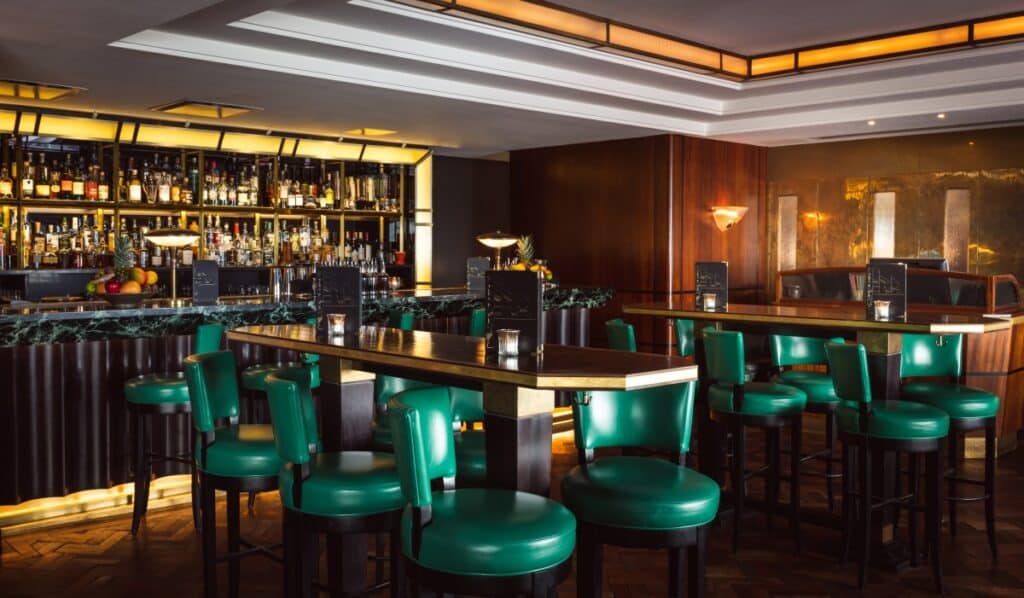 One of the finest steakhouses the city, let alone the West End, has to offer is Hawksmoor. They've got a few locations around town but we particularly love the Covent Garden spot. Its low-lit, vaulted cellars seem like the perfect place to eat a meal of deeply flavoursome red meats.
And that's exactly what you'll be getting. The steaks here are excellent, often dry aged and always hit the spot. The range of starters and sides should not be missed either. They do a great dish of grilled bone marrow that is a must order for anyone who's not squeamish about that sort of eating.
Another great thing about Hawksmoor is their commitment to sustainability. They understand their impact on the environment and have taken great steps to reducing their impact. We even featured them in our sustainable restaurants guide.
Din Tai Fung
££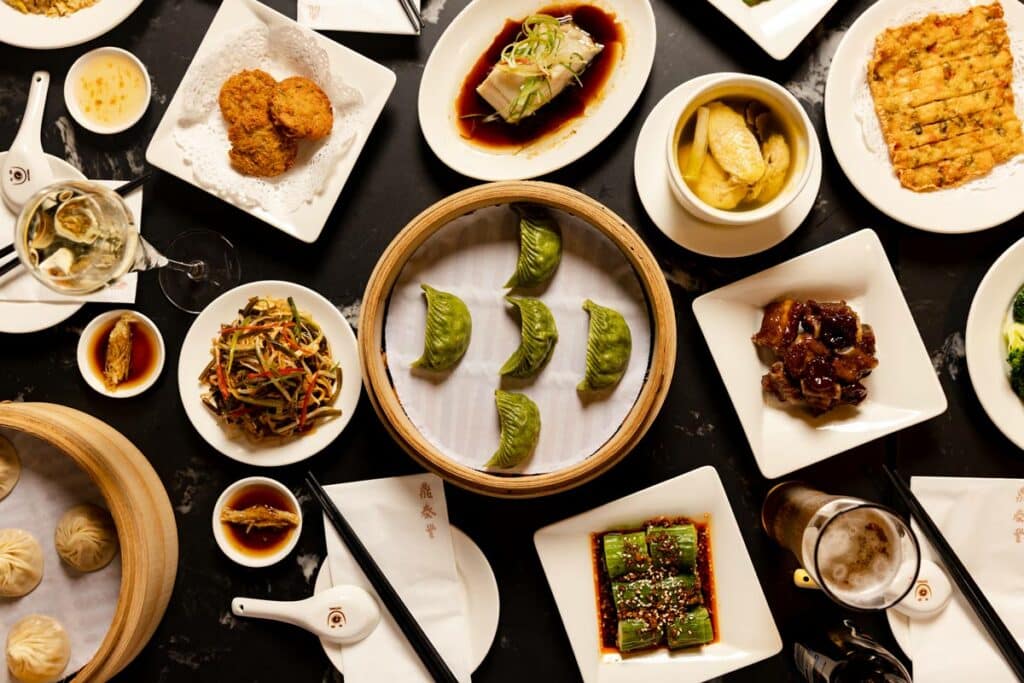 Din Tai Fung is possibly the king of dumplings in whatever city it sets up in. The flagship store in Taipei has held a Michelin star seemingly forever and you can tell by the attention to detail that goes into the cooking here that much of that quality has been carried over.
Seriously. Every dumpling they make has exactly the same number of tiny folds on the top and when you look at them up close it's almost impossible to distinguish one from the other. The flavours will do that for you though. Order a basket of the pork truffle and another of crab and pork. You want both on your table.
Barrafina
££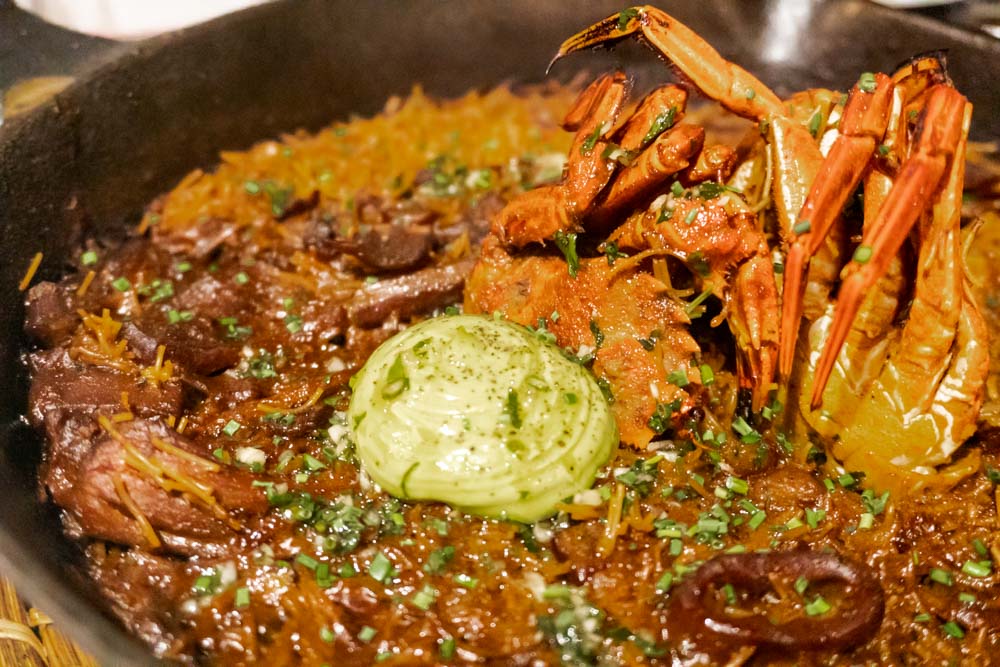 There are actually two branches of this award-winning tapas restaurant in the West End. They are much the same and whichever you choose you'll be in for a fine meal.
Barrafina's original Dean Street spot holds a Michelin Star and as such it's a bit harder to bag a table there. You'll find many of the same dishes down the road at the Drury Lane location too though, as well as some signatures that are just as tasty.
Food should be shared, and you basically must order some wine to wash it all done. Their staff are always happy to recommend something good.
Cafe TPT
£
If you're after something cheaper than the rest of your options in The West End you'll have to go looking in Chinatown, more specifically at Cafe TPT. This place is one of our favourite spots in the city. Full stop.
They serve up a menu of mostly Cantonese classics in a pokey two-up-two-down that comes just about as close as you can get to the experience of dining in a Hong Kong restaurant in London.
The food is great too. You're best off ordering a plate of roasted meat and rice (all under a tenner). These dishes will fill you up but if you've got friends to eat with, try a couple of other dishes to share.
The Ten Cases
££
The Ten Cases is a bistro spot serving small plates and wine from an extensive selection of bottles. The name comes from their method of only ever buying ten cases of wine at a time so that when they are out, they are out for good. This keeps things fresh and the menu dynamic.
Food wise you'll be eating from a menu heavily inspired by French cooking but bought into the modern age with a touch of kitchen creativity. The result is fantastic and guaranteed to impress – especially when paired with a bottle from one of the ten cases.
Frog
£££
Frog, Adam Handling's Michelin-starred restaurant is one you want on your mind if you fancy something fancy. The food here is as theatrical as what you'll find on the stages around the corner, and looks as incredible as the wildest operatic costumes.
All of that would mean nothing though, if the food wasn't also very very good – which it is. Handling has been working in kitchens since he was 16 and over the years has learnt from some of the greats.
The concept for Frog was born when he visited Japan and fell in love with the sustainable cooking being done in that part of the world. He brought the very same philosophy into play when he opened this restaurant, so on top of being wowed by the cooking you can rest easy knowing it's also made without wasting a scrap.
Bancone
£
Bancone probably needs no introduction. It's one of the most popular pasta restaurants in London. The food they do is all fresh and very original and arguably better than most other Italian restaurants around.
The thing that gets them most attention though, is the price. You can find bowls of pasta here that won't cost more than £15 and possibly eat a whole meal out at Bancone for little more than that.
If you need any more persuading, know that the Michelin man has given them a Bib Gourmand award, his seal of approval for high-quality, low-price cooking.
Koya
££
One of our favourite Japanese restaurants in London also happens to be in The West End. Koya makes some excellent ramen. They get creative with the flavours but manage to stay pretty well rooted in the traditions that make this kind of cooking excellent.
You'll hopefully be eating at the ramen counter, where you can watch the chefs do their thing as you wait for your meal, sipping on the Japanese beer and picking at the nibbles you should order to whet the appetite.
There's just one hitch. They don't take bookings and there's almost always a pretty long queue. Either suck it up and wait the half hour or so (it is worth it) or try to come at a time that's not peak dinner service.
The Four Seasons
££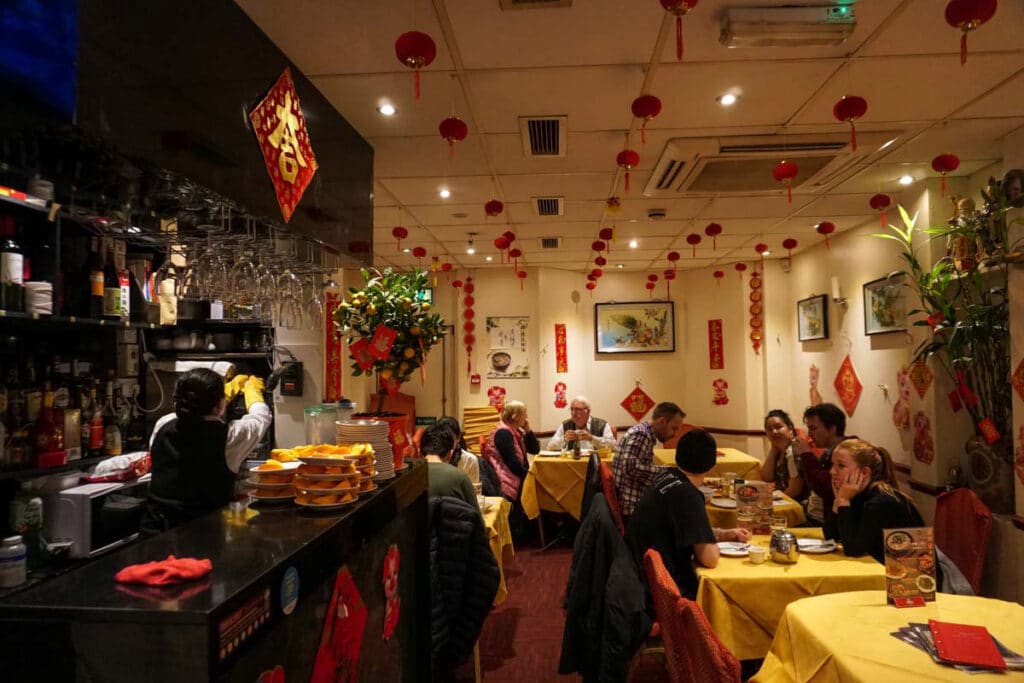 Another great Chinatown spot you should hit if you're looking for West End restaurants is The Four Seasons. You'll probably be able to distinguish the spot by the queue that's sticking out the door or the roasted ducks hanging in the window.
Those ducks are what you're here for. They've been talked about by every Chinese food aficionado in London and are probably some of the best in the city. You'll need to accompany it with some other dishes too. Get adventurous, you are in safe hands with these chefs.
As for that queue, it does move fast so don't let it put you off. However if you're of an impatient disposition, one of the other restaurants in this guide, Cafe TPT is literally right next door.
Other Places to Eat in The West End
Here are a few other spots to eat in the West End that you should have on your radar.
Seven Dials Food Market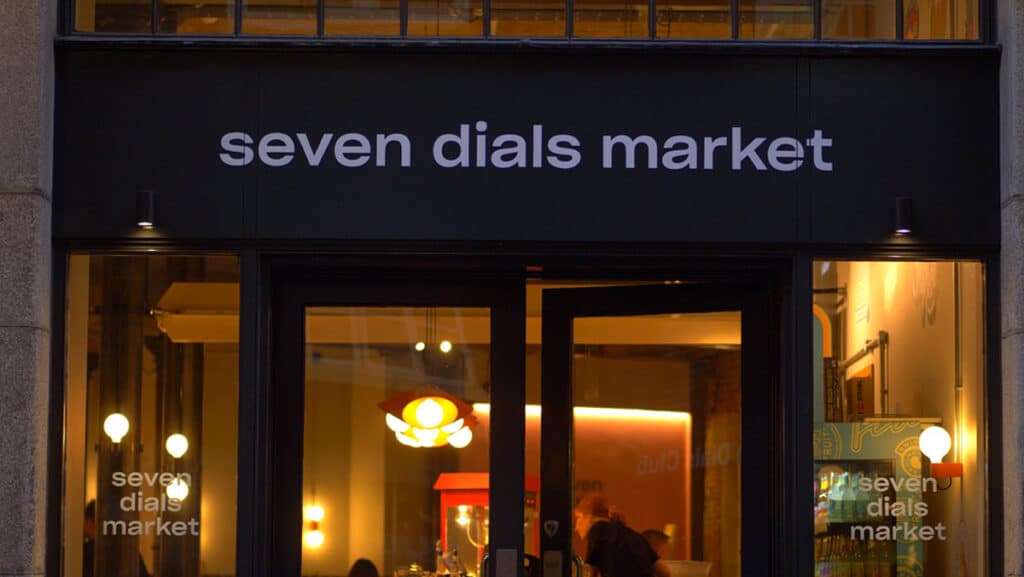 If you have too many people who can't decide what kind of food they want or failed to get a table at a West End restaurant, you'll find plenty of options at Seven Dials Food Market.
The place will be busy but that's just because it's popular. Inside you'll find plenty of great options in cuisines and food types as varied as Filipino and Cajun or burgers to curry. There's plenty of seating in the centre of the court.
If that doesn't tick your boxes, let us add that there are multiple bars down there where you can add cocktails or beers to your meal and turn the event into a bit of a celebration.
Practical Tips for Exploring the Best West End Restaurants
The West End is one of the most expensive places to dine out in London. Expect to pay good money for a meal here. That said you can find a good meal for under 15 quid if you know where to look. (Hint: It's at Cafe TPT, Bancone or Koya).
Make sure you're booking ahead for your dinner. This is a busy part of London and these are popular restaurants. You don't want to be left on the street going hungry…
Because of The West End's rep as the theatre district of London, many of these places will offer theatre menus. These are sets of several courses that can sometimes save you a bit of money, or at the very least remove the burden of choosing something delicious on a whole menu of delicious things.
West End Restaurants: Map