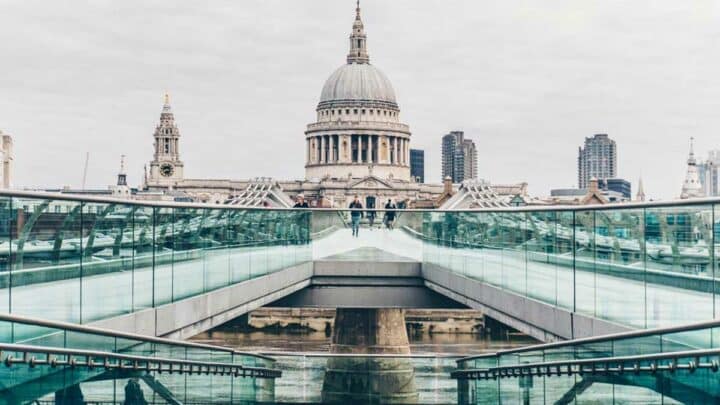 London is a rich person's playground – so they say. The truth is you don't have to be loaded to love London. Here's a guide to the best things you can do in London for under £10.
It's time to tighten your belts; the economy is going down the pan and the only thing that's rising out of the whole stinking mess is the cost of living.
London has always been a city that would strain even the most bloated of bank accounts, but it doesn't have to be that way. If you look hard enough you'll find plenty of things you can do on the cheap.
We set ourselves the goal of doing just that with a tenner in our back pocket.
From creepy old operating theatres, to self guided tours and from evenings in Greenwich's historic planetarium to historic battles for brick lane's best bagel, here's our guide of things to do in London for under £10.
Things to do in London for Under £10
Ride a Cable Car Over the Thames
Docklands – Greenwich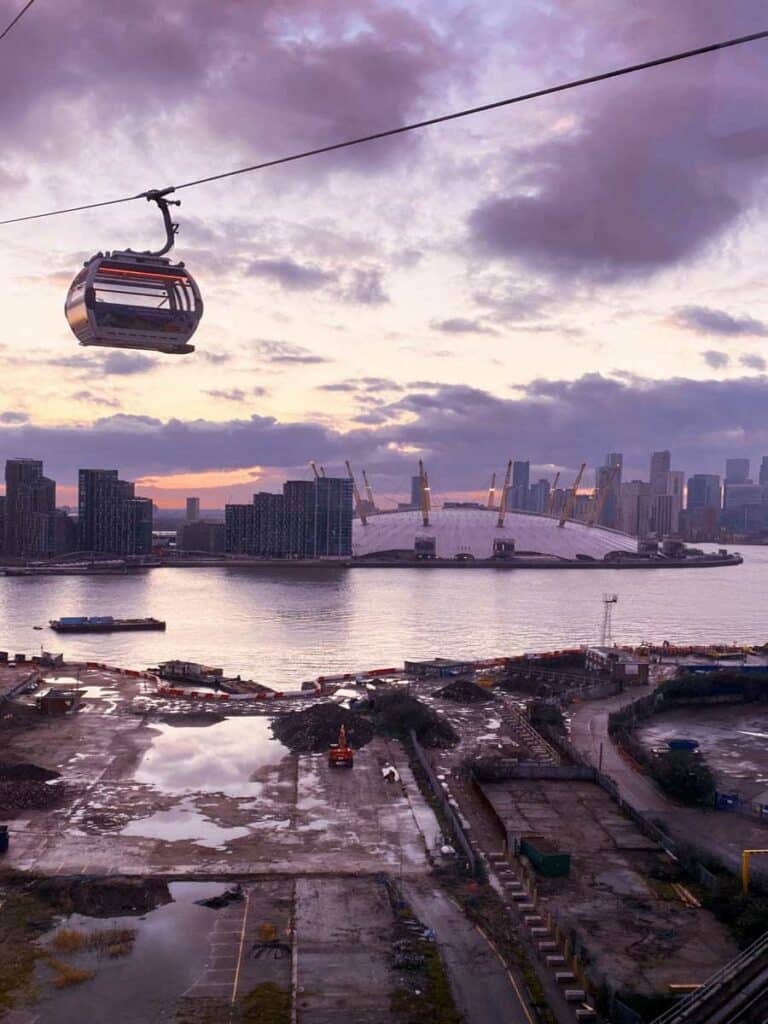 In an ironic twist of fate, the man who is partly responsible for you feeling the pinch, Borris Johnson, may also be the one to provide you with a cheap bit of fun with his cable cars.
The questionably nicknamed 'Dangleway' was originally coined by BoJo as a revolutionary new commuter route, and hailed as a way to cut down traffic. But in a characteristic turn of events for the ex-mayor/PM, the reality turned out to be exactly the opposite of what he'd said.
Within six months of opening the number of regular commuters on the cable cars per week was a grand total of 16, the rest were tourists. You can join them and take in the views of East London and the river below you for a £10 return trip, or a fiver one way. Nice one Boris, thanks.
Grab Standing Tickets at the Globe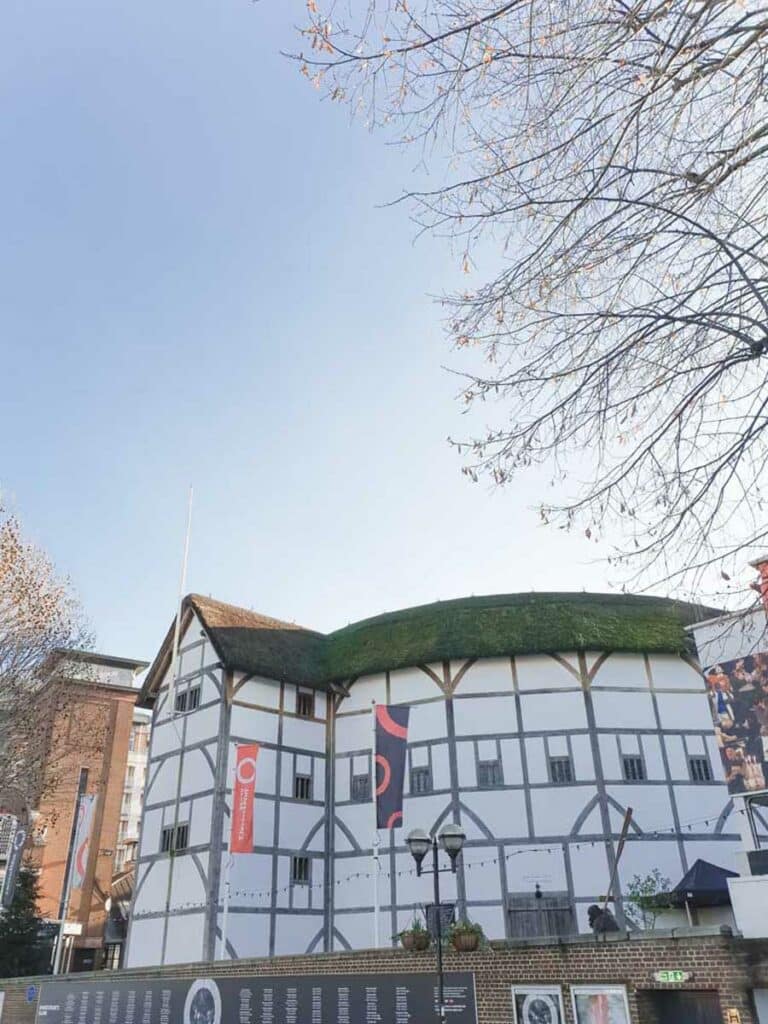 Nothing could be more London than a trip to the theatre, and nothing could be more theatre than a trip to the historic Globe on the southbank – it is, afterall, where Shakespeare had his plays performed.
How can that be under a tenner we hear you ask? Well, if you can nab a few tickets in the standing area it certainly can be.
That, by the way, is how most people would have watched the Bard's plays when they were originally shown – theatre in the round, it was known – and the tradition lives on.
See what's on and book your tickets here
Take Sides in the Great Bagel Beef
Brick Lane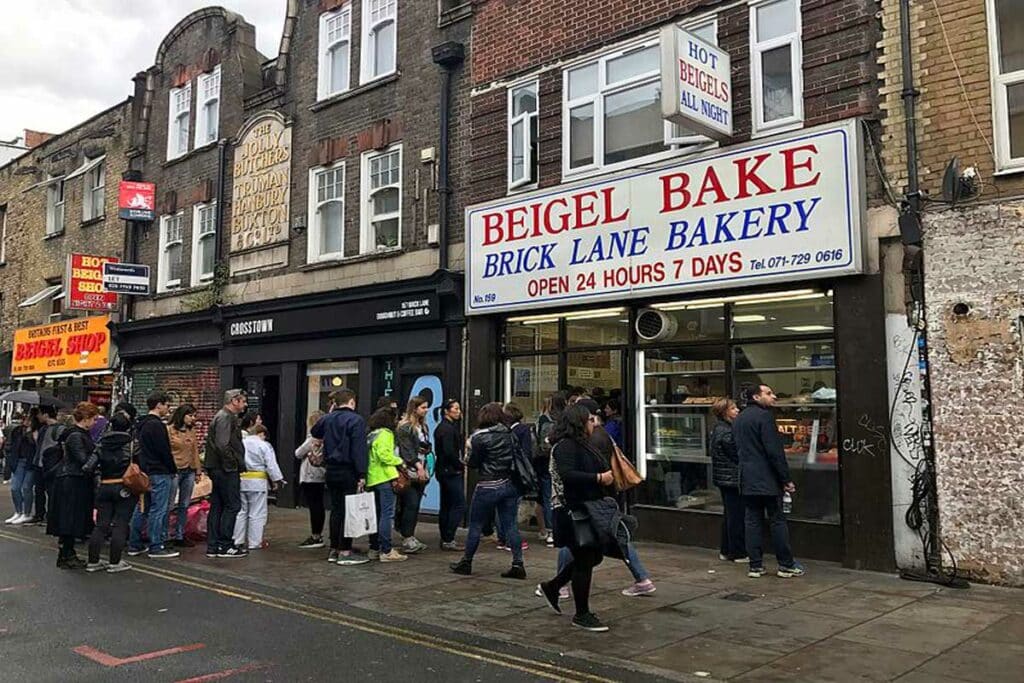 If you've been in London a while, you've probably heard about the Bagel beef. It's not the salted kind you might expect to find at your local deli – though that is on offer. No, we're talking about the ever raging debate over which bagel shop on Brick Lane deserves your patronage.
The toss up is between Beigel Bake (the one with the red and blue font) that's open 24/7 and is a relative newcomer to the game, but that's only because its rival Beigel Shop (the orange one) has been slinging the ringed delights since 1855.
For under a tenner you could pick yourself up one of the salt beef numbers that is the staple of the two shops. You'll be eating at a London institution. When you have another tenner spare you can nip back, try the shop you missed and wade into the debate.
But be warned – you may lose friends over the side you pick.
See Mass at St. Pauls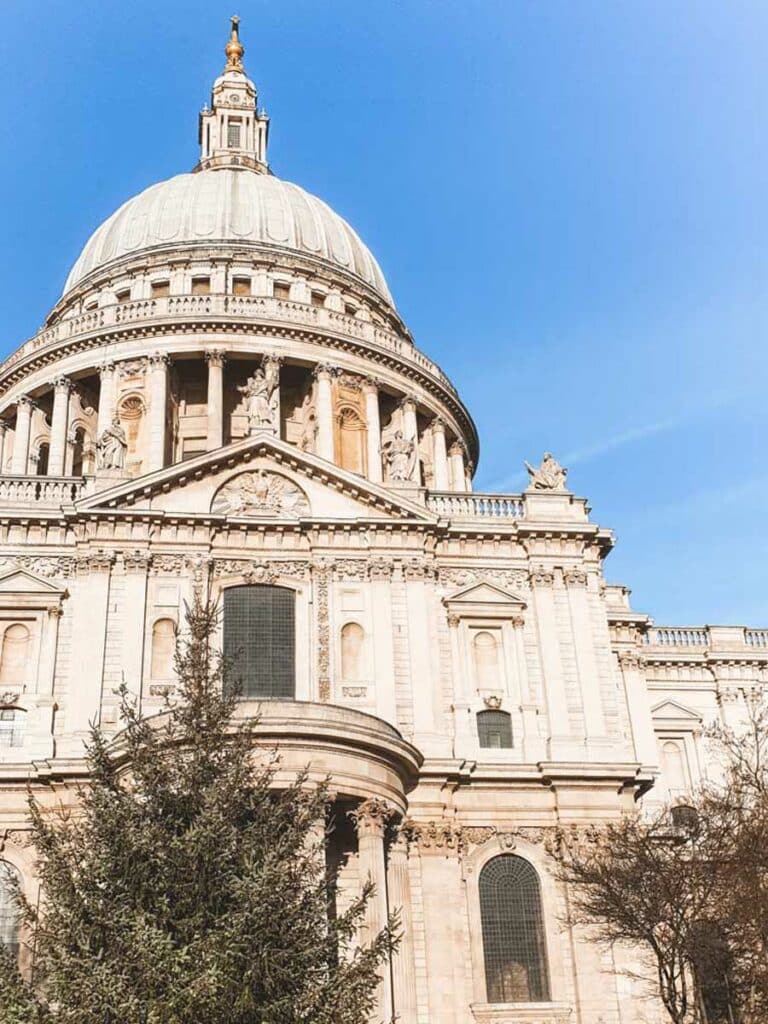 We love a good free thing to do in London. You need to have a few up your sleeve in a city where a pint can set you back more than the spending budget of this article.
One of our top free things to do in London is to see the evening mass at St. Paul's Cathedral. It's a truly enchanting experience. The choir performs songs that are as moving as the building is beautiful.
Head to mass early and you can slip into the crypts of the cathedral and see a few of England's most famous dead people (their graves that is, they're not really there all stuffed and embalmed or anything).
Mass starts at 5pm Monday – Saturday, and 3pm on Sunday.
Visit a Farm in the Heart of the City
Citywide
When the money worries are getting you down, why not go stroke some nice cute farm animals. That should get the old endorphins flowing again. London's got a handful of inner-city farms where you can do just that.
There's one up in Kentish Town that is free to get into, but the sight of their enormous pigs might end up being a painful reminder about the lack of food in your cupboard. If that's something you'll want to avoid there's also one in Vauxhall.
That one is also free so you can keep that tenner for later, alternatively there's the opportunity to donate it to the animals. £10 would buy them two bales of hay.
See an Old Operating Theatre and Learn How They Used to Perform Surgery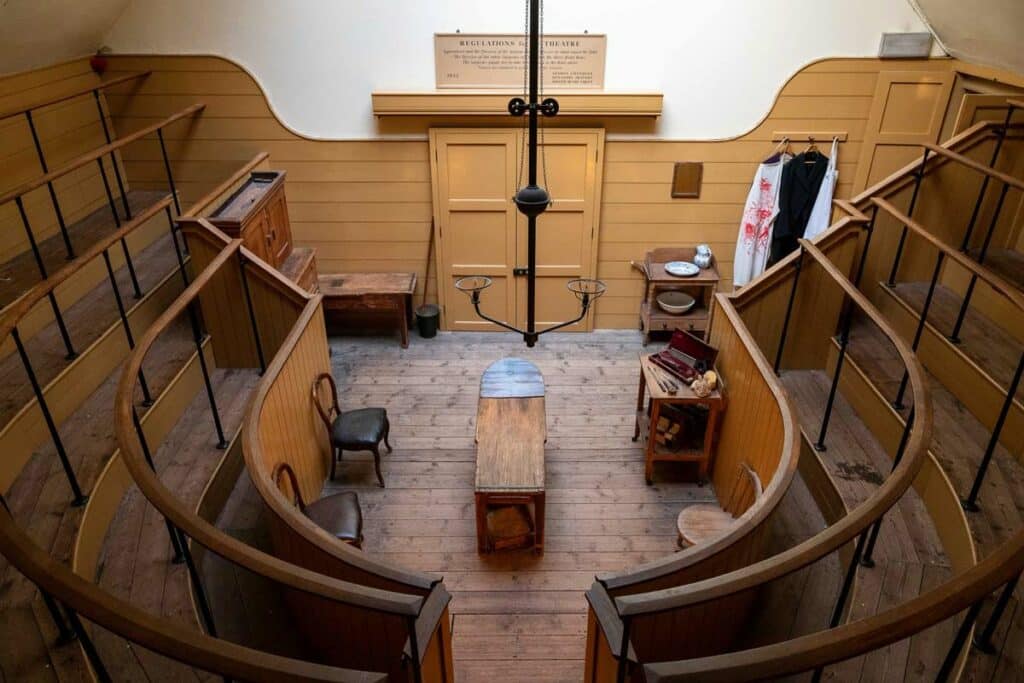 We bet you don't know about the crazy old operating theatre hidden in the eaves of a church – but it's really there, under the roof of the church of the old St. Thomas' Hospital in Southwark.
The place was abandoned and essentially lost for decades until it was rediscovered and opened as a tourist attraction. Now you can see just the kind of setting they used to perform surgery in. That means rows of seats for people to watch and plenty of gory details
They put on tours and talks about the history of medicine that are well worth looking out for – especially if you're the horror type.
Tickets are £7.50 . You can book them here.
Catch a Lecture at an Educational Institution
Citywide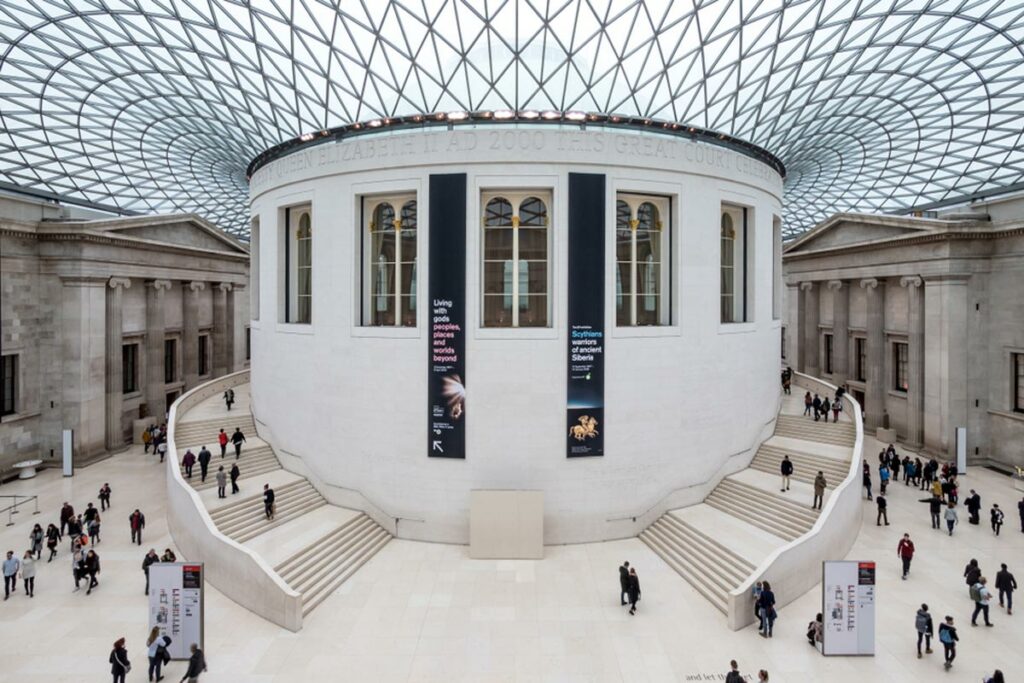 London has some of the world's finest museums and educational institutions and, better yet, you can visit most of them for free. But are you aware their educational capacity extends beyond just walking around quietly looking at stuff?
London has heaps of educational talks you can attend, some of them free, some of them under £10. Gresham College have been doing free lectures for about 400 years now, so they've got that down to a fine art.
Other London x London favourites are The British Museum and the National Gallery which both do free talks (and some under a tenner) that feature panels of experts and late-night tours of the exhibits.
Buy Flowers at Columbia Road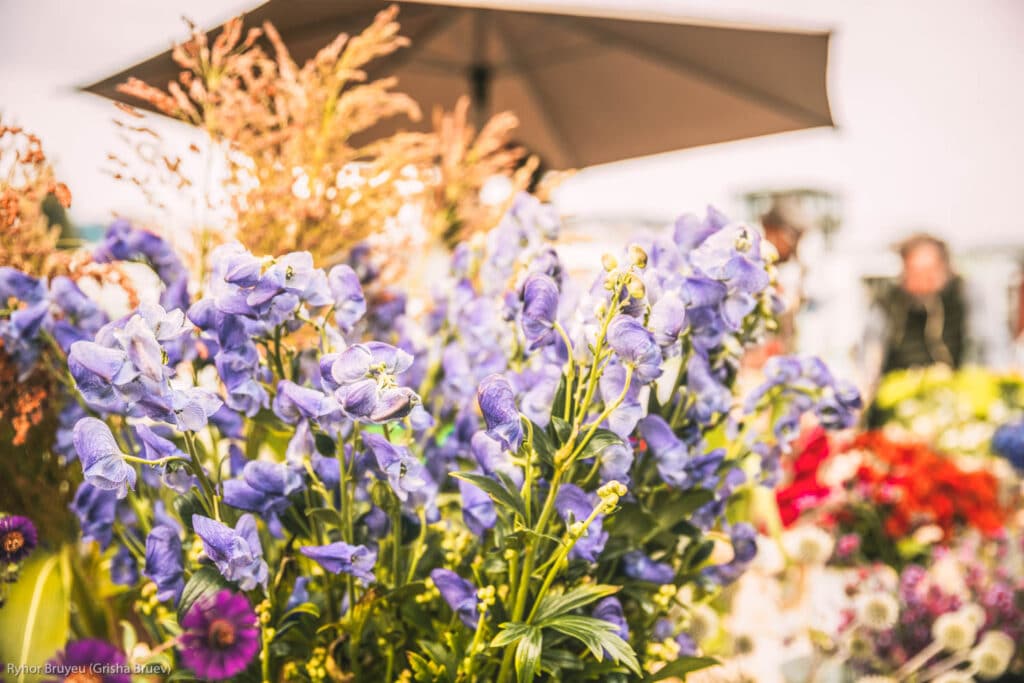 Columbia Road Flower Market is an East London institution, and quite a spectacle – we'll never get over the sight of the geezer salesmen flogging beautiful orchids and bouquets, spouting a near-arcane knowledge of all things floral as they do.
A trip down here when it opens on Sunday mornings needn't cost anything if you just want to browse the crazy variety of flowers and plants on offer, but you can also pick up some real bargains – especially if you wait for the market to start closing up at about 2-3pm.
You might just end up with a nice new house plant or a treat for that special someone, and you won't even have broken the bank. Bonus.
Take a Self-Guided Tour of London
Citywide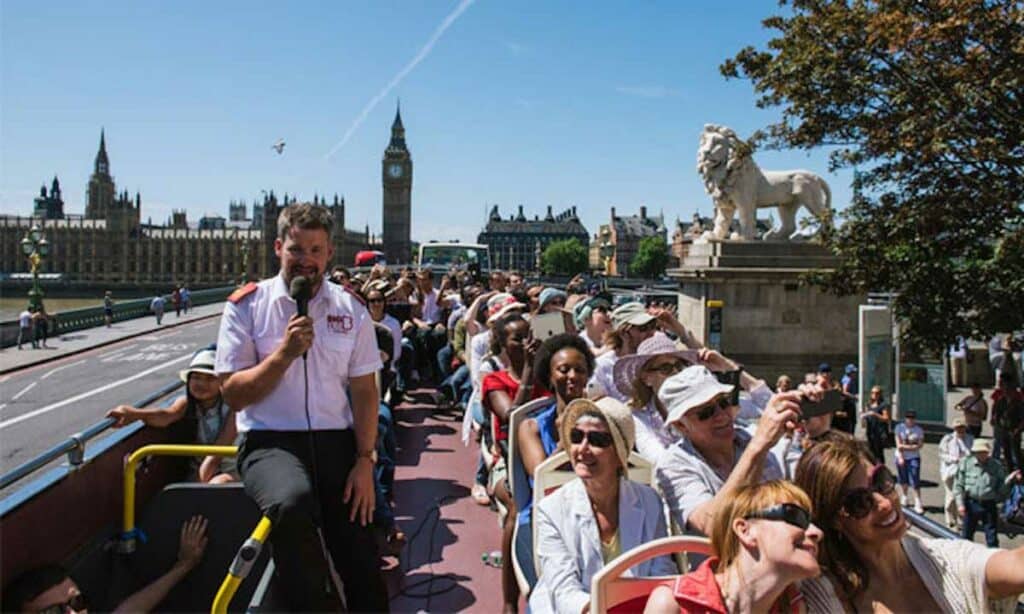 London's got a history that stretches back yonks, with more characters than a Russian novel. You'd pretty much never run out of interesting stories about the life of this city.
If you're into it, and tightening the old financial belt, you can download history tours and be your own tour guide. Or, use our handy self-guided tour.
Free Tours By Foot do a selection of excellent ones on subjects from Harry Potter sites, and London's Rock and Roll history, to the history of royal London, and the tales of its most notorious killer: Jack the Ripper.
They can be downloaded for $2.99USD, yep, USD, not sure why. At the time of writing, the exchange rate means that would be less than £10.
If the Tories crash the economy again and the above isn't true in six months, please don't shoot the messenger.
Cycle About London
Citywide
Sounds funny when you think about it, but how well do you actually know London's streets, or how all its myriad boroughs link up? Simply taking out a Santander bike and boshing around the streets instead of taking the tube can be a surprisingly revelatory experience.
The bikes only cost a couple of quid for 24 hours if you return them within half an hour, which can make the foundations of an excellent pub crawl (maybe stick to soft drinks, though), and as you'll read below, not even that has to break the bank.
Grab a Pint in a Historic Pub
Citywide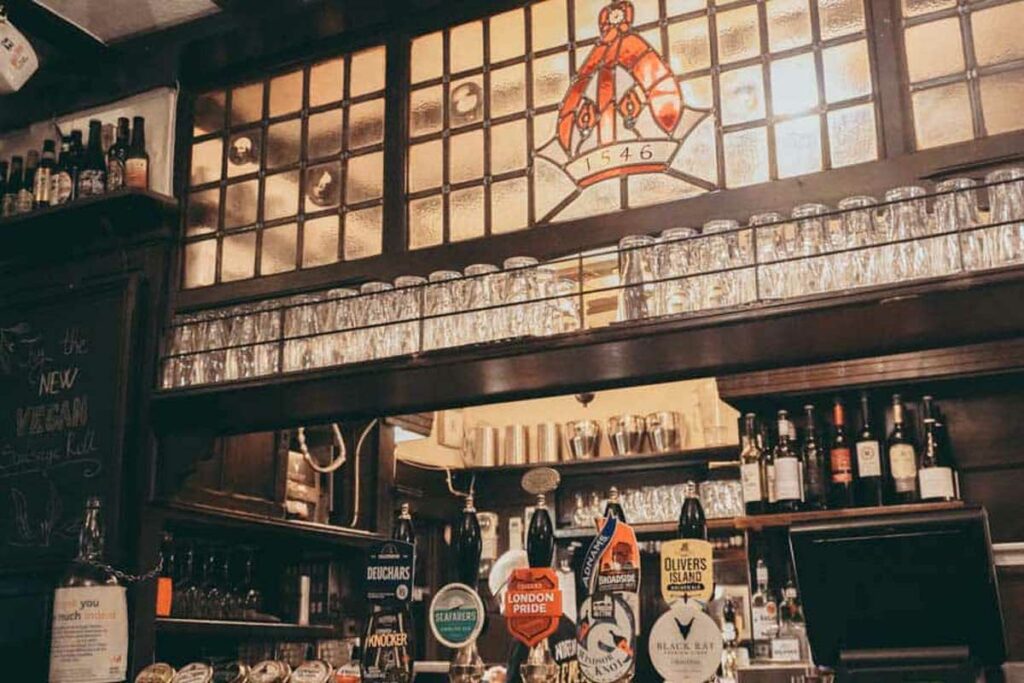 Nursing a pint is always a nice way to pass a cheap afternoon and when it comes to pubs London's got more atmospheric oldies than it needs.
We've got more pub recommendations than we could fit onto one page but some notable highlights include Ye Olde Mitre, a pub that's history stretches right back to the middle ages. It's so tucked away that you'd never be able to find it unless someone told you (thank us later).
Another classic is the Ye Olde Cheshire Cheese on the Strand. It may actually have a fair claim to be the oldest pub in London, but it's hard to confirm. At the very least its pokey interiors and dark corners make it a super atmospheric place for a drink.
There's an opportunity to be savvy here too: stick to half pints and you can visit twice as many pubs. One of the best things to do in London for under £10, we think.
Watch a Woman's Football Game
Citywide
Tickets to the men's premier league may be extortionately priced, but women's football can be a lot cheaper.
They often play games in the famous London stadiums and tickets to matches between major teams run as cheap as 5 or 6 quid.
With the quality of the football and the way the women's leagues keep getting better, it's unlikely this will be an option for an under £10 compilation in a few years time. You'd better get on it now.
You can see all the games and book tickets here.
See a Planetarium Show at London's Most Famous Observatory
Greenwich
This is one of our favourite options for a cheap bit of fun in London. It's awe inspiring, the location has mountains of history, and it's an experience that you don't seem to get often, which is funny because it's so cheap here.
At Greenwich Observatory's planetarium you can look up at the starry dome of the night's sky and take a bit of knowledge home with you. They put on a range of shows with varying subjects, some about distant stars, others about planets in our solar system.
Tickets for the shows are bang on the nose of £10 for an adult, but could always try doing that knees-in-shoes thing and getting a child's ticket for a fiver. The full list of shows is available here.
Ride a Boat All the Way Down the Thames
Citywide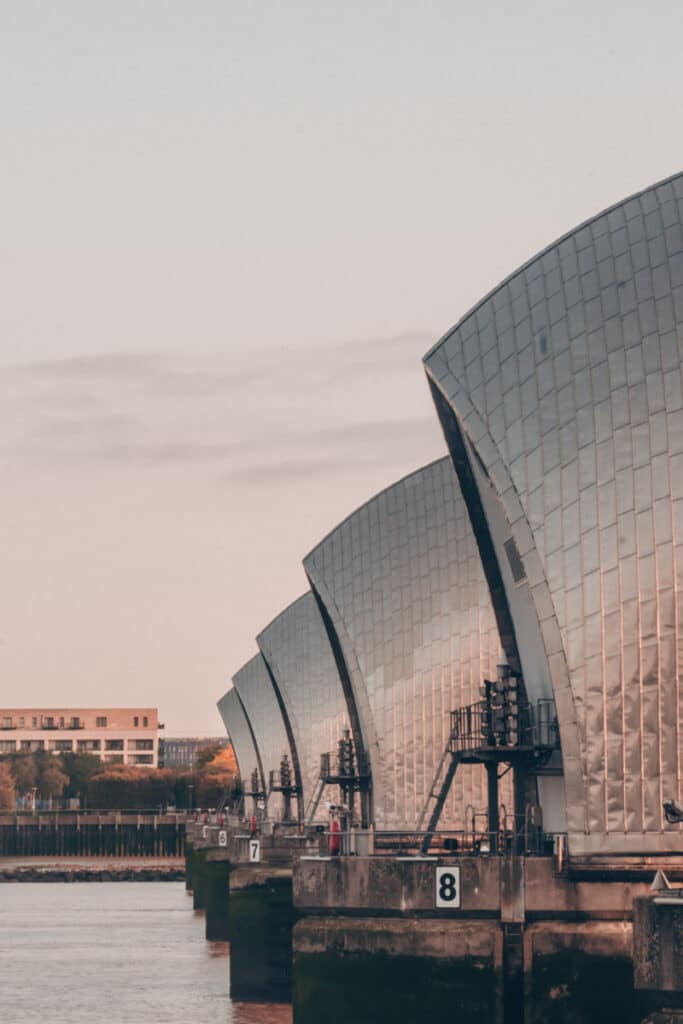 This may sound a little naf at first but bear with us. You can take an uber boat basically the whole length of London on the Thames for under £10.
Bare in mind here that London's history for about 4000 years has been centred around life on that very river, and that more than a handful of the city's major landmarks can be seen alongside its banks.
The city takes a bit of a different colour then doesn't it? They even have bars on the boat, so you can grab drinks on board for some light refreshment on your journey.
Visit the Sky Garden
City of London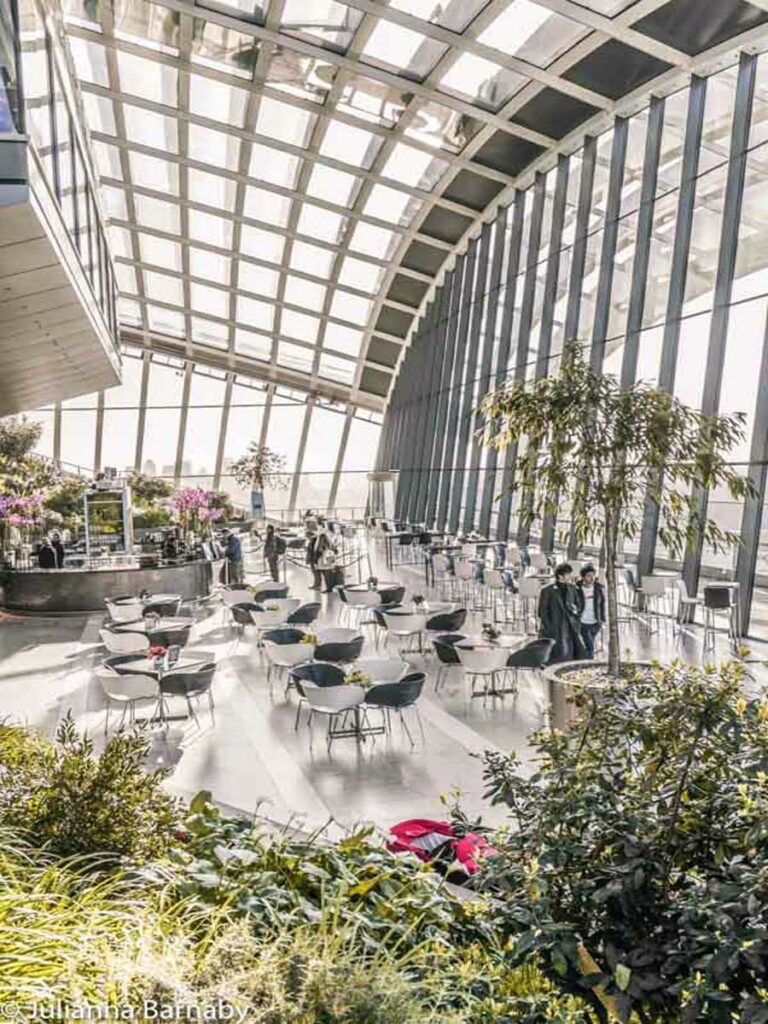 The Sky Garden, if you didn't already know, is right at the top of the Walkie Talkie building in the City of London and has some of the finest vistas London has to offer.
You can get to the top of it for free – we wrote all about that here – and still have £10 in your pocket to spend at the bar.
It'd be rude not to sip a nice glass of something as you watch the sun set over one of the most expensive cities in the world, a wry smile forming on your face because you know how to live it up on the cheap.
Practical Tips for Having Fun in London on a Budget
Bear in mind that taking the tube can also cost a fair bit in this city. If your £10 is all you've got left on your card (been there), you'd better budget for transport too. But then again, the tubes will probably be on strike because the drivers are all as broke as we are.
If you bring a mate, and they've got a tenner, then you've got 20 quid – double the fun.
Read up on your London history. If you're bored and too skint to do anything, having a bit of knowledge in your back pocket next time you walk past that historic building or down that oddly-named road really sheds a new light on the city. Nothing changes a place like learning about it.
What to do in London for Under £10: Map