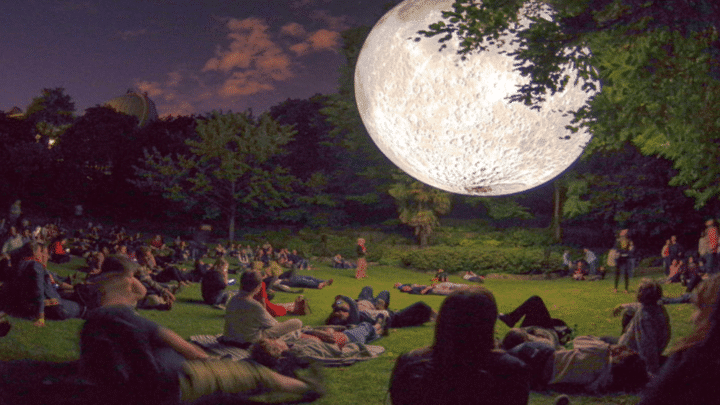 Looking for something fun to do this weekend in London? A very special visitor has arrived back in the capital and you're going to want to visit – trust us.
If you didn't manage to catch Luke Jerram's Museum of the Moon exhibition last year as part of the Kensington + Chelsea Arts Festival, you're in luck. The moon is back in LDN town, and this time she's on tour.
The moon has famously inspired creatives throughout history, whether that's through cultural and religious relationships with the Lunar orb, or simply just because it's so beautiful – and Jerram's Gaia exhibition captures the moon's magic perfectly.
Hang on… The Moon?
For real. Well, kinda. Technically it's a seven-metre recreation of the moon, featuring 120dpi NASA imagery (at a scale of 1:500,000, just in case you were wondering).
In other words, it's as close as you're probably going to get to the moon… unless you decide to become an astronaut.
If you've already seen Jerram's moon, it's worth visiting again to see how the exhibition has progressed.
Where to Find Gaia
Gaia will be in London for a very limited time only, so you'll need to be quick. You'll find the lunar exhibit in St John the Baptist Church in Shepherd's Bush until 6th August, before spending the 9th – 14th August at the All Saints' Church in Notting Hill.
Practical Information for the Gaia Exhibition:
When and Where?
Gaia returns to London on the 28 July – 6 August (St John the Baptist Church, W14 8AH) and then from 9 – 14 August (All Saints' Church Notting Hill, W11 1JS).
Tickets?
Entry is free – RSVP here.