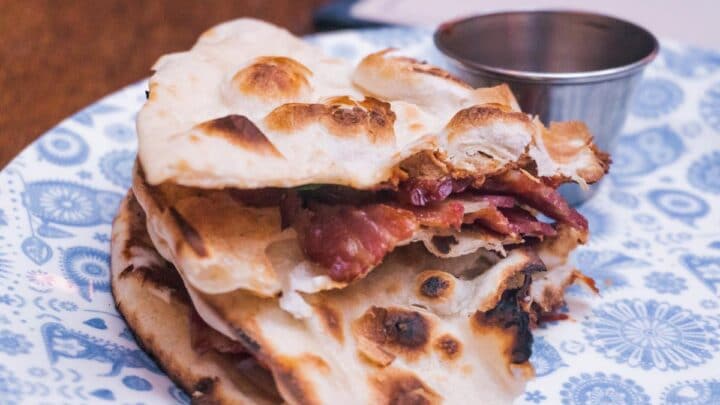 Hungry? We've got you – here are all the best Soho breakfast and brunch options in one good ol' guide.
Breakfast = the most important meal of the day! But what about brunch?
What happens when you wake up too late for breakfast but too early for lunch and you couldn't possibly power through the hangover without drinking at least your own body weight in bottomless prosecco?
Whatever your reasons for needing early feed in Soho, you've got heaps of choice. From grab-and-go bagel options to swanky bottomless brunches at wild fusion restaurants, we've compiled a guide to our favourites right here.
Read on for our guide to the best breakfast and brunch options in Soho.
Best Breakfasts and Brunches in Soho
La Bodega Negra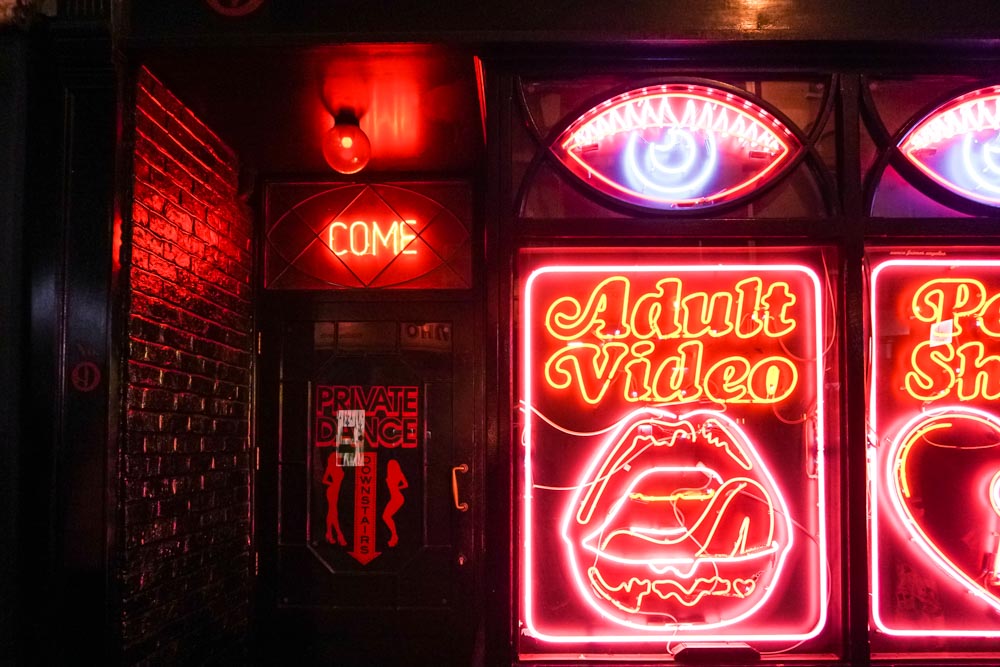 The saucy-looking La Bodega Negra may not be everyone's cup of tea, but you can't deny its position as one of the best-loved brunch spots in London. The subterranean brunch haven turns up the volume for their brunch fiestas, often getting drag queens in to host the occasions.
The food is Mexican and comes hot from the kitchen looking glamorous as anything, totally Instagram-worthy and delicious.
We will warn you though, things get lively here. A lot of margaritas go down over brunch. If you're looking for white tablecloths and sophisticated chat, this probably isn't the place for you. If you want a good time, stick around.
Nessa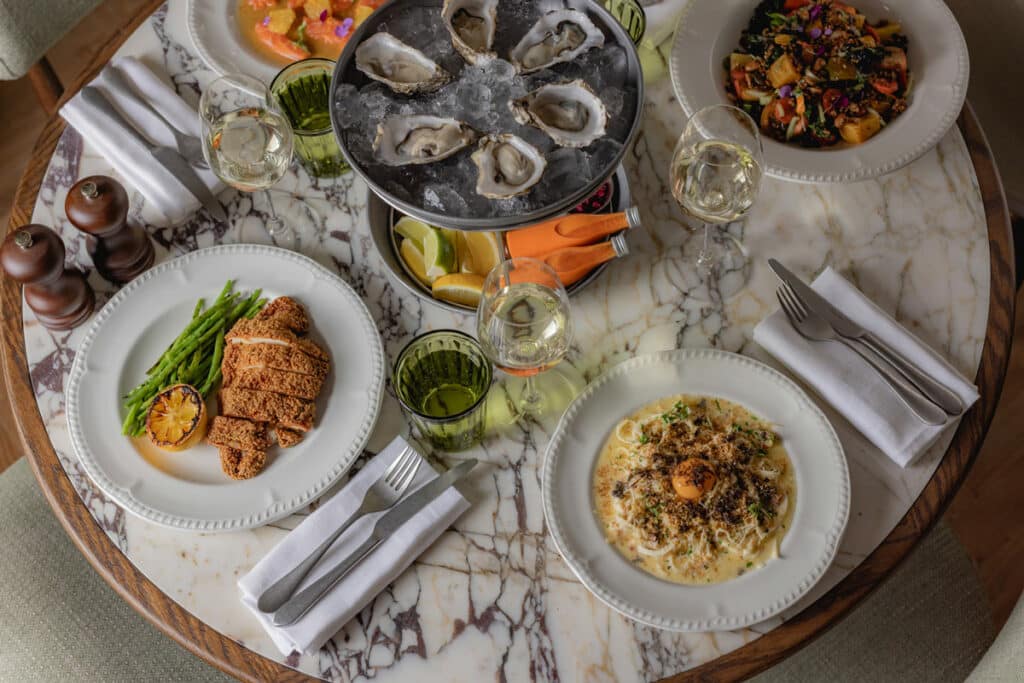 If you're after breakfast in Soho, one very solid option for you to consider would be Nessa. They serve up a range of dishes that include some of the world's top breakfasts (yes, they offer a full English – king of them all).
The chef behind it all is UK golden boy Tom Cenci who's got a very strong reputation for top-quality cooking – you'll see what we mean when you try his breakfast.
The setting is slick, too. Furniture all designer, presentation particular – it's the kind of place that begs a bottle of champagne at your table.
Dishoom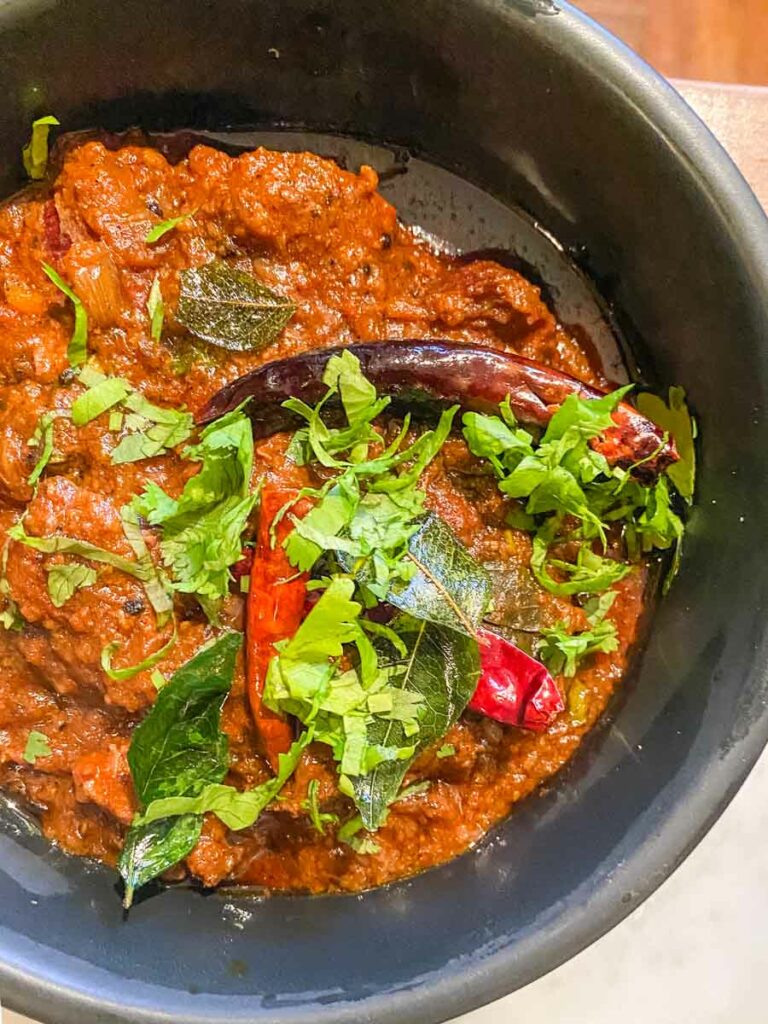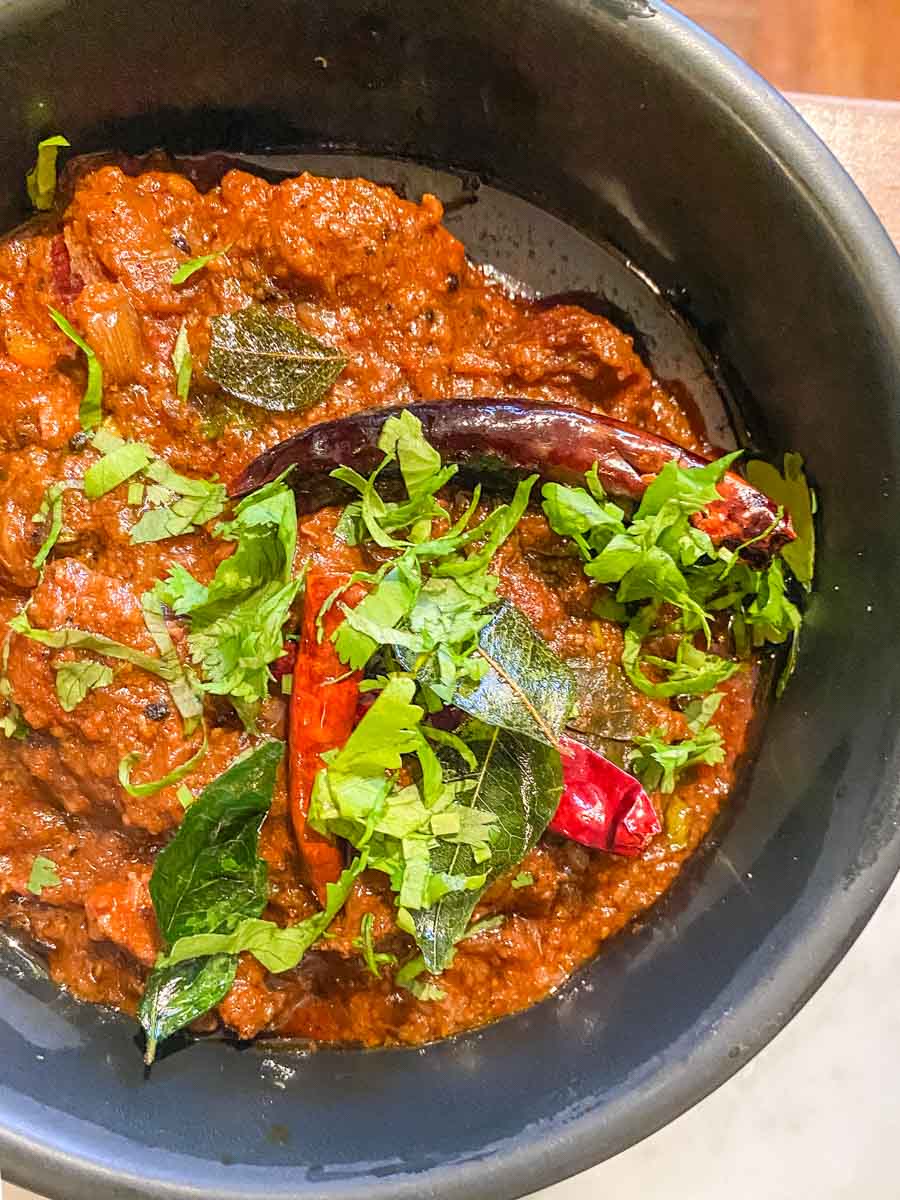 Yep, you read that correctly. Dishoom, London's favourite curry house, makes it into our Soho breakfast guide, and they do possibly the best breakfast Soho has to offer.
That comes in the form of Indian twists on classic British breakfast dishes. Think bacon-naan wraps, sides of masala-spiked baked beans and a lassi to wash it all down with.
Curry for breakfast though? Trust us, this is killer – it's very much worth giving a try. They do have some lighter options available too if you want to ease yourself in.
The Good Egg
This Middle-Eastern institution started life in Stoke Newington but has since made its way out of that corner of London and out down to Soho, as well as putting down roots outside of the city in Margate.
The Good Egg's success is largely due to a killer breakfast spread that's been the apple of many an Instagrammer's eye over the years.
The dishes twist classics into Middle Eastern shape in dishes like the house-made granola with labneh and a very moreish Lamb Shawarma Hash. They also do some pretty nice bagels and yes, of course there's shakshuka.
Koya
What if we told you the best breakfast Soho can boast is a bowl of ramen? We aren't lying. It's a matter of opinion of course, but ours is pretty firmly with Koya on this one.
They do a great little menu of breakfast bowls, mostly noodles – Japanese style. You can pick from some tasty sides like pickled plums or poached eggs in chillies. But whatever you do, make sure you try the full English ramen – a bowl of noodles with shitake mushrooms, bacon and eggs floating in the broth.
We know that might sound a little strange at first, but give it a go. Koya serves excellent food – this is just one case in point.
Café Boheme
We couldn't really write a guide of the best brunch places in Soho and not include Café Boheme.
The place is a cornerstone of the Soho dining scene and has been for decades. It is also, would you believe it, was also the original location of now-global members club Soho House.
The breakfast/brunch menu is extensive and features some big hitters that you'd pretty much demand to be served in a place with a reputation like this: eggs florentine and benedict. English breakfasts by full or by half, croissants, salmon and scrambled eggs…
The list goes on, dishes galore, all served in the setting of an elegant Parissian cafe, perched on the corner of a street with some absolute prime people-watching real estate.
The Breakfast Club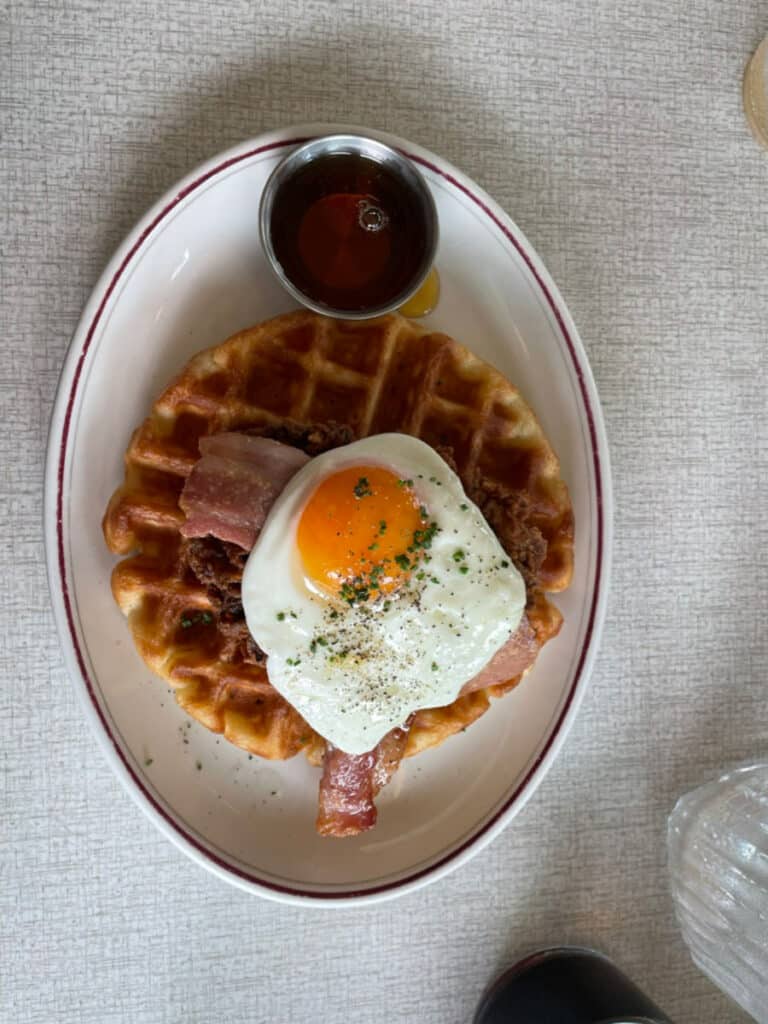 Ok, so maybe this is a bit of an easy shout, but there's a reason why all of The Breakfast Club's venues are jam-packed at brunch time…
The menu runs wild with all kinds of things you could happily scoff down for breakfast and has a drinks list of things you could happily quaff down for brunch.
Soho actually has two locations, one on D'Arblay Street and the other on Berwick Street, so if you encounter the queues you will inevitably find outside this place, you can always head round the corner and try the other spot.
Scarlett Green
One of the most buzzing places for brunch Soho has to offer is without a doubt Scarlett Green. It's part of the Daisy Green group that runs a heap of popular venues throughout London which is some indicator that they really know what they're doing.
The food they serve up at Scarlett Green is broadly Australian, so expect to see classics like smashed avocado on the menu. That is, when they're not swerving towards other brunch classics like shakshuka or smoked salmon royale.
Wanna make a day of it? For £49.99 you can drink as much as you want for 90 minutes and chow down on two brunch dishes. Just saying…
Chotto Matte
People used to scoff at the notion of Peruvian-Japanese fusion, but places like Chotto Matte have proved them very wrong. Now the restaurant regularly fills up – and especially so when the brunch service is on.
Chotto Matte is a very-popular spot for brunch in Soho, famed for dishes like smoked lamb chops with chilli miso, wildly exciting ceviche fusions and a bottomless offer which will have you chinning Asahi like it's going out of fashion.
There is an option for sparkling wine if that's more your speed. One thing's for sure, you do need to go bottomless at the best brunch Soho has to offer.
Balans
At Balans, brunch doesn't have to be a pre-midday thing. They love the day's first meal so much they serve it all day. The menu includes pretty much every brunch dish you can think of from classics like eggs benny to new-kids like the breakfast burrito.
This is no trashy place either. You'll see they do a lobster eggs benedict if your pockets are deep enough (at £19 it's actually not too much of a strain on the wallet).
If that has caught your attention, you'll have two locations to choose from: "the big one" and "the little one".
They're both a very short walk from each other on Old Compton Street, so if one is busy you can easily hop over to the other – we'll leave it up to you to decide which one you like the best.
B Bagel Soho
Breakfast places in Soho aren't all about the sit down or the get sloshed. One of Soho's top brunch spots is a humble bagel joint.
B Bagels do a selection of New York-style bagels that are neatly wrapped so they don't spill all over you on your way to work, and can be enjoyed on the (very) limited seating outside if you're not in a rush.
Our favourite? A toss up between the salt beef – a clear classic – and the smoked salmon and cream cheese – also a classic, but c'maannn… salt beef….
If you fancy leaning into breakfast, get stuck in with one of their sausage and hashbrown varieties. It ticks every breakfast box you would possibly want ticked.
Practical Tips for Exploring the Best Breakfasts and Brunches in Soho
Soho is a popular spot for dining and especially for brunch. If you're planning one of those big-occasion type brunches where you and all your pals swim in an ocean of bottomless prosecco, you need to book it in advance.
If you didn't have the foresight to book ahead, or you just happened to turn up in Soho hungry at breakfast time (it happens) many of these places are within a short walk of each other so you can easily nip around a few of them and see if there are any free tables.
Soho is the wild spot to go for a big bottomless brunch, but if you can't find the right one for you in this guide, check out our bumper guide to London's best bottomless brunches right here.
Breakfasts and Brunches in Soho: Map