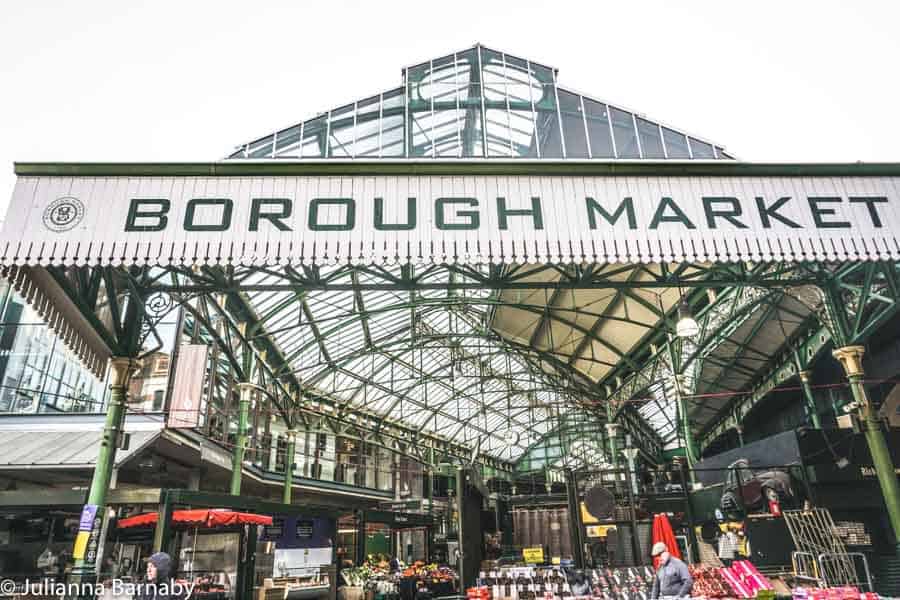 If anywhere is going to get your mouth watering and your stomach rumbling, Borough Market is that place. Planning to visit? Here's what you need to know before you go.
Borough Market is hands down one of our favourite places to visit in London. We've been shopping here for years and even now, we discover something new every time.
But what's the big deal? London isn't short on a market or two – and it certainly isn't short on amazing food markets either. Why is Borough Market the one that people flock to during their London itinerary?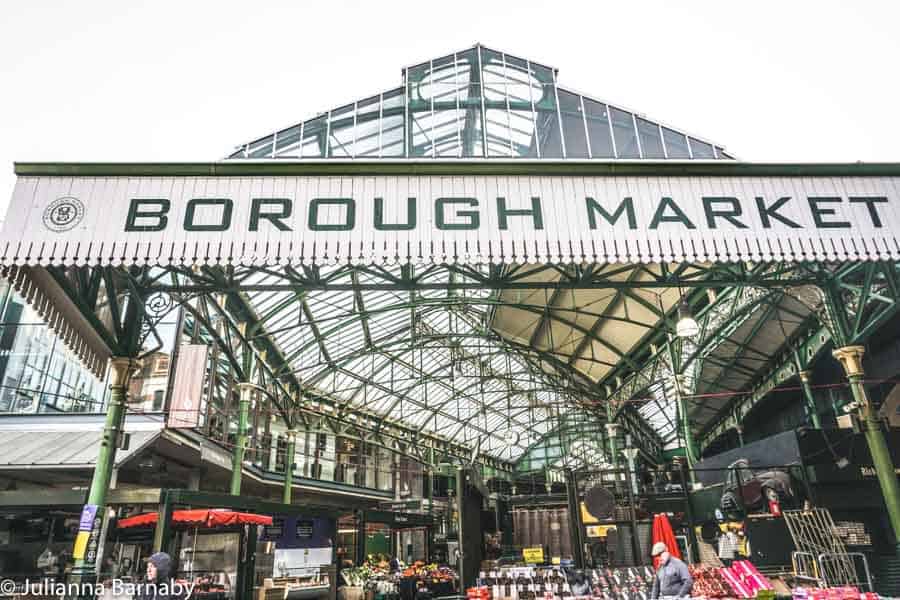 Quite simply, there aren't any other markets that offer the same range, diversity and quality of food in the capital.
Delicatessens, grocers, butchers, fishmongers, cheesemongers – you name it, Borough Market has it. Add to that a broad collection of street food vendors selling gourmet dishes from around the globe and you start to get the idea.
Don't just take our word for it. Check out this handy guide and go and explore it yourself. Oh and scroll down to the bottom for the history behind the place and a magical Harry Potter Tour of the area.
The Borough Market Food Guide: Street Food + Food Stalls You Need to Try
We said that Borough Market has some pretty incredible food stalls. You could go every day for a month and still not eat your way around the full collection. Don't miss these Borough Market food picks.
Bread Ahead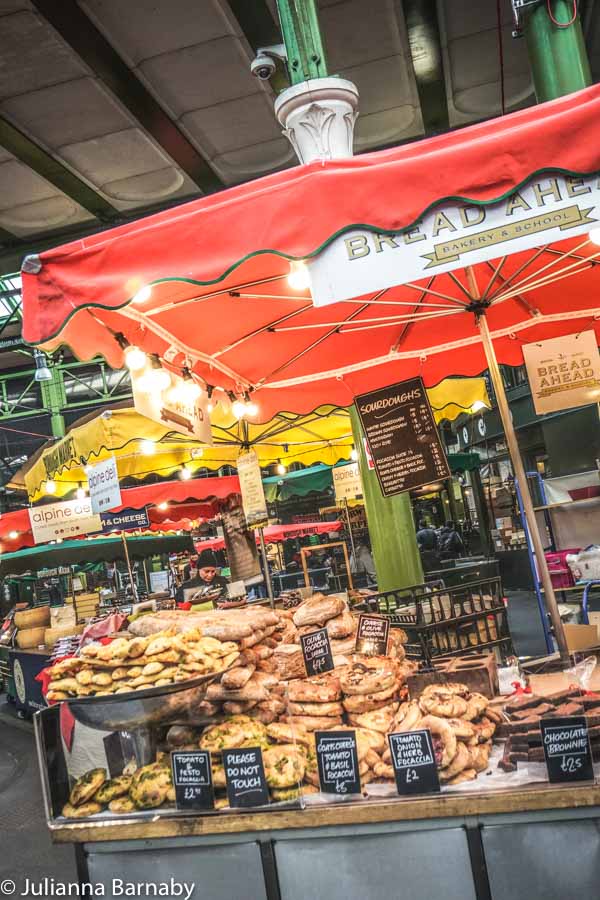 Britain is a little obsessed with the art of baking, as anyone who's seen the Great British Bake Off would attest.
Britain is a little obsessed with the art of baking, as anyone who's seen the Great British Bake Off would attest.
If you'd like to learn how to conjure up amazing breads, pastries and cakes, then you'll love Bread Ahead at Borough Market.
As well as selling a great selection of treats including freshly baked bread and pastries, you can also participate in a range of different classes. Whether you're a total novice or secret pastry star, there's bound to be something to teach you a few new tricks.
Applebee's Fishbox
Part of the reason we love Borough Market is that the traders here never let you down on their use of fresh, quality ingredients. Let's take Applebee's Fishbox for example. They buy fish on the day and turn them into a tantalising menu of seafood wraps with things like prawn or Cajun fish as a filling.
If you want to push the boat out even further they have a brick-and-mortar restaurant just on the edge of the market where you can find a menu of excellent seafood changing on a daily basis and served in a more sit-down-and-order-a-bottle-of-wine environment.
The French Comte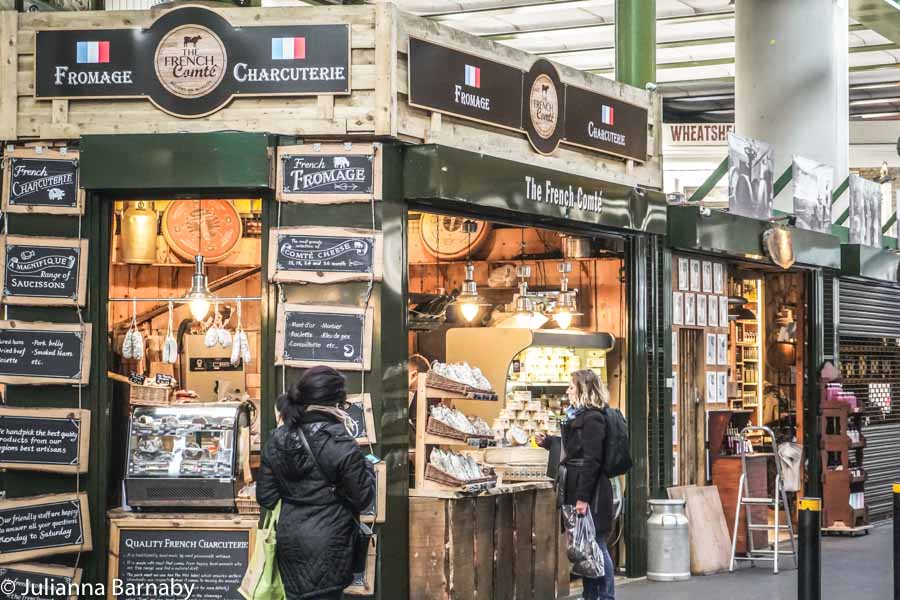 Good-natured rivalry aside, you've got to admit that our neighbours across the Channel know a thing or two about producing fine food.
Just one look at the delicious variety of cheeses, spreads and preserves at the French Comte is sure to get your mouth watering.
Their cancoillotte is particularly indulgent – it's a gooey cheese with tastes including garlic, walnuts and champagne. Champagne in cheese? Yes, please.
Bianca Mora
We have no shame in admitting just how much we love cheese. We also love someone who can get so niche with their knowledge of the good stuff that they shock even us. We regularly find that someone at Bianca Mora.
The booth trades in the cheeses of northern Italy. What's more they only source their produce from small, independent farms so what you get is reminiscent of the lumps of taleggio or pecorino you picked up on your last trip to the boot-shaped nation.
You can also find some truly top-notch balsamic vinegar here, and we'd be loath to leave without snapping up a bottle of their Italian organic wine.
Change Please
All the walking and sensory overload might leave you feeling in need of a bit of energy. You can find it at the bottom of a coffee cup from Change Please. You'll also get a healthy dose of happiness with it.
That's because Change Please is not your regular coffee stand. They're a charity that puts all their profits into helping people experiencing homelessness. What's more, they actually train homeless people to become baristas, providing them with a mobile cart and all the other equipment they need to make some money and get back on their feet.
Good vibes aside, the coffee is great. They also do a very mean hot chocolate.
Gastronomica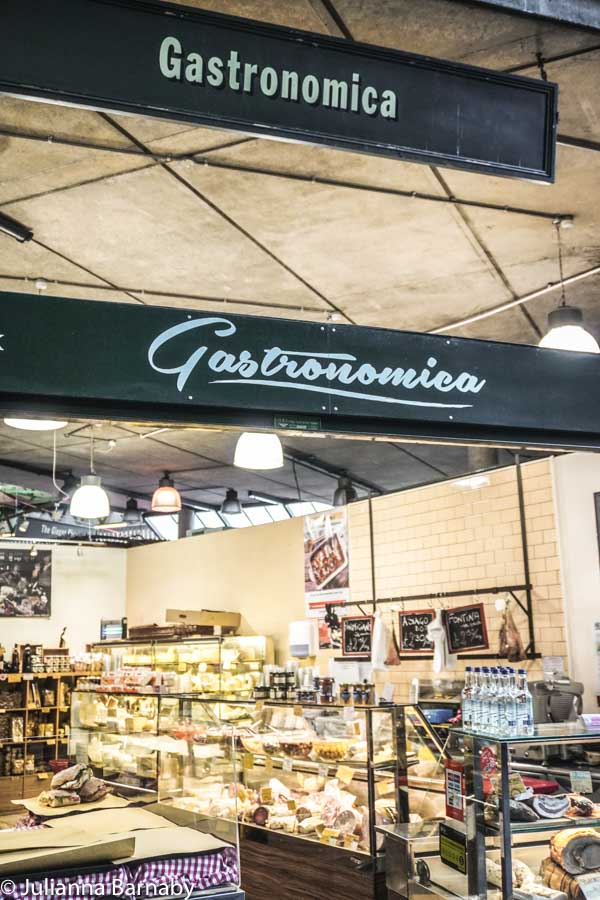 There are many amazing producers of fine foods, but often the difficulty is finding out about them. Gastronomica has been introducing artisan producers for almost 20 years, to great success.
Working with producers all over Italy, owner Marco Vineis has helped introduce Londoners (and visitors) to many of the best tastes of authentic Italian recipes.
There's an ever-changing selection with our favourites including many types of mustard, charcuterie meats, cheeses, jams, olive oils and balsamic vinegar.
Kappacasein
You've got to love a comforting cheese toastie – and it's a whole bunch better when it's made with mouth-wateringly delicious local cheese.
This is what's on offer at Kappacasein. From their Borough Market stall, they sell cheese toasties made from their fragrant and bitey Ogleshield cheese, which is handmade in their Bermondsey dairy.
If toasties aren't your thing, then they also serve up delicious Swiss raclette – potatoes, gherkins and pickled onions generously smothered in cheese. Yum.
Richard Haward's Oysters
The Haward family has been in the oyster business for more than 200 years, so you could say that Richard Haward knows a thing or two about shucking oysters.
He's also an expert at sourcing the freshest and most flavoursome oysters – especially from the warm waters around Salcott Creek.
You can buy the oysters by the one or by the dozen to take away, or take a seat and enjoy a chilled glass of prosecco while you see what all the fuss is about.
La Tua Pasta
Pasta is always a crowd-pleaser, especially so because it's lovingly handmade and then served up while it's fresh and ultra-delicious.
That's what is on offer at La Tua Pasta, a popular Borough Market food stall since 2006. Their hand-crafted tortellini and ravioli have been a huge hit – with both Londoners and food critics, with the stall given dozens of awards.
So, whether you're looking to impress at a dinner party or just enjoy an indulgent meal, pick up some delicious, fresh and preservative-free pasta.
Shellseekers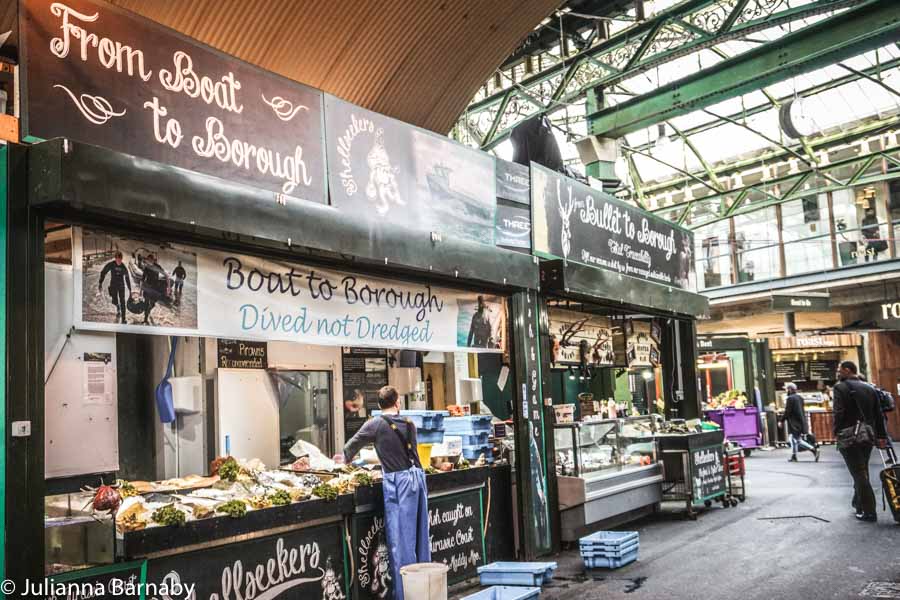 This market stall is an example of turning your hobby into a true moneymaker – but it's a bit different than the usual story!
Owner Darren Brown had the idea for Shellseekers when doing some hobby diving off the Devon coast. Eventually, the business grew and today he's well-known for his ethically caught and delectable fresh seafood.
Much of it is still caught by dive-loving Darren.
Olivier's Bakery
Get ready to give in to your sweet tooth the moment you take in the amazing smells wafting out of Olivier's Bakery stall at Borough Market.
Selling a mouth-watering variety of cakes, pastries and sweets, Olivier's Bakery is a real icon of the market, and definitely one of the most unmissable stalls.
We particularly love the buttery and delicious croissants, while the baked bread is a more savoury treat.
The Ginger Pig
The farm-to-plate ethos has been all the rage for a while now, and London local the Ginger Pig was one of the first to pioneer the movement.
With an old-school approach to butchery, the Ginger Pig sources fresh and sustainable meat from producers all over the UK, including the owner's own farm in North Yorkshire.
As well as cuts of all different types of meat, there are also a few other favourites. We particularly love the delicious sausage rolls.
Bao Borough
For the fluffiest bao buns in London, head to Bao Borough and order the exclusive chicken nugget bao – it's weird but it works. Trust us.
If you want something a little more authentic, opt for a beef short rib or a mouth-watering curry cheese bao. You can't really go wrong here as anything on the Taiwanese street food-inspired menu impresses.
The best part? You can also indulge in some late-night karaoke at Bao. Once you've chowed down, grab a tipple and head to one of the karaoke rooms and unleash your inner diva.
Comptoir Gourmand
Another French gem at Borough Market is Comptoir Gourmand, serving up delicate bakes and pastries.
Starting out as a family bakery in Bermondsey, Head pastry chef Sebastien Wind quickly brought Comptoir Gourmand to the market. Here you can try a traditional mille-feuille, flaky croissants, and even a sweet chouquette (although, you'll definitely scoff a couple of these).
Head to Borough Market between Friday and Sunday to get your mitts on some of these delicious treats.
The History of Borough Market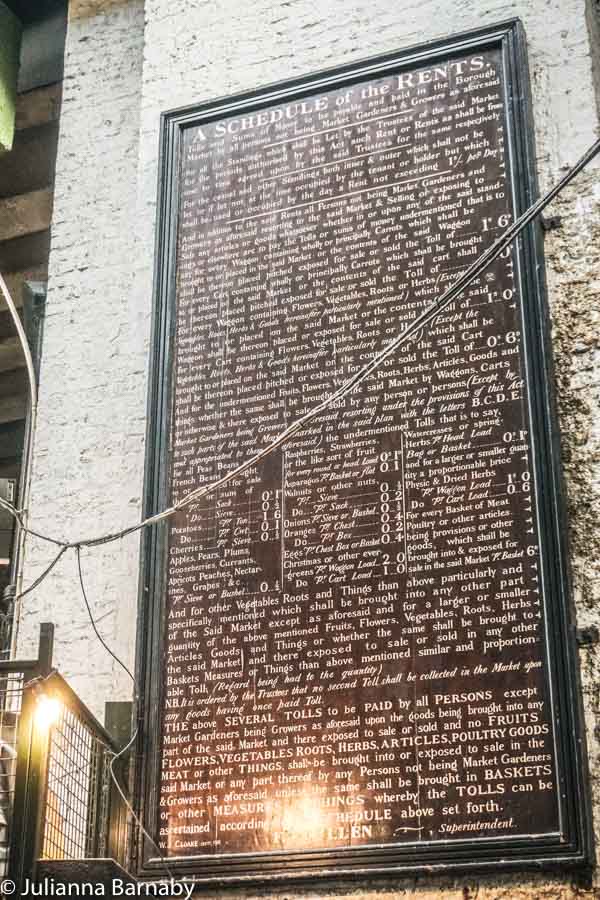 It's hard to believe but it is thought that Borough Market has been operating for more than 1,000 years in London.
Yep, Londoners have been buying their produce from the market for over a millennium.
It hasn't always been in its current location, however. Borough Market's history first began near London Bridge – a sensible location as it was, at the time, the only bridge across the river providing entrance into London.
As a result, merchants lined the bridge selling goods to those who lived near the city, as well as those just travelling through.
We don't know exactly when the market first appeared, but we do know that it was first mentioned in a text describing political struggles in 1014. Therefore, we know it's at least a thousand years old – but it could be even older.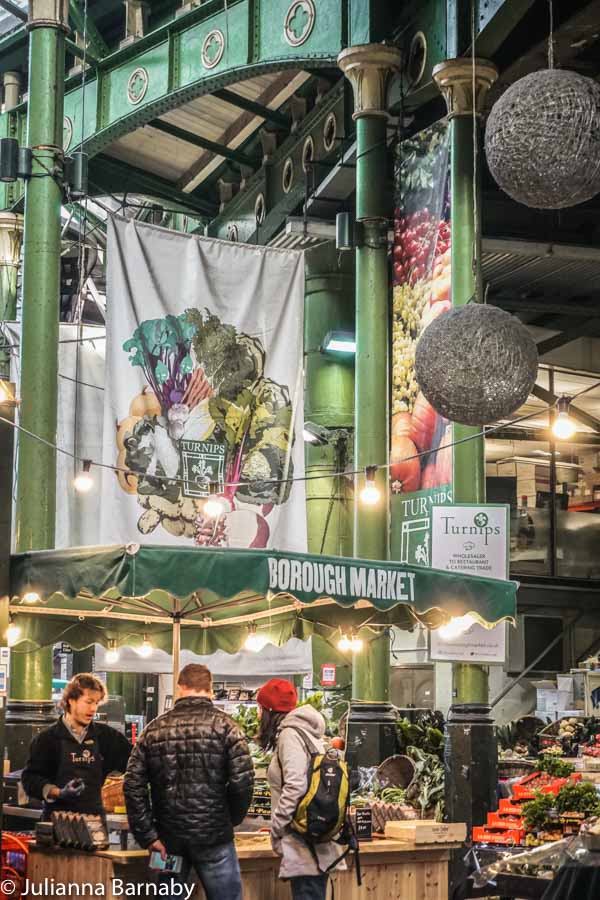 The popularity and size of the market grew and it started to attract the chagrin of other, more official markets. It's believed that at this time there were actually two markets operating. They both moved several times, with the larger of the two settling near Guildable Manor, in an area known today as Southwark.
The market remained so popular that many people bypassed the markets of central London to visit Southwark, frustrating London's traders. As a result, in the 1270s, a law was passed banning Londoners from travelling to Southwark to purchase produce.
This dimmed the popularity of the market but certainly didn't extinguish it, and in the 15th century, the restriction was lifted.
In 1550, King Edward VI was given control of all markets in Southwark, and the market traded quite happily for a time.
During this period, a number of regulations were placed on the traders in the hope of "keeping the order". Merchants were – in theory – required to obtain permits, and there were various hygiene and other standards to uphold.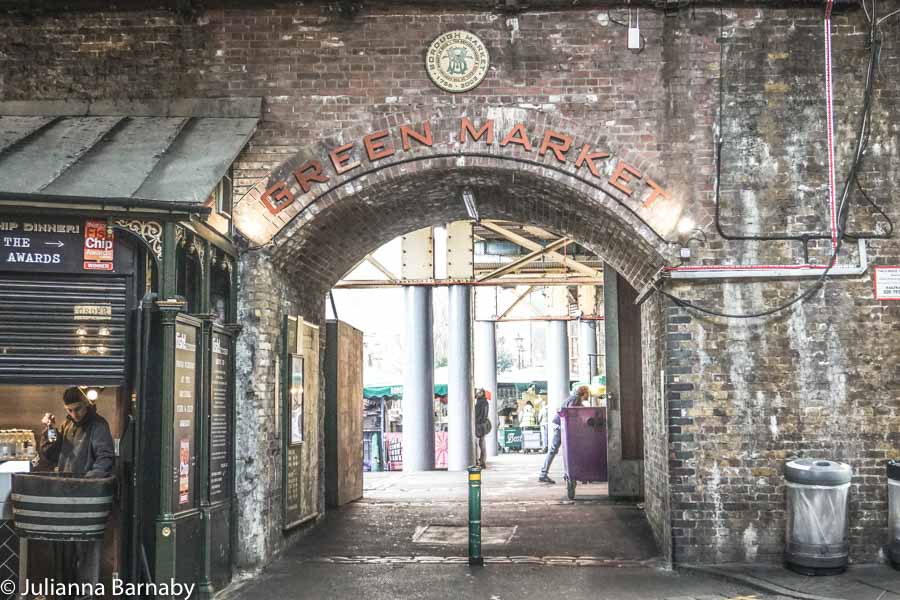 Still many "rogue traders" sold their goods without permits, and the butchers apparently caused particular problems. In the 16th and 17th centuries, it was not uncommon for live animals to escape and dash down the market lane.
Despite the attempts to keep things orderly, the size and popularity of the market caused many problems. In particular, locals complained about the traffic jams caused by the market, with so many people making their way to buy and sell goods.
In 1754 it was ordered (by an Act of Parliament) that the market be closed, however, it was swiftly re-opened in 1756 in Rochester Yard on land bought by the traders. This location was brilliantly located close to the wharf, meaning that its new location was an overwhelming success.
For a time, Borough Market was mainly known for selling wholesale food to various businesses around London and wider England. However, gradually that industry began to decline, and by the 1970s, the wholesale trade was almost non-existent.
Slowly, the focus turned to retail business. In 1998, there was a three-day food fair that delighted foodies (before they were called foodies). It would prove to be the beginning of a new era for Borough Market.
Since that time, Borough Food Market has continued to grow in popularity. It has become a truly legendary destination for those who love good food.
What About The Market's Harry Potter Connections?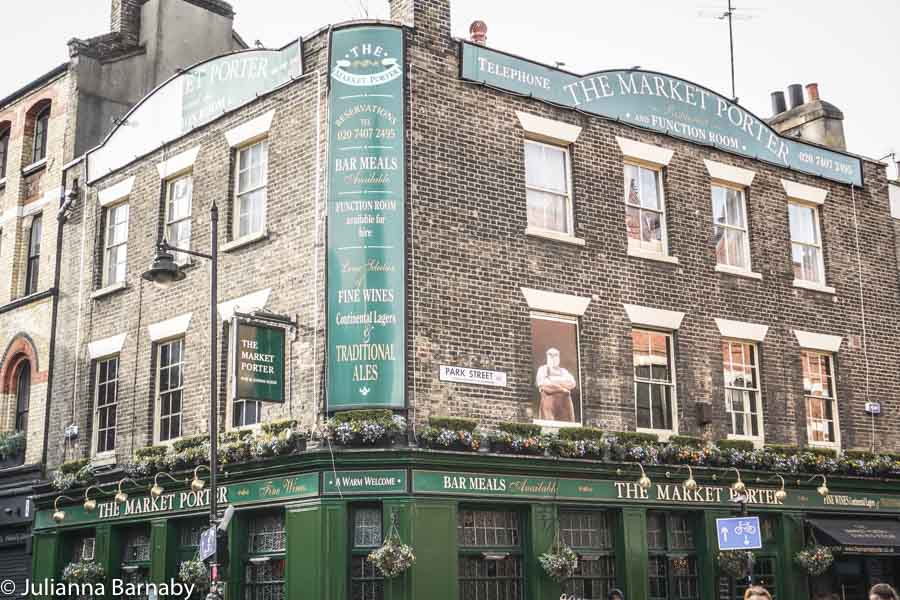 Every Harry Potter fan knows that the much-loved story is closely linked to London. There are Harry Potter filming locations all over London, including at Borough Market!
Why not take yourself on an impromptu Borough Market Harry Potter tour, after you've tried some delicious food?
The first Harry Potter landmark to find is the Leaky Cauldron, the Wizarding World's favourite pub. The entryway to the pub in the second film onwards was actually that of the flower shop Chez Michele (now a Mexican restaurant by Borough Market).
You'll find it in the market near the overhead railway arch, at number 7 Stoney Street (postcode SE1).
The second is the Third Hand Emporium, the second-hand bookstore where Harry meets Gilderoy Lockhart in Harry Potter and the Chamber of Secrets.
The building is actually home to the Market Porter Pub, so you can finish off your mini-tour with a pint (no butterbeer, unfortunately). It's at 9 Stoney Street, so very close to Chez Michele.
Read More: A Self-Guided Walk of Harry Potter Filming Locations in London
Practical Information: Need to Know
Location
Borough Market is located in Southwark, with the official entrance at 8 Southwark Street (postcode SE1 1TL). It is easily reached from all over London, being close to attractions such as the London Bridge.
The closest tube stations are London Bridge and Southwark.
Opening Hours
Borough Market's opening times are generally as follows:
Monday to Friday: 10am – 5pm (The market also opens on selected Bank Holidays, so check ahead before you go)
Saturday: 9am – 5pm
Sunday: 10am – 4pm
Around Christmas time, Borough Market hours do change a little. They tend to close for three days over Christmas and New Year but things change on a year-by-year basis. Check here for the most up-to-date information.
Borough Market Map
Read More Guides to Borough and Surrounds