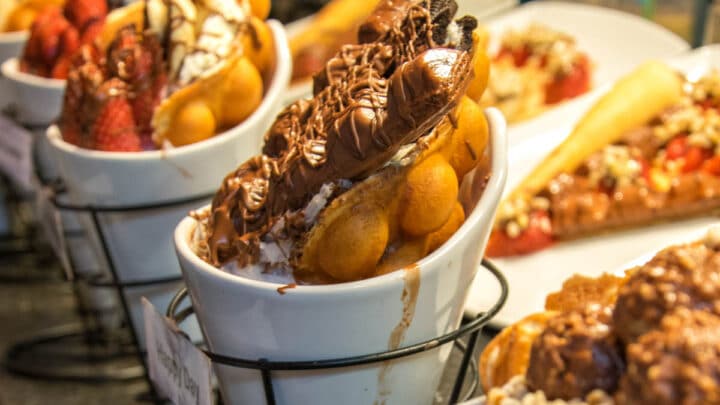 When it comes to desserts, London brings a strong game. Looking for the best desserts in London? Feast on these.
Do you have a bit of a sweet tooth and need something to satisfy your sugar urge? These are the London destinations where the proof is literally in the pudding.
Take a ride on the sweetie train to find the best dessert restaurants in London.
Where to Find the Best Desserts in London
Bubblewrap Waffle
Chinatown
£
You've probably seen these Chinatown desserts of odd-shaped waffle cones stuffed with ice cream and fruits on Instagram.
While they look great on the feed, Bubblewrap Waffles also taste great.
Bubble waffles have their origin in Hong Kong when shopkeepers used to sell them to make use of broken eggs.
Together they make fantastic bubble waffle combinations like the Oreo Crunch or Banana Combo.
Milk Cool
Notting Hill
£
Somewhere over the rainbow, you'll find Milk Cool in the heart of Notting Hill. This dessert spot is unique in that they are London's only rainbow-layered soft serve ice cream parlour.
The whimsical Milk Cool serves its cones with up to six colourful swirls and puffy cotton candy clouds. They don't use any artificial colouring in their cones and it is all-natural.
The best part? That you can choose your own flavours for your rainbow swirl cone. Japanese matcha and Black Vanilla for us please!
Cutter & Squidge
Soho
££
Cutter & Squidge is an all-natural London bakery that sells all kinds of pastries, cakes, and baked goods and one of our favourite dessert places in central London. They sell wheat and dairy-free treats, so no one loses out on the joy of having your cake and eating it too.
While you're still waiting for your letter from Hogwarts (aren't we all?), the potion class would be good practice. The bakery offers an immersive afternoon tea experience at The Potion Room. Book your spot for an hour and a half of Potter-themed sweet treats and edible potions.
Chin Chin Lab
Camden
££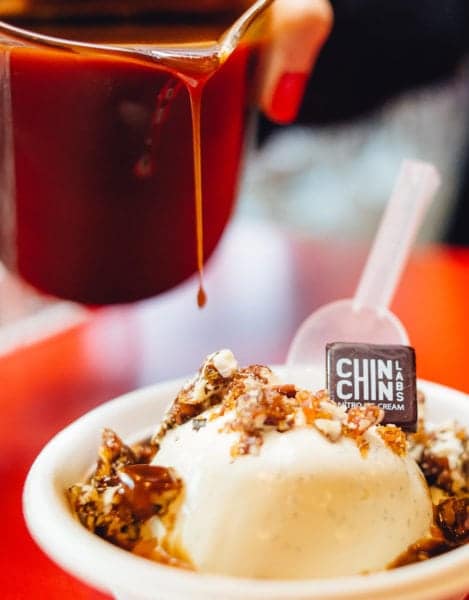 If you're ever near Camden (there's also a Soho outpost too), drop by for dessert at Chin Chin Lab. Chin Chin, an ice cream dessert restaurant in London, which is open every day.
These guys know how to do ice cream right – with a menu packed with fun flavours like tonka bean and apple butter pie.
You can add various toppings and sauces to make fun combos.
They also serve ice cream sandwiches and sundaes. Some options are vegan and gluten-free, ensuring that everyone will leave satisfied. We'll chin-chin to that.
Oh and they might do the best hot chocolate in London.
Taiyakiya
Soho
£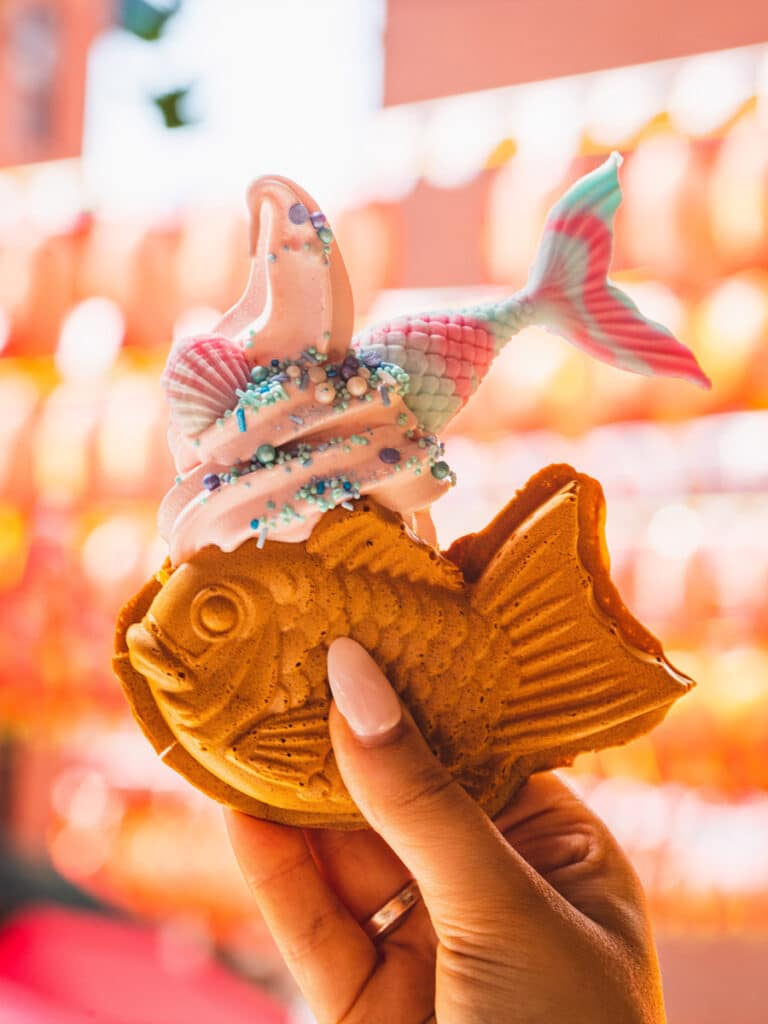 Taiyakiya has crossed the seas to serve Japanese dessert in London. This spot puts a twist on the popular taiyaki or fish-shaped Japanese street food. Here, instead of filling it with red beans, it's filled with vibrantly coloured ice cream instead.
Besides taiyaki, they also sell soft-serve with boba in it- an icy twist on the Taiwanese Milk tea with tapioca pearls in it.
Soft-serve flavours for both options include lychee, black sesame, rose, and matcha. In other words, Taiyakiya is a prime spot for Asian desserts in London.
Cookies and Scream
Islington
££
It takes a tough cookie to become and stay vegan and gluten-free. Almost all desserts consist of dairy, eggs, and flour. Unfortunately, when you have dietary restrictions, desserts often have to take a back seat. However, it doesn't have to.
Cookies and Scream is the place to go for gluten-free and vegan desserts in London. This little bakery has everything from cookies, brownies, chocolates, and milkshakes.
They serve freshly baked desserts daily.
Creme London
Soho
££
As you've noticed from this list, Soho has some of the best dessert places in London. Creme London is no exception and specialises in baking GIANT cookies.
They currently have four flavours that incorporate white, milk, and dark chocolate. They sell vegan cookies but are still working on gluten-free ones.
Although, they're not limited to cookies and sell soft serve and coffee every day until 9 pm – a great place to drop by for big late-night cravings for their enormous treats.
If you're not in London, you can still order from them online.
Crosstown Doughnuts
London Bridge
££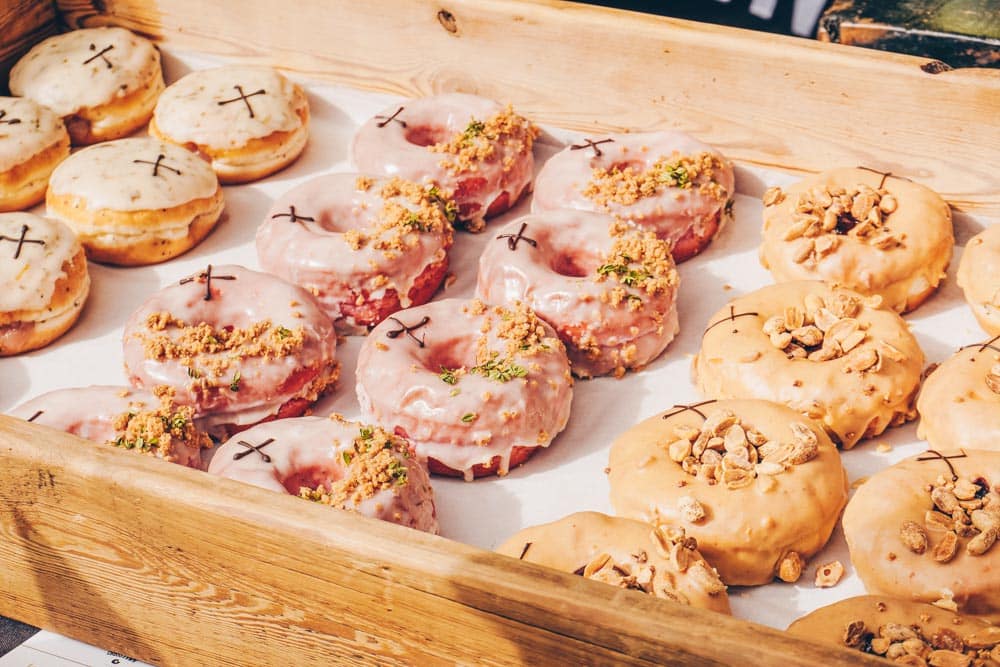 Crosstown Doughnuts has various locations in London because it's so freaking popular. From east to west, as far as the eye can see, London is populated with a growing number of Crosstowns to satisfy your doughnut fix. They even have a truck that sells dessert near London Bridge.
This bakery has a set menu but also shakes it up with new seasonal flavours every few months. While doughnuts are their signature desserts, you don't have to restrict yourself to only having them.
Crosstown Doughnuts also sells cookies, ice cream, and gift boxes you can order online. Praise be.
Basement Sate
Soho
££
This dessert bar is where you go if you have a craving for late-night dessert in London. Basement Sate isn't your ordinary dessert bar in London. It pairs your favourite desserts with drinks.
This experience is a sweet treat for the senses at this underground bar with entertaining live music playing in the background. They also offer cocktail classes so you can sate your cocktail and dessert appetite at home.
Gelupo
Piccadilly Circus
£
Gelupo market themselves as "the best gelato this side of the alps". They might just be right. At the very least it's some of the best in London.
They make all their ice cream fresh everyday so the flavours really hit some high notes. Expect to eat from an ever changing range of gelato that includes flavours as luxurious as Eton mess and tiramisu, and to be wowed by it.
You'll find that alongside a massive menu of classic flavours and some sorbets that we kinda wish we had a whole tub of for hot days in London.
Get Baked
Islington
£
Eating a dessert from Get Baked is to consume way more sugar than is fit for a human body, but we don't care – not when they come this good.
Pretty much everything they make is dessert in ideal form. The chocolatey stuff is super chocolatey, colourful sprinkles adorn a fair amount of what's on offer, icing is spread on with abandon.
Our favourite is The Bruce – an indulgent chocolate cake in which we counted no less than ten separate layers of cake held together with ten layers of thick chocolate icing. It was beyond words. Honestly.
Treats Club Dessert Bar
Shoreditch
£
Treats Club are another location that steals our heart every time we drop in with a sweet treat. What do they do? *Cue Homer Simpson drooling images* Doughnuuuuuts.
The thing that really separates the doughnuts here from any of the other places in London is that they're served hot. If you've never tried a hot doughnut before, believe us when we say you are missing out BIG time.
You'll have a range of flavours to choose from (these are mostly stuffed doughnuts, rather than rings). We don't like to engage in favouritism at Treats Club, but we suppose it's our job so we'll say we can't resist the brownie doughnut – they actually sit a brownie on a dollop of melted marshmallow, on top of a doughnut. Yep, it's true.
Dessert Places in London: Practical Tips
All these places are basically holes in the wall so you don't need to worry about booking a table. Just rock up and grab your sweet treats then wander the streets of London indulging.
If you have to pick one of these spots, we really can't get enough of Crosstown Doughnuts. That said, the hot chocolate at Chin Chin Lab is unreal.
Dessert Places in London: Map