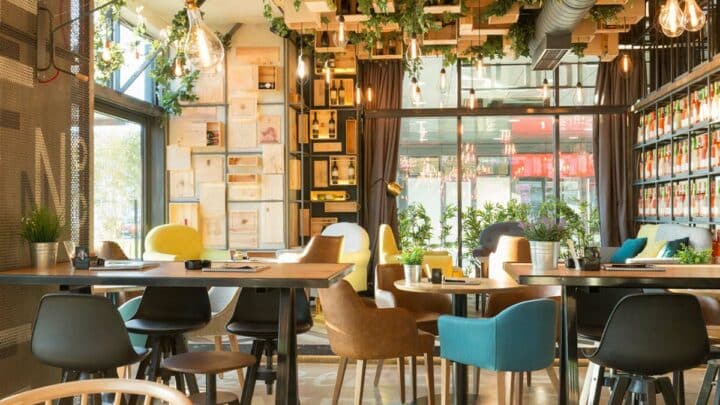 Looking for the best restaurants in Stoke Newington? These are the top spots for brilliant grub.
One of the biggest truths about London is that where the hipsters go, the good food goes. We've seen it time and time again, and it's exactly what's happened to the newly-gentrified Stoke Newington.
Stoke Newington has become very cool and is home to some of the newest, tastiest and best independent restaurants in London.
With an abundance of gastropubs, amazing bagels shops and restaurants flanked with leafy pavements – Stoke Newington has it all. We might even go as far as to say it's London's coolest neighbourhood.
Check it out for yourself and take our list of some of the best restaurants in Stoke Newington – you won't be disappointed.
Best Restaurants in Stoke Newington
The Good Egg
££
The Good Egg began its journey in Stoke Newington replacing an old betting shop and did so well that the owner's opened one in Soho. Inspired by Jewish staples and Tel Aviv-style food, the Good Egg is one of our favourites.
We suggest going for the Green Labneh, Falafel, Cornbread and Hummus – you cannot leave without trying these.
The service is genuine and warm, making you feel right at home. You'll want to keep coming back to try new things on the menu, The Good Egg is seriously impressive.
Black Pig with White Pearls
£
It's a bit of a mouthful to say, but boy is it a good mouthful to eat. Black Pig with White Pearls is one of the best Spanish restaurants in London.
Think small tapas-style sharing places in a cosy candle lit venue with a very groovy décor and a flamenco soundtrack.
You'll be greeted with big smiles at the door, and it'll just keep on getting better from there. We highly recommend going for the thirst-quenching Sangria, the Dulce de Lecce is also one of the best we've ever tried.
The prices are really reasonable, starting at £5.50 for patatas bravas and £13 for the prawn dish, considering the high-quality produce and incredible taste – this place is genuine and very special.
Primeur
£££
Primeur could be the best restaurant in Stoke Newington. If you fancy treating yourself to something seriously special, this is for you.
Tucked away in an old 1920s garage, Primeur is all about great food served in a simple, unpretentious space. The menu is written out on a chalkboard every day, the wines are all natural and the food is up with some of the best plates in London.
We love the small touches like having your name on the table and water already there. It's also very hard to pick a winner when it comes to the food and ever-changing menu, all of it is incredible.
Not cheap, but you'll be in for a real treat.
Perilla
£££
Located in Newington Green, Perilla is a modern neighbourhood restaurant serving European dishes with inventive twists.
We recommend going for the incredible tasting menu, which is under £40 and might be one of the best-tasting menus in London for price and quality. The menu changes regularly so you'll always have something different and not far from the sort of plates you'll find in the Michelin Guide.
Perilla is a real gem and one of Stoke Newington's best restaurants. It's stylish and creative and dare we say… pretty close to perfect.
Lu Lu Shanghai Delicacy & Sake Bar
££
Lu Lu's is the best restaurant for Chinese food in Stoke Newington. The dumplings are made fresh every day with care and love, and plenty of people travel far for these dumplings.
We recommend trying the beef "grandma style" and handmade dim sum. The décor is charming, clean and non-pretentious. The perfect authentic family-run restaurant for those Chinese cravings with very reasonable pricing.
Cirrik 19 Numara Bos
£
Wondering where to eat in Stoke Newington? Look no further than Cirrik – responsible for the very best kebabs in the area.
The menu is mostly barbecued meats cooked over the charcoal ocakbasi with a whole lot of salad, unlimited fresh bread, balsamic grilled onions, and garlic mayo. The ultimate hangover cure, breakup plaster and bad-week cure. There are no Monday blues at this Cirrik!
The best Turkish food in Stoke Newington, with delicious food and a great atmosphere. We recommend going for the lamb chops – we've never tasted lamb chops like it.
Rubedo
££
A comfy, quaint, and cosy bistro that greets you with a lot of love at the door – is it any wonder that this is one of the best restaurants Stoke Newington boasts?
We have to say, the food is exceptional. We recommend going for the mutton carpaccio, leks and ricotta with almonds, and for the sweet lovers out there, the chocolate creme with praline.
Rubedo knows what it's doing and does it well.
Not to mention one of the best wine lists we've seen in a long time, this restaurant is seriously passionate about giving its customers the best culinary experience possible. The talent is real.
You can also get a whole chicken and two sides for £20 which for the taste, is a pretty good deal (beats a Nandos, certainly).
Wander
££
Wander is a contemporary restaurant open for dinner in Stoke Newington. The menu is well-thought-out and carefully curated, while the restaurant itself has a great ambience. The perfect spot for an intimate meal where you'll feel as though you stumbled on a secret gem.
The Greek influence on the Australian restaurant gives the dining spot a special twist, making for interesting combinations that really work. Chicken liver parfait with a hot cross bun? Don't diss it till' you try it, it's unbelievable.
The dishes will stand out, and so will the taste. Trust us when we say you'll be talking about the food for days to come and will probably try and replicate some of it at home.
We tried to. Don't.
Just go back.
Trattoria Da Luigi
££
One of the most loved Italian restaurants in Stoke Newington with a very authentic menu and lovely staff.
At Trattoria Da Luigi, they want to make you feel as comfortable as possible – as though you've just hopped on a flight to Sardinia.
We recommend going for the large tube pasta with wild boar ragu – it's out of this world and the ingredients are so fresh.
It does get quite busy so head down early to get a table. The best thing to do is to order directly from the specials board because trust us, the dishes are up there for a reason and you can very rarely go wrong ordering from the specials.
This Stoke Newington Italian restaurant is a great spot if you're looking to go on a romantic date or just have a catch up with your best friend.
Cérès
££
Right next to Primeur, Cérès is a serious showstopper.
Cérès is named after the Roman goddess for 'agriculture and motherly relationships. And that's exactly what this restaurant does! Everything that is served is homemade in-house, from all the pasta to the gelato and bread.
The ever-changing menu keeps it fresh and creative, and they're always on the lookout on how to make their dishes even better. Female-led and absolutely wonderful, this restaurant will stop you in your tracks.
The restaurant only seats around 20 people with a supper club sort of presentation. You get around five courses which are very well portioned with great seasonal produce.
The staff are very knowledgeable, though the restaurant has perfectly managed to find the balance between a relaxed atmosphere and high-class food.
Nothing snooty, not pretentious, just beautiful food served with a lot of love and care.
Rassa
£
You cannot miss this restaurant due to its bright pink shopfront, but also because everyone is talking about it.
We can guarantee you'll eat the best curry in Stoke Newington at this gorgeous restaurant, serving authentic Keralan vegetarian curries and snacks. One of our favourite Indians in London, and if you're a veggie – look no further.
Fast service, fresh food at a decent price with friendly staff and a great location – how can you possibly go wrong?
The entire menu is incredible, trust us we've tried most of it, so don't worry too much about picking the wrong dish. This is the sort of place where you can go for anything, and your taste buds will be transported to a new dimension.
Other Places to Eat in Stoke Newington
Romeo & Giulietta
£
Stoke Newington's best ice cream shop. This gorgeous little gelateria makes creamy and delicious scoops of ice cream for the sweet lovers out there. We recommend going for the biscrok, we've never had anything quite like it.
Rain or shine, ice cream is always a good idea, and this neighbourhood favourite is full of happy faces. Contrary to most ice cream places, Romeo & Giulietta also do child-size ice creams which makes a real difference if you're heading there with kids.
Excellent artisanal ice cream, very friendly staff and quite frankly the best ice cream flavours we've ever tasted. There are also vegan ice creams!
You might have to queue a little, but it's definitely worth it.
Luminary Bakery
£
The best bakery in Stoke Newington, maybe even London!
The bakery acts as a social enterprise created to give opportunities for women from economic and social disadvantages to build a better life for themselves in the future. So, when you're thinking of going to a chain to get your coffee and breakfast, think again and head down to Luminary Bakery to support an incredibly important cause.
We love the almond croissants or cinnamon swirls, and if you're looking for a special homemade cake for your birthday or wedding – they've got you covered.
The cheese scones are also delicious, you can't go wrong with their treats.
Jolene
££
Having lunch in Stoke Newington? Another incredible bakery in Stoke Newington. Jolene is open for breakfast, lunch and dinner in a roomy, industrial-chic space with some of the best-baked goods out there.
Fresh bread every day, croissants, madeleines, sausage rolls and buns with an ever-changing daytime menu – Jolene is a bakery like no other.
Down to earth and gorgeous wines, it'll be love at first sight. This bakery isn't just a haven for bread lovers though, the dishes on their menu are up with some of the most innovative of London.
It's charming and full of spice, head down for one of the best coffees in Stoke Newington and hang around as the menu gets better and better.
Practical Tips for Exploring The Best Stoke Newington Restaurants
Always book before going to any of these restaurants and check their websites thoroughly to see opening times if you're planning on just queuing and winging it.
Check out our article on all the best drinking spots in Stoke Newington to carry on your evening in style.
Best Restaurants in Stoke Newington: Map
Stoke Newington Restaurants: Discover More Stoke Newington Guides