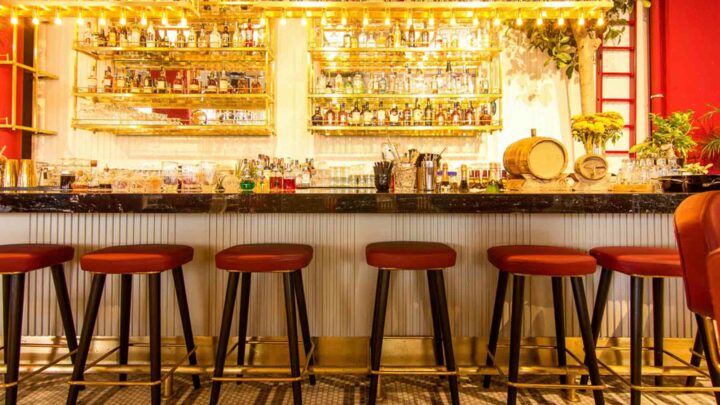 Looking for the best bars in Stoke Newington? You won't need to look too far. Stoke Newington seems to be the place everyone is talking about at the moment.
One of the best things about Stoke Newington has got to be the new restaurants and bars that seem to be popping up on a daily basis.
Stoke Newington is an area of many sides, not only has it become a place for young parents and yummy mummies with green juices, it's also become the capital of the best gastropubs in London.
Ready to discover the best places to drink in Stoke Newington? Prepare for cracking pints and pub grub galore.
The Best Bars in Stoke Newington
Lady Mildmay
££
Featuring dark wood panelling, vintage accents and a great selection of booze, Lady Mildmay has everything we love in a drinking spot.
This popular haunt first opened its doors in 2016 and has soared ever since, with an open kitchen serving rusting Mediterranean food and a wine list to impress even the unimpressionable. Think gastropub with a very strong gin influence and a chilled out atmosphere where you can even take your dog.
Not only is this one of the best spots to drink in Stoke Newington, the food is wonderful. To be honest, they had us at the fact they were dog friendly.
Jolly Butchers
££
It wouldn't be Stoke Newington without the Jolly Butchers. We love the relaxed atmosphere and back-to-basics feel of a good old ale and cider house (there's amazing wines and other drinks too, don't worry).
But seriously, these guys know their beers and their array is incredibly impressive. Even the demanding drinkers out there will find something to drink – the reasonably-priced menu also helps.
The decor is minimal, flooded with natural light and stunning arched windows. The truth is, the secret's out with this one and you'll struggle to find a seat. And that's why we love it. If you love beer, a lively atmosphere with a cosy vibe at the same time. This pub is for you. One of our favourites in Stoke Newington.
Prince
£
Restored and ready to go again, this stripped-back stunning boozer and beer garden is the perfect place for your Friday night drinks. Groovy vintage speakers, craft ales, affordable wines, seasonal cocktails as well as one of the best charcuterie boards we've ever tasted… It's love at first bite.
The beers are wonderful, the tequila shots are cheap and the music is as fun as it gets. Watch out Stoke Newington, the Prince is carefully becoming the ruler and best hang out spot for drinks in Stoke Newington.
The Shakespeare
££
There's always something fun going on at The Shakespeare.
A proper pub slightly off the beaten track and a gorgeous Victorian gem. It's a bit of a locals secret hang out but trust us, they're welcoming. A place full of friendly smiles, great screens to watch sport and….. A jukebox!
In our eyes, The Shakespeare is exactly what a pub should be. A hub of conversations, excellent pints and overall, a place to have a good old laugh with the person next to you.
Yield N16
££
Yield N16 is one of the first and best natural bars in London providing biodynamic and honest wines with a local feel by people who know what they're talking about.
A relaxed atmosphere that's both unpretentious and welcoming, you'll love perusing the shop before finding a nice seat at a table to sip on your wine. The deli side to the wine shop is a lovely addition, too.
We've seen a massive rise in natural wines over the last year, and this could be due to the claim that it's hangover-free. Whilst we can attest that your hangovers are significantly less… if you drink enough, you will get a hangover. Learn from our mistakes.
Pop in and grab a bottle that takes your fancy along with a charcuterie board – the octopus is also a must.
Cherry Galore
£
With what they describe as 'cocktails hotter than your ex', Cherry Galore has to be the best bar Stoke Newington boasts. We're talking about a disco haven basement bar with only positive vibes allowed.
The daily happy-hours with 2-4-1 cocktails is another reason to definitely check it out. Cherry Galore claims to be the hottest basement party in London, and definitely in Stoke Newington.
We love a place that is all about having a good time and dancing until you drop. We also really love tasty cocktails. A lot.
Dona
££
The best bar in Stoke Newington for Mezcal, trust us… the Mezcal selection is mighty.
We can almost guarantee you'll have the best time at Dona, with a quirky cool decor and delicious cocktails, what's there not to love?
We recommend trying the Fiorella cocktail, apparently it took the barman 3 months to make this concoction and finally it's exactly right. A drink truly worth savouring (or downing, up to you).
With an underground feel and ace sound system, it's the perfect place to park up for a fun night where you won't want to go anywhere else. Also, try the tacos. Please.
Yucatan
££
Obviously, we can't go through a list of the best bars in Stoke Newington without mentioning the mighty Yucatan.
Yucutan is a local's favourite and attracts a younger crowd. Although there might not be anything necessarily special or different to this bar, maybe that's its biggest appeal.
Yucutan is among the best places to watch football in London and the energy inside the bar is an instant mood-lifter. Great drinks, excellent grub and overall a brilliant pub for drinks.
If a sports game is on, do not hesitate and head straight down to Yucutan.
Auld Shillelagh
£
Voted "the most authentic Irish pub in the world outside Ireland" by the Irish Times, Auld Shillelagh knows what it's doing. Without trying to be too fancy, this pub really gets it right.
The Guiness is on another level and you'll want to bottle up the atmosphere, we'd even go as far as to say it's the best Irish pub in London.
Mingle, make friends with the locals, talk about the weather or have a sit outside in their gorgeous beer garden. It's worth travelling for, wherever you are!
Fontaine's
££
Fontaine's is East London's coolest bar with a range of forgotten classic cocktails, cabaret, film and dance. It's understated yet glamorous with a gorgeous art deco vibe – a nice surprise considering the usual industrial brick aesthetic found in the area.
We love this place, but think it more suits dates or a couple of friends instead of big groups. The seating isn't the most comfortable in the world and there's not a huge amount of space. But hey, we'll sacrifice some mild back pain for their delicious cocktails.
We're BIG fans. Also, they have live music. Sold.
Cool Bars in Stoke Newington: Practical Tips
Many of these spots get filled up quickly with locals, so try to head there early-ish in the evening to secure a spot. It's worth making a reservation on weekends.
If you've only got time to visit one spot, make it Jolly Butchers.
Stoke Newington Bars: Map