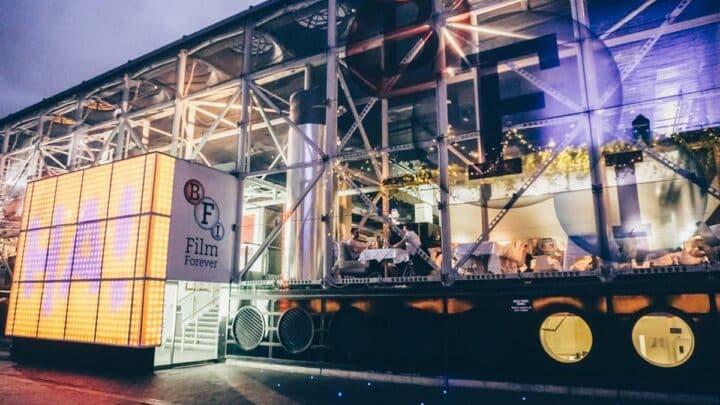 London's cinematic heritage runs deep, as demonstrated by its wonderful indie cinema scene. These are the best independent cinemas in London for blockbuster hits and arthouse movies.
Words by Sam Jean
Cinephiles unite – London's independent cinemas are out there waiting for you.
Combining the UK's illustrious filmmaking industry with international and arthouse films from every corner of the globe, the capital is home to a stunning range of cinemas waiting to be explored.
Let's dive into some of the best independent cinemas in London.
Peckhamplex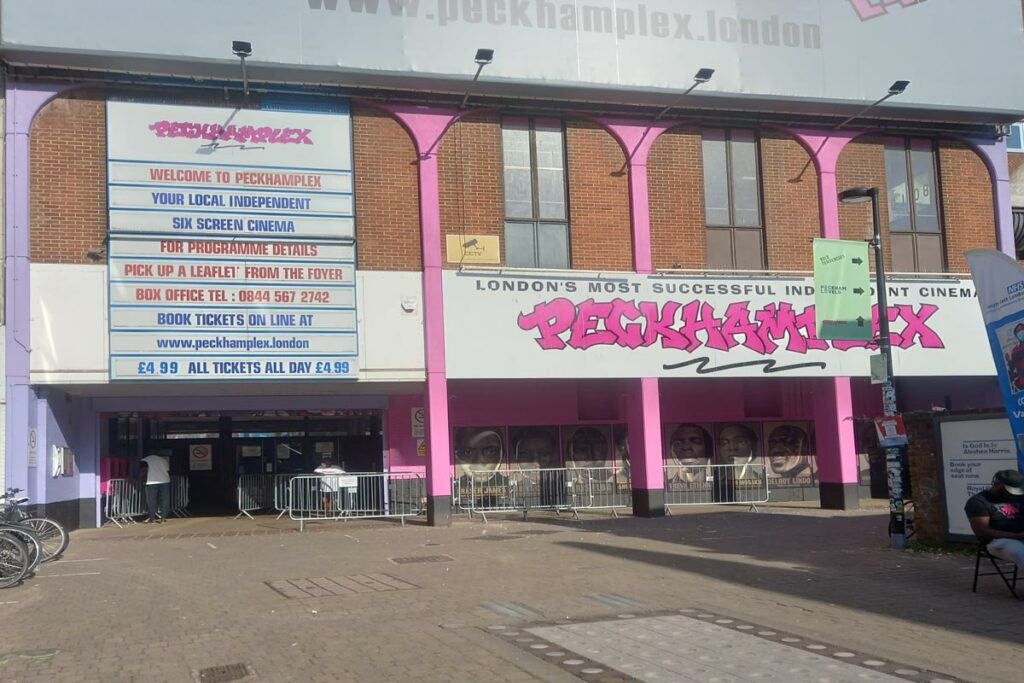 The award-winning Peckhamplex cinema has been serving the community of South East London since 2019, though the cinema itself was converted from a branch of Sainsbury's in 1994.
Don't let Peckhamplex's rugged exterior fool you – this is a proper cinema with 6 screens and 1000 seats. The cinema screens 6 to 7 films daily, with a mixture of classics, arthouse films and the latest blockbuster releases.
Keep an eye on their socials; the cinema hosts premieres, events and Q&As with celebrities and directors with recent visits from Olivia Colman, Danny Dyer, Idris Elba, John Boyega, Catherine Tate, and Chimamanda Ngozi Adichie to name but a few.
There are so many positive things to say about Peckhamplex – tickets are £4.99 all day, every day, and have been for 10 years, and there are weekly screenings for those with autism, parents with babies and the hearing impaired.
Prince Charles Cinema
As its name rightly indicates, the Prince Charles Cinema is cinema royalty and is well-known to film aficionados around the world, including director Quentin Tarintino who once said, "For lovers of quality films, this is Mecca ".
Uma Thurman even recorded a message for the cinema's showing of the Kill Bill double bill, introducing it as "Quentin's favourite UK cinema".
The quirky interior is somewhat of a throwback to the cinema's history as a former erotic cinema in the 70s.
It's fairly small, with just two screens and 4 to 6 showings a day on average, but the film quality and audio are exceptional. The whole experience will change your perception of what a cinema is supposed to be.
If you're a fan of movie marathons, the Prince Charles regularly holds all-nighters with consecutive showings of hit films and franchises like the Matrix, Lord of the Rings, Alien and more.
ActOne Cinema & Café
Acton
Opening its doors in 2021, ActOne Cinema is a community triumph as well as a cinema. This small 60-seat cinema was constructed in Acton's old library, which was set to be pulled down for redevelopment.
ActOne has a single state-of-the-art auditorium and shows all the latest films, with relaxed screenings for those with autism and learning disabilities, parents with children and refugees or asylum seekers.
The cafe offers a fine selection of local food and drink, including ice cream from Hackney Gelato and snacks from Serious Pig and Tony's Chocolonely. You can also grab wines from the award-winning Vindinista, beer from Bristol brewery Wiper & True and coffee from Climpson & Sons.
Electric Cinema
Portobello
The sublime Electric Cinema in Portobello is one of the capital's most decadent cinemas.
And by decadent, we mean this is one of the only cinemas in London with plush armchairs to sit on. And that's not it – you can even book a bed for a truly exquisite cinema experience.
Add cocktails, wine and champagne from the bar and you'll see how this cinema takes things to another level.
Among the many independent and arthouse cinemas in London, the Electric Cinema is a standout choice in terms of sheer comfort and luxury – you won't forget your first visit here, and one might just lead to another.
While the Portobello Electric Cinema is the original Electric (and many would argue the best), there is another at the former BBC Television Centre in White City.
Phoenix Cinema
Finsbury Park
Initially opened in 1912, the Phoenix Cinema is one of the longest-running cinemas in the UK. With its classic neon-lit exterior and Art Decor interior, it's perhaps no wonder that The Phoenix has starred in films and TV itself, including in Black Books, The Durrells and even a music video for the Scissor Sisters track I Don't Feel Like Dancin.
The Phoenix shows a wide range of new blockbuster releases and arthouse films with two screens and a lovely upstairs bar. So if you're on the prowl for the best arthouse cinema London, the Phoenix Cinema is certainly up there with the very best.
The cinema also screens opera, dance and ballets, and its extensive community work has earned it star-studded patrons, including Benedict Cumberbatch, Ken Loach, Maureen Lipman, Michael Palin, Mike Leigh and Mark Kermode.
Rio Cinema
The Rio, one of the capital's veteran independent cinemas, is now run as a not-for-profit enterprise with an elected board of locals who act on the cinema's behalf.
The Grade II Listed Art Deco building is stunning inside and out and has two screens, including the newly-developed basement screen, which was part-enabled by community funding.
In addition to screening the latest blockbusters with some classic, international and arthouse films thrown in for good measure, The Rio also holds special screenings for parents & babies and the hard of hearing and a classic matinee for the over 55s.
Roll up, grab some popcorn, and you'll see why The Rio has earned a reputation as one of the best London arthouse cinemas.
The Lexi Cinema
Kensal Rise
Slotted snugly into this small renovated Edwardian building, The Lexi Cinema features two small screens with a total capacity of around 100 seats.
This beautiful London indie cinema is run through a volunteer-managed social enterprise, blending independent cinema warmth and homeliness with a superb state-of-the-art AV system. A boutique bar is sure to get your night off to a flyer.
The Lexi isn't all about blockbusters – it also hosts numerous documentaries, Q&A panels, visual arts and inclusive events. The perfect local independent cinema in London, The Lexi is a gift to the people of Kensal Rise.
BFI Southbank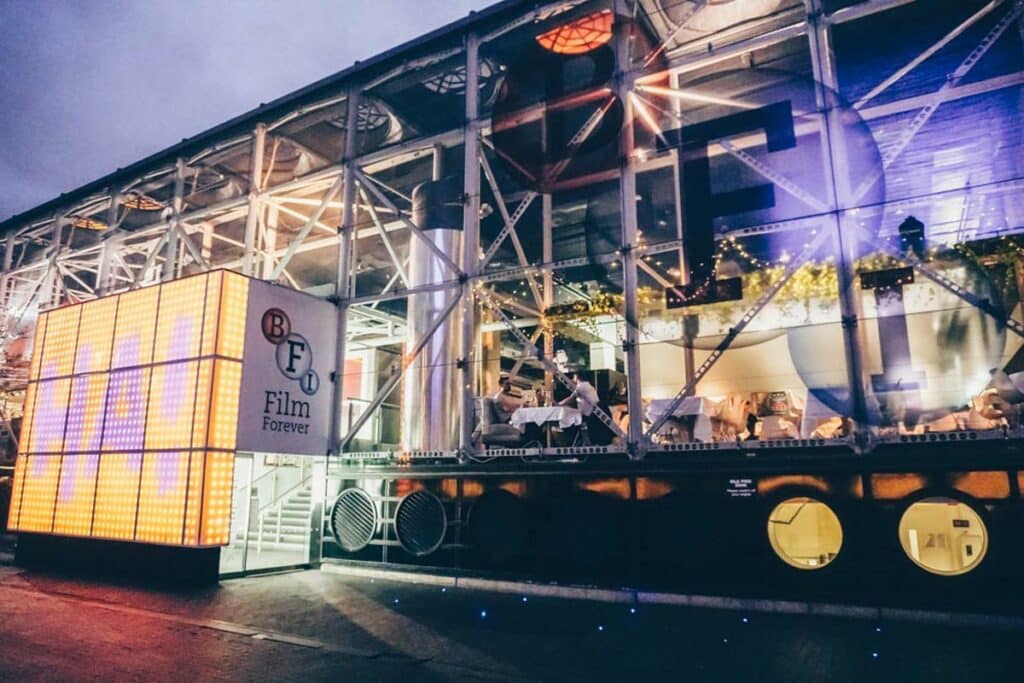 Operated by the British Film Institute, the 4-screen BFI Southbank cinema is a cinephile's paradise with a global reputation for screening films from all over the world, and from almost every genre.
The BFI is not just a leading light of moving picture and video art; it also runs extensive community projects and collaborations with new and independent filmmakers. Tickets are inexpensive, and the member program offers discount tickets and priority seating.
No cinephile's tour of London cinemas is complete without a visit to the BFI. This excellent art cinema in London has worked extremely hard to cement its status in London cinema lore.
Practical Tips for Exploring the Best London Independent Cinemas
Narrowing down the best independent cinemas in London is nigh-impossible. So be sure to check out Cine Lumiere, ArtHouse Cinema, Genesis and Regent Street Cinema too.
Many of these cinemas are reasonably priced, but the Electric Cinema is unapologetically luxurious with ticket prices to match – though you're paying for the experience.
Some cinemas offer membership with special discounts and pre-sales, so keep an eye out for deals.
London's Independent Cinemas: Map
Independent Cinemas in London: Read Next