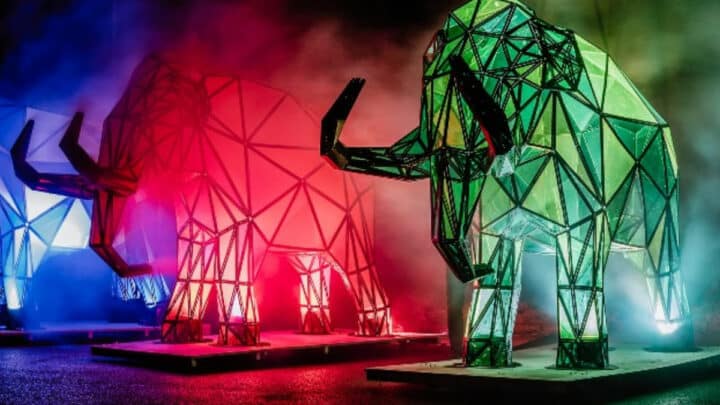 Canary Wharf's Winter Light Festival returns to London for 2023. Here's the lowdown.
If you're still craving a little of that festive season illuminated glory – good news! Canary Wharf has announced dates for their magical annual Winter Lights Festival.
The lights will return from the 18th to the 28th of January in what will be their seventh year running.
What to Expect
For those of you that don't know, the Winter Lights Festival is a set of light installations designed to lift the public mood during the short winter days. They commision light artists from across the UK to design installations for the show, and some of them take some pretty wild shapes.
This year's show features a mammoth family walking by the side of a river and a fibre-optic light tunnel, among plenty ofothers.
If you've still not got the picture, imagine giant LED installations that transform the spaces you'd be walking through in Canary Wharf (and expect to be wowed).
There'll be 20 installations in all. Some of them are old favourites from the years before – one of those old favs is The Clew by a talented Portuguese artists named Ottotto, which turns Cubitt Steps bridge into a wild pedestrian light tunnel.
Others, like the mammoths, are new.
Canary Wharf Winter Lights: Practical Information
Address: Canary Wharf
Dates: 18th – 28th of January
Price: Free
Canary Wharf Winter Lights: Map