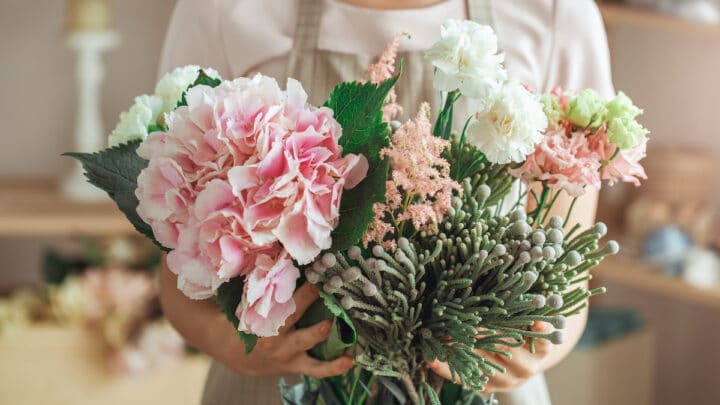 Looking for the top London florists?
Whether you're after flowers for Valentine's Day, luxurious wedding arrangements, or simply want a cheerful bunch for your kitchen (go on, treat yo'self), we've got you covered with this guide to the best florists in the capital…
Best Florists in London
East Dulwich Flower Co.
East Dulwich
Family-run East Dulwich Flower Co. has been a long-time favourite London flower shop for locals, so it's safe to say that they know a thing or two about blooming brilliant bouquets.
They source their flowers from the UK and Holland, and so they pride themselves on being able to access a wide range of blooms at short notice – which is perfect if you're looking for a last-minute gift (or you just fancy treating yourself to a bunch of flowers).
East Dulwich Flower Co. has also got any aspect of a wedding covered, from hand ties to table decorations.
Stems Studio
Ealing
When Segolen Goodbourn first founded Stems in 2004, it was a simple stall inside Ealing Broadway Shopping Centre where you could pick up a small bunch as you passed by.
Fast forward to today and Stems Studio has quickly established itself as one of the best flower shops in London and has since moved across the road to its own home.
The creative team is led by Segolen, and together they craft breathtaking floral arrangements that are perfect for a wide range of occasions. Though, it has to be said that their everyday bouquets are seriously as impressive as their wedding offerings.
The shop also sells pots and plants, so you can stock up on any green-fingered accessories you might need after you've created your dream bunch.
Blooming Desires
South Norwood
Looking for the best florist South London boasts? Look no further than Blooming Desires, a market stand that you'll find perched on the corner of Station Road.
This flower shop began life as a tiny stall, eventually moving to new premises and operating as a floral boutique for many years – though Blooming Desires decided that bricks and mortar really wasn't all it was made out to be and recently reverted back to a (bigger) stall.
The owner is a single mother who returned to school to follow her dream of running a florist company, and it's safe to say that her passion has paid off: the flowers are stunning… and very decently priced too.
Bloomsbury Flowers
The gorgeous Bloomsbury Flowers – or should we say, Blooms-bury Flowers – was first opened by the former Royal Ballet dancers Stephen Wicks and Mark Welford in 1994.
Ever since then, they've been crafting beautiful bouquets – many of which often end up on stage in the West End.
Known for their premium, bespoke arrangements (perfect for weddings, or even a special Valentine's Day gift), Bloomsbury Flowers uses seasonal flowers and foliage when possible – and you can even check what's coming up on their blog.
Aoyama Flower Market
Tokyo's iconic flower market has made a pretty special home for itself in Marylebone in recent years, with the London florist opening in Selfridges on Oxford Street.
Once you've laid eyes on their concession, you'll be totally smitten with their colourful blooms – rows and rows of stunning bouquets line their stand.
From dreamy basket arrangements to vibrant roses and impressive bouquets, they specialise in all things aesthetic. If you're after flowers that wow, you won't go wrong with Aoyama Flower Market.
Blooming Haus
Battersea
Fancy dipping your toes in the florist world? Not only is Blooming Haus our favourite luxury florist London has to offer, but they also run an excellent selection of flower arranging courses.
What started off as a small pop-up store in Chelsea was transformed by Master Florist Michal and business partner Michael into a huge floral establishment boasting roses, sweet peas, orchids, peonies, and plenty more.
Whether you want to earn extra brownie points with a loved one and learn how to build your own bouquet, or would rather skip that fuss and pick out a premade bunch, Blooming Haus makes it very, very simple to gift (or keep) flowers.
Chelsea Wild Flower
Without a doubt, Chelsea Wild Flower is one of the best florists in Chelsea, London.
Situated on the trendy Fulham Road, you won't be able to miss the bright purple entrance surrounded by a kaleidoscope of flowers.
They craft wonderful floral arrangements for special occasions – you can even add on Champagne, candles, and chocolate to create the perfect gift.
You can opt for a wide range of flowers, though they specialise in orchids and all things pink.
Josephine's Flowers
East Finchley
In business since 1950, Josephine's Flowers is the top florist North London has to offer (as well as being one of the oldest).
Branding their florists as 'floral designers', there's a real focus on the craft of floristry at Josephine's. Pop into their store for a one-off bouquet, or opt for a subscription of fresh flowers weekly to your home or office.
What's more, Josephine's offer same-day delivery (and it's personal, too) to plenty of post codes in North London – they also offer national and international delivery.
Memento Flowers
Pimlico
Memento Flowers has got all bases covered. Whether you're after a stunning wedding bouquet (or a full service), funeral arrangements, special occasion flowers, or even a simple bunch, Memento's huge variety of flowers and foliage make them an excellent central London florist.
With daily deliveries from Covent Garden Flower Market, the florists love to learn about the story and the feelings behind your bouquet, using the freshest flowers to bring your vision to life.
PM Flowers
Looking for the freshest flower bouquets in London? PM Flowers has nailed it.
Prewett Miller has opted to work with farms directly to skip out the middle man of the conventional flower market, which means that the flowers last a lot longer (and, arguably, look better).
PM also offer same-day flower delivery in London, so whether you want a bunch of tulips to brighten up your kitchen or need a very special bouquet for a very special someone, you'll be able to get your flowers within hours.
The Flower Appreciation Society
The Flower Appreciation Society knows how important it is to get a flower arrangement that looks good for days, which is why they've been featured in some of the UK's top magazines (Vogue and Elle, to name a couple biggies) and work with the likes of Harvey Nichols and Liberty of London.
Many of their flowers come from their own cutting garden in East London, so not only are the blooms insanely beautiful and indulgent, but also sustainable. We adore them.
Their focus is on events, namely hen do's and weddings, and so you can be sure that you're guaranteed a breathtaking bunch – whether you're after a rustic and neutral-toned bouquet or an all out garish table decoration.
Rewild
Rewild has made quite a name for itself among the many independent florists London boasts, mainly for their innovative bouquets and their fun Flower Club.
You've got fewer options with Rewild, but the quality is ridiculously high – and, if you're anything like us and struggle to make decisions, it's quite nice having a couple to choose from. Take a punt on their pick of the week and let your floral fate be decided for you.
Sick of flowers that wilt within a week? You can also opt for dried flowers, which are guaranteed to look good forever – we love their dried flower wreath.
Calluna Flowers
Tucked away around the corner from Portobello Road Market (which also boasts some stunning blooms), Calluna Flowers focuses on unusual flower varieties and colours. Perfect if you're buying for someone who usually cringes at the thought of red roses.
The florists will happily follow your wishes, or let them roam free and come up with a weird and wonderful bouquet.
Their array of pastel pinks and sage greens also look great in more minimalistic homes, where bright orange carnations totally spoil the vibe.
The London Flower Shop
This family-owned flower shop in South London has been delivering precious arrangements to local businesses and loyal customers since 2008.
Their flower designs are far more pared back than the crazy ones you'll find at Aoyama or Blooming Haus, but if you're after a simple bouquet of classic flowers, there's really nowhere better.
When it comes to traditional wedding flowers, sympathy flowers, or even just a classic bouquet of roses, The London Flower Shop has got it more than covered.
In need of inspiration? You can check out their flower gallery here.
Practical Tips for Choosing Your Flower Shop in London
If you're using a London florist for a special occasion like a wedding or engagement, it's worth looking around and finding your perfect match. Also, don't be afraid to ask where they source their flowers from.
Use Instagram and Pinterest to find your perfect bouquet! You can find great reference photos on these sites, and a brilliant florist will be able to identify the flowers used and help to create a personalised bouquet for you.
Best Florists in London: Map