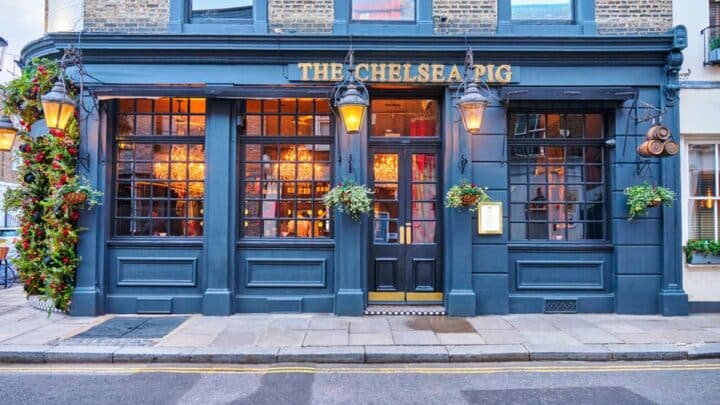 Chelsea boasts a global reputation as one of London's classiest districts, but that doesn't mean it's lacking in the pub department. These Chelsea pubs should be your first stop.
Words by Sam Jean
When it comes to pubs, Chelsea is one of the top neighbourhoods in London. With its Victorian pubs on every street and corner, you'll never struggle to find a cracking pint.
You won't just find high-end gastropubs either (though there are a few brilliant ones), as there are plenty of casual, social pubs for chilling, drinking and watching live sports.
Chelsea pubs offer a bit of everything you want from a proper British pub. So, let's explore.
The Best Pubs in Chelsea
The Cadogan Arms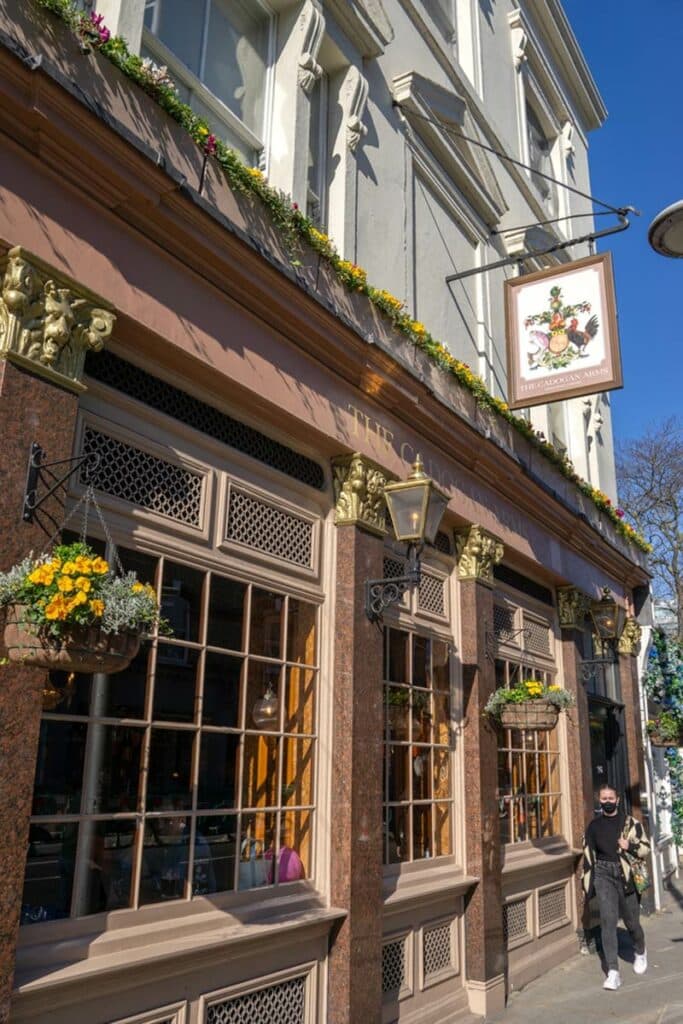 If you're looking to explore Chelsea's gastropub scene, The Cadogan Arms hits the target.
It's a beautifully restored Victorian gastropub on King's Road. It's a classy venue – about as classy as a pub gets, but still a pub, so no need to dress up unduly.
With a grand interior, this gorgeous pub offers a swanky modern pub menu with fish and chips, pies, burgers and upmarket additions like mussels.
The Sunday roast menu is fantastic, with rump, shoulder of lamb and veggie/vegan gardener's pie. Yes, Sunday roast is an exquisite affair at The Cadogan Arms, and you'll need a few quid if you're going whole hog with starters, mains, desserts and drinks – but it's an experience to savour.
Prices are north of the average – but it's Chelsea. The relaxed atmosphere, stunning interior and top-notch service make The Cadogan Arms a must-visit pub in Chelsea.
The Phene
Nestled in a quiet corner away from the King's Road, The Phene offers a mix of traditional pub charm and contemporary stylishness, with a sumptuous velvet lounge bar, plenty of dining space and a wonderful outdoor seating area.
It's an outstanding venue that suits lunch, dinner, drinks, special events, dates or even casual nights with friends. The modern-classic menu delivers a plethora of gluten-free, veggie and vegan dishes, with plenty of choice for anyone.
For pubs in Chelsea with gardens, you're a tad limited – but not at The Phene. It has a fab outdoor seating area heated at night and throughout the colder months.
The best pub in Chelsea? We think it might be.
The Chelsea Pig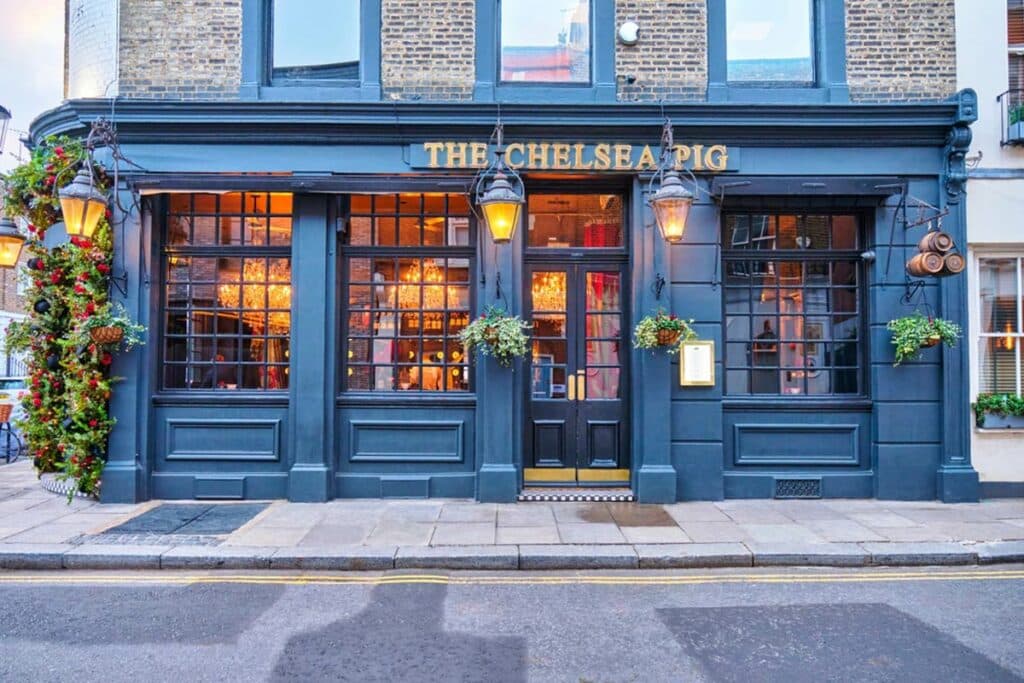 With classy chandeliers, modern furnishings and interesting sculptures and art, The Chelsea Pig is a popular gastropub that exudes a warm and welcoming atmosphere.
The compact menu features small plates and a carefully curated selection of quality mains. It's highly seasonal and changes often.
There's an extensive drinks list that includes a variety of beers, wines, and cocktails. With its rustic interiors and open fireplaces, The Chelsea Pig is a great spot to unwind.
Chelsea fans might already know this pub used to be The Pig's Ear, owned by Chelsea talisman Frank Lampard – a nice bit of pub trivia to bring up over pints.
The Hollywood Arms
The Hollywood Arms is a super-bright, contemporary gastropub with a glorious interior inspired by English country estates.
The menu is mega, with homemade gnocchi, various chicken dishes, an amazing selection of steaks – including a mighty 1kg tomahawk steak – and stacks of starters and sharing dishes. An excellent Sunday menu provides all your expected meats and some plant-based options.
This excellent modern pub also offers an impressive drinks menu, cocktails, wines, and beers galore. A top-quality pub with a gorgeous ambience.
The Builders Arms
Yet another quintessential London pub, The Builders Arms is an unpretentious pub with
laid-back vibes, plenty of seating and a fantastic menu that combines pub classics with that little special something which sets quality pub food aside from the rest.
Fish, burgers, chicken and plenty of veg options – it's an all-comer-friendly menu that doesn't skimp out on taste. The pub offers a range of real ales, craft beers, and an extensive wine list.
They also host special food nights, like oyster masterclasses and dining experiences with coveted chefs, which is a super-interesting addition to this pub. You'll find live music and other events, too – so definitely tune into their website or socials to find out what's going on.
The Sporting Page
Another backstreet Chelsea pub off the Fulham Road, The Sporting Page is a traditional pub with plenty of screens. There's a pub quiz on Sunday – one of the most popular in the area – and live music on the last Friday of the month.
There's a compact menu with an excellent selection of modern pub classics. We wouldn't go so far as to say this is a boozer, but it's not a typical modern gastropub either – perfect for a glass of wine or pints with mates.
Chelsea Potter
Back to the King's Road for another pub with serious heritage – the Chelsea Potter. This former rock n' roll haunt is a Greene King pub these days, which means you'll get a meal and drink for less than £20.
If you're on the Kings Road, there are ample pubs sandwiched between independent and boutique shops and brilliant restaurants.
The Chelsea Potter is a large, modern pub with beautiful flower displays laden across its fascia in spring and summer – true to Chelsea's floral heritage.
There's nothing too groundbreaking here – it's a reliable, reasonably-priced pub in a great setting on the King's Road. You'll save some money compared to some other pubs in the area too.
The Phoenix
On Smith Street, just south of the iconic King's Road, you'll find The Phoenix, a relatively compact but well-turned-out pub with a brilliant menu.
Run by a small and dedicated team, this is one of Chelsea's friendliest pubs, and dog friendly too.
A no-frills pub menu provides burgers, fish and chips, chicken and a handful of other options. It's by no means an exhaustive menu, but it still caters for everyone. Locals love the Sunday night pub quiz.
The Fox and Pheasant
A little further towards the south of Chelsea is The Fox and Pheasant. The interior is stunning, with a gorgeous orangery area and superb decor throughout – it's a beautiful pub. The atmosphere is buzzing, even on weekdays – a great sign that locals love this pub.
The food here certainly adds to the pub's superb reputation. It's a compact menu but delicious food with sublime presentation. Expect to pay a tad more for the privilege – but that's even more reason to savour it.
The best Chelsea pubs are too hard to split, but the Fox and Pheasant is undoubtedly up there.
The Cross Keys
The Cross Keys is a historical gem that has been serving Chelsea residents since the early 1700s. It's a straightforward and unpretentious pub tucked away in a quieter, more residential part of Chelsea.
This charming traditional pub boasts an extensive selection of ales, wines and spirits. The Cross Keys also offers a delicious gastropub-style menu featuring British classics made with locally sourced ingredients.
It's a very friendly pub and chilled for couples, groups, families or anyone treating themselves to a delicious meal and pint.
Chelsea Pubs: Map