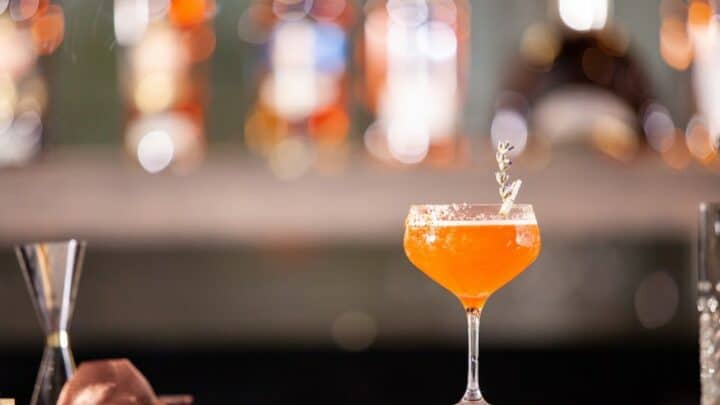 Looking for the best bars in Greenwich? Look no further.
As far as London areas go, Greenwich isn't exactly blessed with an abundance of bars – pubs though, take your pick.
Although, from quirky sports joints to opulent speakeasies and sophisticated top-floor spaces overlooking the capital, the bars that do exist in Greenwich are pretty stellar, we must say.
Ready to explore?
The Best Bars in Greenwich
Davy's Wine Vaults
££
The eclectic Davy's Wine Vaults is one of our Greenwich go-to's. Cool restaurant by day and buzzy wine bar by night, there's no better spot to while away the hours with friends.
The wine menu is rather impressive, with whites, reds, and rosés from across the globe, along with a healthy selection of Champagnes and sparkling wines to kick things up a notch.
In fact, the vast majority of wines on the menu are sourced directly by James Davy himself and shipped directly to the UK.
TOCA Social
££
If you're looking for a fun bar in Greenwich, look no further than TOCA Social and their digital football game experience. Immersive games, tasty food, and even better drinks: it's time to get the gang together for a hilarious evening.
Book yourself and up to 11 friends a private box where you can play games for 90 minutes, or just walk in and enjoy drinks sans the activities.
Cocktails range from much-loved classics (they do a cracking Daiquiri) to specials like the show-stopping Hard Melonade, which transports you straight to a tropical island deep in the Caribbean.
Grind
£
Shoreditch Grind might be the OG, but Grind Greenwich is equally as stunning.
This cosy coffee spot by day totally transforms into a hip cocktail bar by night and, as expected, their coffee cocktails do not disappoint. The Hot Flat White Russian is a particular favourite, though we cannot pass up their Irish coffee either.
Where else can you grab a whiskey with avo toast?
The Sail Loft
£
The Sail Loft might dub itself as a pub and restaurant, but it's got all the sophistication of a cocktail bar, alongside beautiful views to boot.
The riverside spot is owned by Fullers, so straight away you know the drinks menu is going to be half-decent. Add to that the bright, airy setting and jaw-dropping interior, as well as a cracking selection of elevated pub-grub dishes, and you're onto a winner.
Upstairs at The Oystercatcher
£££
We adore hanging out at The Oystercatcher any day of the week, though on Fridays and Saturdays we particularly love heading upstairs to the fancy bar space and indulging in a glass of wine or two.
If you're looking for the ultimate treat, head here for oysters and vino overlooking the Thames. Kick things off by sipping La Galiniere Merlot, trust us.
Eighteen Skybar
£££
Located at the Intercontinental Hotel at The O2, we would argue that the Eighteen Skybar boasts the best views in South London. Don't believe us? Head there for yourself to find out.
Boasting a luxurious cocktail menu, the bar works on a reservation only system – though that means you're guaranteed excellent views the whole time.
When a drinks menu spans 18 pages, you know they know what they're talking about. Our top pick is the Melon Martini made with pear vodka, Passoa, Midori, fresh melon puree, and a healthy dose of Prosecco, though the extensive whiskey menu is enough to entice any connoisseur.
Clipper Bar
££
Clipper Bar is another spot located inside the Intercontinental Hotel, though this one is a tad bit more laid back than the Eighteen Skybar… and we love it for that (we say a tad because occasionwear is very much the expectation here).
It's nautical themed and has 270 degrees of floor to ceiling windows, meaning you're blessed with dreamy views no matter where you're perched. Head there to try their very own distilled Clipper Gin – with a side of oysters, of course.
Cribbs Parlour
££
This members-only speakeasy is nestled away inside The Trafalgar Tavern pub in Greenwich. But don't worry, it's not totally exclusive – you can easily grab a membership on the door. And it's well worth it if you're often in the area.
Open on Fridays and Saturdays (though head there for 2 for 1 cocktails after 8pm on Friday) it's a buzzy venue with DJ Dorothea spinning some tunes. Drinks range from classics to Cribb's specials – The Old Billy Cooler is a firm favourite.
Little Faith Taproom
££
Little Faith's beer has been fuelling Londoners on nights out for many years now, and their Deptford taproom is one of our favourite places to drink near Greenwich.
The bar oozes industrial coolness: dark metro tiles, movie posters, and wooden seating makes for a cosy evening with friends. There's no need to book a table but we really recommended it to guarantee yourself a seat.
Oliver's Jazz Bar
££
Oliver's Jazz Bar is, without doubt, the best jazz bar Greenwich offers.
Not only is the space and atmosphere completely reminiscent of a tiny speakeasy, but the wide selection of drinks on offer are almost as impressive as the live performances. Which are on every night, by the way.
Grab a ticket for a live show and there's no need to purchase food with your drink – or turn up for a cracking meal and a performance.
Enderby House
£
Tucked away in Enderby's Wharf, the recently-refurbished Enderby House is a beautiful restaurant, pub, and bar in Greenwich. And the heated terrace is perfect for boozing on chilly London nights.
The wine menu is impressive, boasting more than 40 reds, whites, and rosés alongside an excellent selection of Champagnes and sparkling wines. Though, you've also got cocktails, beers, and soft drinks to choose between.
Nine Lounge
££
Perched on the ninth floor of the Radisson Red, Nine Lounge is an opulent restaurant and bar in Greenwich, serving up fancy AF mocktails and delicious Japanese plates courtesy of Paul Greening, who cut his teeth at the likes of Novikov.
Everything from the alcohol-free cocktail menu to the meat is Halal at Nine Lounge, and there's even Shisha available. Though, the panoramic views are well worth dipping in for a drink alone.
Buster Mantis
£
Stray slightly towards the fringes of Deptford and enter Buster Mantis, a funky cocktail bar near Greenwich.
The food is excellent, the drinks are even better, and the vibes? The vibes are top-notch.
The focus is on Jamaican food and drink, though you'll find the cocktails take inspiration from across the globe – the heavy rum influences are balanced out with dainty gin concoctions and whisky-based drinks.
Cool Bars in Greenwich: Practical Tips
Most Greenwich bars will not require advance booking, though for some of the fancier spots it's worth checking beforehand so you don't get turned away.
Looking for the perfect bar crawl? The Oystercatcher and The Sail Loft are right beside each other, so start your night here and then head along the riverfront to the elusive Cribbs Parlour and then Enderby House.
Greenwich Bars: Map
Read More Greenwich + Bar Guides