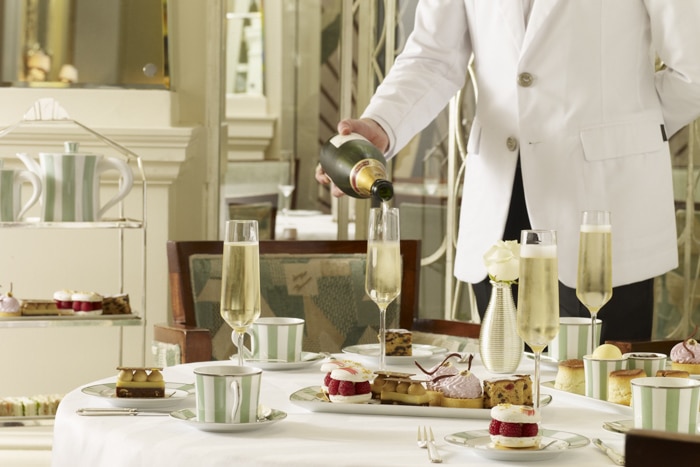 There's nothing more English than an afternoon tea. A tradition for well over a century, eating appetisers and sipping on tea in the hours between lunch and dinner has become an utterly indulgent and celebrated experience.
Ever since the Duchess of Bedford disclosed in 1840 that she often drank tea with a light meal in the afternoon, Brits have transformed afternoon tea in London as a serious gastronomic affair.
London has countless places offering traditional high teas down to quirky themed afternoon brews.
From Harry Potter-themed tea rooms to classic century old hotels, here are the best places for afternoon tea in London.
Best Classic Afternoon Teas in London
Afternoon Tea at The Ritz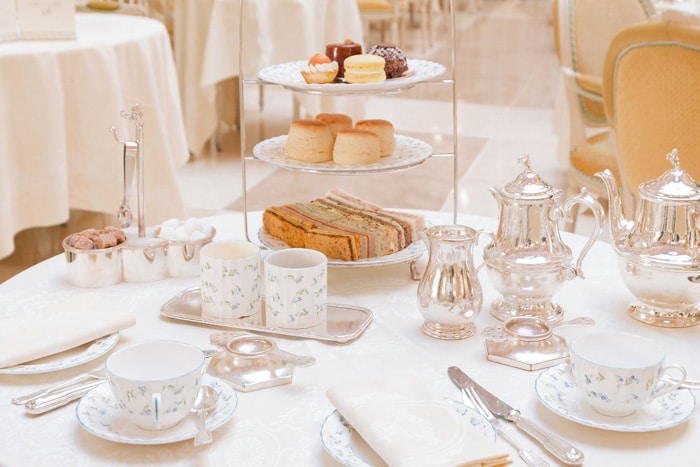 Location: The Ritz London, 150 Piccadilly, Mayfair
Open now
If you're looking for old school glamour, head for afternoon tea at The Ritz. It's been serving afternoon tea since 1906 in its ornate Palm Court.
Choose from over 18 types of tea that have been personally sampled and selected from Sri Lanka by tea connoisseurs. The proudly traditional food menu covers all the expected bases – from sandwiches to scones and all the pastry and tarts your heart could ever desire.
This is The Ritz though, and you'll have to abide by a strict dress code. Men must wear a suit jacket and tie and women have to dress smart-casual. But you'll be in good company, The Ritz has welcomed Prime Ministers, celebrities and royalty over its long history.
High Tea at The Langham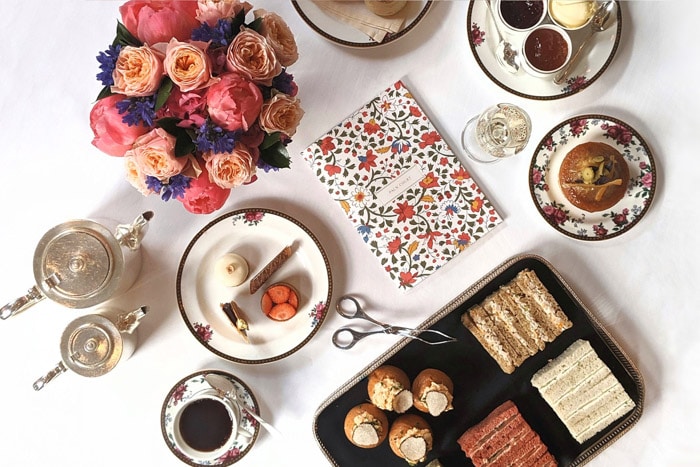 Location: 1 Portland Place, Marylebone
Reopens 1 October
If you want tradition and class, then The Langham is where you should head. It was the first hotel in London to serve afternoon tea in 1865 and is still regarded as one of the best places for afternoon tea in London.
The knowledgeable staff will walk you through the extensive tea and food menu, recommending certain well-paired options from their selection of seasonal ingredients. Sandwiches and scones are served on silver platters in their famous Palm Court, where the whole tradition began in the 1800s. It's a truly luxurious experience and where you can enjoy the original tradition.
Afternoon Tea at Corinthia Hotel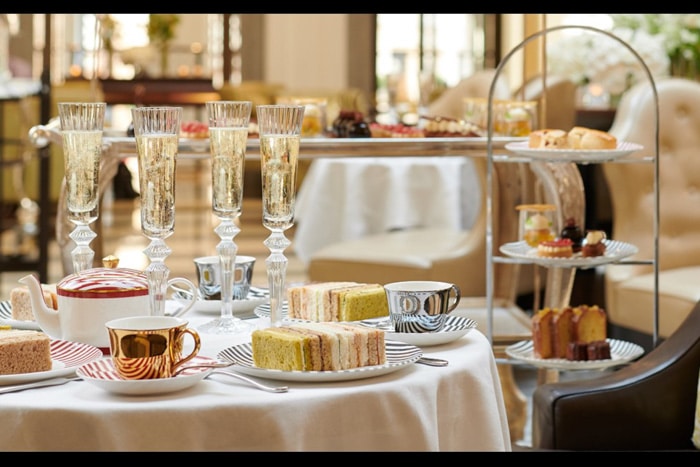 Location: Corinthia Hotel, Whitehall Place, Westminster
Open now
Afternoon tea is a serious affair at the Corinthia Hotel.
It's treated more like a traditional ceremony, slowly drawn out by the arrival of each plate of food and cup of tea. It's served in the hotel's Crystal Moon Lounge which is illuminated by an astonishing 1001 Baccarat crystals.
The tea options range from bespoke blends to single-estate brews and the menu has all the sweet-tooth favourites and savoury preferences you could possibly desire. It's certainly an indulgent and relaxed affair, one that's perfectly saved for a special occasion.
Claridge's Afternoon Tea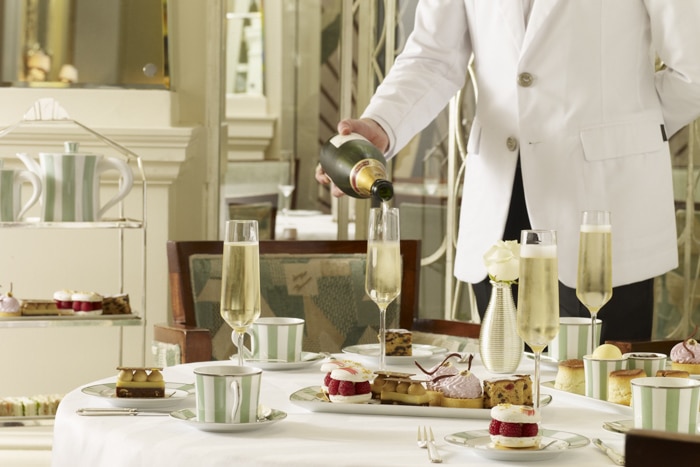 Location: Claridge's Hotel, Brook Street, Mayfair
Open now
One of the true classics in London. The high tea served in the Foyer in Claridge's is considered by some to be the best afternoon tea in London. The menu and selection of teas have been perfected for over 150 years that they've been serving afternoon tea and it still carries a sense of authentic elegance.
There are two sittings during the afternoon, and you'll be seated underneath the central chandelier with tunes from the 1920s playing in the background. The menu and tea selection are carefully curated, and there's often ever-changing specials to try. It's a complete class act.
Afternoon tea at Sketch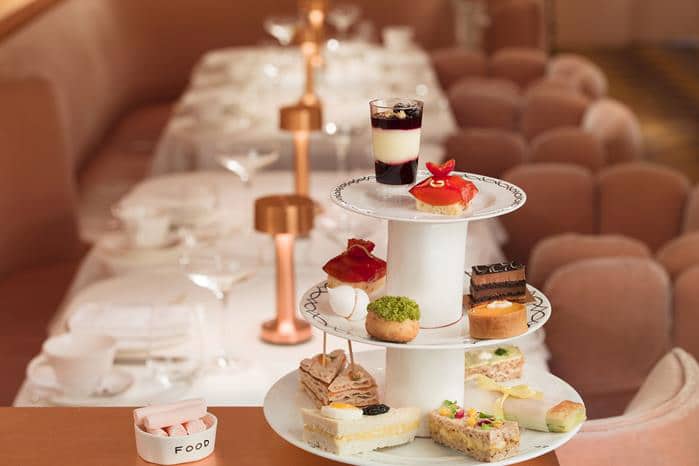 Location: Sketch, 9 Conduit Street, Mayfair
Open now
Stepping into the pink-hued Gallery of Sketch is like being inside a huge rosy cupcake, which is fitting for this high-end afternoon tea. It's repeatedly been considered one of London's most beautiful restaurants and the eccentric interior design is all part of its charm. There are quirky artworks by David Shrigley covering the wall and the Beatles playing in the background.
In this plush pink setting, you'll be able to eat fluffy sponge, hot-pink Battenberg cake and salted caramel eclairs. There's also savoury food of course, but it's the sugary-sweet food that is the real highlight. Add a glass of champagne or one of the 20 tea varieties and it's an exquisite cream tea experience in London.
Plant-based High Tea at Farmacy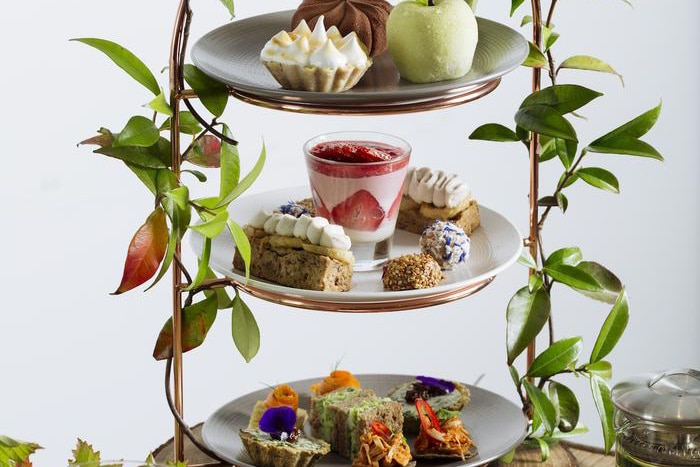 Open now
Location: Farmacy, 74-76 Westbourne Grove, Notting Hill
This is the best high tea in London for plant-based and health conscious eaters. Farmacy offers a dairy, refined sugar, additives and chemical free experience as well as options for gluten intolerant people.
For a high tea with a difference, you can snack on raw quiche with spinach 'cream' and pickled fig, open sandwiches on gluten free charcoal bread and rose water and prosecco jelly raspberry pavlova. You can also enjoy a pot of hemp leaf tea and cannabidiol (CBD) home-made chocolates – now that's something you won't have anywhere else in the city. It'll leave you feeling healthier and happier, naturally.
Afternoon tea at The Delaunay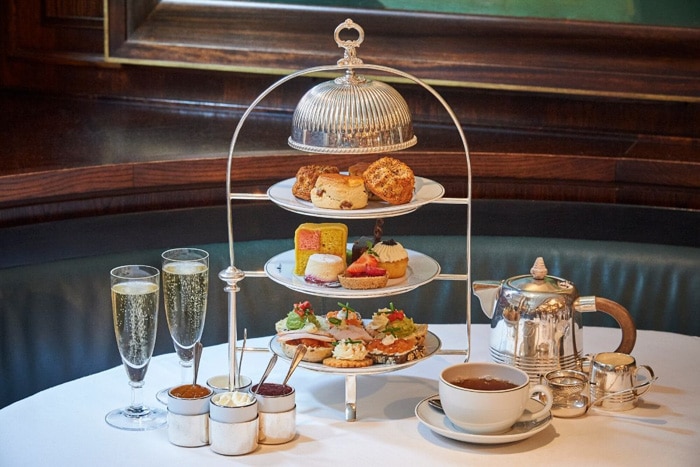 Currently closed
Location: 55 Aldwych, Covent Garden
Many of the high teas are, let's be honest, generally more on the pricey side with a sophisticated and luxurious atmosphere to match. However, The Delaunay is a European-style restaurant that offers a more budget-friendly option for a Viennese inspired afternoon tea.
At around £20 per person, you can sample assorted sandwiches, fruit scones with jam and cream, Viennese cakes like Stroh Rum Cake and a wide selection of teas and coffees. You don't have to feel cheap about the price though, because it's still served in an elegantly designed interior with antique mirrors, marble floors and green leather seating. So, you can get your high tea experience for a more reasonable price.
Best Themed Afternoon Teas in London
Fancy Tea at Lyaness at Sea Containers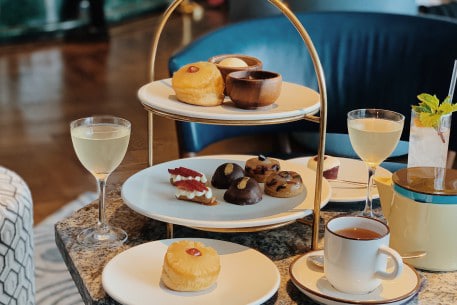 Location: 20 Upper Ground, South Bank
Currently closed
If you're after something a bit harder hitting than tea, then head for a Fancy Tea at Lyaness where its meticulously crafted cocktails steal the show.
It's a more playful twist on the traditional afternoon tea in London, inspired by high-end dinner parties from the 1980s.
The indulgent menu includes delicate sandwiches, fruity scones and tea cakes, washed down with legendary concoctions by mixologist Ryan Chetiyawardana. If you're not so keen on drinking before 5pm, then you can still savour the afternoon tea tradition with a selection of fine loose-leaf brews. Or both, both is totally fine too.
Harry Potter Afternoon Tea in The Potion Room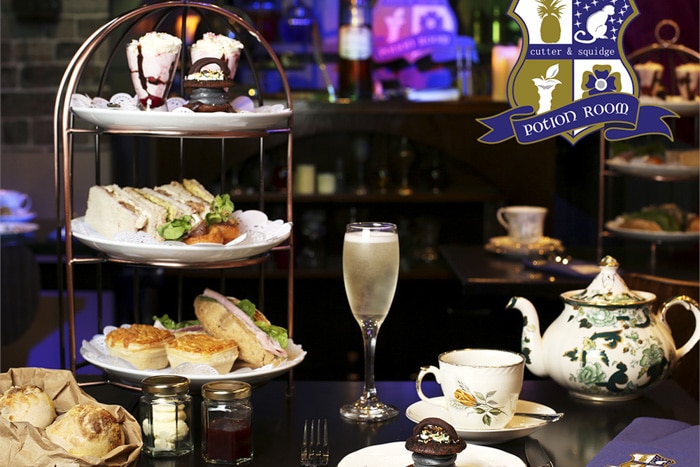 Location: Cutter & Squidge, 20 Brewer St, Soho
Currently closed
If you're a Harry Potter fan – because, who isn't? – step into the basement of the Cutter & Squidge Bakery and you'll be inside the Potion Room where a completely immersive Harry Potter-themed afternoon tea awaits.
You're given a cloak and wand and are seated at a desk before meeting your waiter, or in this case, Potion Master.
It's a two-hour experience where you can enjoy teas like Elixir of Life and Unicorn Tears – try not to completely geek out over it. It's a great high tea to take the whole family to or friends who have an inner Harry Potter obsession.
Mad Hatter's Afternoon Tea Party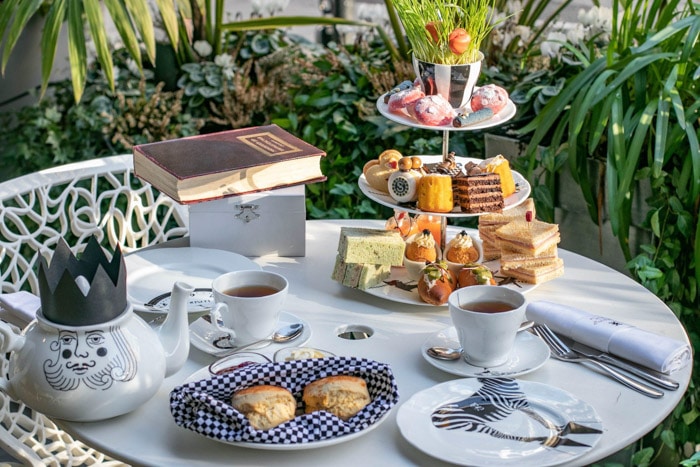 Location: Sanderson London, 50 Berners Street, Fitzrovia
Currently closed
If you could think of the best themed high tea in London, this is what it would likely look like. An eccentric and whimsical Alice in Wonderland themed tea party in the courtyard of Sanderson Hotel.
The entire experience is perfectly on theme, from the teapots decorated with kings and queens to the hidden menus in vintage books. The Alice-inspired tea menu is also full of flavour with exotic fruits potions to make your experience down the rabbit hole as authentic as possible. It's the most fun and yet sophisticated, afternoon tea experience in London.
Charlie and the Chocolate Factory-themed Afternoon Tea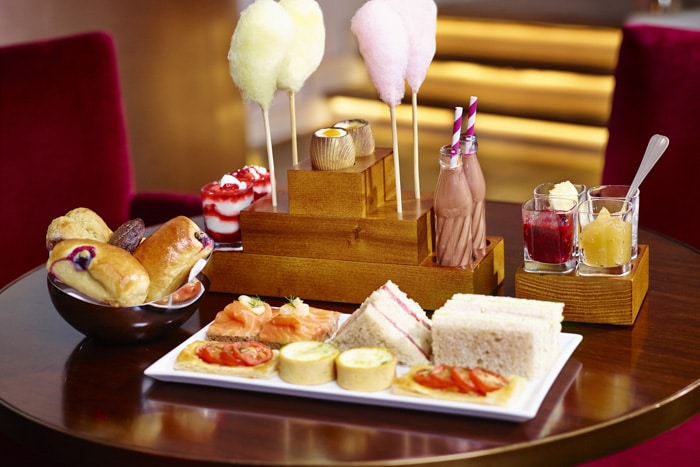 Location: One Aldwych Hotel, 1 Aldwych, West End
Currently closed
Your inner child won't be able to resist getting excited over this high tea experience. One Aldwych Hotel, inside a Heritage-listed Edwardian building, turns into the magical world of Charlie and the Chocolate Factory with a truly mouth-watering and creative twist on afternoon tea.
For those with a sweet tooth, this is the ultimate indulgence. You can start with a chocolate, whiskey and cherry cocktail or chocolate tea before the savoury sandwiches and scones arrive. However, the main event – and one you'll want to get your camera out for – is the tray of sweets. Rainbow panna cotta, candy floss and honeycomb flavoured cake pops and chocolate eggs filled with vanilla cheesecake are just some of the choices. It's mouth-watering just thinking about it!
Science Afternoon Tea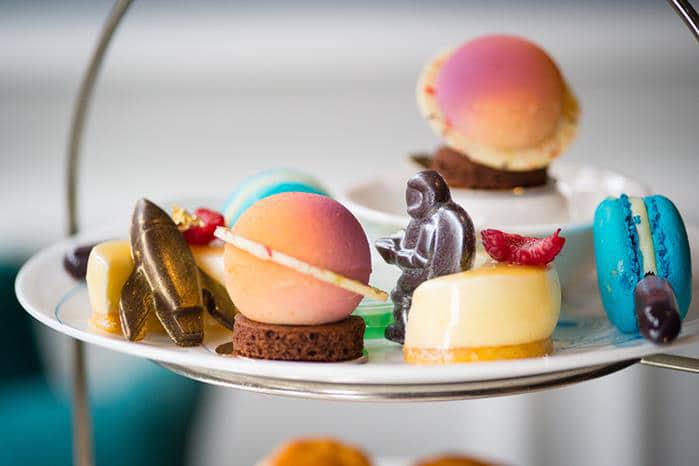 Location: The Ampersand Hotel, 10 Harrington Rd, South Kensington
Reopening 1 September
If you've visited the Science Museum, then you might want to duck next door for this completely unique afternoon experience where chemistry meets gastronomy. The Ampersand Hotel has taken inspiration from their neighbour and developed a chemical twist to the traditional afternoon tea.
Jams are served on petri dishes and lemon curd is squeezed from a tube. There are chocolate spacemen, dinosaur biscuits and passion fruit planet mousse. Self-confessed nerds will be in heaven! However, it's not too much of a childish experience, as the Drawing Room where it's served is decorated in scarlet velvets in a traditional British style. It's a completely unique afternoon tea in London.
Afternoon Tea Bus Tour by Brigit's Bakery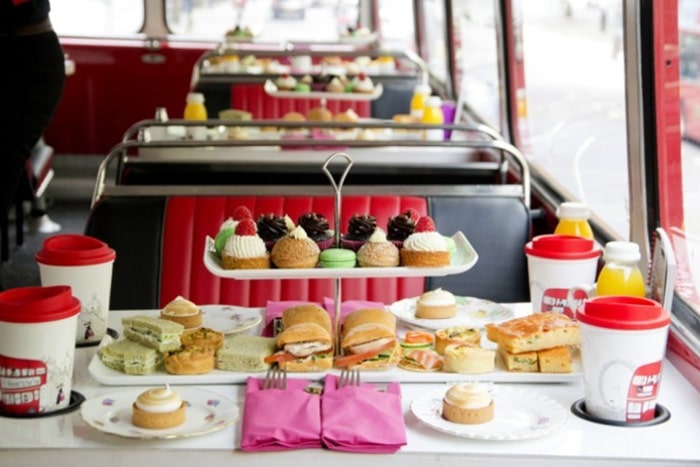 Location: Tours begin near Trafalgar Square and Victoria Coach Station
Open now
To partake in this afternoon tea London bus tour is like encapsulating the best of the city all in one experience. A traditional afternoon tea by Brigit's Bakery is served on a vintage double decker bus as it tours around the main areas of the city. As you pick at sandwiches, profiteroles and fluffy cupcakes, a voiceover gives an overview of the main sights as they pass out the window.
For visitors to London, this is certainly a good use of your time, plus it's incredibly instagrammable with retro seating and fairy lights.
Moroccan Afternoon Tea London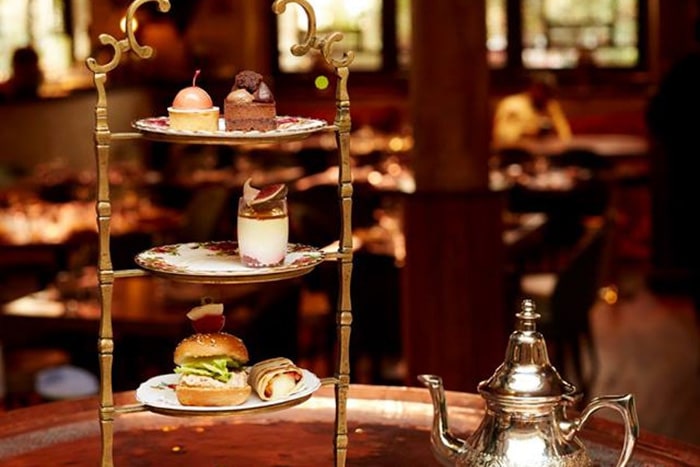 Location: Momo, 25 Heddon Street, Mayfair
Open now
For something different and less, well, English, you could try this Moroccan inspired afternoon tea at Momo. This place has a completely bohemian vibe with pattern tiles on the floor, low hanging Moorish lanterns and exotic throws covering the couches.
If you're wondering what a Moroccan afternoon tea could possibly entail, then let me tell you. Lemon grilled chicken, cucumber with labneh and mint, halloumi croques, date scones and muhalabiya, a Middle Eastern milk pudding with rosewater. Tea flavours include mint, cardamom, saffron and rosewater. It's the glamorous North African experience you didn't know existed.
Mr Fogg's Gin Parlour G&Tea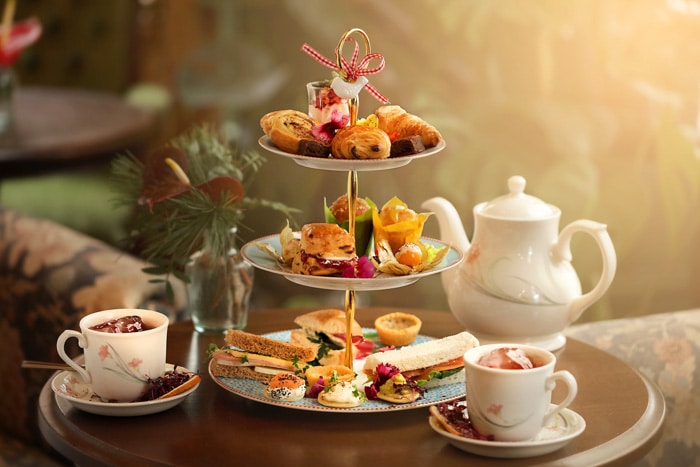 Location: Mr Fogg's Gin Parlour, 1 New Row, Covent Garden
Reopening 5th September
A high tea London experience with a unique twist. The aptly named G&Tea is one of the best takes on the traditional afternoon tea… if you like a good gin and cocktail.
Every weekend, Mr Fogg's Gin Parlour turns into a striking and eccentric high tea setting, pursuing inspiration from Sherlock Holmes to Alice in Wonderland. There's an impressive list of champagne and gin cocktails, infused with specially selected teas. Concoctions like Bombay Sapphire gin, hibiscus tea, raspberry and speculoos syrup are what's on offer.
On the food front, there's traditional sandwiches with smoked salmon and raisin-filled scones. However, the cream filled brandy snaps and chocolate brownies are the real highlight.
Prêt-à-Portea at The Berkeley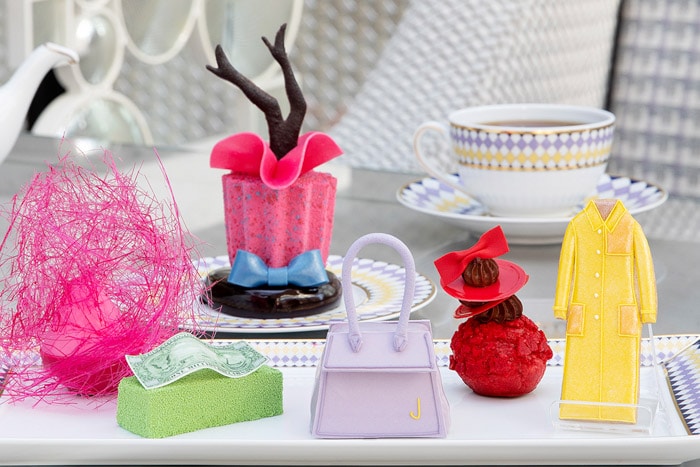 Location: The Berkeley, Wilton Place, Knightsbridge
Open now
For all you fashionable foodies – this is one of the best places for high tea in London. The entire affair is fashion-themed, even boasting seasonal changes with the latest catwalks and street trends. They've served Emilia Wickstead's red velvet gown reimagined into a croustillon-covered choux bun and Moschino million dollar bill-topped pistachio delice.
There's no latest trend that is not paid homage to by the chefs here and you certainly won't find any totally out of fashion scones and jam. It's served in the hotels' Collins Room, a modern dining hall with soft silver chairs and glass tables, the perfect stylish setting.
High Chai Experience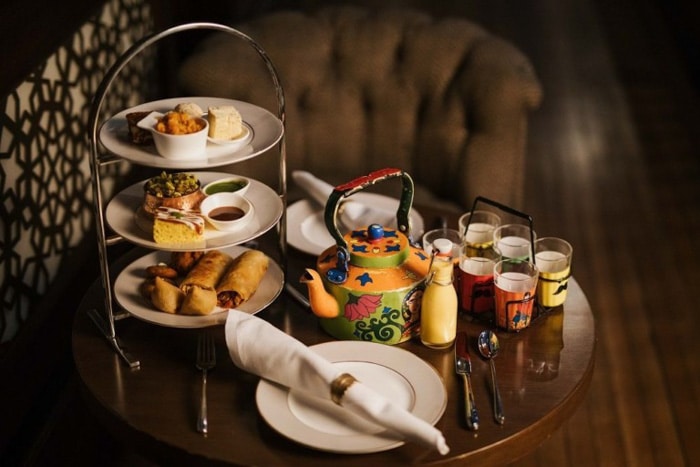 Location: LaLit London, 181 Tooley St, Tower Bridge
Reopens 15 September
For a high tea of the chai variety, hit up the Baluchi Restaurant inside Lalit, a boutique hotel in South East London. They offer a High Chai, where underneath cobalt chandeliers, you can sample some of the best spiced teas as well as many favourite snacks from India – a suitably luxury afternoon tea in London.
Instead of sandwiches and scones you'll find paneer kathi rolls, Punjabi samosas and Indian desserts such as gajar halwa (carrot fudge) and boondi laddoo (sugar-glazed sweets). A delicious way to become acquainted with some of India's best snack and street foods.
Art Afternoon Tea at Rosewood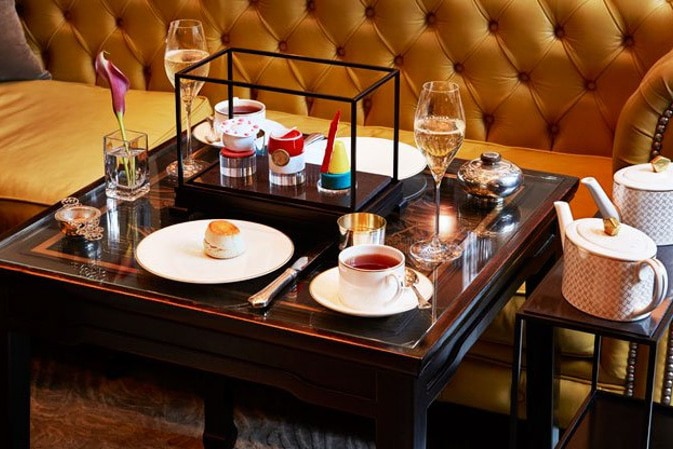 Location: Rosewood London, 252 High Holborn, Covent Garden
Reopens 1st September
You won't even want to touch the pastries served at this afternoon tea, they are true works of art. The pastry chef here creates a colourful selection of desserts inspired by Spanish artist, Pablo Picasso. There's no wonder it won best contemporary afternoon tea two years in a row.
It's served in the hotel's magnificent Mirror Room with floor to ceiling covered in decorative and overlapping mirrors. The finger sandwiches, scones and loose-leaf tea are mere side shows to the show-stopping desserts. It's more like an edible art installation than a high tea, but who's complaining?
Asian-inspired Afternoon Tea at XU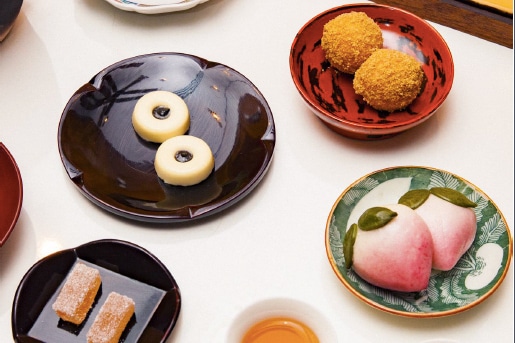 Location: XU, 30 Rupert Street, Soho
Currently closed
If you thought every possible variation of high tea was already covered in this list then you forgot about this Asian-inspired afternoon tea at Taiwanese teahouse, XU. Inside, the dark wood, leather and brass interior takes you back to the luxury dining rooms of 1930s Taiwan. Some of the teas listed are rarely seen outside of Asia, such as jin xuan and jasmine that has been hand rolled on particular nights of the lunar calendar.
The food is also exquisite with savoury dishes like miso and sweet potato dumplings and delicate sweets like deep fried glutinous cinnamon mochi. For a completely different twist on the English high tea and a unique journey into Taiwanese culture, this is an afternoon you won't forget.
Looking for More London Food Guides?
Check these out…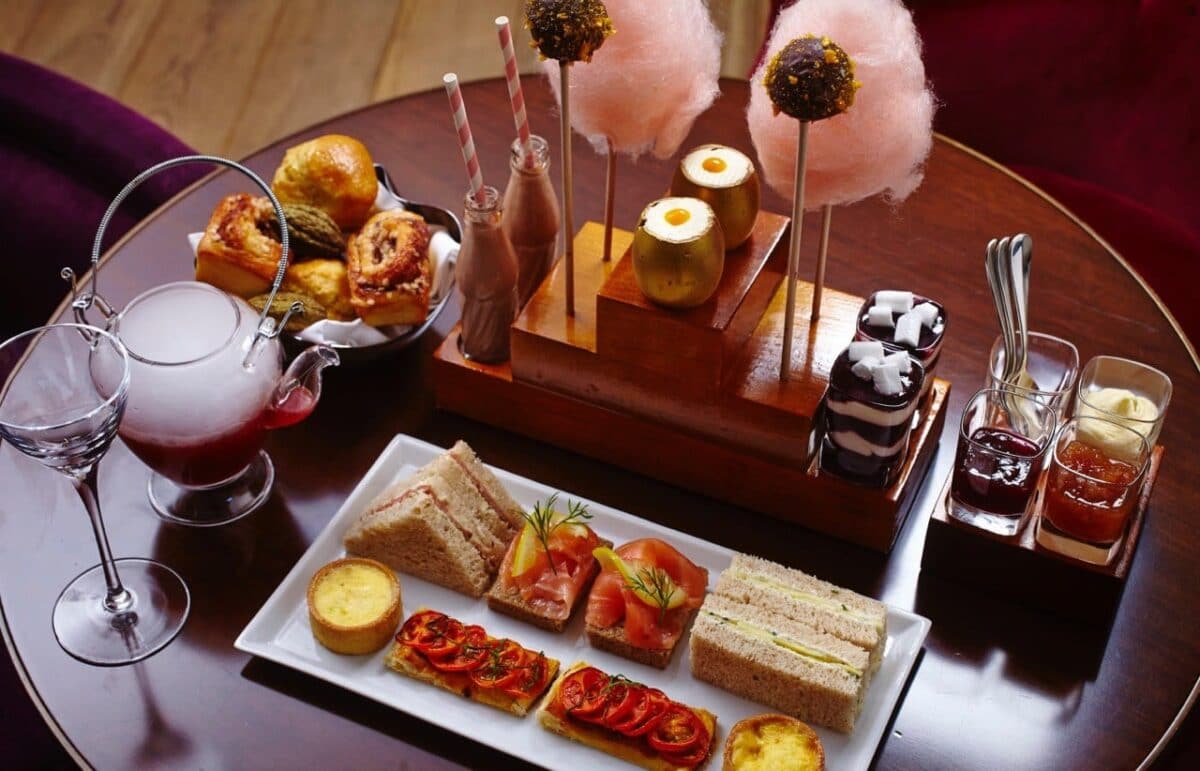 Charlie & The Chocolate Factory Afternoon Tea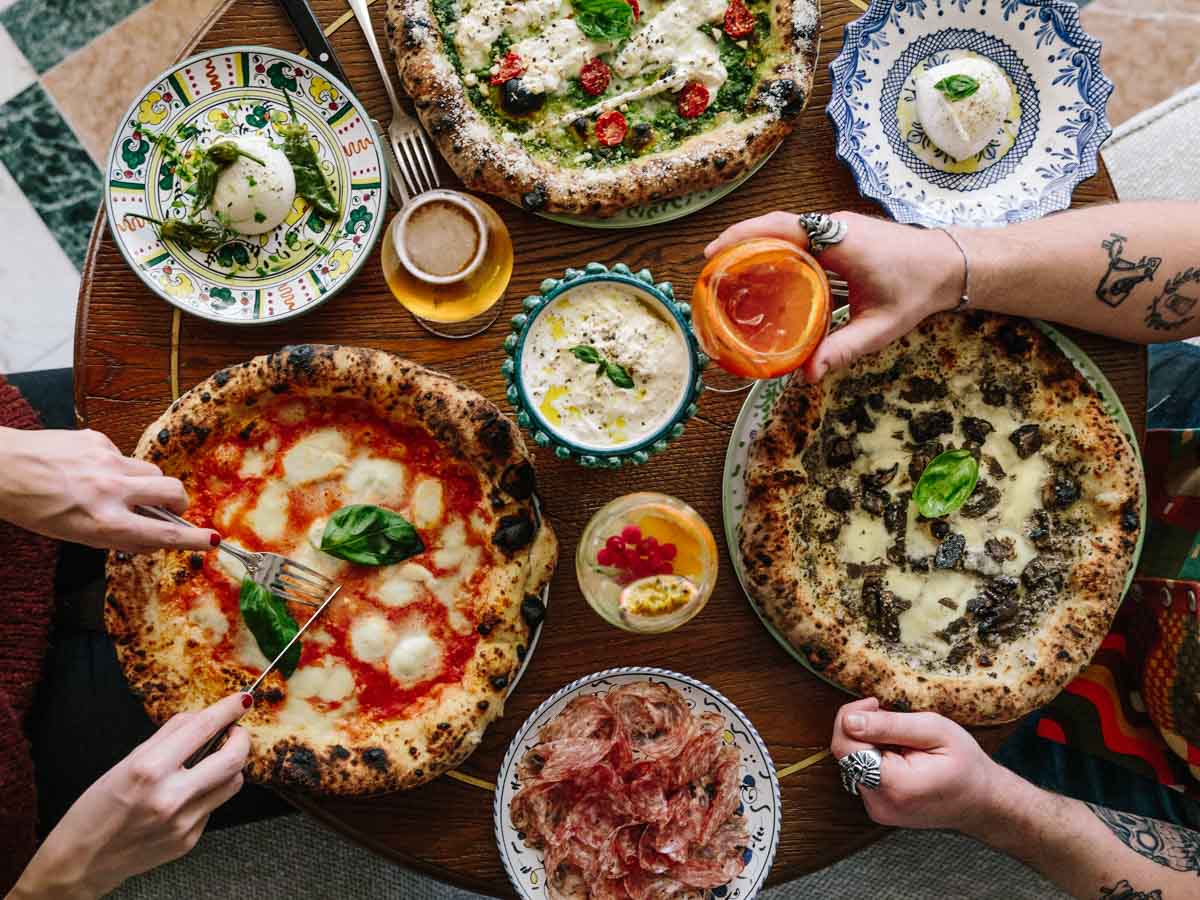 Eating At: London's Best Restaurants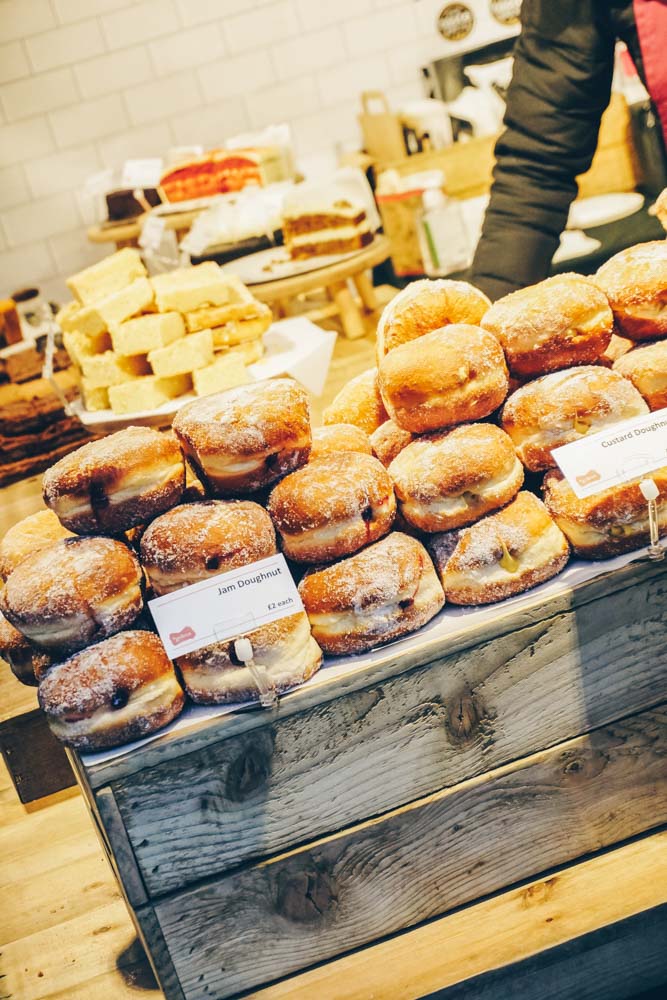 Where to Find the Best Street Food in London
Love This? Save and Share on Pinterest!