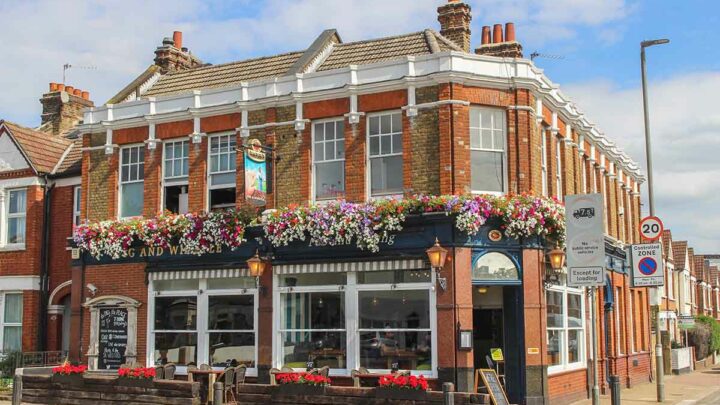 You won't ever have too much trouble finding a great pub in Wimbledon. Whether you're in town for the summer tennis matches, just passing through, or live in the area, a good watering hole is always right around the corner.
The only problem? Deciding where to start. That's where this guide comes in: the best pubs in Wimbledon for your next pint.
The Best Pubs in Wimbledon
The Crooked Billet
Just a short walk from the action at Centre Court – the Crooked Billet is one of Wimbledon's best-known pubs.
Unsurprisingly, its proximity to the Championships makes it a top stop before, during, or after a match.
Visitors who miss out on Wimbledon tickets can still catch the games at the pub. The Crooked Billet broadcasts full Wimbledon coverage on large screens. The TVs are a contrast to the rustic interior with exposed ceiling beams and wood furnishings.
As for the menu, you'll find an eclectic selection of modern dishes. Everything is made on the premises, including all bread, sauces, stocks, and ice cream.
The Alexandra
A short walk east of the Crooked Billet, you'll find the Alexandra. Both these Wimbledon pubs are owned by Young's.
The Alexandra has something for everyone, including classic pub grub, music, and quiz nights. It's also home to a rooftop bar with views of the surrounding area.
Pig & Whistle Pub
What had been becoming a rather neglected pub has been given a new lease of life and is now one of the friendliest pubs Wimbledon has to offer.
The Pig & Whistle is one of those pubs that really does have something for everyone: there are a few options when it comes to traditional cask ales, plenty of wines to pick from and numerous craft beers on tap and by the bottle too. Add to that a well-executed food menu serving hearty favourites and you can see why it's a winner.
The Dog & Fox
If you're travelling with a canine companion, finding the right pub isn't easy. Luckily, we know a couple of places that are more than happy to welcome you and your pet.
The Dog & Fox is one of the top dog-friendly pubs in Wimbledon. From the Alexandra, it's just a ten-minute walk northwest on Wimbledon Hill Rd. The interior pays homage to tennis and has a retro look with early 19th-century styles.
The Dog & Fox menu includes vegan dishes, pub classics, and a selection of meals for any time of the day. You can also enjoy a wide range of ale, wine, and other beverages.
Along with great food and drinks, we recommend the Dog & Fox for its beds. The iconic pub has 28 boutique hotel rooms and offers a variety of "staycation" packages.
Hand in Hand Pub
Located on the edge of Wimbledon Common, Hand in Hand Pub resembles a quaint, cosy cottage. Tourists can't resist the old-fashioned look of the pub, but we recommend stopping in for the pies and traditional British dishes.
This location is also known for its ale, with eight different options on hand, including award-winning beer featured in the "Good Beer Guide."
The Hand in Hand Pub is another of several pubs in Wimbledon operated by Young's Pubs. It's also another dog-friendly pub- so you can enjoy the pies and ales as your four-legged friend enjoys their complimentary dog biscuits.
The Rose and Crown
The Rose and Crown is just two minutes away from Centre Court – and has 13 cosy rooms if you want to stay in the area.
We love the Rose and Crown for its history. It's one of the oldest pubs in Wimbledon Village. The story goes that it first opened its doors in the 1650s.
Thankfully, it's had a lick of paint or two throughout its history (not to mention going through a few changes of name), but still retains its original walls. Plus it serves a ruddy good pint and glass of wine, which is really what we want.
Hemingways
Halfway between the Dog & Fox and the Rose & Crown, you'll find Hemingways – straddling the line between pub and bar.
Many of the previous pubs in Wimbledon Village and the surrounding area are cosy, old establishments, whereas Hemingways is modern all the way. Hemingways is unique for its understated décor. The neutral colours and simple furnishings are a contrast to our previous recommendations.
You can also find a more diverse selection of drinks, as Hemingways is more of a cocktail lounge. Enjoy fruit-and-champagne concoctions or cocktails made with strawberries and cream.
The Old Frizzle
The Old Frizzle is a little further from Wimbledon Common, which is great for escaping the tennis crowds. It's a few minutes east of the train station and Centre Court Shopping Centre.
We suggest stopping in after a trip through the shopping centre. You can unload your bags and enjoy a warm or cold beverage and a hot meal. All meals are made with locally sourced, fresh ingredients. They are also one of the few Wimbledon Village pubs with a specially designed kids' menu.
601 Queen's Rd
If you grow tired of the quaint, cottage look of some of the Wimbledon Common pubs, you may prefer the warm, modern interior of 601 Queen's Rd. It's one of the trendiest Wimbledon Village pubs and is located in Centre Court Shopping Centre.
As it's found just above the train station, you can make it your first or last stop during your visit to Wimbledon. You also get a great view of the surrounding area from the seating on the first-floor roof terrace.
Pubs in Wimbledon: Map
Looking for More London Pub Guides?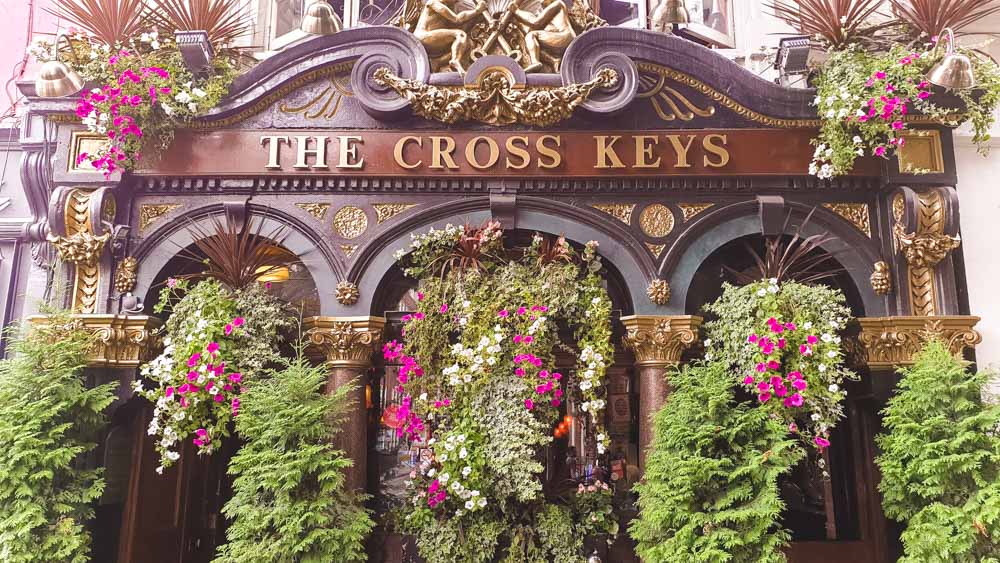 Discover the Oldest Pubs in London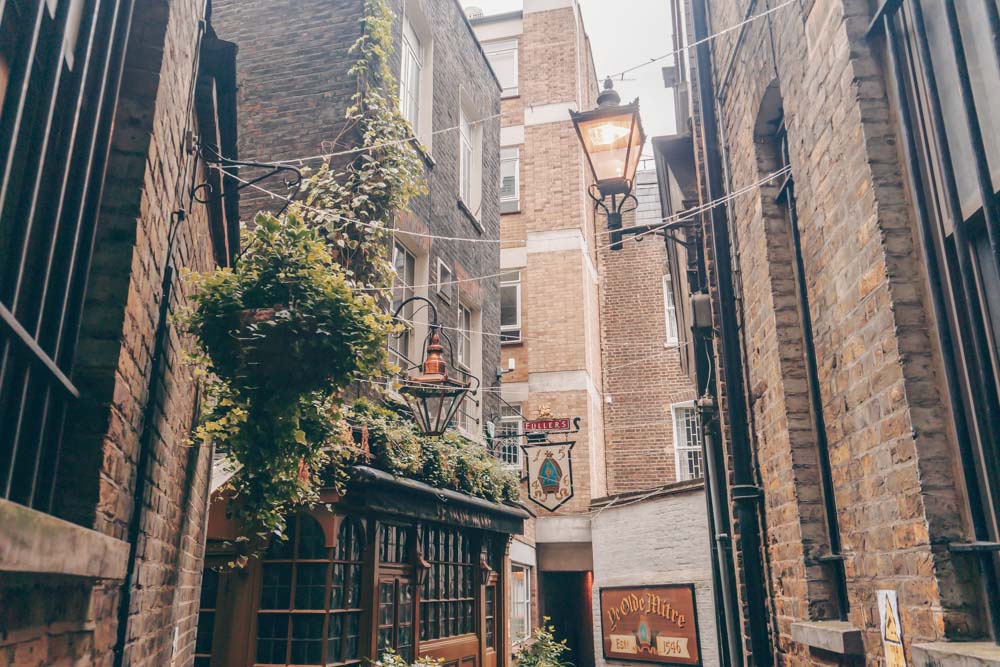 Ye Olde Mitre – London's Most Difficult to Find Boozer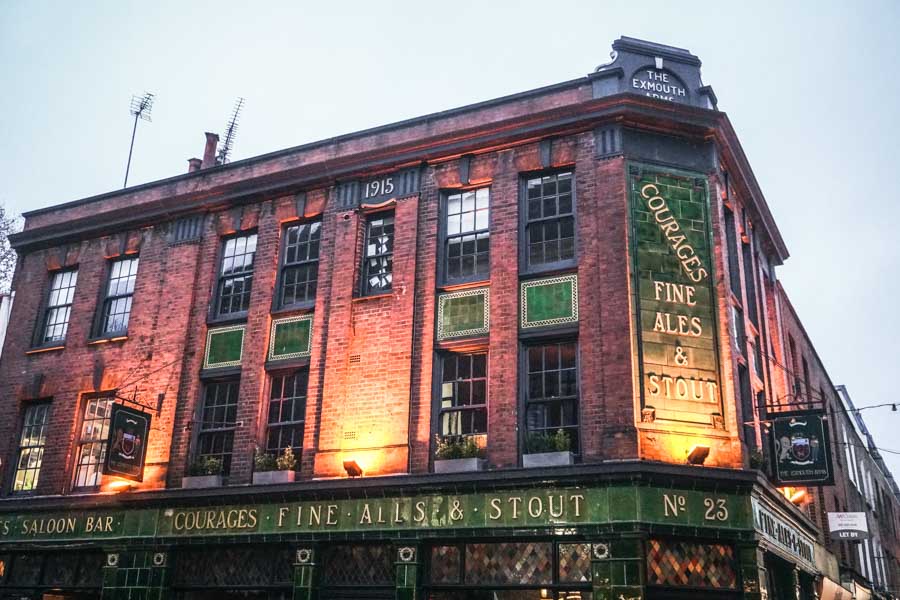 Cool Pubs in Farringdon & Clerkenwell