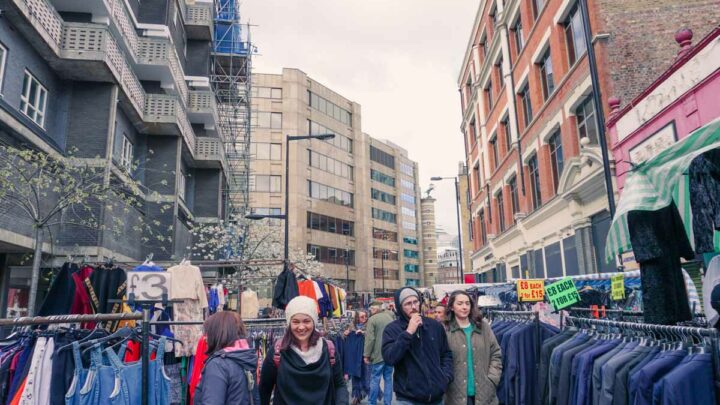 There's never a shortage of things to do in London – but if you're not sure where to explore next, Petticoat Lane Market is a great place to go.
Packed full of curios, trinkets and affordable clothes, this weekend market is ideal for bargain hunting and located in the trendy hub of East London.
Why Visit Petticoat Lane Market?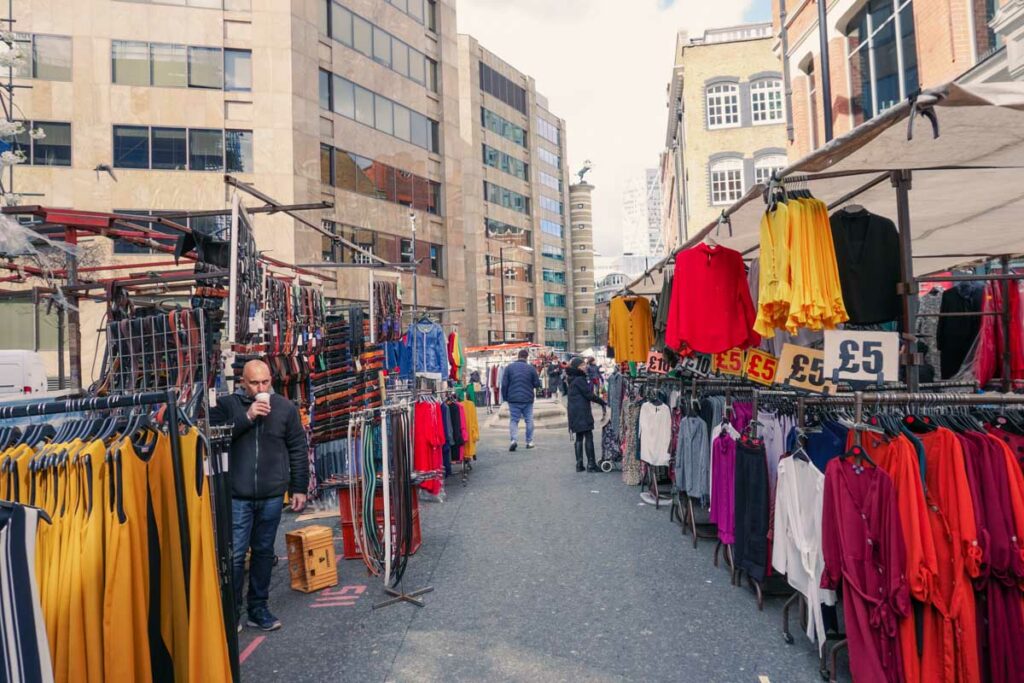 This is one of the city's oldest and most famous markets and is located in the Spitalfields area of East London.
Rather confusingly, the street Petticoat Lane does not actually exist anymore. This was because prudish Victorians were keen to avoid reference to undergarments, so they renamed it Middlesex Street in 1846.
From Monday to Friday, the market is confined to Wentworth Street, but on Sunday it attracts more traders and spreads out much further.
Petticoat Lane market was initially renowned for selling fashion and clothes – with leather goods being a particular speciality.
Now, it sells just about anything you can imagine including designer clothing, perishable goods, bric-a-brac and various electronic items such as stereos, videos and DVD players.
As such – it's a brilliant place to browse, source some bargains and find the odd gem. Even if you don't fancy spending any money, the variety of traders and items being flogged makes it an exciting place to wander around, with lots of different things to see.
It is also conveniently located in one of London's trendiest areas (Spitalfields / Shoreditch), which boasts a wide selection of local independent cafes and restaurants specialising in a diverse range of cuisines. This makes it the perfect spot to satisfy hunger pangs by grabbing a quick coffee or bite to eat.
The market is also great for history and heritage enthusiasts. Similarly to many other areas of London, it is based in a location that has a rich and interesting history that is enjoyable to see when walking around.
So, if shopping becomes boring and a desire for culture takes priority, it's helpful to remember that with every step, you are experiencing one of the oldest surviving markets in Britain. Explore the area, and enjoy the sights and sounds of London's historic streets.
A Brief History of Petticoat Lane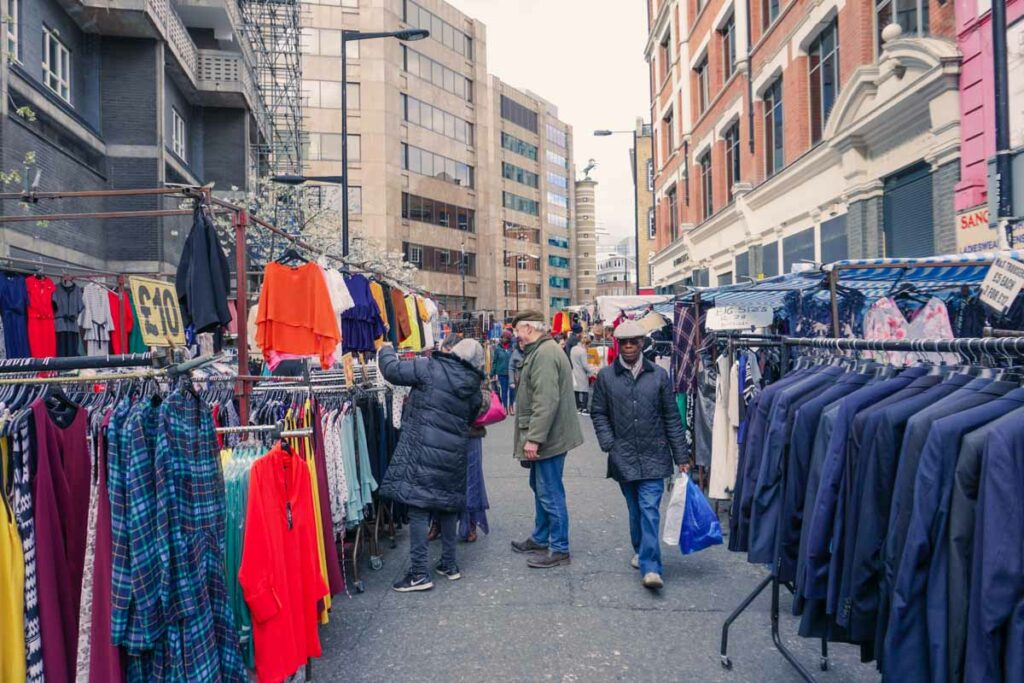 Petticoat Lane was originally known as Hogs Lane – a name that is believed to date back as early as the Tudor period.
Many of London's street names are descriptive – a nod back to their historic roots where prior to widespread levels of literacy, street names indicated what the area was used for, or led to.
This can be seen through examples in other areas of the city such as Knightrider Street – named after the route that knights would allegedly take from the Tower of London to Smithfield for jousting matches. Another example is Shooter's Hill Road in Greenwich – a street that used to be renowned for its archery practice in the Middle Ages.
In this instance, it is believed that Hogs Lane was named due to the pigs kept by bakers in the street many years ago. It also may have been a reference to a road utilised to bring livestock into the city centuries earlier.
However – by the 17th century London was expanding at a great rate. Setting the precedent for the Industrial Revolution, London was becoming increasingly commmercialised with different housing and businesses.
The street's transition from Hog Lane to Petticoat Lane (initially spelt Peticote Lane) is understood to have happened in this period due to the area's reputation as somewhere where traders would sell clothes and various other items.
The Arrival of Huguenots Weavers
This was further perpetuated by the arrival of Huguenot weavers into Spitalfields, who had relocated to London in attempts to escape persecution from the French Catholic government.
As indicated by their name, Huguenot Weavers were French silk weavers of the Calvinist faith who came from silk-weaving cities such as Lyon and Tours in southern France. This helped further the market's reputation as somewhere for the manufacture and sale of clothes and other woven goods, and laid the foundations for the image of the market we recognise today.
A Criminal Past
By the nineteenth-century, the market had firmly established itself as one of the city's most well-known and notorious markets. Indeed – although primarily known for lucrative trading opportunities, the market also attracted criminals and other dubious activities like petty theft and prostitution.
This taps into the archetypal image of Victorian London, where it was perceived as a period rife with crime and dark going-ons.
For example, there was an old saying that said you could expect someone to steal your petticoat at one end of the market, before selling it back to you at the other end. There was one particular area, known simply as "The Lane" which was allegedly proliferated by fences (also known as receivers or movers). These were individuals who knowingly bought stolen goods in order to resell them for a profit. Famous fences include the fictitious character Fagin, from Dickens' story Oliver Twist (pictured above).
As a result, the market was not the safest place to be, and was right in the middle of where Jack the Ripper operated.
Its crowded and unsanitary conditions meant that those from a higher socio-economic group – and who thus considered themselves "respectful" – tended to avoid the area. This further cemented the area's reputation as somewhere rundown and dangerous.
In addition to indicating the period's crime rate, the notiretry of the market also reflects London's growing consumer culture which was built around haggling, negotiating and bartering deals.
The Industrial Revolution and the subsequent rise in manufacturing and imports had led to a growing culture of capitalism, where there was a greater demand for goods. This is evident through the rapid expansion of the market, and by how popular it became..
Visiting Petticoat Lane Market – Practical Tips and Map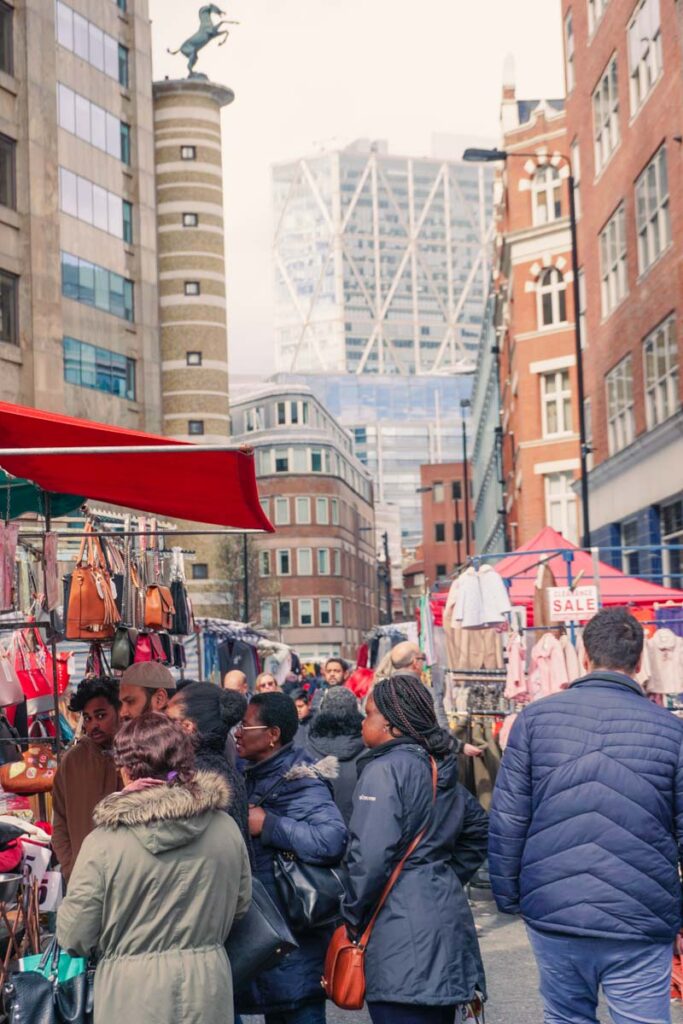 Thankfully, Petticoat Lane is now generally a safe and fun place to visit. To help you make the most of your day out there, we've put together a quick list of practical tips:
Decide Which Day You're Going
The market can get particularly busy with tourists and locals on their day-off at weekends, so if you prefer a quieter experience or want to avoid crowds, it's best to go earlier in the week.
Have a Plan
Petticoat Lane Market is filled with a wealth of interesting things to see and do. Whilst this makes for brilliant browsing, it can also be overwhelming.
If you're going with the intention to spend money, consider in advance what it is you're looking for, what your budget is and whether you are open to negotiating. Many traders will try and compromise on the price – but not all of them. Try and judge the situation before haggling.
Stay Safe
Although London is generally a safe place to visit, it doesn't hurt to pay a bit of attention.
Make sure to keep wallets and expensive electrical items out of sight, and store them in zip-up pockets which you check regularly. Be careful about leaving bags unattended or out of sight. Remain vigilant and wary of people who ask for directions or try to engage you in confusing dialogue – this can often be a distraction ploy.
How to Visit Petticoat Lane Market
Petticoat Lane market consists of two adjacent street markets, Wentworth Street Market and Middlesex Street Market. It is a five-minute walk from Liverpool Street Station, and is open 9am – 4pm Mon – Friday; 9am – 2pm Sun.
London is home to a selection of great markets. Other ones to visit include Borough, Camden and Portobello.
Petticoat Lane Market: Map