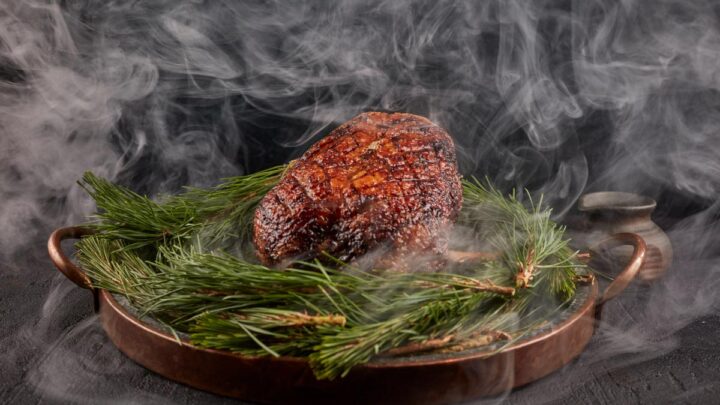 Ready to discover the best restaurants in Tower Bridge? We've compiled a guide to our favourite places to chow down – let's dive in.
From cosy Spanish tapas spots to Argentinian steak specialists, Tower Bridge isn't short of a fabulous restaurant or two.
It's true, Tower Bridge has lured restaurateurs from all over the world, making it one of the most diverse sources of high-end cuisine in the city – though, there are plenty of more budget-friendly spots in this guide too.
Read on to discover the best restaurants near Tower Bridge.
Best Restaurants in Tower Bridge
The Coal Shed
£££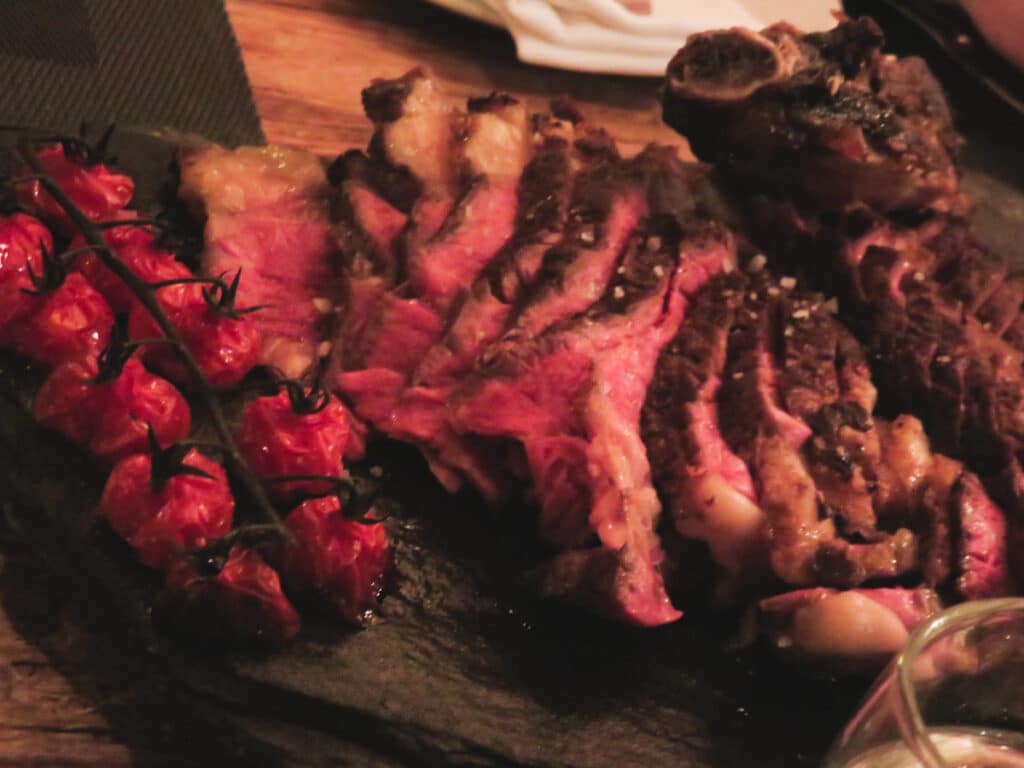 The Coal Shed (located in the lavish One Tower Bridge development) serves a whole range of high quality British cuisine, in a modern setting.
Specialising in steaks, cuts of the day, and a wide variety of fresh seafood, this modern spot perfectly combines good-portioned comfort food with high-end presentation and service, provided by an equipped team of knowledgeable and friendly staff.
The dishes are on the pricier side, but the likes of potato gnocchi with courgettes, artichokes, and ricotta, and the smoked short rib for two are well-worth the splurge.
Gaucho
£££
For something altogether different, Gaucho is the place for you – it's one of the best places to eat near Tower Bridge.
This Argentinean restaurant and bar specialises in high-end beef dishes cooked with lava rocks – their huge selection of sustainable steaks are all equally delicious, though the fillet is really special.
The modern yet cosy interior, blessed with a stunning view of the river and Tower Bridge, is only made better by the staff, who, despite their minimal numbers, provide excellent service and informed recommendations, be it for their ample menu, or their wide range of Argentinean wine.
For an unconventional treat, this may be the place for you.
Tavolino
£££
If Italian food is what you're looking for, you won't get much more authentic than Tavolino Bar & Kitchen.
Located between the HMS Belfast and Tower Bridge, and with fantastic views of the river and the Tower of London, Tavolino serves well portioned seafood, pasta, pizza, as well as their popular desserts.
Accompanied by a hefty drinks menu, specialising in Italian wine and attractive cocktails, this high-end gem is perfect if you fancy a glass of wine al fresco on the terrace with friends, or a cosy meal for two in the lavish restaurant.
Whatever your choice, sit back and enjoy one of the best views in the city.
Gunpowder
££
Gunpowder, like the food it purveys, certainly packs a big punch. From the moment of entry, customers are greeted with the smell of the spices, the home cooked Indian cuisine based on family recipes, and a business model that favours wholesome, intimate experiences above all else.
With a teeny interior and no bookings taken, you should expect to wait at peak times, but with their selection of beers, lagers, cocktails, as well as the home cooked food, this restaurant proves that bigger isn't always better.
This is also a great spot for a fancier dinner that doesn't cost a month's rent – a two course set menu is just £22 and features the likes of whole duck leg and tandoori paneer.
Coppa Club
£££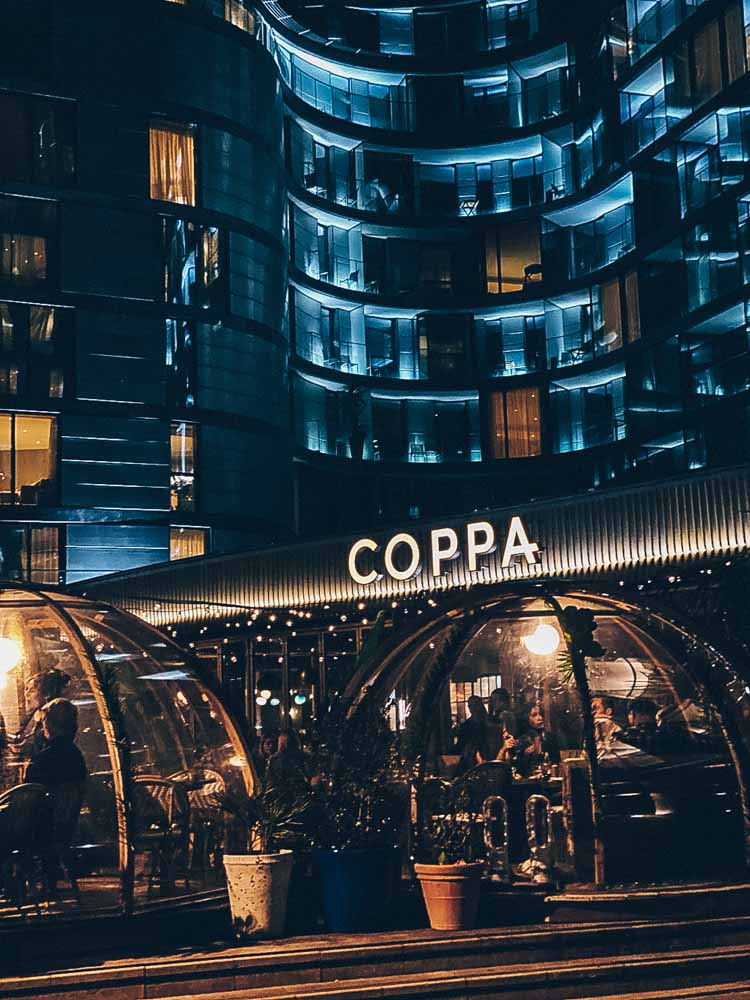 Sitting beside the Tower of London, and with an excellent view of HMS Belfast and Tower Bridge, Coppa Club is the perfect place to relax with family and friends, take in the sights, and enjoy some expertly cooked cuisine.
With the light and informal setting, Coppa Club has a limited menu, specialising in Italian and meat dishes, as well as a brunch menu for those so inclined.
For those visiting in the autumn or winter, the outdoor terrace provides covered seating (in the form of transparent glass igloos), where customers can enjoy their well-crafted menu before the stunning view of the river and neighbouring sights.
This is truly one of the top restaurants Tower Bridge boasts.
Le Pont De La Tour
£££
Lovers of French cuisine might like to try Le Pont De La Tour – it's one of the best restaurants near Tower Bridge.
Sitting on the waterfront, and nestled beneath the stunning bridge itself, it offers a wide range of meat and seafood dishes, including smoked salmon, lobster thermidor, and Dover sole.
With the attractive decor, and the accommodating collection of French wines, one might be forgiven for thinking they are in some chic Paris brasserie, and the iconic location certainly makes dining there a memorable moment, regardless of the occasion.
Cantina Del Ponte
££
Located just next door, Cantina Del Ponte offers traditional Italian food in a relaxed setting.
Hearty portions, and fresh seafood dishes abound, customer favourites include the panna cotta, mushroom risotto, and the seafood pasta, but there is plenty of choice for first time visitors to explore.
Resembling more of a waterfront cafe, this restaurant near Tower Bridge offers diners the option of candle-lit meals in their modest dining room. Or, opt for al fresco dining on the terrace, where the sounds of the flowing Thames, and the watchful gaze of Tower Bridge promotes an intimate, peaceful atmosphere.
Tom Simmons
£££
If British cuisine is what you're looking for, you may want to try Tom Simmons. The Masterchef winner turned restaurateur offers a blend of British and French dishes, all with an individual twist that pays homage to his Welsh roots.
With attentive service, and a menu that delivers on both flavour and presentation, it is obvious that, despite its relatively short time by the water, Tom Simmons has been in the pipeline for a very long time. It's one of the top restaurants in Tower Bridge.
Restaurant Story
££££
Fancy dining at one of London's best restaurants? With a Michelin star awarded in 2013, Restaurant Story certainly offers something different.
With its unique design, bringing a sense of British 19th century traditionalism, and ultra-modern culinary presentation, what Restaurant Story really offers is an experience.
With a menu incorporating elements of Britain and France (like the crispy frog's legs), and attentive service akin to a bygone era, Restaurant Story is a dining experience that you will remember for years to come.
Note: Restaurant Story will be closed between the end of May and Autumn 2022 – keep your eyes peeled for reopening news.
Other Places to Eat in Tower Bridge
Brigade
££
Located in the former Tooley Street Fire Station, Brigade offers high-end, home-cooked British cuisine with a difference.
The quirky location creates a sense of timelessness, and the informal environment promotes relaxation and comfort.
As a bar, bistro, and working cookery school, the community-minded approach of Brigade resembles something both familiar and altogether new, and the wide menu (featuring fresh takes on British classics) only adds to this.
Order the chicken thighs in a juicy pomegranate glaze for the ultimate treat for the eyes (and the belly!).
Bravas Tapas
££
With its maritime-inspired decor, Spanish cuisine might not be the first thing that comes to mind, but nevertheless, the proof is in the pudding at Bravas Tapas.
The unusual marina location, just to the northeast of Tower Bridge, offers a low-lit, intimate setting to sample some of the finest tapas and Spanish dishes around.
Be it a night sharing small plates with friends, or enjoying a quiet meal for two by candlelight, this hidden gem boasts a wide range of options, ranging from meat dishes, classic tapas, fresh seafood, and familiar Spanish sides.
Practical Tips and Map for Exploring The Best Tower Bridge Restaurants
Many of these Tower Bridge London restaurants are Michelin-starred and fine dining spots – this means that they will likely require reservations. Book in advance to avoid disappointment.
Discover More Tower Bridge Area Guides