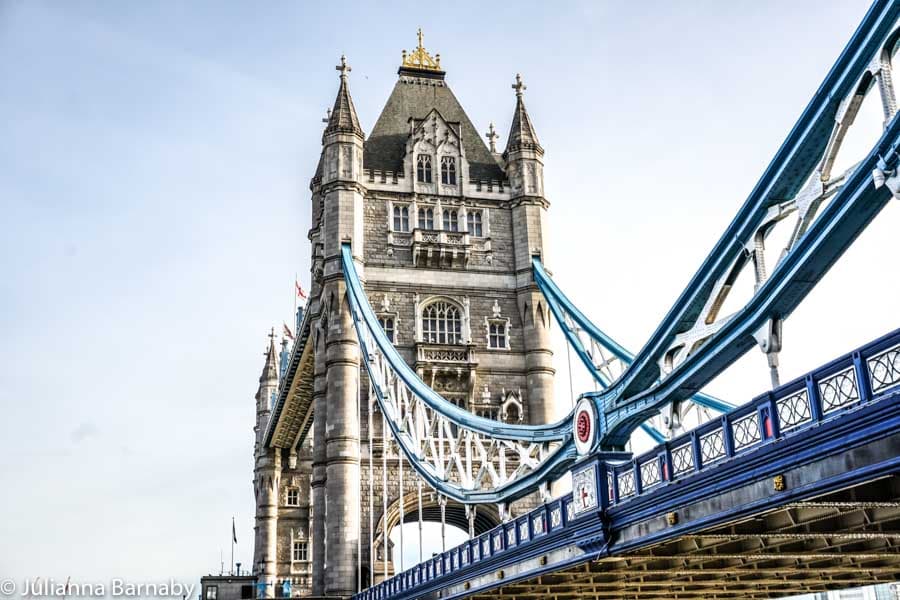 Tower Bridge is one of London's most famous landmarks – but how much do you really know about this architectural oddity? Here are 20 interesting facts about Tower Bridge I'll bet you never knew.
24 Interesting Tower Bridge Facts
No, Tower Bridge is Not London Bridge
Tower Bridge might be London's most famous bridge but it's not London Bridge. London Bridge is a bit further upriver and is pretty plain by comparison.
Over 50 Designs Were Submitted for the Bridge
The City of London Corporation held a competition for the design of a new bridge to help Londoners travel between the two sides of the Thames in 1876.
Over 50 designs were submitted but none were approved..
That's until 1884 when the final design by architect Sir Horace Jones and civil engineer Sir John Wolfe Barry was picked.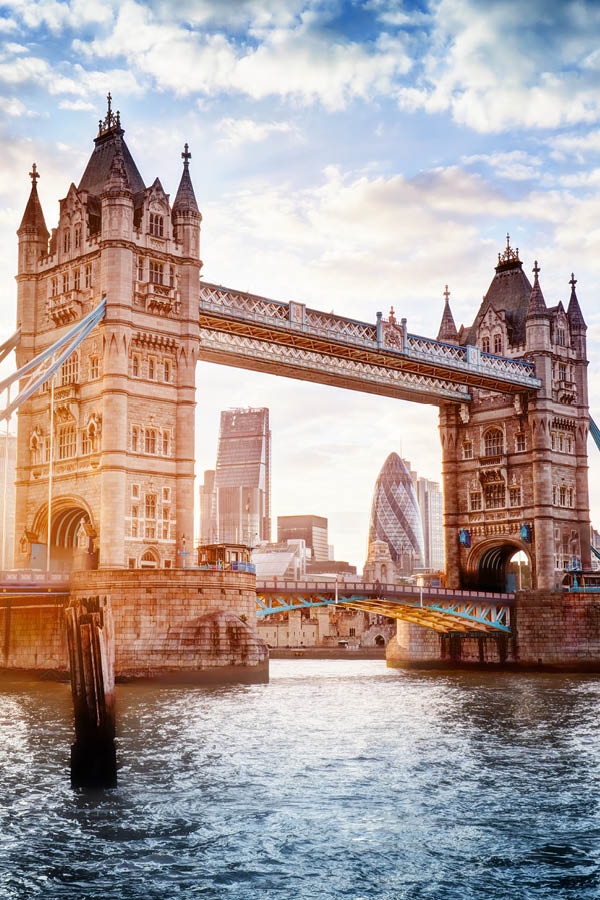 The Same Architect who Designed Tower Bridge also Designed Many of London's Famous Markets
Sir Horace Jones – the architect behind Tower Bridge shaped some of the most iconic buildings in Victorian London including Leadenhall Market, Smithfield Market and Billingsgate Market.
And He Never Lived to See the Bridge Completed
Sir Horace Jones sadly died in 1887, seven years before the bridge was completed on June 30th 1894. He did get knighted the year before he died though, so its not all that bad.
The Two Levered Sections are Called Bascules
The two sections in the central span are called bascules – and they raise up to an angle of 83 degrees.
It's pretty impressive when you see it. Incidentally, bascule is derived from the French for see-saw – not hard to see why.
And they Weigh Over 1,100 Tons Each
In other words, they're pretty heavy.
There's a Huge Chamber Underneath the Bridge to Counterbalance the Bascules
The Bascule Chamber is one of London's quirkier spots – a huge cavern underneath the bridge in which the counterweights swing to operate the bridge.
You can visit on a special tour – but they also have occasional concerts in the chamber as the acoustics are pretty incredible.
It Used to be Powered by Coal Burning Steam Engines
When Tower Bridge first opened, it used to be powered by coal burning steam engines, but these were replaced by a combination of electricity and oil in the 1970s.
Originally Tower Bridge's Two High Level Walkways Were Created so Pedestrians Could Still Use the Bridge When it was Open
The two high level walkways were designed so that pedestrians would still be able to use Tower Bridge when it was open. However…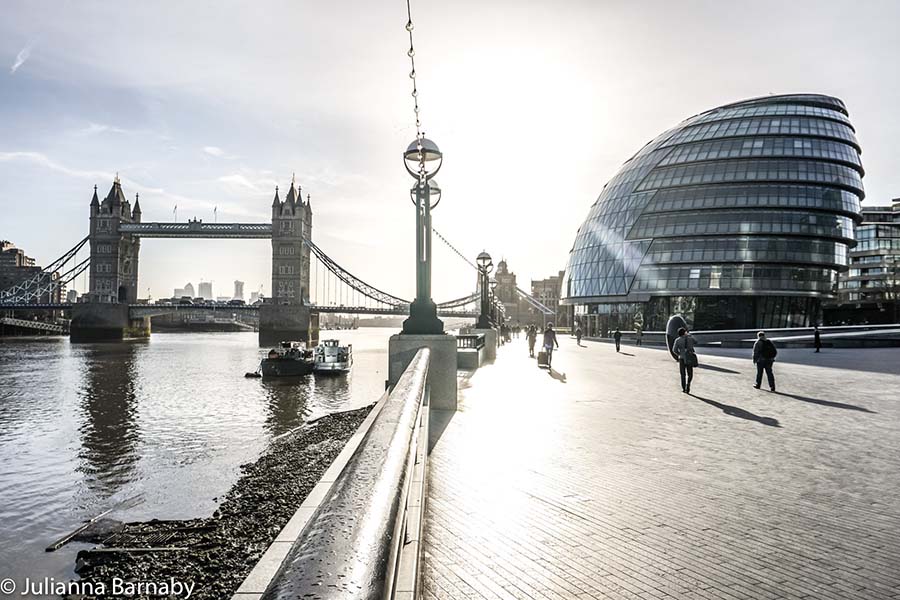 The Walkways Fell into Disrepair and Became one of London's Informal Red Light Districts
The walkways weren't really used that much… and as a result they became one of London's informal red light districts, frequented by ladies of the night looking for some custom.
They were closed in 1910 but now you can visit them as part of the Tower Bridge Exhibition.
The Facts and Figures Involved in Tower Bridge's Construction are Pretty Mind-Boggling
Want an idea of how impressive the bridge is? Check out these Tower Bridge facts and figures.
Tower Bridge is made up of more than 11,000 tons of steel and the foundations needed more than 70,000 tons of concrete to support the structure. It also features over 31 million bricks and 2 million rivets.
Tower Bridge once Opened… With a Bus on it
This is hands down our favourite of the Tower Bridge facts we've found.
In 1952, a bus driver Albert Gunter was casually driving the 75 bus across the bridge when he noticed something odd happening.
Turns out Tower Bridge was doing what it's best-known for… starting to open, but with the bus on it. Gunter had to put his foot to the floor and make the bus leap over the opening gap. He made it to the other side, safe and sound and was given the next day off for his bravery and quick thinking. Good old 'Bertie. What a hero.
A Man Once Parachuted off Tower Bridge to Extol the Benefits of Parachuting
There's a short film of Thomas Hans Orde-Lees jumping off of the Bridge in 1917 before parachuting safely into the River Thames below. His aim was to show the benefits of RAF pilots using parachutes.
Rather surprisingly, he was successful and the stunt is considered as the momentum for founding the Royal Parachute Regiment. Turns out that people have been pulling stunts on camera for over a century – Instagram and Youtube didn't invent it at all!
A Plane Once Flew Between the Bascules and the Walkway
In 1912, a pilot called Frank McClean had to fly his short biplane in between the bascules and the walkways during an emergency. That must have been a close shave.
The Upper Walking Bridge has a Glass Floor
Yep, if you like a good thrill you can walk across a glass floor and look down on the traffic of the main bridge and the river below you.
Tower Bridge Used to be Much Less Colourful
Tower Bridge was painted red, white and blue in 1977 to celebrate the Queen's Silver Jubilee. Before that it was a boring old brown.
It's since had another major facelift (between 2008 and 2016), which saw it transformed with the gorgeous bright blue and white we see t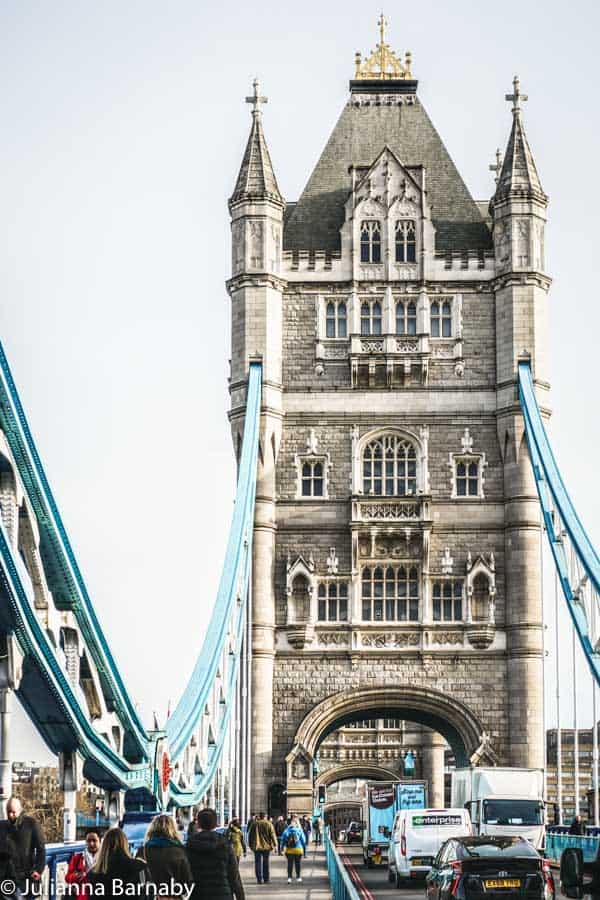 It Took 432 Construction Workers Eight Years to Build Tower Bridge
We'd actually say that's pretty fast when you look at it. It's huge.
It Only Takes Five Minutes to Raise the Bridge
Which is kind of impressive when you consider how heavy the bascules are. The bridge is raised through a combination of hydraulic pumps powered by oil and electricity aided by heavy counterweights.
It's Used by Over 40,000 People Per Day
See – Tower Bridge is not just a pretty face (though it does look rather brilliant too).
Ships have the Right of Way
As long as they have given the folks that operate Tower Bridge over 24 hours notice.
Everyone, and that means everyone, has to wait for a ship to pass – even Bill Clinton who famously had to wait for 20 minutes while a barge sailed through in 1997. They don't care who you are, Tower Bridge is opening for a ship and you will just have to wait.
It also Opens Free of Charge
Apart from giving ships the right of way, they also pass through for free. According to the The Tower Bridge Act of 1885 ships will not be charged if passing through it required the bridge to be open.
It was Built to Look Much Older than it Actually is
When many people first see Tower Bridge they think it was built in mediaeval times but that's not true.
We're pretty sure no one would want to be walking on a bridge powered by mediaeval engineering – you can see how it happened though.
The bridge was built to look in keeping with its much older neighbour, The Tower of London, but we suspect the choice of style was also because Victorian's loved a bit of Neo-Gothic architecture anyway.
The Bridge Took Part in the 2012 Olympic Ceremony
As part of the celebrations for the 2012 Olympic ceremony Tower Bridge took centre stage, adorned with the Olympic rings.
The Largest Lego Structure ever built was of Tower Bridge
A whopping 13-metre high lego structure of Tower Bridge holds the record and the largest thing ever built by the little building blocks. It required 5,805,846 individual pieces of Lego to complete.
Building it Cost a Lot of Money
Building Tower Bridge Cost £1,184,000 at the time, which is the equivalent of a staggering £152,616,515.39 in 2019.
Tower Bridge 101: Things You've Always Wanted to Know about Tower Bridge but Didn't Know who to Ask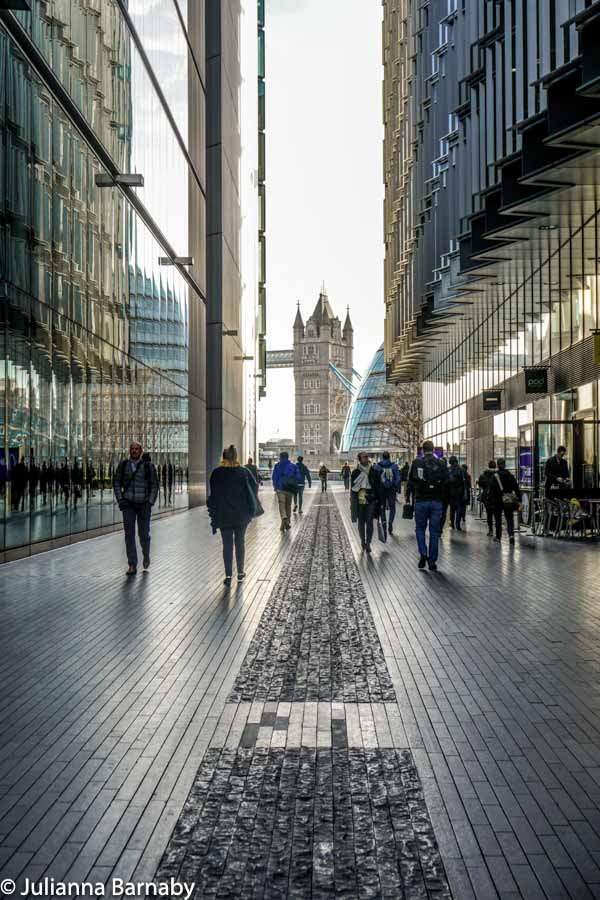 Not enough Tower Bridge facts for you? Here are the answers to some frequently asked questions about London's famous landmark.
Why Was Tower Bridge Built?
Tower Bridge was built to make it easier for London's fast-growing population to cross the river in Victorian times.
However, the new bridge also needed to accommodate the many ships that passed along the Thames, hence the unusual design.
When Was Tower Bridge Built?
Construction started on Tower Bridge on 21 June 1886 and finished on 30 June 1894.
Why is Tower Bridge Famous?
Tower Bridge is famous because it's London's most striking bridge thanks to its Neo-Gothic architecture and lifting central sections. When it opened, it was the most sophisticated bascule bridge in the world.
Who Built Tower Bridge?
Tower Bridge was designed by architect Sir Horace Jones and civil engineer Sir John Wolfe Barry.
How Often is Tower Bridge Raised?
Tower Bridge is raised around 850 times per year, which works out as around 2.3 times per day.
Are London Bridge and Tower Bridge the Same Thing?
No, they're not. London Bridge is further upriver and is much plainer than Tower Bridge.
Can you Walk on Tower Bridge?
Yes, you can walk on Tower Bridge free of charge. However, you do need to pay to access the upper walkways.
How did Tower Bridge Get its Name?
Tower Bridge was named as it's located next to the Tower of London.
---
There we are all the London Tower Bridge facts that you'll ever need to know. You are now blessed with University Challenge levels of Tower Bridge knowledge. Go forth and impress your mates at the pub.
Looking for more interesting reads about London? Check these out…