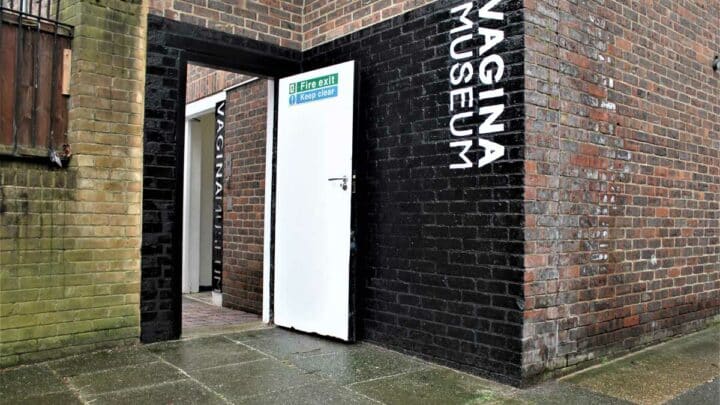 Ready to discover the best things to do in Bethnal Green? It's the perfect place to spend a day or night away from the chaos of London's tourist traps – full of history, intrigue and hidden gems.
Words by John Rogers
East London's Bethnal Green has undergone quite a regeneration in recent years to become a leading space for the arts, culture and independent boutique businesses to thrive.
During the 1950s and 60s, Bethnal Green became renowned as the territory of the infamous Kray twins, signs of which remain to explore. Don't worry though -nowadays, the area is a safe, thriving and diverse multicultural area with a wide variety of attractions for people of all ages.
So, come with us as we embark on a voyage to discover cool things to do in Bethnal Green.
Things to do in Bethnal Green London
Explore The Vagina Museum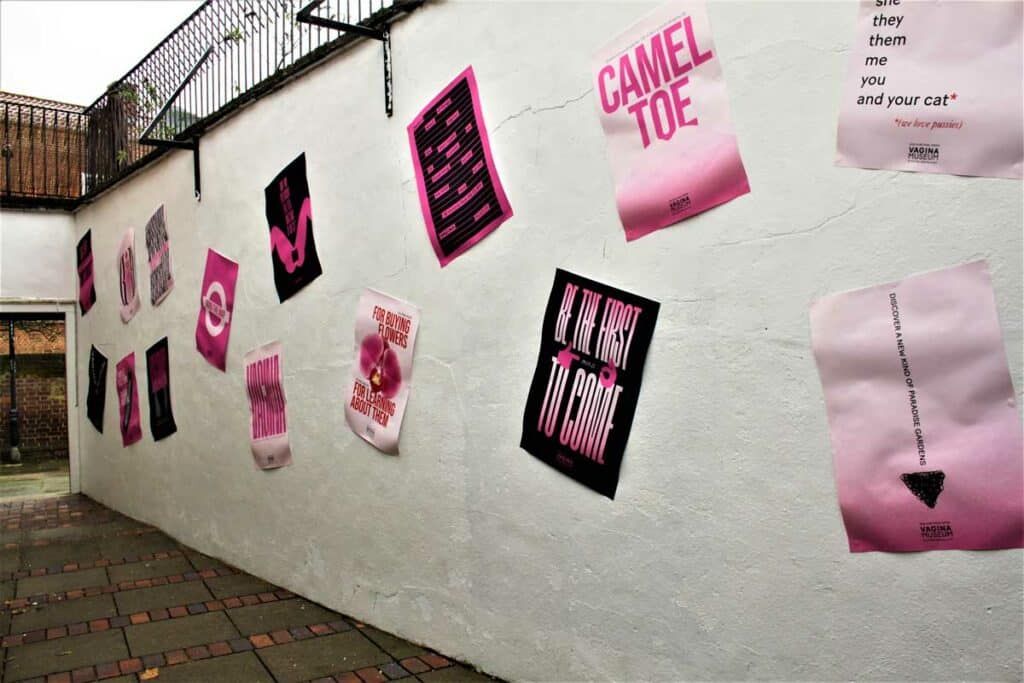 After initially being established in Camden, the Vagina Museum moved to its current premises on Victoria Park Square in March 2022.
Initially launched to bring gynaecological representation to the world of arts and culture, the museum holds regularly updated exhibitions about vaginas and periods. Best of all, the venue deliberately sets out to be trans-inclusive in its discussions about gynaecology.
The museum hosts regular special events including comedy, talks, workshops and theatrical performances to challenge and remove taboos around sex, gender and vaginas.
Visit the Stairway to Heaven Monument
No, this isn't a tribute to the works of Jimmy Page, Robert Palmer and the rest of Led Zeppelin. More tragically, the Stairway to Heaven memorialises London's worst civilian incident of the Second World War.
On 3rd March 1943, an air-raid siren led hundreds of people to seek shelter at Bethnal Green tube station. A new mother holding her baby slipped at the bottom of the staircase, pulling an older man down on top of her.
This incident precipitated a terrible crush that led to the death of 173 people – the war's most significant civilian death toll in the UK.
The Memorial, unveiled in December 2017, stands in Bethnal Green Gardens, next to the station entrance. It comprises 19 steps, the same number that made up the staircase in the station. The memorial bears the inscription of the victims' names on the side.
Head to the Brand New Young V&A Museum (From Summer 2023)
Since its inception in 1872, the V&A Museum of Childhood has told the story of childhood throughout the years. Its collection of toys, art and design pieces is unrivalled.
But it's currently getting a bit of a makeover, and will reopen in 2023 as the Young V&A.
The new museum space has been designed in collaboration with young minds to provide several fully immersive and interactive galleries. Imagine, Play and Design are at the very heart of the new space, with more than 2,000 objects on display to remind us of childhood from years gone by.
It promises to be a perfect day out for those with children… Or anyone who simply wants to remember their childhood from yesteryear.
Note: The Young V&A is currently closed and reopens in summer 2023.
Check Out the London Buddhist Centre
For those looking to find their inner Zen, the London Buddhist Centre runs various classes, courses and exhibitions all year round.
As well as learning about Buddhism, you can enrol in meditation or yoga and well-being classes. Other regular events include art exhibitions, retreats, poetry readings and film screenings, making it London's premier Buddhist centre.
The perfect place to visit to re-centre yourself and find out more about the calming world of Buddhism.
Have a Laugh at Backyard Comedy Club
Aishling Bea, Jo Brand, Joe Lycett and Paul Sinha are just a fraction of the famous names that have cut their comedy teeth at the Backyard Comedy Club.
With regular comedy nights on Thursdays and Fridays and still playing host to the odd big name, there are laughs aplenty to be had at East London's leading evening comedy club.
The bar and kitchen serve great homemade pizzas, and we think this authentic comedy club has all the ingredients for a couple of hours of drinks, eats and belly-aching laughs.
Admire Oxford House
A stunning Victorian-listed building, Oxford House is a community arts space situated in the heart of Bethnal Green. It boasts incredible views of the East End from the roof terrace and a cafe open to the public. In addition, there are dance studios and theatre spaces available for hire.
The space holds regular exhibitions showcasing local artists, causes, shows, and other events. Meanwhile, the beautiful intimate chapel hosts weddings, photoshoots and performances.
There are also regularly held tours that shine a light on Oxford House's intriguing past, which includes its role in the two World Wars and the visit of Mahatma Gandhi in the 1930s. A beautiful community asset well worth a visit.
Shop for Blooms at Columbia Road Flower Market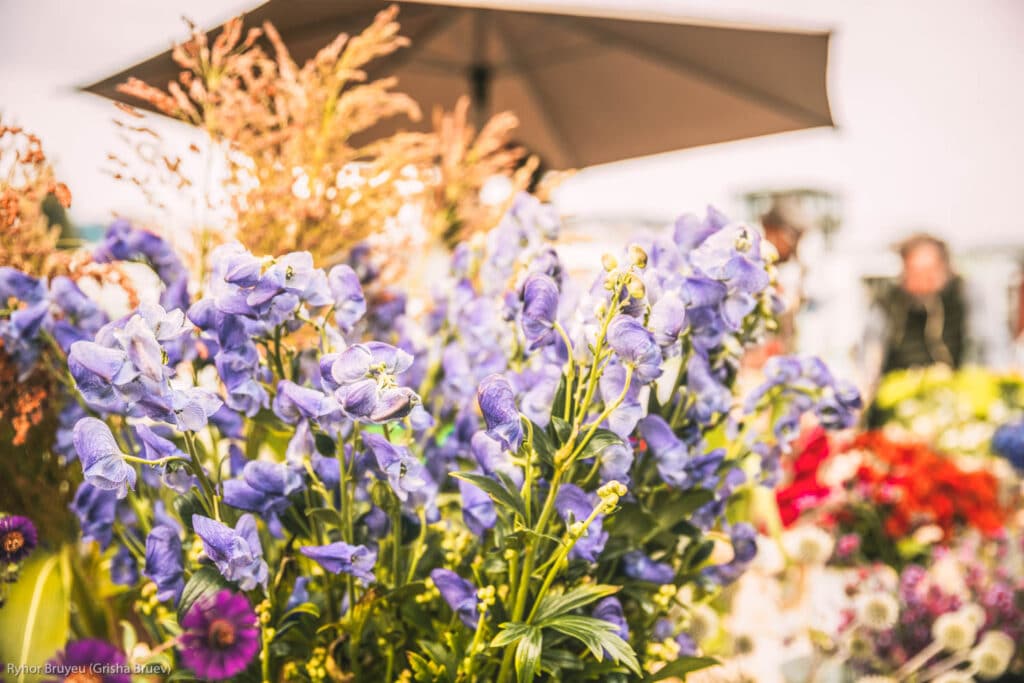 The Columbia Road Flower Market is held every Sunday between 8 am and around 3 pm (we say get there early, though), offering a range of plants from small pots to sprawling 10-foot tall banana trees.
The entire road is bedecked by foliage and blooming colours, it's a must-visit for anyone looking for free things to do in Bethnal Green. Or anyone looking to pick up a bunch of fresh blooms, for that matter.
Aside from the market, Columbia Road is home to dozens of independent shops, boutiques, cafes and galleries outside the Sunday market. There's even a traditional old-school sweet shop to satisfy your cravings for pear drops, barley sugar or a good ol' rhubarb and custard.
Take a Crime-Riddled Kray Twins Tour
Lock Stock and Two Smoking Barrels actor Vas Blackwood curates this walking tour and takes in many sites frequented by the notorious Kray twins.
Beginning at the Blind Beggar pub in Whitechapel, the tour takes in the Repton Boxing Club, the church where the Krays had their funerals and other locations made famous by the terrible twosome.
A tour that combines fun, exciting anecdotes with fascinating history and provides a genuine feel for the East End's underworld is a brilliant way to spend an afternoon.
Things to do in Bethnal Green: Eating and Drinking
Coupette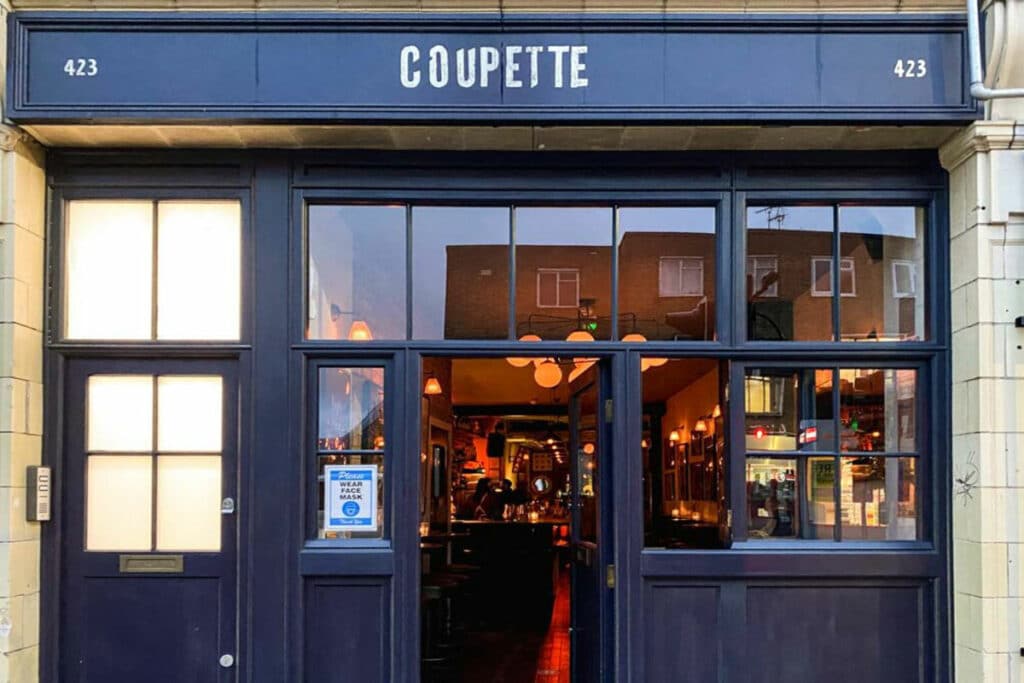 French-influenced but very much of London, Coupette is the solo project from the former head bartender at the Savoy's Beaufort Bar, Chris Moore.
Enjoy the finest flavours and mixes in a chic, beautifully lit, intimate setting with relaxation very much the order of the day. In addition to a brilliantly-curated cocktail menu bursting with vibrant colours and tastes, you can enjoy rare Calvados, local digestifs and homemade liqueurs.
Renegade Winery
Renegade Urban Winery was established in Bethnal Green in 2016 before branching out to new premises in nearby Walthamstow. The original site remains in Bethnal Green, now serving as a bespoke wine bar serving the best reds, whites and rose wines produced in the UK.
Open from Wednesday through to Sunday each week, the menu offers an enormous selection of wines to sample by the glass or bottle. Cocktails, craft beers and a selection of artisan bar snacks such as a British cheese board, charcuterie selection and hummus with pitta complement this drinks range.
E Pellicci
Priamo Pellicci began working in the cafe on this site in 1900, after which his wife, Elide, took over following his death in 1931. E Pellicci is named after Elide and continues to honour her memory with the finest range of British and Italian meals in East London.
From traditional full English breakfasts to pasta and authentic Italian gelato, Pellicci's isn't your typical East End greasy spoon cafe. Instead, the ornate wooden Art Deco interior brings alive the past and provides a stunning, unique backdrop to enjoy some of the tastiest food you'll ever try.
The Carpenters Arms
At first glance, The Carpenters Arms looks much like any other East London pub. With a dark-coloured frontage lined with some foliage around the top of the ground floor, it's a welcoming place to pop in for a decent pint and something to eat.
In 1967, the pub's ownership changed hands as Ronnie and Reggie Kray purchased it for their mother, Violet. They hung their boxing gloves from nearby Repton Boxing Club behind the bar, and folklore has it that they made the bar tops out of coffin lids.
The Krays held many business meetings inside the walls of The Carpenters Arms, making this a must-visit for anyone interested in the East End's murky underworld past.
S&R Kelly & Sons
Ask anyone about traditional East End cuisine, and they'll immediately think of two things: Pie and mash, and jellied eels.
S&K Kelly & Sons are based in the heart of Bethnal Green and serve authentic pie, mash and liquor, and jellied eels in the same way over decades. Open for lunch and dinner, you're able to dine in or takeaway.
Whichever you choose, you'll (maybe) fall in love with this taste of authentic East End food. Or maybe you'll vow never to chow down on jellied eels again.
What to do in Bethnal Green: Practical Tips
Bethnal Green is located in East London and easily reached by public transport. There are two stations named Bethnal Green, one on the Central Line and the other by London Overground services from Liverpool Street.
Cambridge Heath station is also in the area and is often quieter than Bethnal Green. Several bus routes run in Bethnal Green to different destinations across Central and East London.
Once in Bethnal Green, most attractions and things to do are within easy reach on foot. However, you may hire a bike to cycle around the area, and there are many cycle hire providers.
Things to do in Bethnal Green London: Map
Things to do in Bethnal Green: Read Next