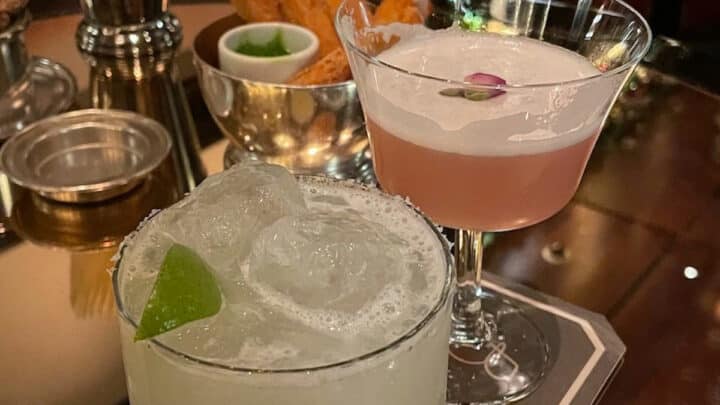 Le Magritte is a swish bar at The Beaumont Hotel in Mayfair. Does it live up to its grand design? Read on to find out.
Hotel bars can notoriously be a little bit of a snoozefest. A place where important business folk hang out post 9-5 slog and drink far too much whiskey before getting up and doing the same again the next day.
But what if we told you that Le Magritte at The Beaumont turns this on its head? In fact, it couldn't feel any further from a boring hotel bar.
Decked out in Belgian artist René Magritte's paintings, this small but perfectly-formed bar space felt thrumming with life when we visited a couple of weeks ago.
Le Magritte at The Beaumont
The Drinks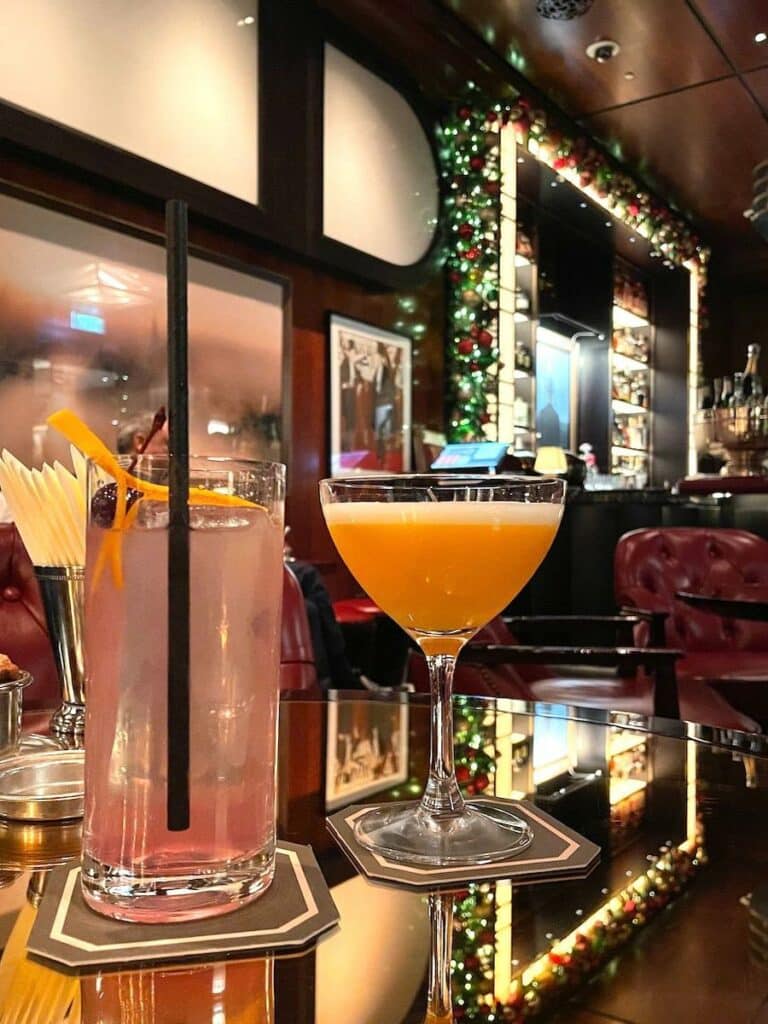 We'll warn you: The drinks are STRONG here. Like blow-your-mind-kinda strong. Not that we're complaining. Drinks are on the pricier side (around £20 for a cocktail), so you do at least get some serious bang for your buck.
The menu is pretty widespread, featuring cocktails, whiskeys, gins, and some more obscure liqueurs we couldn't possibly pronounce. There's also a decent selection of wine, beer, and softs, if that's more your vibe.
We headed straight for the cocktails (of course), flicking between the two sections on the menu labelled Ceci nes pas and Ceci est un, a cheeky nod to the Belgian artist that we completely adored.
Talking of nods to Magritte, we opted for the Not to be Reproduced 1937 and the Pilgrim 1966. The Letter was an even more grown-up version of a Pornstar Martini, a pisco-based affair that let the passionfruit do the talking, while the Not to be Reproduced was a light and refreshing blend of vodka, italicus, st-Germain, cherry juice, and tonic water.
A few sips in and our eyes wandered to the snack menu, where the Truffled Pizza Bianca and Chickpea Fries with Jalapeno Ketchup took our fancy. Both were absolutely delicious.
We also went a little bit (but not very) rogue and ordered a Margarita, off-menu. This was, as you can imagine, an incredibly boozy affair that we struggled to finish. Not for lack of trying, though.
The Look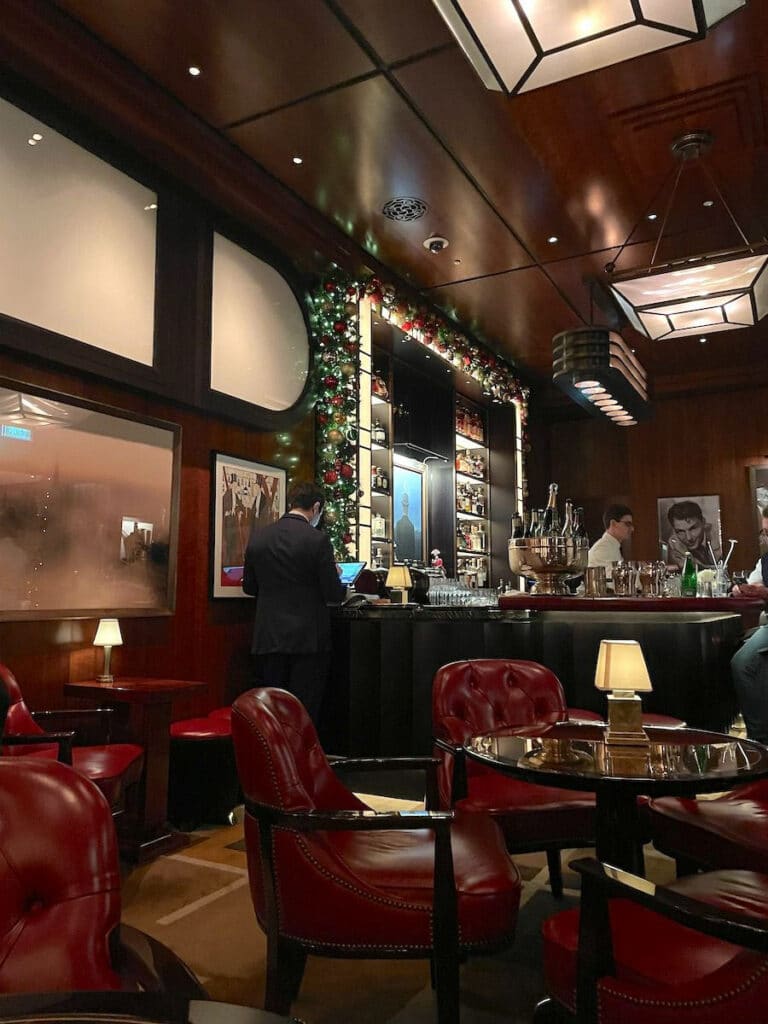 If the drinks are great, then the look of the bar is stellar.
We'll be honest and let you know that slick, American-style bars are not usually our favourite (we prefer something fresh, funky, and quirky), but we have to say that the addition of Magritte's paintings brings to life what could have so easily been a boring joint.
Maybe it's because we visited during the festive season, but the twinkling lights and Christmas garland that decorated the entrance to the bar (which, FYI is immediately to the left when you first enter The Beaumont), had us smitten before we had even stepped foot inside.
Inside, as you can imagine, is a vision of red leather, walnut wood, and Magritte art. It works incredibly well, and teeters just on the right side of cool, managing to avoid looking like a Grandad's reading room.
Though, to be honest, we would quite like to curl up with a novel here. It's ridiculously cosy.
The bar also boasts a terrace space but for obvious reasons (mainly the fact it was -2 degrees outside), we were more than happy to sit swaddled up inside. We're pretty sure we'll be back to check it out in the summer.
Final Thoughts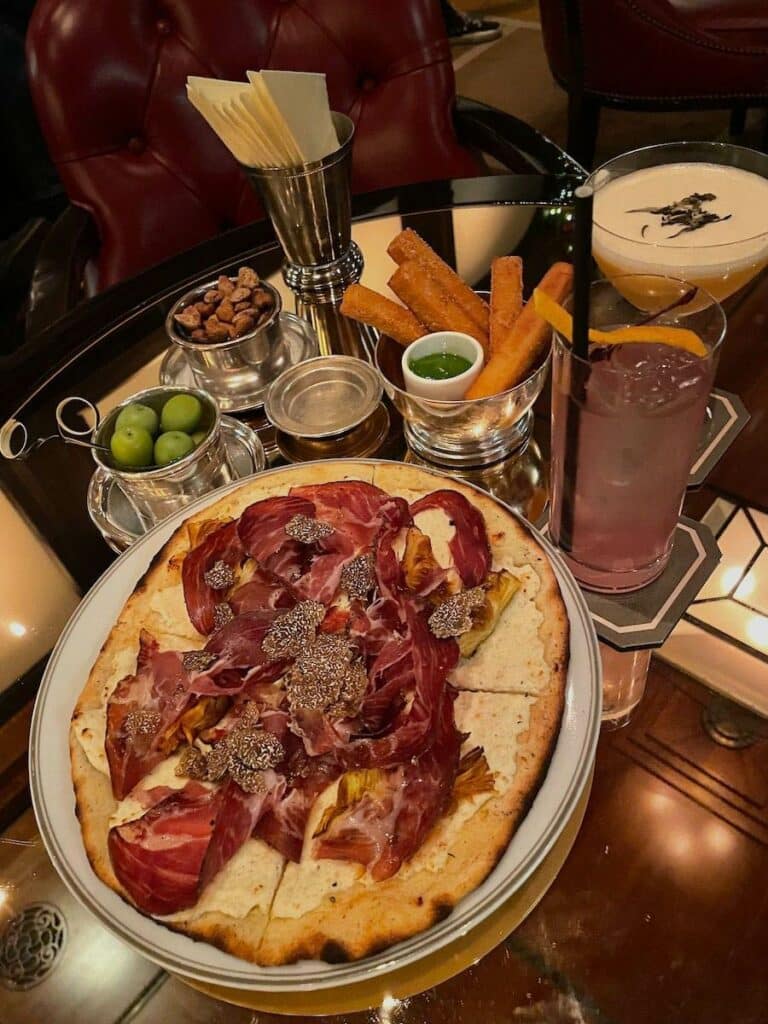 Le Magritte promises a classic American bar experience with a touch of Belgian flair and delivers both in spades. We knew The Beaumont Hotel wouldn't let us down. Head here for (spenny) cocktails and excellent vibes.
Le Magritte – Practical Information and Map
Price: £££
Address: The Beaumont, 8 Balderton St, Brown Hart Gardens, London W1K 6TF
Review 4/5
Drinking At Le Magritte: The Swoon-Worthy American Bar at The Beaumont
Le Magritte
Le Magritte is a highly-recommended spot in Mayfair. Head here for strong cocktails and gorgeous decor.