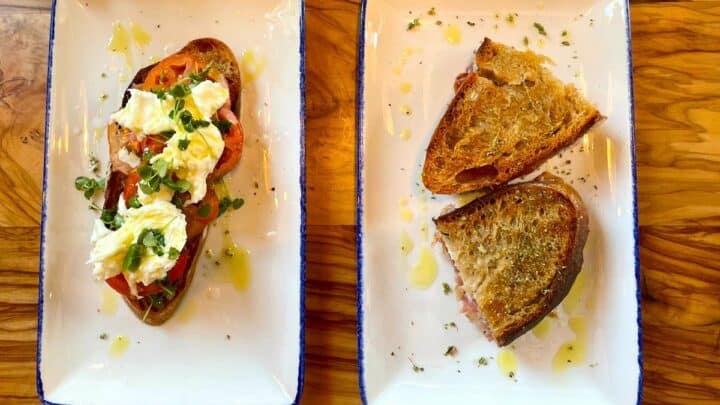 Looking for your new favourite lunch date spot? We've found it. Here's why you need to dine at The Italians – don't miss the full review.
Tucked away in Marylebone Village, The Italians is a specialist wine shop and deli fully stocked with fresh produce, meats, cheese, and fine wines from all over Italy.
But that's not all – they boast a perfectly-curated menu that you can enjoy in the adorably rustic restaurant or on the patio seating out front. Pretending you're on the Amalfi Coast is totally optional (but highly recommended).
Read on to discover why you need to visit The Italians…
The Italians, Marylebone Village – The Full Review
The Food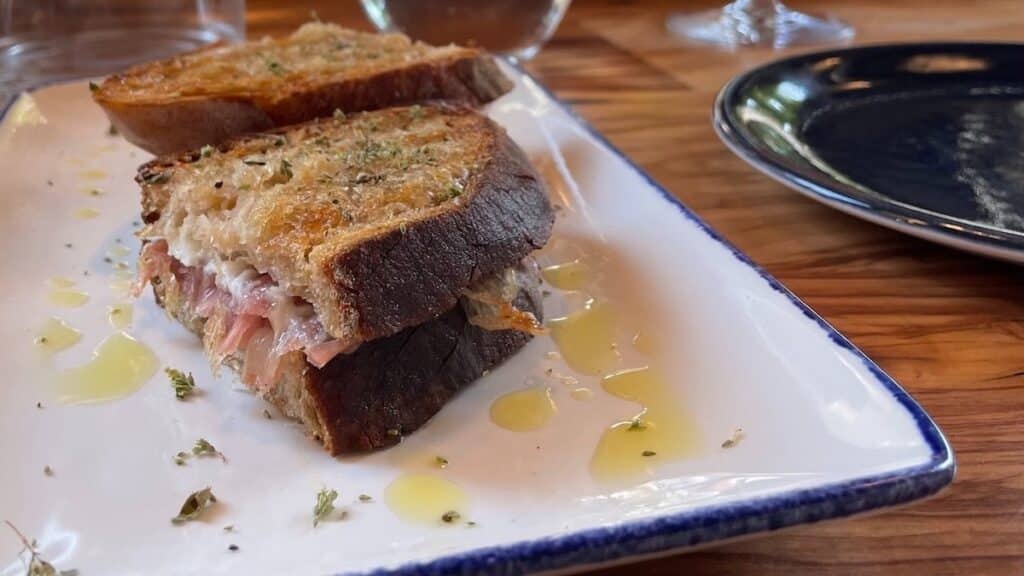 As you might expect from a place so unashamedly Italiano, the menu is packed with Italian classics.
The vast majority of options are, in fact, cold – the cheese and meat selection is pretty spectacular and covers all tastes – but there are a few hot plates if you're in the mood for something more filling. That said, the beef lasagne looked particularly delish.
Now, let me level with you and say something extremely controversial: I hate tomatoes. And by that, I mean I cannot stand the texture, the taste, the smell… the lot.
However, after much persuasion, we ordered the Bruschetta Classica & Mozzarella – and absolutely devoured it. Which, to be totally honest, is a testament to how delicious The Italians' food is (or maybe just a sign that I need to get over myself and try new foods).
As well as this, we opted for a pimped-up version of a ham and cheese toastie – the Parma Ham & Mozzarella Crostone Tostato – and it was as delicious as it sounds. Perfectly salty parma ham complemented by creamy mozzarella and a healthy dousing of olive oil – it was always going to be a favourite, wasn't it?
I also got a serious case of food envy as I gazed over at the table opposite, they had ordered the Caprese Salad and I was cursing my non-loving tomato self.
The Drink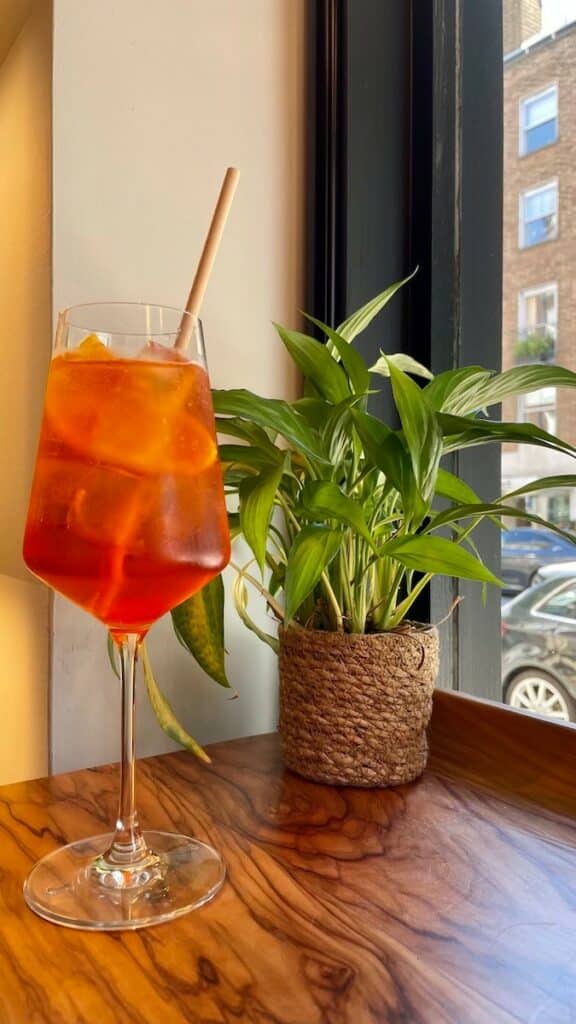 To be quite honest, the wine offering was so plentiful it was almost overwhelming (not the worst problem, I know). But, after a quick glance at the menu, I opted for an Aperol Spritz.
Not a particularly adventurous option, I admit – but it was one of the most delicious Aperol Spritz' I've ever had the pleasure of drinking in my life. Bitter enough that it tasted totally authentic, but without the toe-curlingly sour aftertaste.
But non-Aperol lovers need not worry; Italian wine takes centre stage at The Italians. In fact, there's an entire wall dedicated to the good stuff, and the waiters are more than happy to let you sample a few before committing to your dream tipple.
Curious about the wines? They're brought in directly from independent producers and curated by the in-house sommelier. In other words, you're in good hands.
And, if you like what you're sipping, you can even take a bottle home with you – the perks of dining in a wine shop, we suppose.
The Look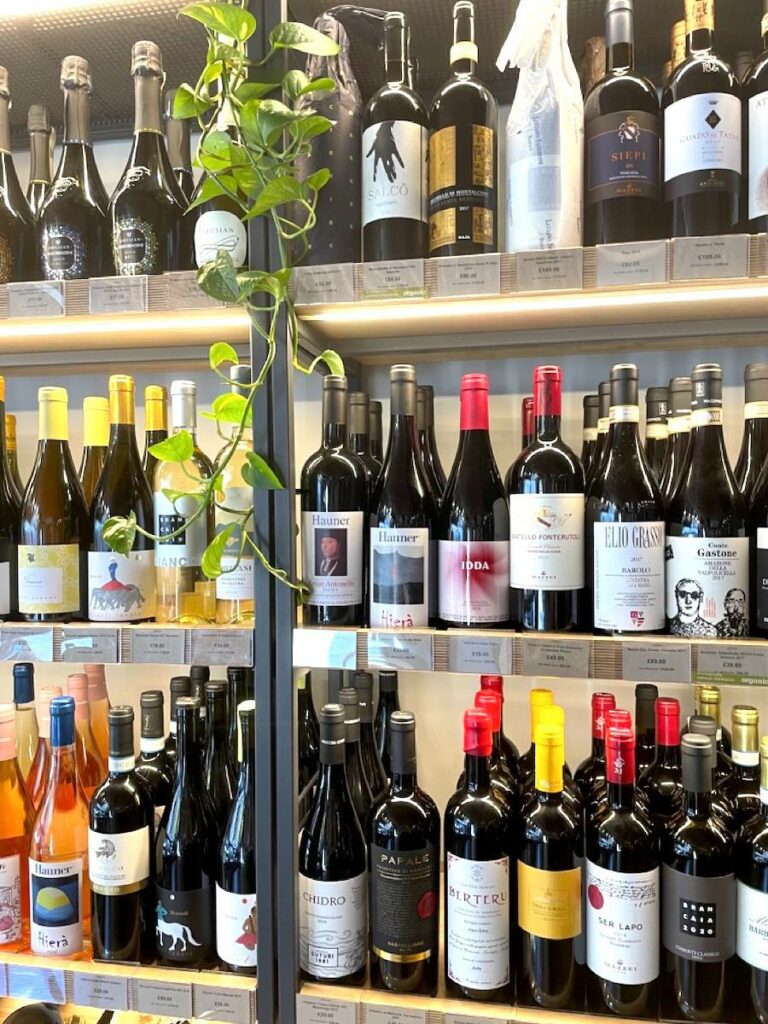 While extremely small, The Italians has made the most of its space perfectly.
As you enter, there's a huge mirror to the right which ensures the restaurant is bright (and deceivingly spacious) while, to the left, an entire wall stocked floor to ceiling with wine that, yes, you can try and, yes, you can take home.
It feels like you've stepped into a rustic Italian kitchen, and the wine corks that hang from the ceiling are a nice touch. This spot is obviously not doing anything particularly new or innovative with their design, but The Italians has got the classics down and we absolutely loved it.
Final Thoughts
The Italians nails it. An excellent wine selection, authentic Italian dishes, and an atmosphere that transports you straight to the streets of Rome. Head here for a casual lunch date or late afternoon drinks on the terrace, and we guarantee you'll be itching to return.
The Italians, Marylebone Village – Practical Information and Map
Price: ££
Address: 27B Devonshire St, London W1G 6PW
Map
Review 5 / 5
The Italians, Marylebone Village: Read Next