Looking for the best bars in Marylebone? Marylebone might fly under the radar as one of London's drinking spots, but it boasts a wealth of cool bars if you know where to look.
One of London's most luxurious neighbourhoods, the area is well-known for boutique shops, quaint pubs, celebrity spotting and unmissable chic restaurants.
However, there's another secret Marylebone's hiding: its thriving bar scene.
The bars in Marylebone are as diverse as they are excellent. From high-end cocktail bars to chic wine bars, you've got plenty of options to pick from. These are the ones you shouldn't miss.
The Best Bars in Marylebone
Mr Fogg's House of Botanicals
Mr Fogg's House of Botanicals is one of the quirkier bars in the area, sporting an original drinks menu that – true to its name – goes big on the botanical theme.
From oregano-infused gin and kaffir lime leaf-infused vodka to classic wines and non-alcoholic beverages, you won't go wrong here.
This bar offers you a unique experience not many establishments can imitate. The oasis in Fitzrovia features decor that's literally begging to go on your next Instagram story. Plus, the sombre toe-tapping tunes aid the greenery on display in creating a tranquil space.
Burlock
Who knew that just a stone's throw away from busy Oxford Street, you could find one of the best cocktail bars in Marylebone – Burlock?
This rum bar is a rum enthusiast's dream. It's heavily influenced by 1930s Cuba and serves up tantalising cocktails such as the Gunfire – a heady mix of St Lucian Castries rum, Chairman's Reserve, Courvoisier VS, Jagermeister Manifest and black tea.
That's not to say that the extensive menu is just limited to rum cocktails, though. There's also a large choice of wine, daiquiris, non-rum cocktails, and beers.
That's not all that Burlock has up its sleeve: their renowned happy hour from Wednesday to Saturday turns it into one of the best-value places to drink in the area.
Or pop in at 12 pm or 2.30pm on Saturdays to enjoy a 90-minute bottomless brunch with live carnival dancing.
Artesian
Elegant Artesian offers sips and serves of the quality you'd expect from a bar tucked inside one of London's most stylish boutique hotels.
This is no understated drinking den. The floor-to-ceiling lilac decorations, glittering chandeliers and Chinese-inspired design combine to create quite the interior.
Totally understandable that it's a big hit with London's drinking crowd.
The cocktail list is full of inspired drinks like the Banana Bread 1933 – which blends Woodford rye whisky, Oloroso sherry, banana bread syrup and discarded Banana rum (and yes, it's just as quaffable as it sounds).
Purl
Oh Purl. How do you get it so right?
Purl is not only one of the best bars in Marylebone, it's one of the best bars in London full stop.
This is the kind of basement speakeasy that puts wannabe imitators to shame.
The soothing jazz might lull you into a reverie, but Purl's standout cocktails will soon shake you out of it.
The bar has made a name for itself thanks to its multi-sensory creations where the skilled mixologists use aromas, fogs, airs, and foams to bring their unique concoctions to life.
Tuck into creations like the wacky Mr Hyde (Diplomatico rum, Purl's own falernum, tonka bean, orange peel, bourbon wood smoke and a chocolate fog) and The Joker (Ketel One vodka, Luxardo Sangue Morlacco cherry, lemon juice, Ms Better's miraculous foamer and a detonated rose balloon) – told you they are inventive.
Fancy yourself a mixologist of sorts? Pop in for their masterclass and learn the tricks behind the magic.
Clarette
Nestled inside an old-style former Tudor townhouse, you'd swear this wine bar in Marylebone is a step back in time. Clarette's interior features plenty of marble, stained glass windows – setting the scene for one of the area's quirkiest drinking spots.
French wines and French dishes with a twist are the order of the day. It's a wine enthusiast's idea of utopia with a wide selection of offerings from several renowned wine regions.
Seymour's Parlour
Wooden furniture, deep red walls, and plenty of portraits – it's safe to say that Seymour's Parlour has a lot of aesthetic appeal.
The folk behind Seymour's Parlour describe it as feeling more like the private lounge of a monied ancestor and they're right. In fact, they go one step further by naming that ancestor Uncle Seymour and creating a captivating backstory about him that's almost as good as the bar itself. Almost.
As befits any scurrilous uncle's private lounge, the cocktails are nothing but excellent and there's jazz music to round off that decadent atmosphere.
28-50 Wine Workshop & Kitchen
28-50 Wine Workshop & Kitchen is a brilliant bar for enjoying a great wine experience paired with excellent food.
The versatile establishment welcomes patrons with a relaxed atmosphere and stylish surroundings that lend themselves to after-work drinks and dinner dates.
Choose from over 30 wines and pair your grape with modern European delicacies prepared by a Michelin-starred chef. With a spacious private dining room, it's also the perfect place for an event, celebration, or large get-togethers.
The Nest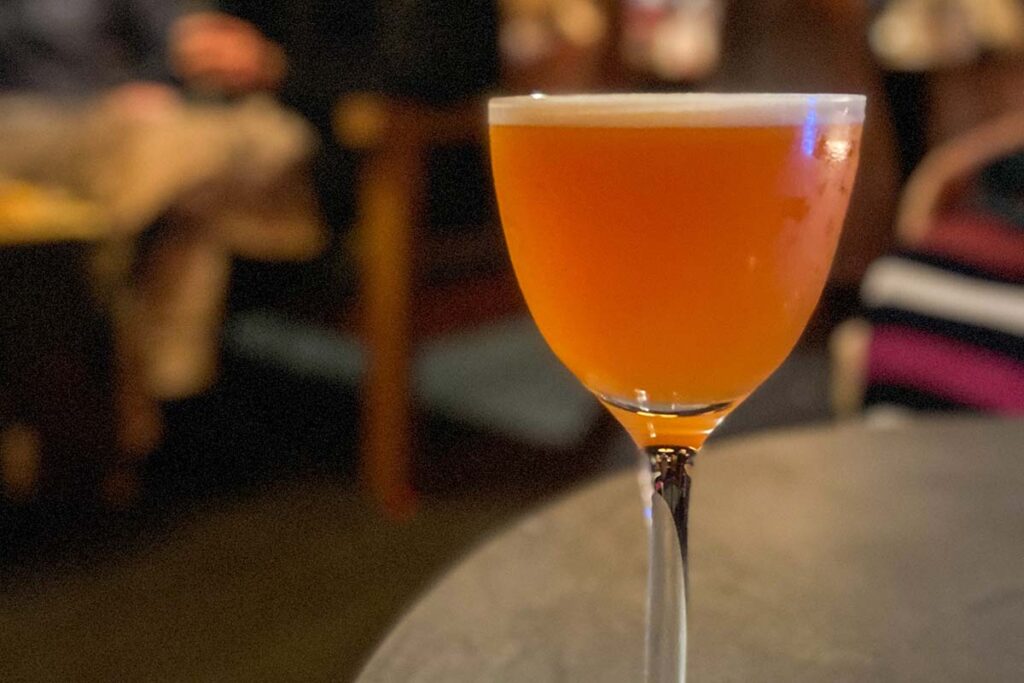 Despite being relatively new, The Nest can already lay claim to being one of London's best rooftop bars.
True to its name, the quirky establishment is foliage-filled and sits nestled (pun intended) atop the Treehouse hotel.
Similar to an actual nest, you enjoy 360-degree panoramic views of London. Add to that some of the best wines, beers, and cocktails in Marylebone and you can see why it's such a hit.
Settle in the indoor lounge or venture out onto the wrap-around terrace and enjoy views of the London skyline while downing your beverage of choice. DJs provide endless entertainment from their treehouse "fort."
Cool Bars in Marylebone: Practical Tips
While Marylebone may fly under the radar for some, these are popular places so book ahead to avoid disappointment.
Marylebone is accessible via public transport with the Marylebone Station, Edgware Road, Baker Street, Great Portland Street, and Bond Street serving as close local stations.
There's a myriad of things to do in Marylebone besides visiting the above bars, meaning you don't have to arrive around nighttime. Make a day of it and explore busy Oxford Street, visit the museums, or pick up a book from massive Daunt Books before checking out the hotspots listed above.
Marylebone Bars: Map
Looking for More Marylebone Guides?