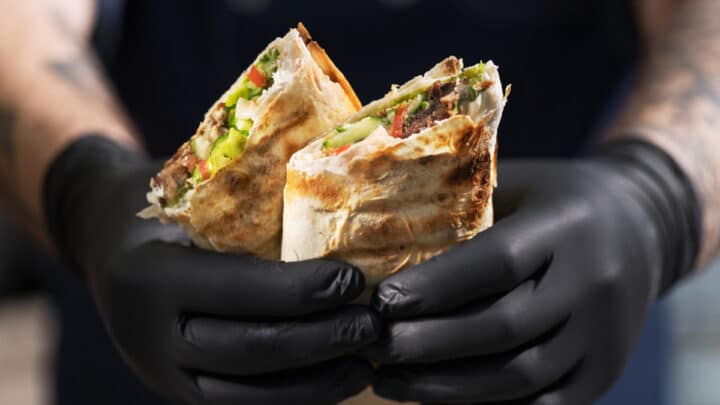 Looking for the best shawarma restaurants in London? We've got you covered with this handy guide.
London is full of kebab restaurants – and we're not talking the knock-off, open till 4am, night-out type places.
We're talking about respectable institutions of grilled meat. Places where the food is good enough that you don't have to feel guilty about scoffing shawarma at lunchtime.
The trouble is finding the right one. As lovers of the meat on the spinning stick, we feel your pain. That's why we put together a guide of all of our favourites.
Read on for our guide to the best shawarma London has to offer.
Best Shawarma in London
Shawarma Bar
Exmouth Market
If you're big into middle eastern food you'll no doubt have eaten at Berber and Q. They've been a popular grill house on the London dining scene for a while now.
They have, naturally, expanded their operation, opening an excellent Shawarma Bar in Exmouth Market.
The place is a far cry from your neighbourhood kebab joint. It's sort of where the low-key, non-flashy food of the ocakbasi and mangal meet with the contemporary restaurant scene.
The decor is trendy enough to make this a date spot, and you'll find cocktails on the menu for that touch of swank.
The main draw is still the meat, though. Prepared here with a precise attention to detail and using sustainably-sourced meats and traditional methods that mean the food only elevates what's already great about the shawarma.
Al Enam
Acton
Sometimes in London you have to travel a bit to find the food you love. If that food is all the way out in Acton, are you still willing to make the trip? It's possible if the steaks are high enough. With Al Enam, they just might be.
They started back in 2009 when the owners began to realise that traditional Iraqi food was underrepresented in London, and aimed to right some of those wrongs.
Their restaurant offers lamb and chicken shawarmas as either a sandwich on light, brioche bread, or as a plate. Both come with the requisite pickles, sauces and salads, and both are absolutely top-notch.
Taza Kebab House
Queensway
You may spot Taza from the queue that often forms out of its door around meal times. You may also notice the absolutely colossal sticks of meat gently grilling in its window.
They specialise in Persian and Lebanese food and have been doing so since 1985, making them a bit of a cornerstone of the London kebab scene.
The shawarma comes in pitta bread which is toasted a second time once the whole thing has been put together – to guarantee that extra crunch.
The 1am closing time also makes this a bit of a prime post-pub spot if you've been out drinking in central.
Rovi
Here's one for the vegetarians – if any of them were brave enough to face the ode to grilled meats that is this article. And if anywhere was going to do it, Yotam Ottolenghi's Rovi would be the place for it.
The dish comes in the form of a grilled section of celeriac that's half falling apart and charred on its edges. They then stuff this delightful vegetable into a pitta bread and apply the usual Ottolenghi touches of yoghurt and spiced veg for a shawarma that may actually rival some of the big hitters in this guide.
Hiba
We first stumbled across Hiba when writing a restaurant guide for Holborn, and we instantly knew we were on to a good thing – funny really, as the name means lovely surprise in the language of the owners (the food is Lebanese and Palestinian so we're assuming they come from either of those countries).
They serve up some excellent shawarma and that's what you're here for.
The chefs will select a sauce of either toum or tahini depending on what meat you choose (this is the Palestinian way), though you can choose to mess with them and get a mix.
Woody's Grill
Citywide
A bit of an institution when it comes to shawarma and other types of coal-fired kebab is Woody Grill.
There are a few dotted around the city in locations from Camden to Shepherds Bush, you'll probably find them catching your eye with the blocky, almost western-style font, and, of course, the spinning sticks of meat grilling in the window.
They know that good food comes from high quality ingredients and source all their meat locally – the flavours show. The shawarma is excellent here, but special mention must also be made for their lamb kofta.
As for the setting, often a slightly gaudy representation of a middle eastern restaurant replete with loud music of the region. What more could you want?
Shake Shuka
Marylebone
This Lebanese and Palestinian place, just a few minutes walk from Baker Street, was the first Palestinian restaurant to open in London, so say its owners. And with food as legit as it comes at Shake Shuka we've no reason to doubt them.
You'll find a menu of cooking that was inspired by the recipes of the owner's mother. She must have had a big kitchen because they turn out shawarma like it's going out of fashion.
They only have chicken, no lamb, but it's killer, drizzled with a punchy garlic sauce and served in a fluffy, charred flatbread. You won't be disappointed.
The Best Broasted
Willesden
The folks at The Best Broasted take their grilling seriously. From the kebabs turning over the coals to the ribs and chicken wings they turn out at a nearly non-stop rate.
When it comes to shawarma, you'll find some excellent examples here too.
They come served in a wrap, Lebanese style, with a second round on the plancha for extra crispy flatbread and dripping with toum and pomegranate sauce.
Better yet, the flatbread can be swapped out for khobez, a type of bread similar to a pitta but a little more fluffy.
E Mono
Kentish Town
By proudly stating that they have only one branch, we guess E Mono is trying to make the point that it sticks true to its roots. The eatery has got a bit of a cult following among people that are nerdily into their kebabs (us included) and for good reason.
The meat is succulent and comes with a good mix of slightly more cooked stuff for texture. The bread they wrap it all up in is noteworthy too, but can happily be discarded for a sit-down meal and your shawarma meat eaten from a plate, rice and salad included.
Practical Tips for Exploring the Best Shawarma in London
London has heaps of shawarma restaurants. More even than the food community can keep tabs on. In parts of town like Finsbury Park or Shepherds bush, Hackney and Tottenham (where the middle eastern communities are strong) you'll find great kebabs on every street. Don't be afraid to stumble into a random place, it's rare you'll be disappointed.
Shawarma in London: Map