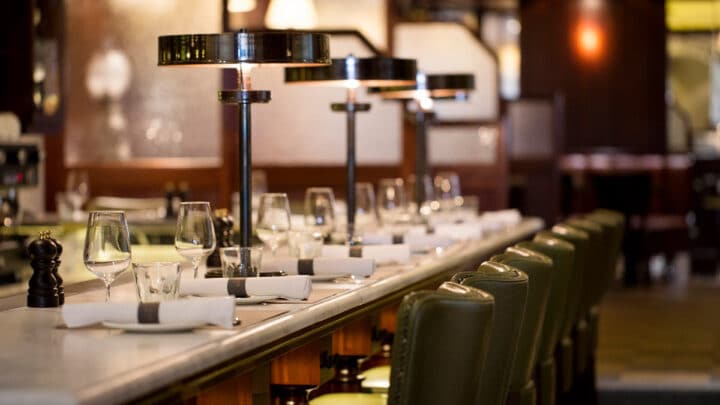 On the hunt for the best restaurants in Holborn? Prepare to have your taste buds wowed by these must-try dining hotspots.
Think Holborn is just full of offices and legal buildings? Think again.
This historic part of the city has so many good restaurants to choose from – the area's post-work crowd are certainly well looked after with a myriad of choices.
From incubator kitchens and 60s-style pubs to Japanese robatayaki cuisine (no, that's not food cooked by robots – more on that anon), these are the best restaurants in Holborn for all tastes and budgets.
Best Restaurants in Holborn
Kintan Japanese BBQ
££
Fancy an exciting dining experience? Kintan Japanese BBQ offers a unique dining experience and the chance to do a bit of tableside grilling of your own.
Tables at this Japanese restaurant in Holborn come equipped with smokeless grills so all that fills this dining room are the umami Japanese smells, chatter and laughter.
Japanese food is made for sharing and so are Kintan's BBQ courses. The meat lovers course comes with Toro Beef Shio, Chicken Teriyaki, umami salad among others, and ice cream to finish.
Kintan Japanese BBQ's authentic offerings are best washed down with either a cold Asahi, Hot Sake or Oolong Tea.
Holborn Dining Room
£££
The Holborn Dining Room is one of the best restaurants in Holborn, we love this grand brasserie and its menu of seasonal British cuisine.
Inside this elegant dining room are antique mirrors, reclaimed oak, red leather banquettes and two antique patina copper-topped bars.
The Pie Room at Holborn Dining Room serves savoury handmade delicacies paying homage to Britain's most iconic dishes.
The Gin Bar offers London's largest collection of gin. With over 500 gins and 30 tonics you'll be able to choose from more combinations than we can count.
Colonel Saab
££
Looking for an Indian restaurant in Holborn? Colonel Saab is a modern Indian spot inspired by the travels of an Army officer and his wife across India.
Colonel Saab offers old-world charm, jazz music and a collection of intricate artworks in the former Holborn Town Hall.
Dishes feature flavours from around India curated by one of India's top food personalities, Karen Anand, and include some of her signatures like Sarsoi Ajwaini Fish Tikka and Malupa Waffles.
The tasting menu is the best way to sample a selection of Colonel Saab's expertly-made fare.
In the mood for sweet treats? try the Afternoon Tea with a selection of sandwiches and baked goods.
Hiba
£
Hiba means a lovely surprise, and that's exactly what you can expect from this family-run restaurant.
It brings the food of Palestine and Lebanon to London. The main draw: arguably the best shawarmas you'll ever taste.
This intimate restaurant may seem unassuming from the outside, but once you've tasted the Hiba Mixed Shawarma with marinated prime lamb and chicken with sesame sauce you'll be back for a repeat visit.
The Lebanese-bread-wrapped Lamb Shish and Shish Taouk are also worth a mention, as are side dishes like hummus, and moutabal baba ghanouj.
Isolabella
££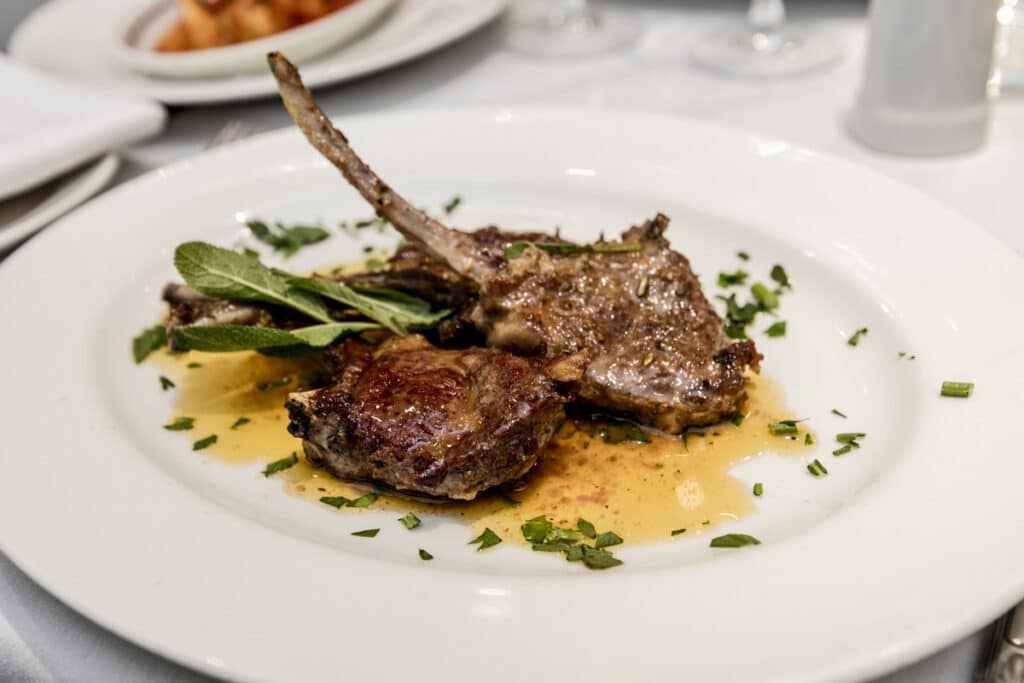 Italian on the mind? Isolabella is your go to in Holborn. The food here combines authentic Italian food with a Mediterranean influence.
Isobella's extensive menu might seem daunting at first, but one thing this restaurant prides itself on is a warm and inviting atmosphere.
And part of that means staff are happy to make recommendations.
It's not an authentic Italian restaurant without limoncello or tiramisu right? They've got 'em here, as well as an irresistible limoncello gelato. Think we'll give that a go, thank you very much.
Noble Rot Lamb's Conduit
££
Owned by the brains behind the cult wine magazine of the same name, Noble Rot is one of the best Holborn restaurants for both dinner and drinks.
Self proclaimed 'Shrine to the Vine' as you can imagine the wine list here is more than exceptional. They've even won awards for it.
Noble Rot is elegantly decorated and dimly lit, giving off modern-chic vibes by the bottleful.
Make sure you check out the comical cartoon sketches in the bathrooms. Noble Rot has a wicked sense of humour.
Order basically any dish and expect the divine. Flavours are well thought out, and unapologetically French. We're digging the Pork and Duck Rillettes and the Dorset Snails. The Confit Garlic and Parsley is an adventurous choice that you won't regret.
ROKA Aldwych
£££
Looking for a fancy dinner in Holborn? Look no further than ROKA.
This wood-panelled, devilishly-sleek robatayaki is Japanese BBQ worth every penny.
If you've ever dined robatayaki style, you'll know that it's not only about flavours but the way it's cooked.
ROKA's open-plan kitchen is a centrepiece and it smacks you with amazing smells as soon as you're in.
Offerings like salmon fillet teriyaki with yuzu salt, or the spicy beef and chilli pepper skewers should be on your plate.
But ROKA doubles up as a high-end sushi den serving freshly made maki rolls alongside sashimi and salmon roe.
So we're guessing you'll probably want a few of those too.
Rondo La Cave
£
Tucked away inside The Hoxton is subterranean natural wine bar Rondo La Cave.
They keep it fresh with an ever-changing line-up of guest chefs, so no two visits are ever the same.
Recently there seems to be a pretty strong focus on NYC deli-style sandwiches and snacks – think overloaded pastrami and brisket with hearty helpings of cheese.
But that could all change by the time you get there. One thing's for certain though, Rondo's wines and snacks being exceptional.
Cafe Murano
£££
There's far too many amazing pasta dishes to try at Cafe Murano, and all the pasta is freshly handmade fresh, in-house daily
Our favourite: rigatoni with spicy sausage ragu and radicchio.
If pasta isn't your thing, go for the salt cod fritters, parmesan and lemon, or the charred, broccoli and chilli frittata.
It's not just about the food at this Holborn restaurant. They tick boxes for decor too.
The tables are sat underneath wooden beams with blue banquettes and plush leather chairs. It all adds up for a touch of the classy.
Barrafina Drury Lane
£££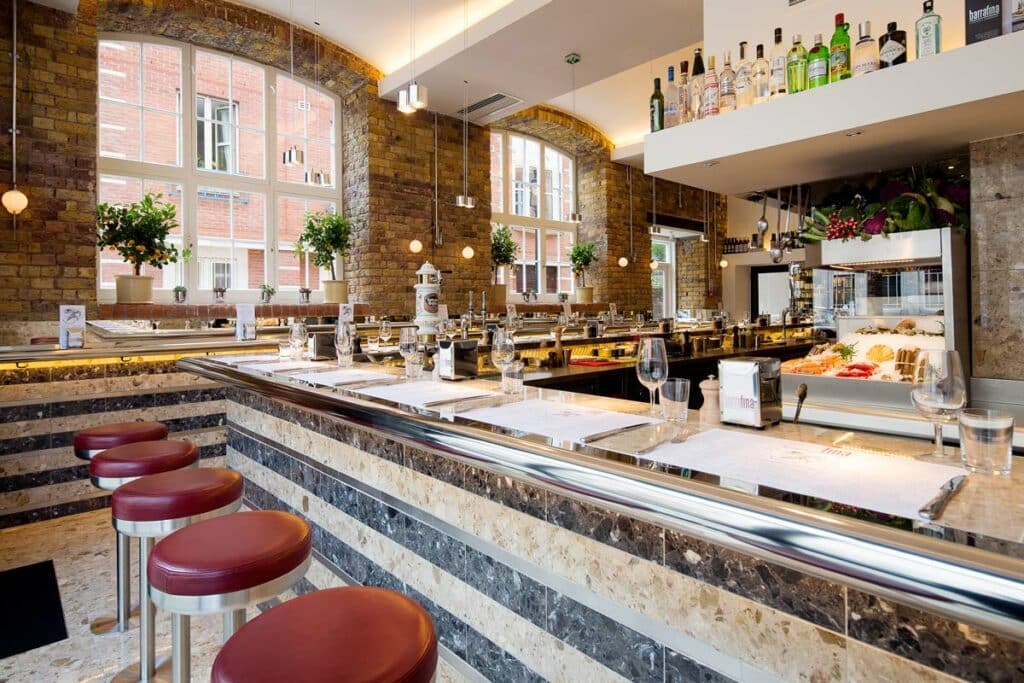 This modern Spanish tapas spot can be fairly expensive, but the lberian Pork Ribs, and Grilled Squid and Chickpeas are so moreish you'll forget about the price tag after your first bite.
We're talking Barrafina Drury Lane, and in terms of tapas, it doesn't come much more popular than this.
So popular in fact, that the queue gets quite sizable, but don't let that put you off. It's a testament to how delicious the food is.
Other Places to Eat in Holborn
The Bountiful Cow Public House & Dining
££
Fancy visiting a 60s style pub? The Bountiful Cow Public House & Dining is a Holborn hidden gem.
The family-run pub is vintage film poster hung, leather-booth seated and offers a sublime beef-focused menu.
The steak oriented lunch and dinner menu is all sourced from local butchers down the road at Smithfield Market.
Steak lovers will tell you this is one the best restaurants in Holborn. You'll find everything from tartare to T Bone, all served with your choice of sauce.
All Star Lanes
£
Wondering where to eat in Holborn? All Star Lanes marries finger licking chicken with a side of entertainment. Can't beat that.
Nashville Fried Chicken is a must, but before you sink your teeth into that, the popcorn squid to start. That side of caramelised lemon and chive mayo defies words.
After you're done, wipe those greasy fingers on your trousers, make a b-line for the bowling alleys, and score some strikes while a friend drunkenly serenades you on karaoke.
All in a night's work.
Practical Tips for Exploring The Best Holborn Restaurants
If you can make an online reservation, do it, lots of these restaurants can get quite busy because the food is that good.
The area is awash with old-school pubs like the Cittie of Yorke – that are perfect for a pre-dinner pint or aperitif (read gin & tonic).
Holborn is the perfect area for pre- or post-theatre meals – it's often easier to nab a reservation than Covent Garden and Soho but it's only a short walk to the West End.
Holborn Restaurants: Map
Places to Eat in Holborn: Read Next