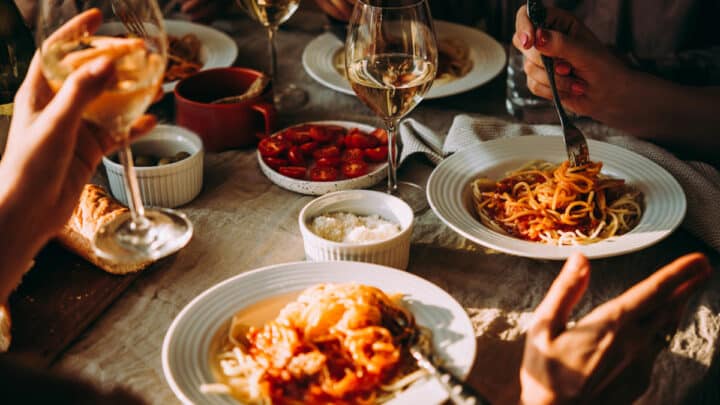 Fancy exploring somewhere a little different for an evening out? Discover the best places to eat in Ealing with this handy guide.
Words by John Rogers
Sat at the western end of the Central and District Lines, Ealing is a vibrant area full of uber-trendy restaurants and places to eat, having undergone extensive regeneration over the past few years.
Within easy reach of Central London, here's our guide to a dozen of the best places to eat in this charming West London suburb. We hope you're hungry.
The Best Restaurants in Ealing
Haweli
££
Haweli on Uxbridge Road, Ealing's thriving and main thoroughfare, is an Indian restaurant that is so much more than your average curry house.
Instead of flooding your senses with as many different types of curry as possible, Haweli uses the finest ingredients to produce a series of sumptuous house specials and seafood dishes.
We don't mind admitting that we simply couldn't get enough of their Pineapple Special, which fully satisfied our sweet n spicy cravings. Meanwhile, the King Prawn Bhagara's tangy, spicy tomato-based gravy sauce is, well, just divine.
Galicja
££
One of the world's lesser-explored culinary delights is that offered by Eastern Europe. Thankfully, Galicja, next to West Ealing station, is the place to right that wrong with its outstanding menu.
Their tastefully decorated interior promotes enormous comfort as you explore your way through the delights of their Polish and Ukrainian-inspired eats.
The portions are massive, and the flavours are intense – especially their sweet pickled cabbage with smoked bacon and pork hock accompanying their pork schnitzel. A complete winner!
Roti Kitchen
£
Roti Kitchen is an absolute must-visit if you're seeking somewhere that packs a tasty punch for an early bite.
Roti closes at 8 pm, meaning a long-leisurely evening meal isn't on the cards, but as somewhere that does immense food at outstanding prices before an evening at the cinema or walking through Ealing Common, they tick the boxes.
Their food fusion consists of a battle of spicy blends competing head-to-head with chilli. Our top picks include the jerk chicken, curried mutton and dhal puri.
Kathmandu Nepalese Cuisine
££
If you visit Kathmandu Nepalese Cuisine – and you should – we urge you to order off their Nepalese menu. Not that there's anything amiss with their traditional Curry, Biryani or Tandoori dishes in the slightest, but their Nepalese dishes are their crown jewel.
The Gurkhali Chicken is a traditional Gurkha Army-style curry that you should sample with caution; it's scorching, so for more delicate palettes, we highly recommend the creamy, tender Butter Chicken, or Pharsi Lamb, which is cooked with red pumpkin.
Santa Maria
£
Writing about restaurants in Ealing and omitting Santa Maria would be criminal. Santa Maria regularly features in "best of" lists for restaurants in West London, and it's readily apparent why.
Not only can you get a starter and pizza for less than twenty quid, but their homemade pizza bases are also stretched and tousled to perfection, while their range of toppings will suit any and every taste.
Our fave is the Santa Valentina, which comes on a pumpkin cream base. Sounds weird, tastes molto bene!
Retsina & Mousaka
££
Given the name, you'd probably expect to walk into a Greek taverna with whitewashed walls, pebble-dashed archways and bursting with mementos and nick-nacks from Greece. Retsina & Mousaka simply does not disappoint on this or any other level.
Cypriot couple Angelo and Maria quickly welcome you into their bosom like any family member and feed you appropriately. We'd challenge you to find a more tender, tasteful kleftiko than theirs, where the lamb melts off the bone, but we know it's impossible.
Also, we suggest starting with the tarama, a rich, authentic taste of home, to get your meal kicked off correctly.
Sidi Bou
££
Sidi Bou is arguably London's finest Tunisian restaurant, showcasing aromatic and flavoursome food from North Africa in the heart of West London.
This family-run eatery uses the freshest locally-sourced organic produce from local suppliers and Tunisia to provide some of the tastiest food imaginable.
From Lamb Shank to Octopus, Tunisian pasta to traditional slow-cooked stews, these mouth-watering dishes are cooked from the heart.
And believe us; the passion comes through with every delicious, savoured mouthful.
Steak on the Green
£££
When it comes to Ealing Broadway restaurants, Steak on the Green is an award-winning steakhouse that you need to visit.
They cook their steaks to order, offering diners their choice of prime cuts, including thick cut Ribeye and Sirloin, a Chateaubriand for two and uber-luxe Wagyu steaks.
If beef isn't what you're vibing, there are plenty of options on the a la carte menu, while Halal cuts are also available. If you're dining on a Sunday, we recommend their outstanding roast dinners, particularly the beef.
La Rueda
££
Bringing a taste of sunny Spain to the (sometimes) sunny streets of West London, La Rueda is bursting with authentic Spanish tapas, perfect for social dining experiences.
Serving since 2000, fresh and sustainable ingredients are sourced daily to provide a culinary journey like no other in Ealing or, indeed, the whole of West London.
Sharing is the name of the game, so we stacked our tapas board with Tortilla Espanola, Padron Peppers, Albondigas, Polla a la plancha, Monkfish and several other delicious dishes and sides. We didn't go hungry, and you definitely won't, either.
Noi's Thai Kitchen
££
Regular readers will know it's no secret that we adore Thai food. Like, a lot. Located in the kitchen of Ryan's Bar on Northfields Avenue, the eponymous Noi of Noi's Thai Kitchen cooks some of the best Thai food we've ever experienced.
Noi began by cooking during the COVID-19 pandemic, producing family-friendly meals for the local community at affordable prices.
While she continues to serve delivery and takeaway customers, we urge you to book a table and enjoy her food as it was intended. Piping hot as it comes directly from the kitchen to your seat.
Pho Saigon
£
Remaining with the Asian theme, we love Vietnamese cuisine almost as much as we do Thai, and that's all because of restaurants like Pho Saigon.
While Pho figures strongly on the menu, it's the Mi Vang Xao that we love, particularly the King Prawn, while the Whole Sea Bass Rang Gion is some of the best fish you'll find anywhere.
The superb service, beautiful location, and vibe make Pho Saigon an un-pho-gettable dining experience.
Da Moreno
£
Ealing is unbelievably well-stocked with great pizzerias, and Da Moreno is a worthy challenger to the Santa Maria crown.
Their sourdough is left to rise for at least 48 hours for their pizza and focaccia (and a further full day for bread) before being baked in their incredible wood-fired oven.
The result is some of the finest Neapolitan pizzas this side of the River Tiber, from their basic but luscious Marinara and Margherita to their rich, spicy Peperoni E Salsiccia, which just happens to be our favourite.
Other Places to Eat in Ealing
Eram Shashlik
££
If you like Persian food, you won't be disappointed by any of the three Persian restaurants situated within a decent javelin throw of West Ealing station. However, we will plump for Eram Shishlik based on their incredible lamb's neck.
The considerable amount of fragrant onions that lollop over the neck like a stereotypical Frenchman's necklace set this dish apart, making Eram Shishlik one of our fave Ealing food joints.
Maxim
£
Our favourite Ealing Chinese Restaurant is Maxim, a richly decorated restaurant full of plush decor and a relaxing vibe, offering the most authentic dishes from Beijing.
We're an absolute sucker for their lobster dishes, which come with various sides and rice noodles, while their Fragrant Crispy Duck lives up to its billing in spades. A genuine Chinese culinary treat.
The Best Restaurants in Ealing: Practical Tips
Ealing is awash with affluent young professionals and families, meaning many restaurants are trendy. We'd hate for you to miss out on the culinary treats that await, so we highly recommend contacting the restaurant in advance and booking yourself a table.
In addition, parking is at a premium, particularly around West Ealing. However, there are great transport connections at Ealing Broadway and West Ealing, well connected by the Elizabeth Line and several local bus services to and from London hotspots like Hammersmith and Shepherd's Bush.
The Best Restaurants in Ealing: Map
Ealing Restaurants: Read Next