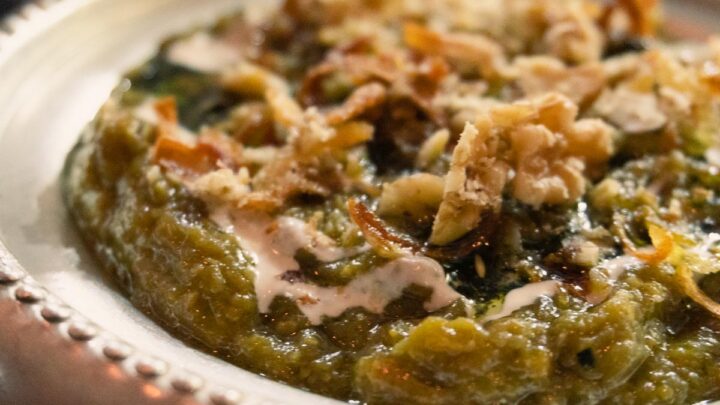 Looking for the best Persian restaurants London has to offer? Look no further as we bring you the best Iranian tastes in the capital.
Words by John Rogers
While ridiculously underrated, Persian cuisine is among the most subtle, tender, and flavoursome food you're ever likely to find. The beautifully blended herbs and spices coat vegetables, meats and fruits to provide a taste sensation.
And, if you're craving the best middle eastern cuisine in London, you're in luck. We've got you covered with these dazzling Persian restaurants in London.
Best Persian Restaurants in London
Hafez
Hafez is one of London's oldest Persian restaurants, feeding Londoners in this West London hotspot since 1983 when head chef and founder Farshid Ziafat opened this eatery in the heart of trendy Notting Hill.
The quirky interior of hanging cutlery, bookshelf benches and layered photo frames provide a homely setting for a family get-together, catching up with mates, or a romantic dinner for two.
We adore the vast and tempting selection of starters, including mast o khair (cucumber and yoghurt), and the warm smokey kashk e-bademajan (an aubergine dip), before tucking into some of the tenderest, choicest, tastiest cuts of meats and most succulent middle-eastern stews you can imagine.
Patogh
Patogh is a hidden gem of a kebab house situated in the sea of Middle-Eastern cuisine palaces just off Edgware Road in West London.
We recommend Patogh for anyone who likes their flatbreads big (and by big, we mean gigantic!) and juicy kebabs, which are tender and full of flavour.
Whether you're mopping up after said kebab or wanting to consume every last drop of stew, their bread is the perfect tear-and-share accompaniment to any of the succulent meals on their terrific menu.
Hana
West Hampstead
Hana is a charming eatery in leafy West Hampstead that makes for the perfect location for something to eat following a wander around the Heath, a dip in the Lido, or a film at the Vue on Finchley Road.
The lovely terrace adds a dash of authenticity to the al fresco dining experience. Or, if all of the outdoor seating is claimed, you can find a half-in-half-out table, which is just as good.
If you're venturing out with a date, we strongly recommend their grilled prawns with dips and a stew to share with some of the best taftoon bread anywhere in town.
Berenjak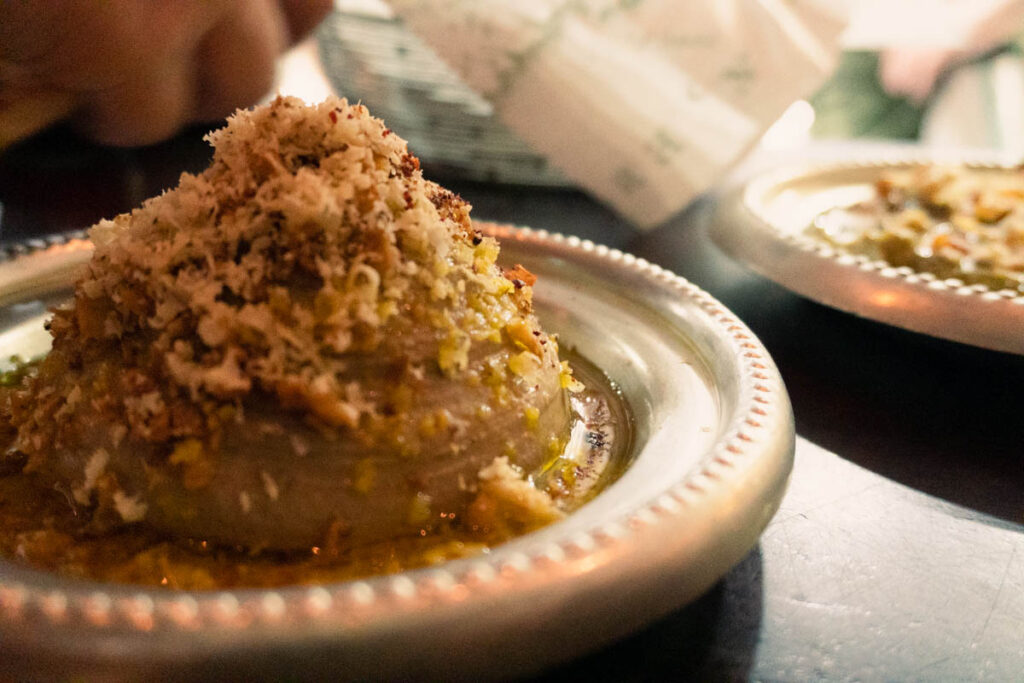 This London take on the old hole-in-the-wall style kebab houses of Tehran is one of London's best-known Persian culinary hotspots.
Founded by Sian Samanyi, Berenjak offers guests classic Persian dishes straight from the streets of Iran, accompanied by a genuinely sparkling array of wines and cocktails. Their kebabs are absolutely second-to-none in London.
Guests have a choice of counter-style seating or restaurant table seating and can look at nostalgic photos of Iran's rich history while waiting for their sumptuous, meaty meals.
With booking challenging to come by, Berenjak has recently added a second location in Borough Market.
Tandis
South Hampstead
Tandis is a beautiful Persian restaurant on Finchley Road and makes this guide courtesy of their toothsome take on lubia polo. This dish is beloved within households across the Iranian peninsula.
You'll find that this dish varies across restaurants throughout London, with each chef having their own blend of spices to give this favourite a personal flourish. And we are only too happy to recommend the version at Tandis.
A plate of rice, green beans and tomato sauce, sometimes with meat (your choice) and subtle spices, makes for a mouth-watering taste experience.
Persepolis
For anyone looking for something slightly different from the traditional Persian setting for their taste of the Middle East, Persepolis in South-East London's up-and-coming Peckham area is the place to go.
A corner shop/specialist Persian store and restaurant all under one roof, writer and blogger Sally Butcher has made a dream come true with her offering of all things Persian, including the best Persian tastes south of the river.
The focus is on social eating, with groups of friends regularly catered for in their small but oh-so-fragrant kitchen.
Their meze is the talk of the town, while those happy to sit and enjoy a leisurely lunch/dinner will love their party-tasting menu, which, at just £25 per head, is worth every single penny!
Naroon
Naroon is another Persian restaurant with a difference, serving breakfast and brunch with an authentic Middle-Eastern flourish. We were seduced by the Sosis bandari, a tasty spicy sausage dish that originates from Southern Iran.
But, to be honest, the entire menu is a winner.
For example, Nargesi is a traditional spinach and egg omelette, while their kuku sabzi, a Persian frittata oozing with herbs, spices, onions and tangy, fruity berries, is not to be missed, particularly during the Nowruz period.
The main menu recalls the richness of the Persian empire's vital trading routes with variations on many Persian favourites such as mast o khair and lubia polo.
Iran Restaurant
Nestled in the 18th-Century maze of Mayfair's Shepherd Market is Iran Restaurant, a beautiful old-school Persian eatery where eating a mezze is to lift the lid on Pandora's box.
We strongly suggest that you make this a venue for a social catch-up with friends or family, as the menu is, to say the least, extensive. However, for not much more than £20, you can enjoy an array of the best flatbreads, mezze plates, and grilled delights.
Our favourite grilled dish is the zereshk polo ba morgh, a large plate of saffron-flavoured chicken and spoonful-upon-spoonful of barberry rice.
Kateh
Little Venice
This Persian restaurant is on the pricier side of the coin than others on the list, but believe us, it's worth it just to experience the kabab torsh at Kateh.
Torsh means "sour" or "acidic" in Persian, and Iranians adore anything "torsh," such as unripe grape juice known as ab ghooreh. Thankfully, for those of us with a slightly different palette, kabab torsh is less of a sour taste explosion.
The dish is chargrilled break end of lamb marinated in pomegranate juice, crushed walnuts, unripe grapes, and fresh mint, complete with a delicious side of saffron rice.
Trust us; you will not regret paying top dollar for this tasty treat.
Sofreh
New Malden
This South-West London eatery is a brand-new addition to the London Persian restaurant scene, and it's absolutely brilliant.
Sofreh has quickly become a favourite with the locals in New Malden and attracted diners from miles around with its aromatic smells and terrific tastes.
With plush, comfortable green seating, comfort is guaranteed as you make your way through the succulent menu that includes fantastic joojeh.
We adore the mixed mezze, which is the perfect way to spend an evening catching up with mates. And the garlic tanoor bread baskets are definitely the way forward.
If you're visiting on the weekend in a group of four, their roasted lamb shoulder starter has to be tasted to be believed. Just over £20 each, with enough side dishes to keep you fed for a week!
Practical Tips for Exploring the Best Persian Restaurants in London
Persian food is a (fairly) popular cuisine in London and we would hate for you to miss out, especially if that's what you're craving. Although many of the restaurants in our guide cater to walk-ins, it's always a good idea to get in touch and reserve a table in advance to avoid disappointment.
Most dishes on the menus will highlight any allergens, but just to make sure, highlight any dietary requirements to your waiting staff and they will bend over backward to accommodate you. Hospitality is a Persian specialty. Nothing is too much bother.
Persian Restaurants in London: Map
Best Persian Restaurants London: Read Next