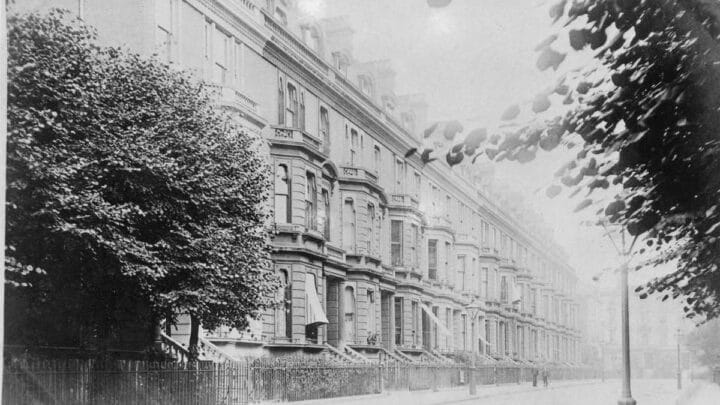 Have you heard of Sambourne House in London? Here's why you should visit this beautiful home that sits at 18 Stafford Terrace.
Words by Kareem Ghezawi
Take a walk down an average London street and you'll be presented with rows of identical period homes that you typically wouldn't give much attention to.
But, in truth, a lot of these seemingly unassuming buildings harbour incredibly beautiful interiors, and equally rich histories and stories…
…And, with the exception of a commemorative blue plaque and a large fern case protruding from the ground floor window, Sambourne House in Kensington is one of those buildings.
Here's why you should pay attention to the home at 18 Stafford Terrace.
Sambourne + Aestheticism
Located at 18 Stafford Terrace, a couple of doors down from Freddie Mercury's old flat at 12 Stafford Terrace, Sambourne House was once the home of famed Punch cartoonist Edward Linley Sambourne and is now one of the best-preserved examples of Aestheticism in the country.
The art movement occurred in the late 19th century and focused on the aesthetic value of art.
To the Aesthetics, the main purpose of art was to be visually pleasing as opposed to having a moral message or function—an approach which eventually gave way to the famous phrase 'Art for art's sake.'
It's fair to say that Sambourne House exemplifies this maxim in the opulent decoration and ornamentation that lines every single inch of its impressive five-story interior.
The Decor of the House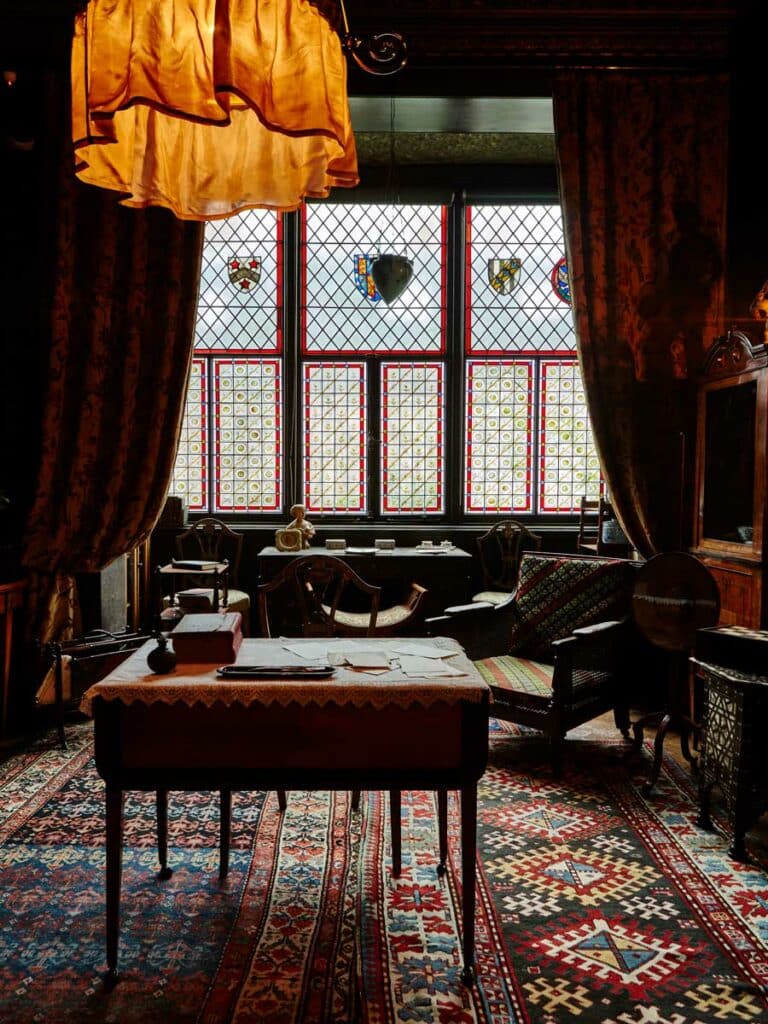 Edward Linley Sambourne moved into the house in 1875 and soon took it upon himself to redecorate the house in the aesthetic style.
Taking influence from the homes of his fellow Holland Park Circle artists, he would spend the next 35 years continually adding new wallpapers, rugs, paintings, furniture and ceramics.
In line with the typical aesthetic style, 18 Stafford Terrace is abundant in floral motifs, textured wallpapers, ornamentally carved woodwork, and earthy colours like green, maroon and gold.
Prominent features include the decorative sunflower motifs in the famous custom stained-glass windows, the vast collection of blue and white Chinese porcelain, and a choice selection of sought-after Morris & Co wallpapers.
In fact, by 1877, just two years after he moved in, there were already fifty vases, seventy chairs, and around seven hundred framed pictures in the house, with those numbers steadily increasing with every passing year.
Some of the most popular rooms include the dining room with its octagonal dining table, the drawing room with its gilded and embossed wallpaper, the spare room with its signed photographs of Edwardian actresses, and Edward's study where he worked on his famous illustrations.
Sambourne's Illustrations for Punch Magazine
In regard to Sambourne's vast legacy, the house also contains a selection of the 3,000 illustrations and advertisements he drew for Punch magazine, as well as over 30,000 photographs he took which aided his drawing process.
Punch was a very popular weekly satirical magazine that ran from 1841 to 1992, and was known for its sophisticated humour and lack of offensive content. One of its most popular features was the illustrations and, in fact, the magazine actually helped to coin the term 'cartoon.'
Sambourne established his reputation and wealth during his forty-year career at the magazine, a career which ultimately led to him rising to the prestigious position of first cartoonist.
Sambourne's Circle of Friends
All things considered, it doesn't come as much of a surprise that many of Sambourne's closest friends were prominent artists and members of the famed Holland Park Circle and, like them, Sambourne mirrored his artistic taste in the décor of his home.
Chief among his friends in the Holland Park Circle was the painter and President of the Royal Academy, Lord Fredric Leighton, who is famous for his stunning home and art studio which includes the two-story 'Arab Hall' modelled after his travels throughout the Middle East.
Despite his success, Sambourne couldn't afford to build with quite the same level of ambition as Leighton, and so he went about doing things on a smaller scale.
While not small by modern standards, Sambourne House doesn't boast the vast open spaces of Leighton House. It retains a more cluttered charm, creating the impression of both a lived-in home, and a storehouse of cultural artefacts.
Sambourne House Museum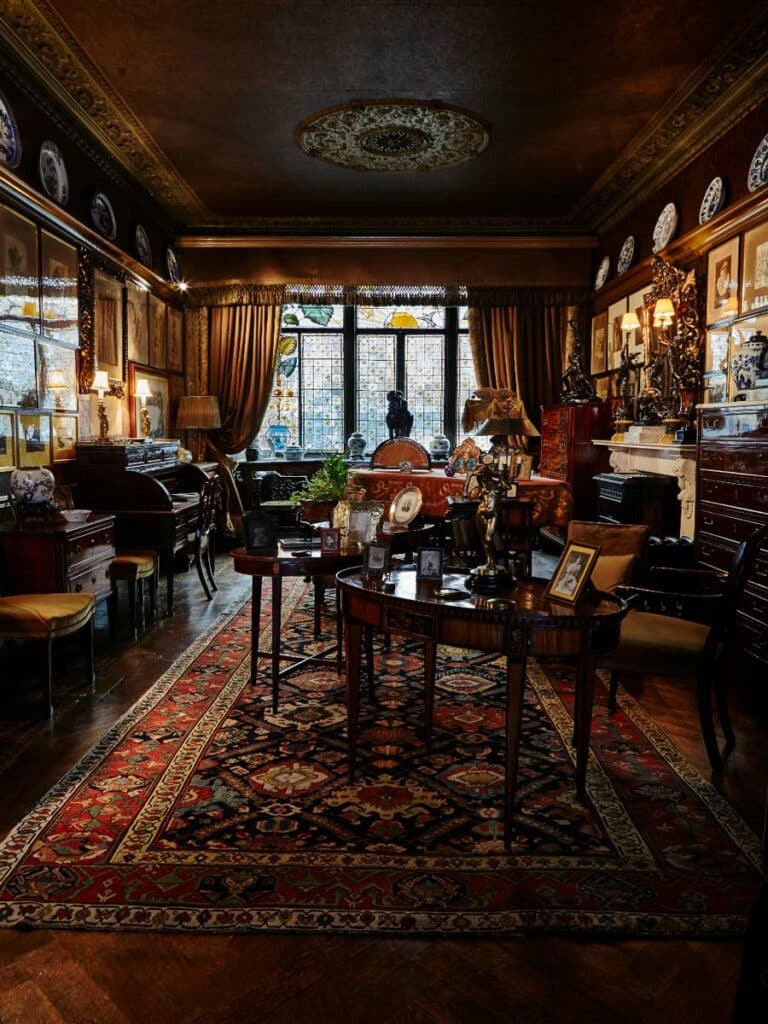 Initially preserved by Sambourne's children, Roy and Maud, 18 Stafford Terrace was eventually passed on to the Kensington and Chelsea council and was made a museum in 1980.
Thanks to the efforts of the Sambourne Children and their successive generations, the interior of Sambourne House is remarkably intact and largely in the same condition it was left in by Sambourne when he died in 1910.
Visiting Sambourne House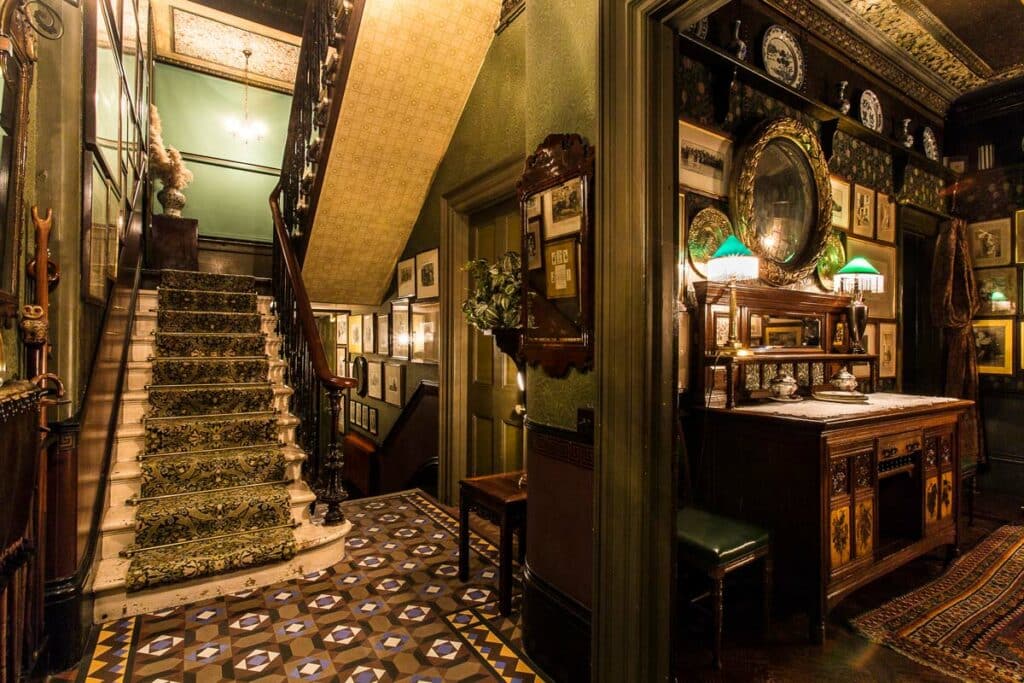 During a visit to Sambourne House, you will have the opportunity to leave your bags in a secure cloakroom before being presented with a short video introducing you to the history of the home.
After that, you will then have the choice to go on a guided tour in the morning or choose to explore the house yourself later in the day. We recommend the guided tour in order to make the most of the experience and learn the fascinating origins of the priceless treasures that the house contains.
We should also note that the house is currently not suitable for people with mobility issues due to the several flights of stairs. It can also get quite busy so we recommend buying tickets well in advance.
Sambourne House is known to be one of the most beautiful and well-preserved homes in London, and like Leighton House Museum, it is a time capsule to the past and a building of immense cultural value.
If you are a fan of interior design and history, or simply enjoy beautiful homes rich with character and detail, we highly recommend visiting 18 Stafford Terrace.
Sambourne House: Practical Information
The museum recently reopened after important restoration works.
Like its sister museum, Leighton House, it will be open Wednesdays to Mondays, 10:30am to 5:30pm.
We recommend spending the day in the adjacent Holland Park, perhaps visiting the famous Kyoto Garden and having coffee or tea in the beautiful café, followed by a sojourn at Sambourne House.
Sambourne House: Map