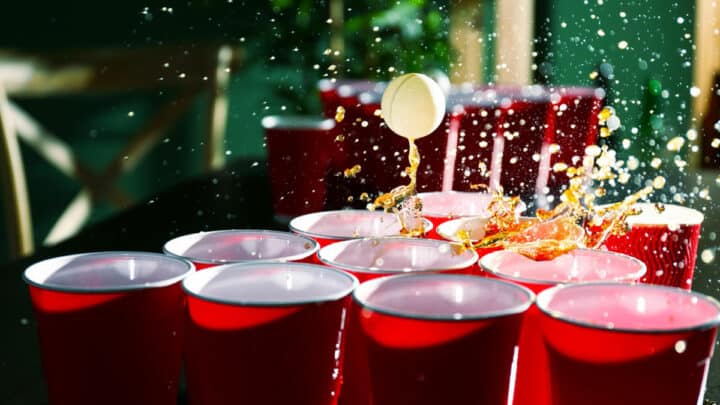 Looking for cool places to play beer pong in London? Look no further than these brilliant beer pong bars.
Ohh beer pong. Messy. Raucous. A whole lotta fun.
The rules of the table are easy: throw the ball and eliminate all your competitors' cups which, once you've landed the ball in their cup, they have to finish the entire drink!
Let's take a jaunt around London's best beer pong bars.
Where to Play Beer Pong in London
Lan Kwai Fong
Camden
Lan Kwai Fong is an East Asian kitchen & Bar serving a variety of delicious food along with a seriously good selection of drinks. The best part? They've got 3 state-of-the-art digital beer pong tables for you to enjoy.
Digital beer pong is available every day and you pay by the hour. All explanations are quite clear on the website, but you get 6 pitchers of beer or house spirits with mixers and hot mixed platters including in a bundle for 10 people.
Or you can pay per game, but it seems far more cost effective to get a big group together and get a bundle.
Belushis Hammersmith
Hammersmith
If you're looking for some good old fashioned fun with beer pong done the proper way, then Belushis is the perfect place. With plenty of drink deals, competitions and different DJ's playing, it's a party that really ramps up the game.
Included in your beer pong slot is a free jug of beer or cider, you can also decide whether you want to play for one hour or two hours. They also have great £5 cocktail deals along with student discounts and much more.
Sama Bankside
Southwark
Sama Bankside gives you your perfect beer pong fix. There's so much to enjoy at Sama from bottomless brunches, happy hours and of course – the best game in the world, beer pong.
The best thing about Sama is that they door beer pong with pizza every evening. So included in your booking, you can enjoy the beers to play with and a pizza to keep you going whilst you play. Beer pong is available from tuesday to Saturday so best to book early so you get the slot you want!
The Bermondsey Bierkeller
Bermondsey
The Bermondsey Bierkeller is a hub of games, from table tennis, pool, foosball, to traditional beer pong. This place seems to have it all when it comes to activities. And who doesn't love an activity whilst sipping on drinks.
In the Games Vault, you can also enjoy live sports games to electronic darts. The best way to book is to send them an email to book a game, or just speak to a member of staff when you get there to set up your evening of games.
They're also known for having delicious street food to serve and very good beer that's not overpriced. It's got our vote!
SINK – Paul Street
Shoreditch
Sink is a quirky Shoreditch bar custom-built just for beer pong. A bar purely created to enjoy the incredible game! This has to be one of the best places to play beer pong in East London. They have nine tables, american food and red cups everywhere. Want to live out your sorority and frat party fantasy? Now you can.
Sink has plenty of over offering such as bottomless brunch parties and prosecco pong if you don't fancy beer. Set across 2 floors, they've firmly established themselves as the leaders in beer pong. This isn't the cheapest place for beer pong, but it sure is the best.
GEM LDN- Play Haus Thursdays – Beer Pong Tournament
Soho
Want to up your game and fancy an actual real life beer pong tournament? Gem LDN's Play Haus Thursday's is the best evening of fun and games for you and your friends to channel you beer pong competitive streak.
There's plenty of different offerings like a happy hour that runs from 5 to 8pm but if you book, it can be extended right until 10pm. Dreams really do come true.
Bounce
Farringdon
Bounce is the home of Beer Pong. Now is your time to eat, drink, play and party all in one go. For groups of 2 to 500 guests, you can create amazing memories around the table with classic ping pong or high-tech interactive wonderball games.
The booking information is very easy on their website, for groups between 2-3 people you get 30 minutes and groups of 4 or more you get 60 minutes.
Trapeze Bar
Shoreditch
Competitive drinking is important at Trapeze Bar and they believe that there's nothing better to bring friends and enemies together than a good old game of Trapeze Bar.
Apparently it's etched in Circus folklore to settle any quarrel over the pong table, so whatever happens in your week – save it for the ping pong table.
You can also mix it up with Prosecco Pong. Lovely!
Practical Tips for Finding The Best London Beer Pong Spots
The holy grail of all tips is make sure you book beforehand. Bookings are essential, especially at the weekend!
Tables vary between £25 to £35 and usually it's better to book in a big group of people. Better value for money and it's a little more fun!
Check all the websites because most places have some fantastic other offers including happy hours and lot's more.
Beer Pong in London: Map
London Beer Pong Bars: Read Next