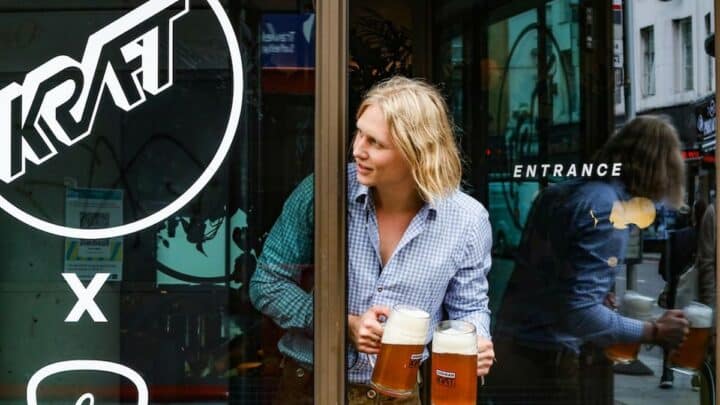 Prepare your Dirndl and Lederhosen: Oktoberfest in London is kind of a big deal.
The best breweries across the capital love throwing good old knees-ups throughout the month to celebrate German beer… and Londoners love attending them.
It can be tricky trying to cypher through all the random parties, but don't worry – we've gathered the hottest Oktoberfest events taking place this year for you. You're welcome.
Ready to shout PROST and boogie with a stein in hand?
Oktoberfest in London
Oktoberfest 2023 at Market Hall Oxford Street
21st October
This year Market Hall on Oxford Street is laying on quite the Oktoberfest bash, and guess what: you're invited. What does your invite entail? Well, there are the obvious offerings of enormous steins of German beer, but they're also doing street food stands of traditional Bavarian cooking to round off the experience.
Then, because no Oktoberfest would be right without it, there will be an Oompah band playing throughout the day, and once they've run out of puff, they'll be taken over by DJs. The performance element will be kept well and truly alive though, by the introduction of some live dancers for your entertainment.
The Bermondsey Bierkeller
16th September – 28th October
Can't quite make it to Munich for Oktoberfest? No need to get FOMO – Munich has arrived in London at The Bermondsey Bierkeller.
The atmosphere will be as authentic as it gets, with oompah bands, live DJs, a games hall, and of course, traditional German beer and heavy street food on offer.
You'll be able to choose between 6 German beers on draught, including the Hacker Pschorr Munich Gold that abides by the Reinheitsgebot (a.k.a the strict beer purity law) and the venue's own beer, the Bermondsey Bravo.
Festivities take place on Thursday, Friday and Saturday nights.
You can book your tickets here
Between the Bridges' Oktoberfest
22nd + 23rd and 29th + 30th September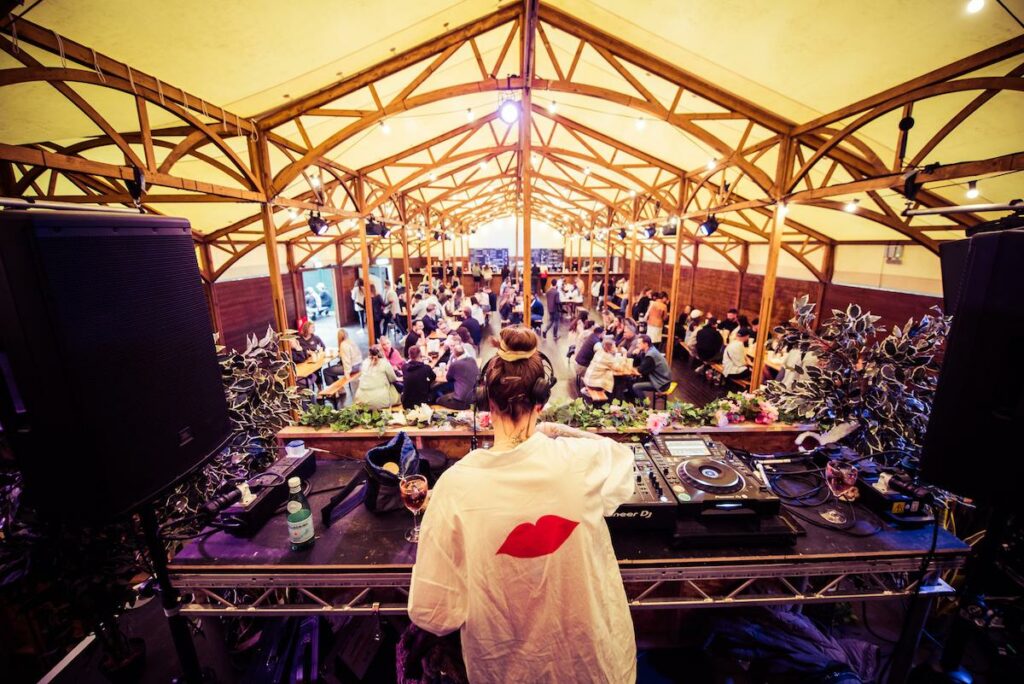 Between the Bridges' new venue, The Pier, is hosting a cracking Oktoberfest this year in London – and they're supplying all the beer and bratwurst you could possibly need.
But they're not keeping things strictly traditional, oh no no. The event will feature 10-piece drum and brass powerhouse Old Dirty Brasstards (hilarious – we love it), karaoke phenomenon Massaoke, and resident DJs Guilty Pleasures. It looks set to be one huge party.
Oh, and guess what? Your ticket includes a free beer stein. Happy days indeed.
London Bierfest
19th + 20th October
Get ready for the ultimate London Oktoberfest celebration in the City of London this October, as London Bierfest promises steins, sausages, pretzels, and more.
Old Billingsgate will be the home of this epic celebration across two days, in which you'll get to take part in traditional table dances (shouting oompah is non-negotiable) with The Bavarian Strollers as you sip a Bavarian beer.
There'll also be acrobatics performances, a charismatic host named Eva Von Schnippisch and live bands to act as the soundtrack to the party. Come hungry and chow down on a bratwurst or two.
Wunderbar Oktoberfest at Pergola Paddington
28th September – 31st October
The flower-adorned Pergola Paddington has transformed, yet again, into the German beer and Bavarian food-serving Wunderbar. After a stellar few seasons, this year's Oktoberfest celebrations look set to be even better.
Throughout the month, you'll be able to gorge on German comfort food, Oktoberfest cocktails, and the Wunder Beer, courtesy of Camden Town Brewery.
Live oompah bands and DJs will be on hand to liven things up, and you'll even have the chance to be crowned the Beer King or Queen of Wunderbar.
Grab your tickets here – prices vary.
Oktoberfest South London at Electric Brixton
14th + 21st October
Electric Brixton is pulling out all of the stops with their largest Oktoberfest celebration to date. The venue will be totally transformed into a Bavarian beer hall, with long wooden tables and bunting really adding to the traditional vibe.
Plenty of beer and sausage is a given, but attendees will also be treated to live music from the likes of The German Jukebox and DJ Danny Vito. The events will run from 1pm until 8pm, so bring your stamina and your best (terrible) German accent and get ready to party.
Oktoberfest Boat Party
8th October
Fancy something a little bit different? Climb aboard a private Oktoberfest party boat and float through the historic Docklands sipping on beer and putting away traditional German food as you go.
Each guest gets a two-pint Steiner of German beer and a traditional bratwurst dinner. The boat ride lasts for one hour and afterwards, you get prime seats at Munich Cricket Club to continue the fun.
Tickets price varies – Book here
Kraft Dalston Oktoberfest
14th + 16th October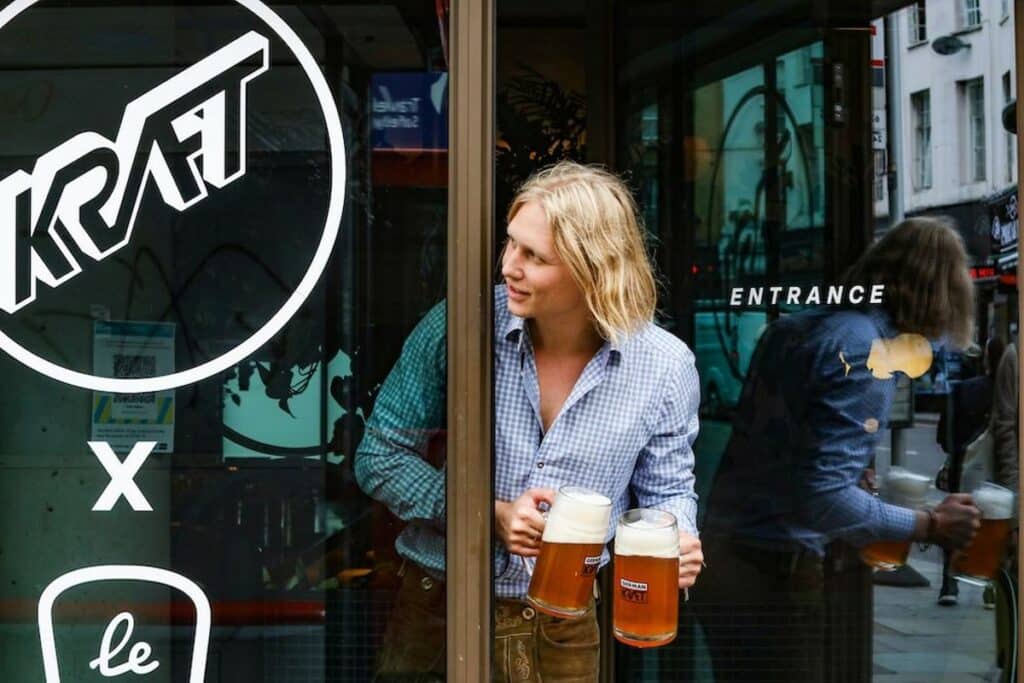 Kraft Dalston may have been a relative newbie in the London beer scene, but their Oktoberfest last yeat was pretty legendary. And they're back in 2023. Expect steins of German-style beers, all brewed to perfection – and more importantly, in accordance with the infamous beer law.
Excited? You should be. They've set the whole venue up to give off a total traditional Oompah Bavarian Village vibe.
Music during the day will lean towards classic 80s German tracks – think 99 Luftballons – and the evening sees the venue transform into a mini Berghain, with German techno providing the late-night soundtrack.
Tickets are free and can be booked here.
London Oktoberfest
Weekends in October
If previous London October events are anything to go by, you do not want to miss out on this. These folks roam the city, popping up for weekend-long Oktoberfests in some prime locations, and doing the festivities right.
Tents will be erected all across Central London and transformed into pop-up beer halls. You'll be able to dance along to oompah bands as you swig beer and enjoy a bratwurst… The ultimate Oktoberfest in London experience.
Reserving a seat costs just a fiver – book your tickets here.
Bierschenke Spooktoberfest
30th October
As one of the best German beer halls in the capital, it's only right that Bierschenke's Liverpool Street location is hosting the ultimate Oktoberfest celebration – but this time, they're mashing it with Halloween, in what might just be the best combo ever.
Traditional bunting will line the authentic beer hall, and delicious beers will be on tap alongside some Oktoberfest specials. A live oompah band will be making their way around the hall, with the party atmosphere lasting until late into the night.
Oh, and wear your best Halloween costume for the chance to win a prize.
Tickets are free but you'll need to book a table.
Munich Cricket Club's Oktoberfest Celebration
16th September – 31st October
With festivities already well underway, Munich Cricket Club's Oktoberfest offerings are usually some of the best in the city.
The festivities take place at both their Canary Wharf and Victoria and Tower Hill locations on Thursdays, Fridays and Saturdays with live music, big steins of beer and dancing on tables not only permitted but actively promised.
The vibe is always great and the food, toothsome – they do a great menu of German classics to line the stomach with before plying it with yet more good German lager.
Oktoberfest in London: Practical Tips
Some of these venues will be running multiple Oktoberfest celebrations throughout the month of October. Check with their websites for the full details and find the dates that are most suitable for you and your gang of beer lovers.
If you prefer the culinary side of the German tradition, check out these great German restaurants in London. Some of them will likely be offering some Oktoberfest deals of their own, though probably leaning more towards bratwursts than bier.
If you're super keen, make sure you book your tickets in advance. These events will sell out, especially around the weekends – you don't want to miss out.
Oktoberfest in London: Map