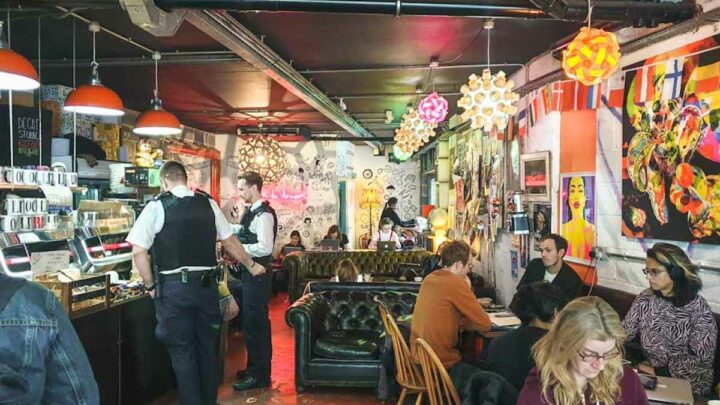 Looking for the best coffee shops in London Bridge? Don't miss our guide to the spots serving up the perfect brew – not a watery burnt coffee in sight. Pinky promise.
Finding great coffee near London Bridge station has become a lot easier in recent years thanks to a slew of cool indie coffee shops opening up in the area. These are the ones you shouldn't miss.
The Best Cafes and Coffee Shops in London Bridge
London Grind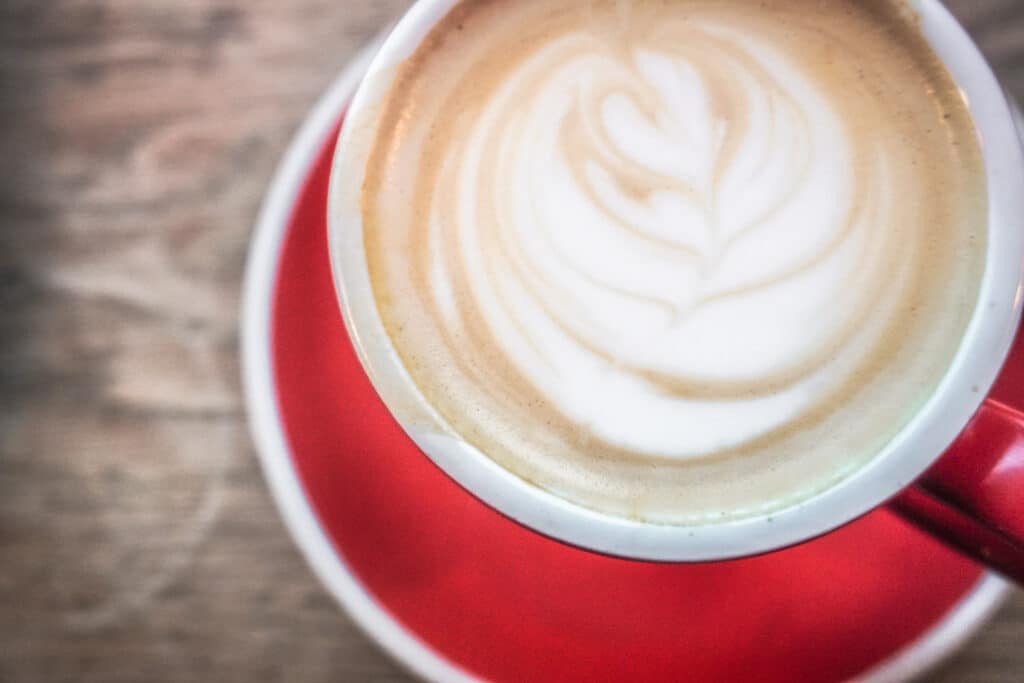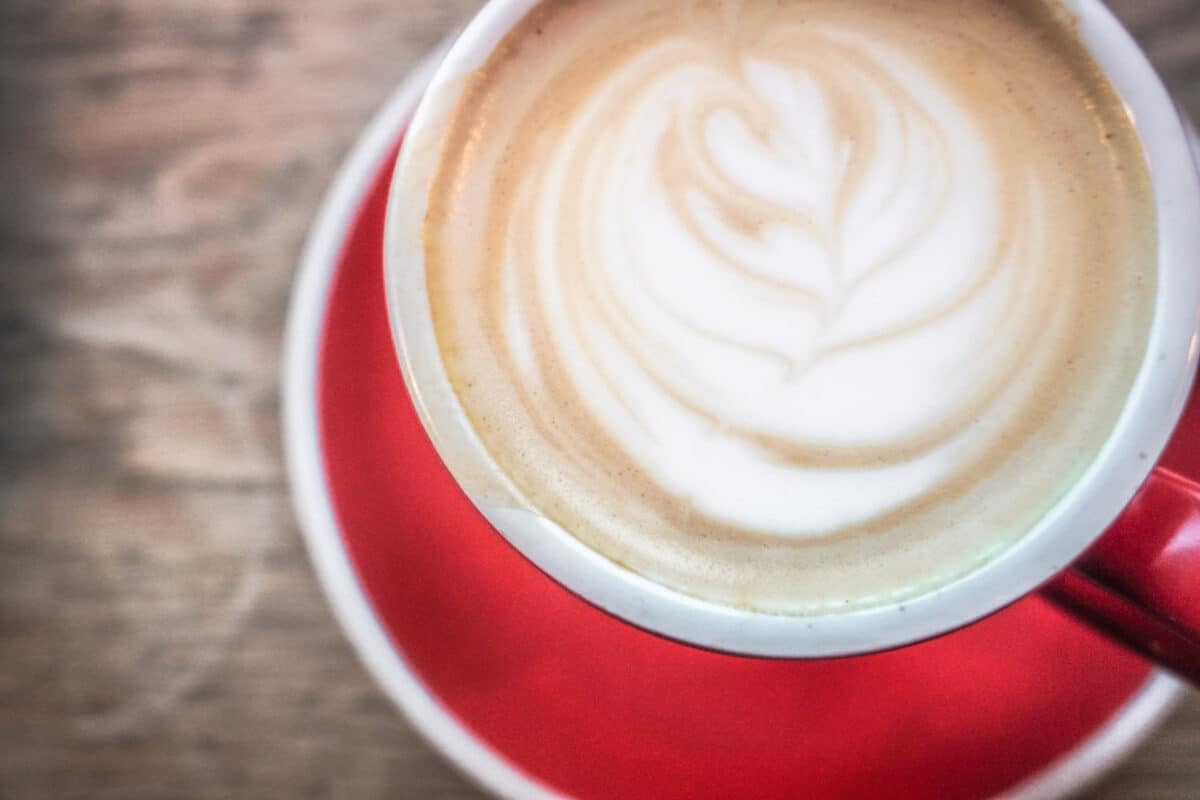 "When a man is tired of London, he is tired of life", or so says the bright neon sign on the wall at London Grind, a much-loved London Bridge cafe.
The London Bridge offering is one of many Grind & Co shops that have opened over the last few years. While many a good coffee shop has lost its way (and its personality) as its brand has grown, Grind & Co. has remained steadfastly true to its values.
That's great coffee, a full (and delicious) food menu, as well as friendly service. In particular, London Grind offers one of the best menus of any coffee shop in London Bridge, with delicious options like prawn tagliatelle and stonebass with wild mushrooms.
There's also a selection of tasty sharing platters if you can't decide on just one thing.
The London Bridge location doesn't hurt, either. Located next to Borough Market and steps from the bustling riverside, you couldn't ask for a much more central location than this coffee shop. It's one of the best choices of the cafes near London Bridge Station.
While many of the coffee shops in London Bridge are aimed at the 9 – 5 work crowd, London Grind has extended opening hours that see it keeping the doors ajar until midnight Monday to Thursday, and until 1am on Fridays and Saturdays.
Their coffee is good any time, but their espresso martini is also a good late-night choice (just saying).
Read Next: Cool Bars in and around London Bridge
F*ckoffee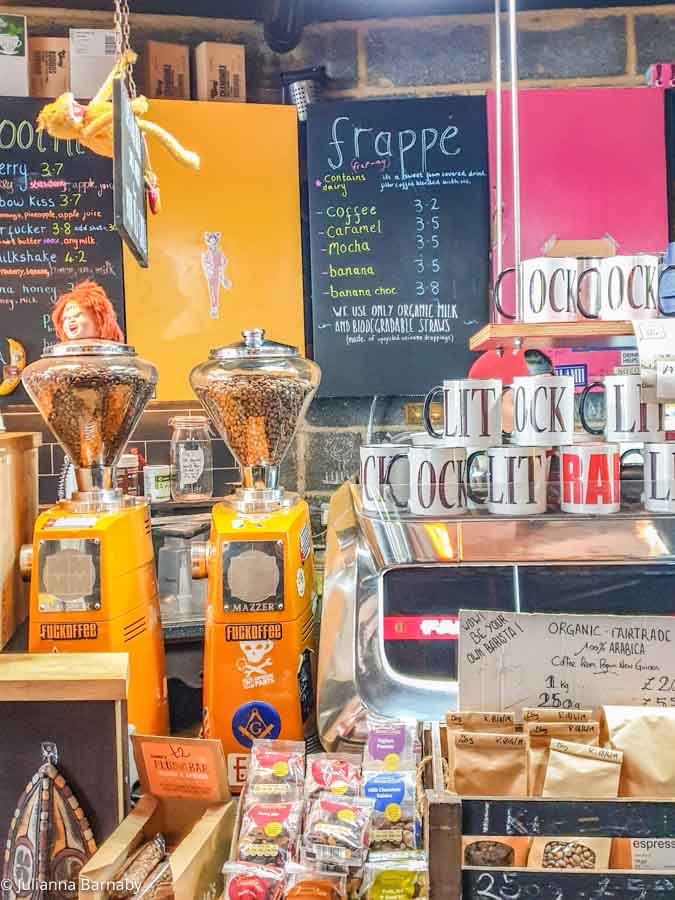 It's got a name you're not likely to forget in a hurry, and the coffee is pretty memorable too. Fuckoffee is definitely one of the best – and maybe the most unique – London Bridge coffee shop.
While the name might sound on the brash side, it's actually an incredibly welcoming place. Not only are customers greeted with a smile, but bikes and pets are welcome too.
Inside, the decor is best described as "quirky" or "eclectic", with an explosion of neon signs, murals, film memorabilia and more plastered all over the walls. The seating situation is comfy and approachable.
Forget coffee snobs or uber-minimalistic decor; this place really doesn't take itself too seriously and is filled with quirky objects.
As you may imagine this coffee shop opened to quite some controversy with its name. However, perhaps unsurprisingly, concerns were met with only minimal care factor from the owners, who begrudgingly did agree to change their sign to "F*ckoffee" to avoid being sued.
We think you'll agree that we all love a bit of a rebel and Fuckoffee's devil-may-care attitude has only seen Londoners embrace it all.
We definitely recommend grabbing a coffee from here – they serve one of the most extensive coffee menus in the city – there's pretty much no style of coffee that isn't covered, and covered very, very well.
Read Next: Unusual Places to See in London
Monmouth Coffee
There are a lot of reasons why Monmouth Coffee in London Bridge is a real standout coffee shop, not just in the borough, but all over London.
The company has been roasting coffee for more than thirty years, meaning they've gotten really good at it. However, it's not just the quality of their coffees that makes Monmouth a particular favourite.
This coffee shop chain championed the cause for fairtrade and sustainable coffee, long before it was the cool thing to do.
They continue to put significant effort into getting to know the companies – and the people – all the way down the supply chain. They want to know as much as they can about who made the coffee and how they did it, so they can ensure the quality of the beans, and also that people are treated with respect and fairness.
It's a guiding principle that applies to how Monmouth Coffee interacts with everyone it encounters, from customers to suppliers.
As Monmouth Coffee roasts their own beans, the quality is excellent. As well as serving up delicious coffee by the glass, they also sell retail and wholesale beans. They'll even grind it for you ready to use for your morning coffee.
While you might be able to recreate the taste at home with their roasted coffee beans, it's the atmosphere that brings you back time and time again. The simple, classic design makes a bright and airy space where you can enjoy coffee that's served with a big smile.
The Watch House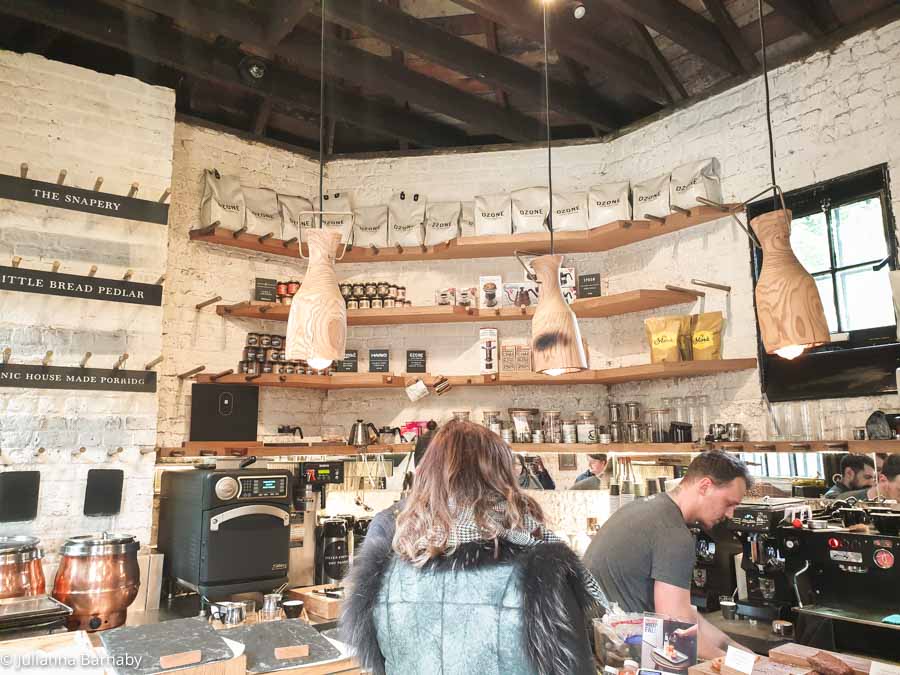 While today London Bridge is a tourist and business hotspot, its past is far more industrial. Due to its riverside location, the area came to be a merchant hotspot where goods from clothing to exotic spices were imported and exported.
It is this kind of history that gives London its edge, and doesn't The Watch House know it. When designing and planning their coffee shop, they were careful to incorporate this history into its fabric, and pay homage.
The result is an industrially-inspired design that features thoughtful elements such as acid-stained polished concrete which is a nod to the once salt-stained dockyards.
While the industrial vibes are plentiful, the cafe is also warm and inviting. It's a great space to meet up with friends and family, or just to check out on your own. As well as the delicious coffee, there's also a modest selection of meals including sweet and savoury pastries.
The emphasis might be on tea and coffee, but there are also a few choices to keep you happy if you're in the mood for something a little heavier. There's a small bar, and the espresso martinis are a particular delight.
Petit Bleu
There's plenty to love about this London Bridge cafe. Petit Bleu interior boasts warm and cosy vibes, and in harsh opposition to the hipster coffee joints that seem to run most of the scene these days – comfy seating.
And the good times don't stop there. An enclosed back garden with plenty of greenery makes Petit Bleu a delightful spot for a bit of lunch on a sunny day. That and their sandwiches. £3 a pop and so good you can't help but grab one.
Three Wheels Coffee
Within the glitzy No.1 office building, you'll find Three Wheels Coffee serving up delicious blends. While it's quickly become the nearby professionals' cafe of choice, it's certainly not your average choice amongst the corporate coffee shops near London Bridge Station.
This London Bridge cafe is the result of the owner's enthusiastic and unbridled enthusiasm for everything coffee related.
This passion developed during an extended stay in South America, learning about coffee and its production, tastes and subtleties. Becoming borderline obsessed, owner Rory returned to London with a plan to create the best coffee in London Bridge.
He began by selling coffee that was roasted on the back of his custom-built tricycle – hence the name "Three Wheels Coffee".
Eventually, Rory and his tricycle were able to build up the necessary funds to open one – and then two – brick and mortar coffee shops. Still, their ethos and commitment to amazing coffee remained the same.
One of the biggest selling points of Three Wheels Coffee is that it has an exclusive arrangement with the coffee roasters Assembly, meaning fresh and unique beans are served up daily.
The London Bridge store is open from 7:00am – 2pm, Monday to Friday, so it's perfect for a mid-morning pick-me-up.
Lantana
Lantana opened with the aim of bringing a little bit of Australia to the capital, and they've certainly succeeded in creating a cheery, laidback London Bridge coffee shop.
Lantana's design is light and airy, with a breezy and unpretentious feel. Wherever possible, they've kept the building's 18th-century features, to add in a little bit of extra charm.
The coffee is excellent, of course, and there's also a great menu. As is common Down Under, the menu blends all different flavours and cuisines in order to create something unique and very, very tasty.
The lamb kofta is delicious, while it wouldn't be an Aussie-inspired cafe without serving up smashed avocado, aka the national brunch of Australia. There's also a generous selection of vegetarian and vegan dishes to boot.
The team at Lantana believe that eating at a cafe is an experience to be truly enjoyed, and as such they've spared no effort with their London Bridge offering. Both the food and the coffee are excellent, but it's the friendly vibes that will keep you coming back.
The Gentlemen Baristas
While many coffee shops near London Bridge have borrowed heavily from our neighbours across the pond, The Gentlemen Baristas is distinctively British. That is, they have very, very good manners.
In fact, serving up politeness with their coffee is a core part of their business ethos; this is the kind of place you could take your Nan – they might even open the door for her. Some might call it old-fashioned, but it's a nice point of difference in busy London.
As well as good manners and delectable coffee, the Gentlemen Baristas also serve up a tasty menu. As you may have guessed, the emphasis is on tried and tested favourites such as cheese platters and charcuterie boards.
They're ideal for sharing, so this is a great place to catch up with friends after work, or spend a long and lazy afternoon enjoying the food, drinks and chats. If you go on your own, you'll be warmly welcomed and may even strike up a chat with the staff.
If you love the coffee so much you want to recreate it at home, you're in luck. They also sell retail and wholesale beans, or you can even do an informal class at their coffee school. Unfortunately, it's not at the London Bridge cafe, but rather in Fitzrovia.
There are a couple of Gentlemen Baristas in London Bridge – Bermondsey Street, Flat Iron Square and Vinegar Yard.
Harris + Hoole
If you take your coffee seriously, there are plenty of places on this list that should stand out. One of them should be Harris + Hoole. You might have seen their other outposts around the city, but their reach doesn't stop there.
They work closely with their bean farmers to ensure that the people at the first step of the supply chain get paid well and farm sustainably. 5p from every cup of their filter coffee goes to helping these farmers improve their farming techniques, buy better equipment and diversify their crops so they're not only reliant on coffee for income.
They also just make really good coffee.
Crol and Co.
Trust London Bridge to have a super cool coffee shop turned bar inspired by a love of antiques.
Crol and Co is the brainchild of Vanessa and Nico, who took a punt on opening a Bermondsey coffee shop and soon after opened another in London Bridge. Their quirky cafe is a culmination of everything they enjoy: great coffee and vintage items.
It's not hard to spot the cafe's metro tile-esque facade, and on weekends you'll only need to follow the hordes of cyclists who make a pitstop here.
FCB Coffee
We ummed and ahhed about including FCB Coffee in this London Bridge coffee guide – they have very limited seating, but their coffee is so delicious we figured you wouldn't mind too much.
As you would expect, FCB deeply cares about the coffee they serve: Trailblazer is their house blend, roasted by PLOT using new and innovative methods to create coffee that's a little bit different. But all kinds of delicious.
When they first began trading in 1998, their aim was to provide high-quality coffee to commuters on the go – none of this bitter water nonsense that seems to have a ten-second grace period of when it's not either scalding hot or ice cold.
London Bridge Coffee Shop Map