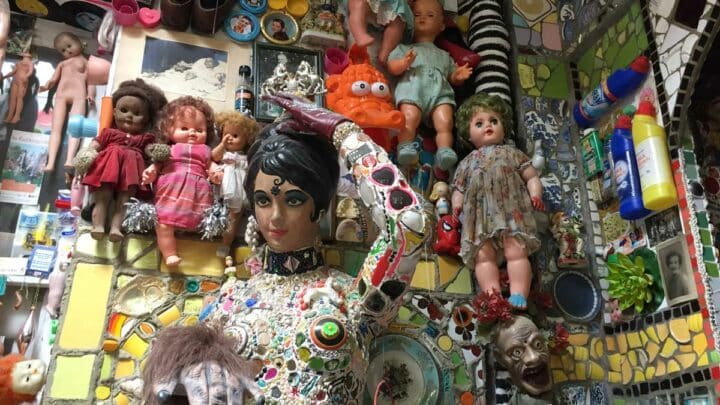 Stephen Wright's House of Dreams deserves its place amongst London's other hidden gems. Here's what you need to know about this quirky home in South London.
Words by Olivier Guiberteau
Bizarre, eclectic, and sometimes a little creepy: Welcome to one of London's most unique art exhibitions.
Stephen Wright's House of Dreams, located on the ground floor of a three-bedroom Victorian house in East Dulwich, is an art project quite unlike anywhere else in this city – itself known for pushing the boundaries.
Here's what to know before you visit.
Why Visit House of Dreams?
With the likes of the Tate Modern, the National Gallery, and the Royal Academy of Arts – to mention just a few – London certainly isn't short of places to see world-famous art. And don't get us wrong, all excellent choices, but sometimes you need something different. Very different.
The House of Dreams was created by artist Stephen Wright, who lives on the floors above this multifarious collection of weird and wonderful oddities, has been evolving since 1998 and has become one of the capital's more peculiar, yet wildly interesting, art projects to keep you fascinated for hours.
Walk around this outlandish wonderland and you'll come face-to-face with dolls, mannequins, and mosaics. And just about every inconceivable item that, on its own, would be uninteresting – but all together creates a visually trippy experience that will leave you with plenty more questions than answers.
The Story Behind House of Dreams
At first glance, the House of Dreams may appear like the brainchild of a person who has taken eccentricity to previously unimaginable heights. But behind the truly extraordinary facade lies a touching story that combines love, loss, anger, and plenty of fun.
The friendly face behind the House of Dreams is Stephen Wright, an artist and designer with more than 30 years of working first in textiles, and then running his own design company.
For nearly ten years, Wright's own stationery company sold his self-designed products to some of the biggest names around. But, by the mid-90s, he had become disillusioned with the industry and was looking for a new challenge.
Outsider Art Inspiration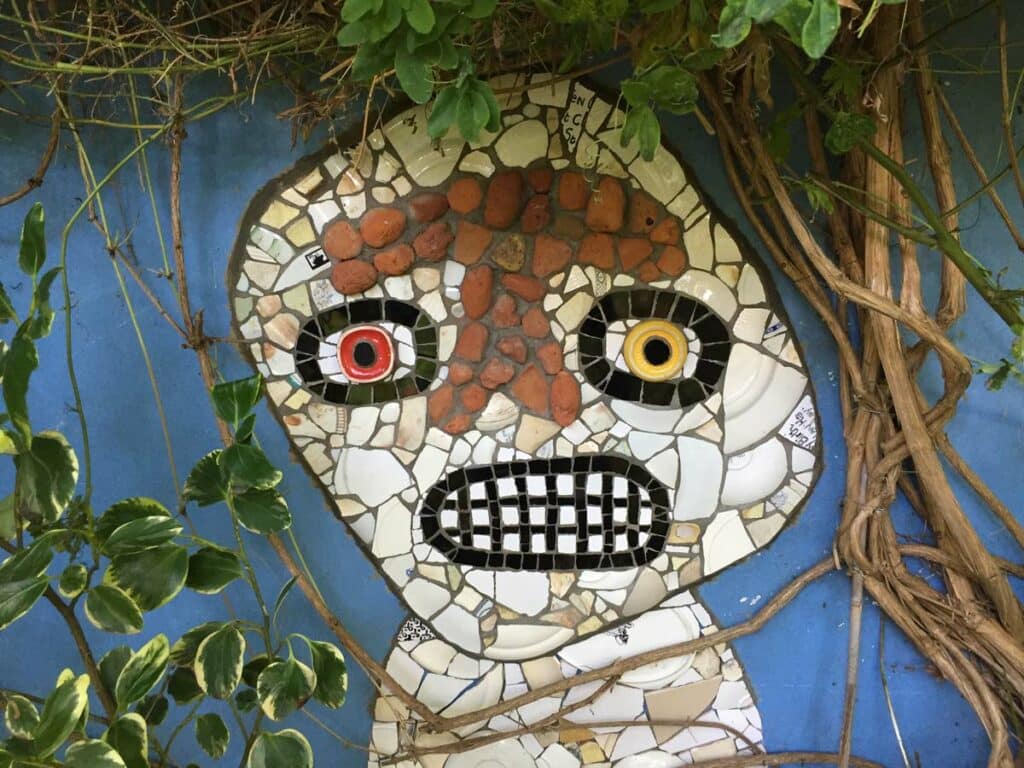 In 1998, after watching a television series on outsider art, Wright was inspired to begin work on a project that is still ongoing to this day and which would eventually encompass the entire ground floor of his home along with the garden – the House of Dreams Museum.
Outsider art is gloriously expansive but typically includes pieces created by those considered well outside the mainstream. Often in private homes or public places, the art form is closely associated with unconventional ideas, extreme mental states and, at times, worlds that border on the fantastical.
If you've never experienced outsider art up close and are yet to visit the unassuming house at 45 Melbourne Grove, which Wright purchased in the 1980s for just £49,000, then you're in for a real treat.
After visiting countless outsider art locations, Wright began putting together his unique vision – starting with a mosaic face on the floor which was completed with the help of his then-partner Donald.
Little by little, items, artwork, and just about anything that took his fancy began appearing at his home. The House of Dreams was coming alive.
Devastation Struck the House of Dreams
Then came the pain. Just two years after work began at 45 Melbourne Grove, Donald passed away and his death was quickly followed by both of Wright's parents.
Suddenly, the House of Dreams evolved into a vehicle to help him process his grief. He created artwork out of some of his parent's clothes, while murals and diary-like panels that spoke of his pain and the need to move forward began appearing – all of which can still be seen today.
Walking around the house it's easy to see it as a bizarre jumble-sale of weirdness, but peer closer and you'll see it's filled with heart, passion, and yes, plenty of oddities. Everywhere you look you'll be intrigued, fascinated, and perhaps even a little unnerved.
The many dolls that hang throughout the museum have more than a slightly creepy edge to them, but together as a whole, the many thousands of items that have been collected by Wright (or sent to him from around the world) fuse together to create a unique art experience.
Quirky and Wonderful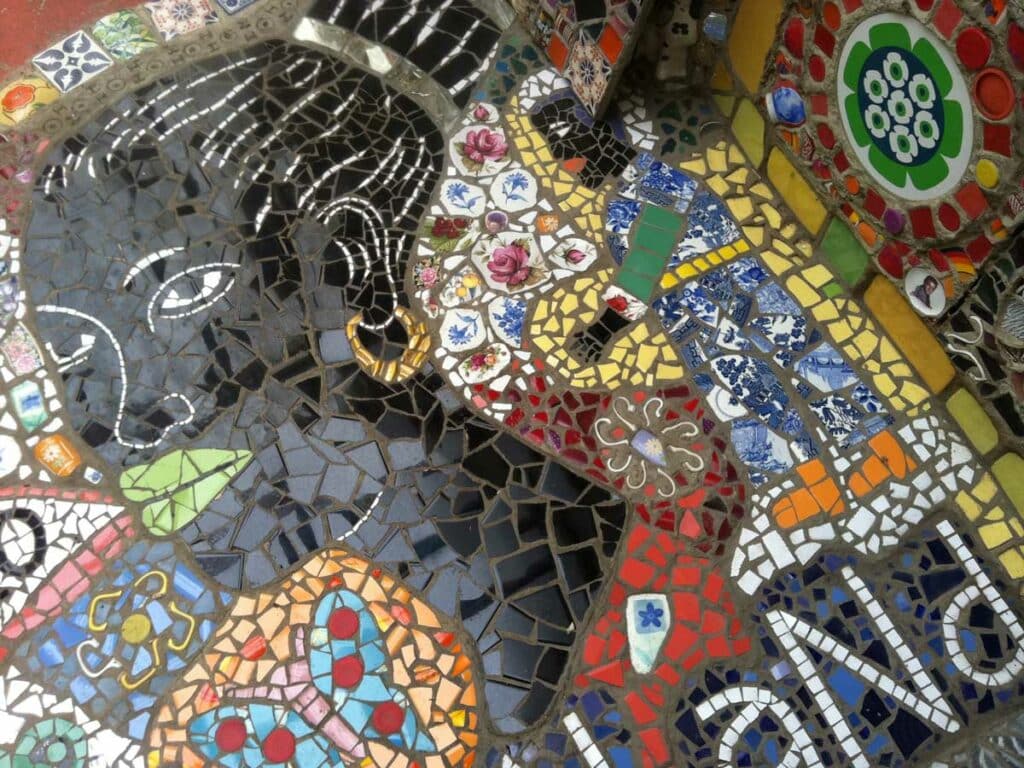 The House of Dreams has been open to the public for 8 years now but with only a single day available per month. So it's not always the easiest place to get into. Tickets are limited but do include a tour with the creator himself, who is more than happy to explain his glorious life's work.
As we said at the beginning of the article, London isn't short of places to see art. But nowhere – and we really mean nowhere – comes close to providing the same kind of experience as you'll find in the House of Dreams.
We're often constrained by what we have been told is 'normal' and 'beautiful' – but at 45 Melbourne Grove, you can throw all of that out of the window.
This is fun, fascinating, shocking, creepy, moving… And just about every other human emotion we are capable of. This is art with a real difference and we'd love to see more of it.
House of Dreams: Practical Information
Address: 45 Melbourne Grove, East Dulwich, London SE22 8RG
Opening Times: House of Dreams is open once a month – spaces always fill up fast.
Tickets: £12 for adults, £7 for students
House of Dreams London: Map
Read More London Art + Culture Guides