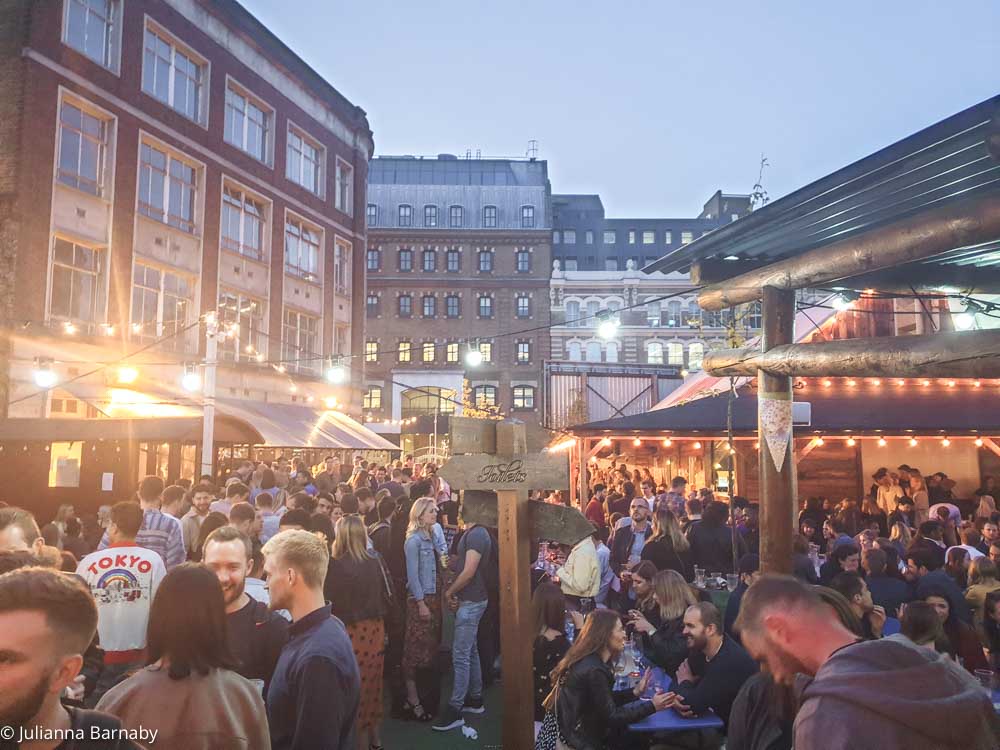 Flat Iron Square is one of London's coolest spots – with open-air bars, tasty street food and a cool music venue to boot. Here's what you need to know before you go.
A short hop away from London Bridge, Flat Iron Square emerged onto London's social scene in 2016. Bars, restaurants, a music venue, street food stalls AND outdoor seating tucked away in a series of previously disused railway arches and a listed building in Borough?
It was always going to be a winning combination.
And win it has. The music venue, Omeara, hosts some of the best gigs and club nights in town. The food stalls are packed, night after night. The tables, indoor and out, are filled with people eating, drinking and making merry – there's even a festive Christmas market at the right time of year.
In short, it's been a raving success and I've found myself swinging by with increasing frequency in the past year – well, until March hit and it has been closed ever since. Great news is – it reopened yesterday, with social distancing measures in place and bookable tables.
Take a peek at what to expect when you go.
Please note – I photographed this article prior to lockdown. Flat Iron Square have implemented social distancing measures for their reopening.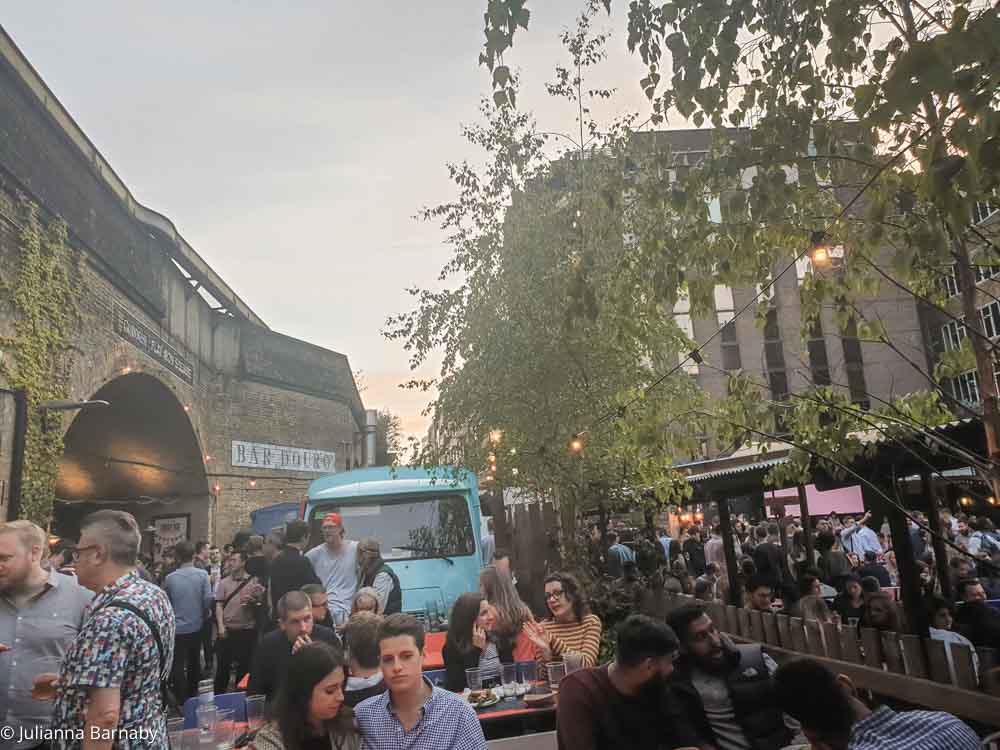 Bars at Flat Iron Square
Tap & Bottle
If you like wine (for the record: my hand is firmly in the air) Tap & Bottle is about to become one of your new favourite drinking holes in London Bridge.
The Georgian building setting and decidedly unfussy decoration sets the scene of a drinking den of times past but this wine taproom has its foot firmly in modern times. There's the wine of course – served on tap it's more efficient, has less wastage and is more eco-friendly. It also just so happens to be delicious.
Food at Flat Iron Square
Mother Clucker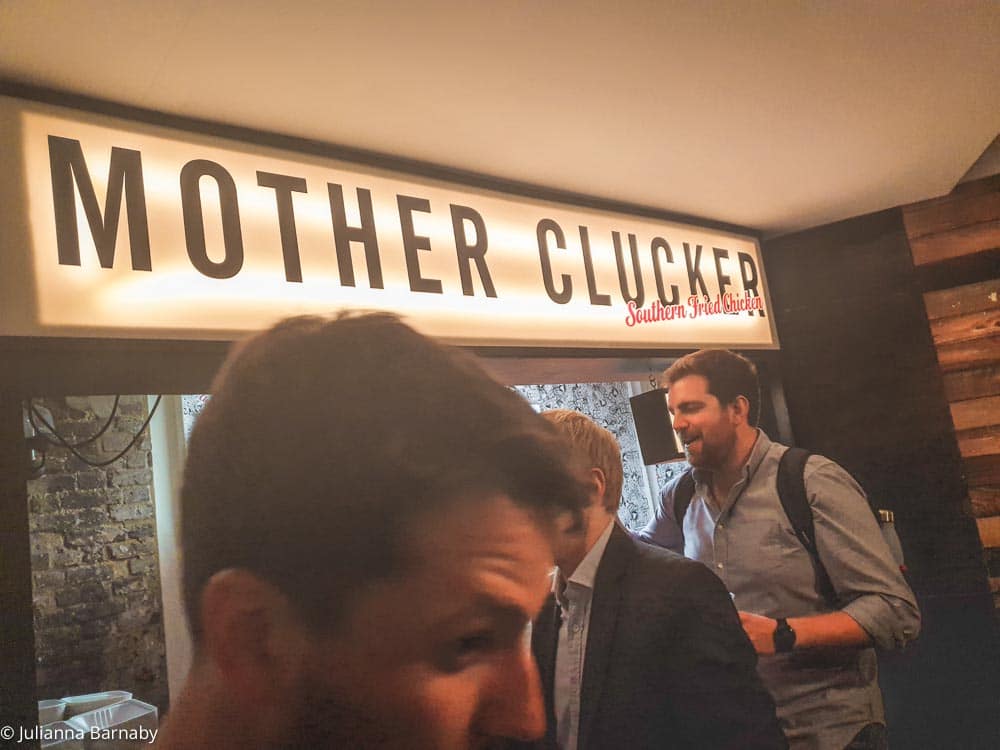 Gourmet fried chicken that should really just adopt the slogan "KFC ain't got nothing on me" and be done with it. Crispy crumbled chicken comes with a range of deliciously inventive sides – its fried chicken, but not like you've had it before.
Cantina Carnitas
Hoover up the award winning street food from Mexican eatery Cantina Carnitas. They describe it as a Mexican street food adventure – I'd describe it as a total must for anyone in love with spicy Mexican flavours.
Bar Douro
Bar Douro has been making a bit of a name for itself with its small plates dishes hailing from (yep, you guessed it) the Douro Valley. Gorge yourself on the punchy dishes, bursting with flavour and wash it down with some excellent Portuguese wine.
Baz & Fred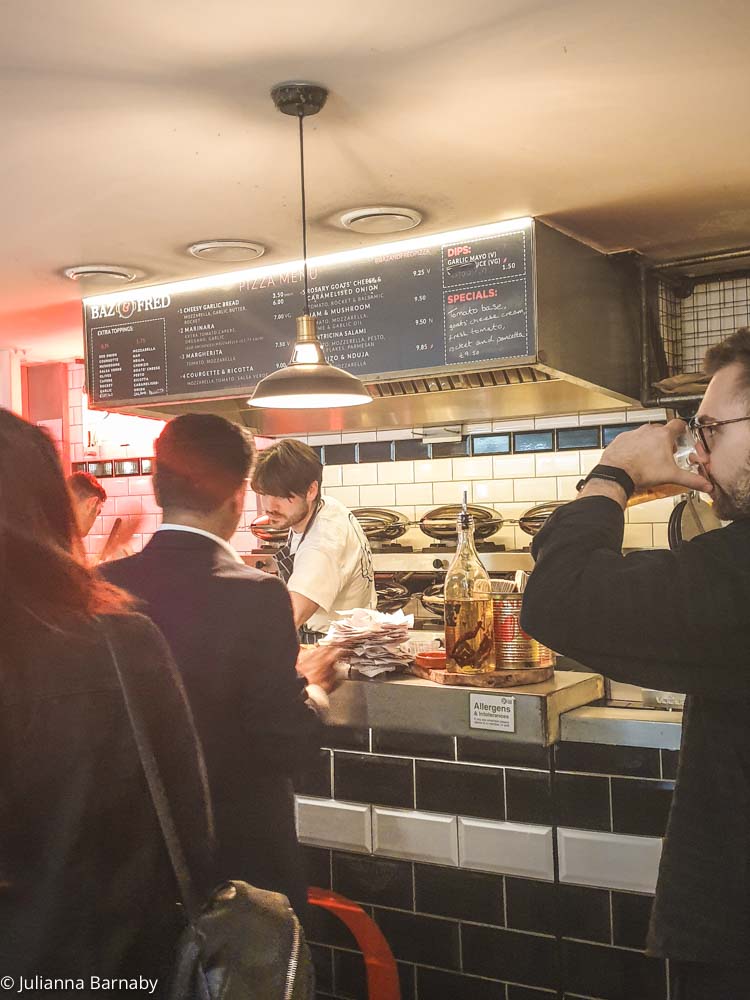 No self-respecting street food market could show its face without a skilled pizza crew serving up smoking hot stone-baked pizza. Flat Iron Square's comes in the form of Baz & Fred, whose pizzas are some of the best in town.

Savage Salads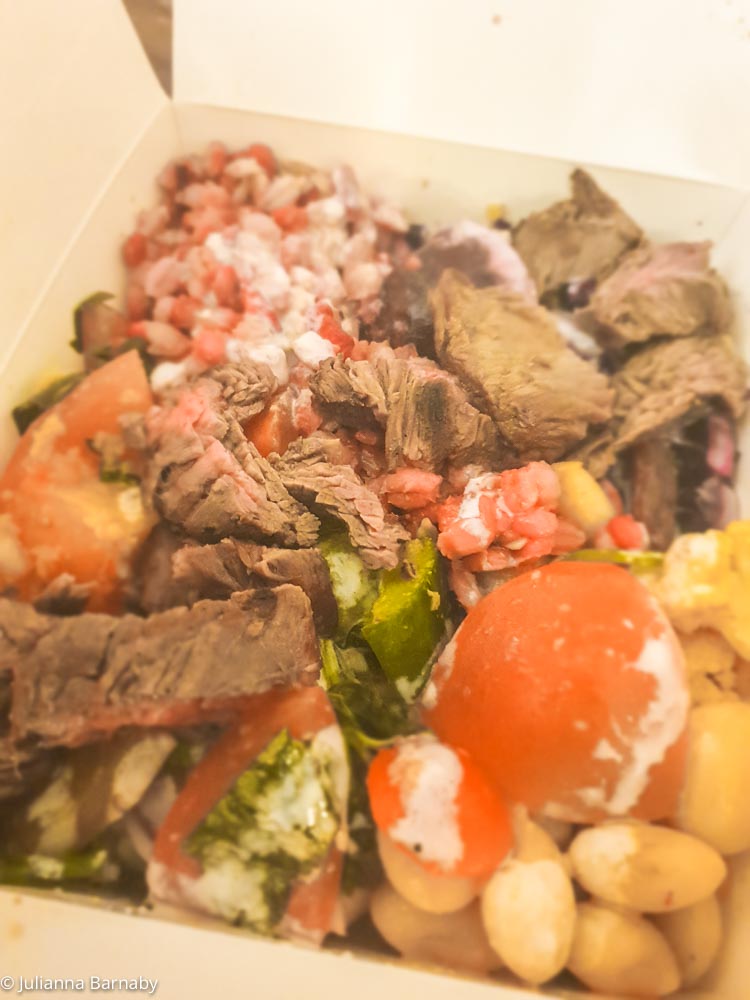 I hear what you're thinking… How exciting can a salad be? Err, turns out pretty exciting – Savage Salads have perfected the art of creating filling and healthy salads that are also damned tasty to boot.
Bittenclub: The Vietnamese Eatery
If you've never succumbed to the delights of Vietnamese food, you have a TREAT in store for you at Bittenclub. If you have, you'll be able to take a guess at how good the food at this stall is – there's Banh Mi of course, along with a roster of crunchy salads and zingy dishes.
EDū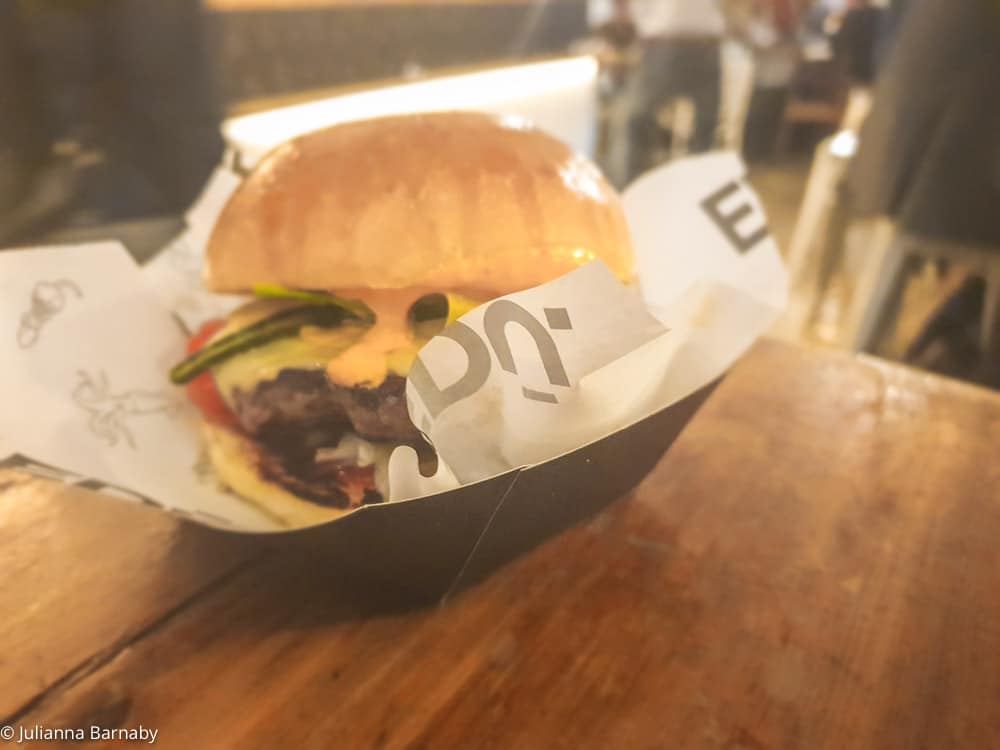 EDū might be all about Spanish cooking techniques but the menu on offer has a distinctly international twang. Take their absolutely banging burgers as an example – expertly crafted, they put many of the city's burger joints to shame.
Ekachai
Expect pan-Southeast Asian street food at this cool stall. Expect robustly-flavoured dishes straight from the hot wok and you won't be disappointed.
The Gentlemen Baristas
You'll find a few branches of London Bridge coffee shop The Gentlemen Baristas dotted around – they all have one thing in common… serving up pretty awesome coffee and freshly baked goods to go with.
La Nonna
Dollops of perfectly-made fresh pasta "Nonna style" – literally – the menu was inspired by Chef Daniele's own grandmothers recipes – Creamy wild mushroom tagliatelle? Papardelle with slow cooked ox tail ragu? Yes please.
Where The Pancakes Are
Our continental neighbours realised many centuries ago that pancakes aren't just for pancakes day but us Brits have been a bit slow on the uptake. Where the Pancakes Are founder Patricia Trijbits is bringing the revolution to London with her piles of steamy and delicious sweet and savoury pancakes.

Tatami Ramen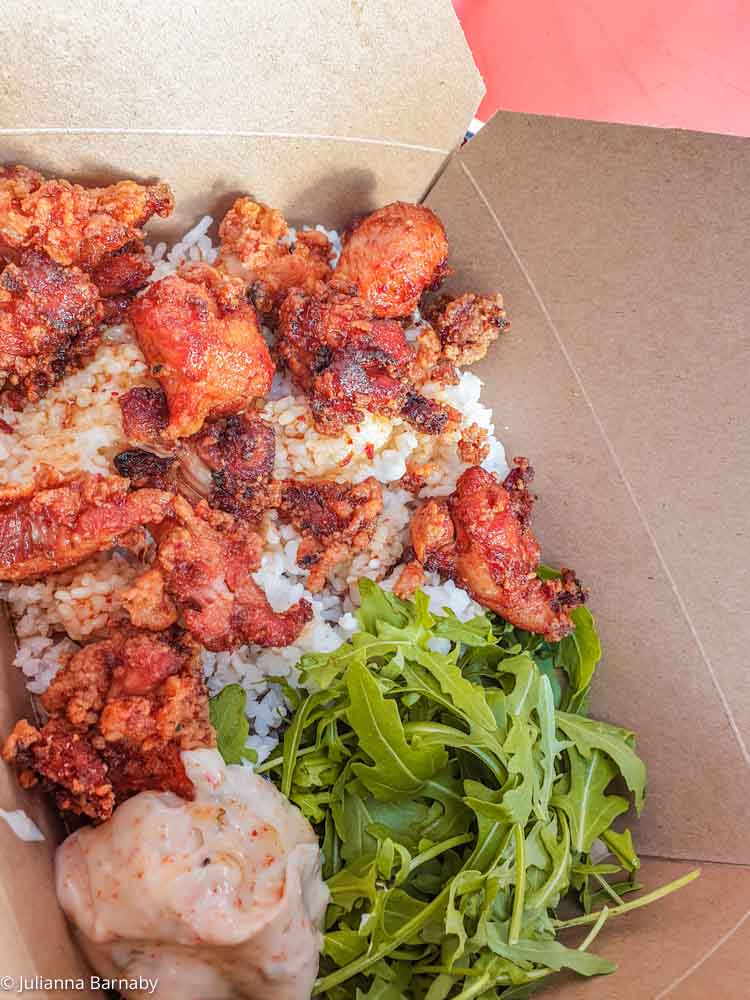 Is it the best ramen in town? Its amongst stiff competition but Tatami's ramen is exceptional – with a rich broth and silky smooth noodles punctuated with your protein of choice.
The Bar
It's not that difficult to imagine the premise behind 'The Bar' – yes the beers are great (for the wine I'd pop up to Tap & Bottle), there's a decent range of gins and… well, what else do you need?
Lupins
Contemporary British food showcasing seasonal ingredients in a range of inventive eats. Lupins' ever-changing menu marries fresh and bold flavours with a sense of adventure. My tip? Leave room for dessert.
Laffa
Bringing dishes from the Eastern Mediterranean to London is no easy feat, but Laffa have honed their menu of flavour some dishes to the point where if you just about close your eyes, you could be on a sun-drenched terrace in Athens, feasting on a local meal.
Omeara
Omeara is currently closed with gigs set to start again in September.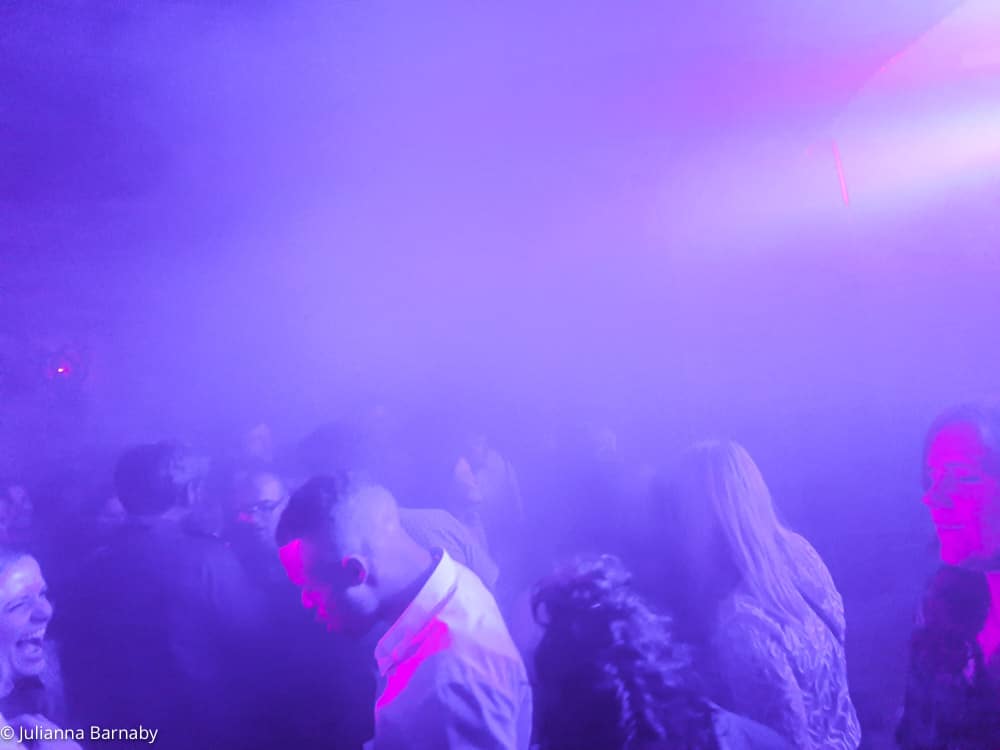 Mumford & Sons Ben Lovett stands at the helm of this brilliant music venue in Flat Iron Square, hosting many of the citys best gigs and club nights.
Check the listings – Omeara's line-ups of upcoming nights are eclectic, yet all work well in the rather cosy Parisian-style music hall venue.
Pssst, if you're remotely interested in old-school R&B, Trevor Nelson's Omeara residency is an absolute must. Take it from me.

Practical Tips for Visiting Flat Iron Square in London Bridge
Address: 64 Southwark St, London SE1 1RU
The venue is well-connected, just a hop, skip and jump away from many transport connections – the nearest tube stations are London Bridge and Borough.
London Bridge is well served by trains and buses too.
If you struggle to find space downstairs, the tiny upstairs terrace by Tap & Bottle is generally quieter and a bit more chilled out. There's also lots more indoor seating on that level too.
There's a weekly quiz night on Mondays, which can get ridiculously competitive.
You should also pop into its brand-new sister venue, Vinegar Yard, which is just across the road from London Bridge station (Shard-exit side).
Looking for More London Bridge & Bermondsey Guides?
Check these out…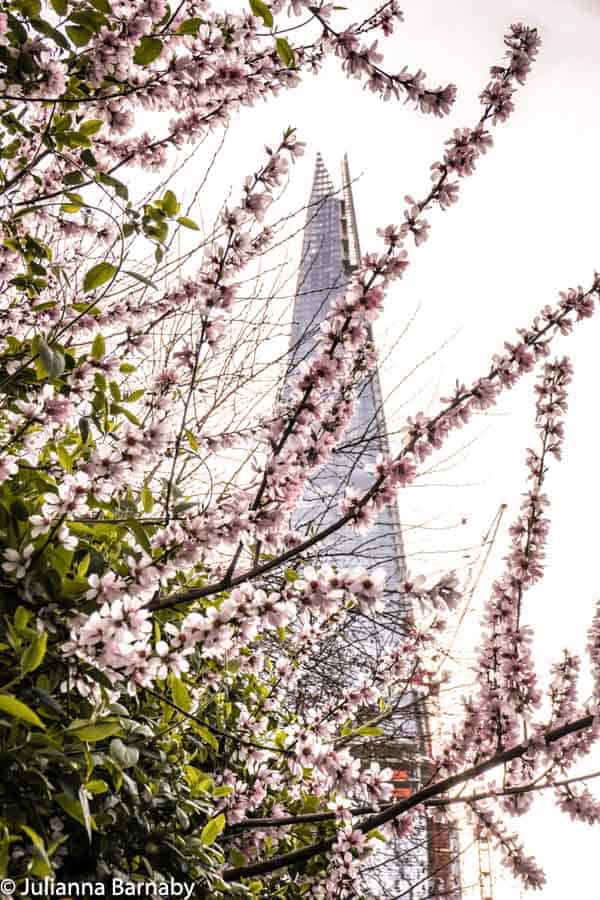 The London Bridge Area Guide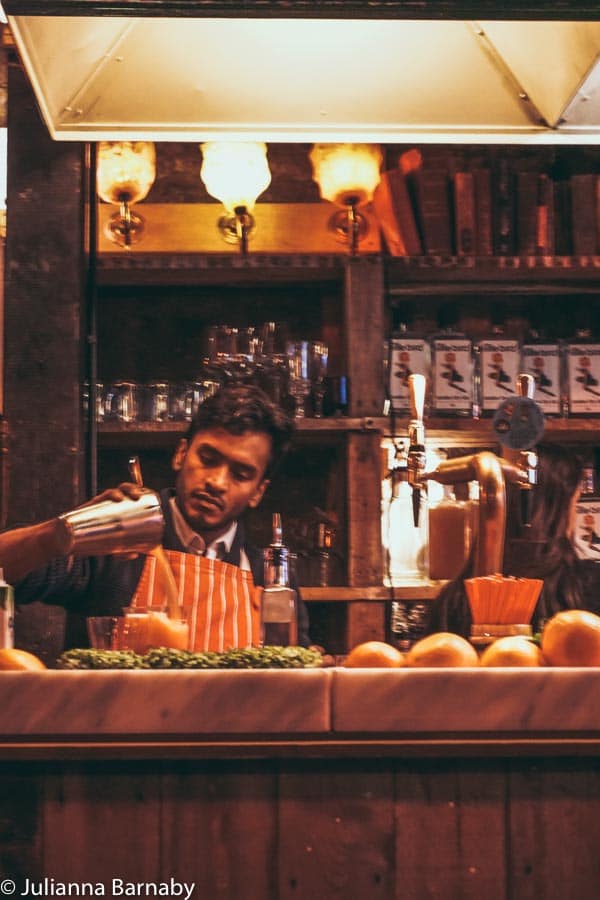 The Best Bars in London Bridge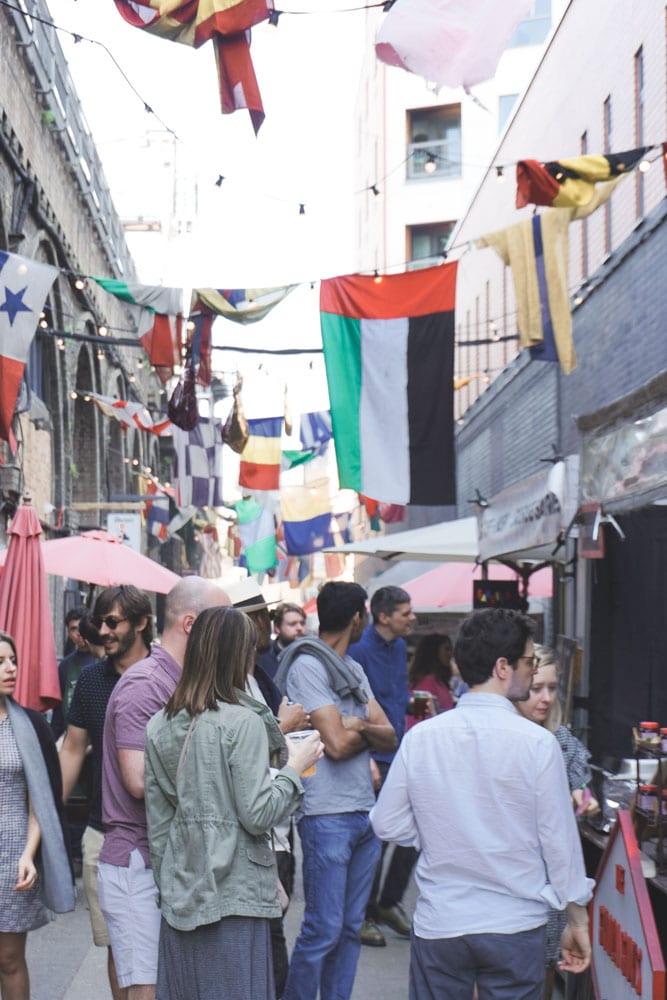 Visiting Maltby Street Market