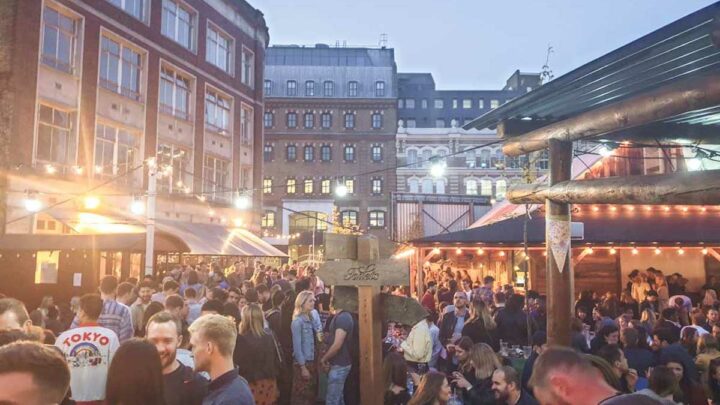 Flat Iron Square is one of London's coolest spots – with open-air bars, tasty street food and a cool music venue to boot. Here's what you need to know before you go.
Where is Flat Iron Square? Tucked under the arches and just a short hop away from London Bridge, Flat Iron Square emerged onto London's social scene in 2016.
Bars, restaurants, a music venue, street food stalls AND outdoor seating tucked away in a series of previously disused railway arches and a listed building in Borough?
It was always going to be a winning combination.
And win it has. The nearby music venue, Omeara, hosts some of the best gigs and club nights in town. The food stalls are packed, night after night. The tables, indoor and out, are filled with people eating, drinking and making merry – there's even a festive Christmas market at the right time of year.
As a result, an influx of places like Flat Iron Square have popped up in the capital since – though we think the original is still very much the best.
In short, it's been a raving success and we've found ourselves swinging by all too often. What can we say? The premise of great food and brilliant drinks is just too good to turn down.
If you haven't visited yet, what are you waiting for? Take a peek at what to expect when you go.
Pssst… Flat Iron Square recently moved locations – don't worry though, it's literally just down the road.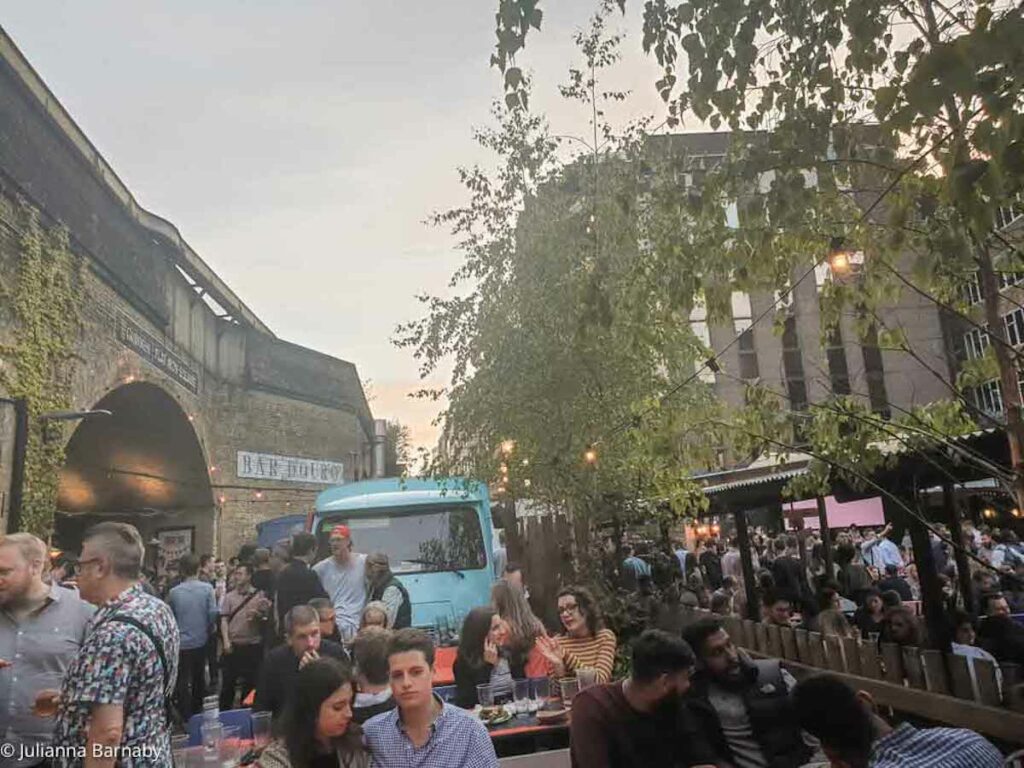 New Favourites at Flat Iron Square
Gamekeeper
Gamekeeper's absolutely banging burgers are reason enough to visit Flat Iron Square alone – expertly crafted, they put many of the city's burger joints to shame.
We'll be ordering the Halloumi Burger and the Crunchy French Fries. Though, anything on the menu is a winner.
The Good Slice
Who needs Italy? The Good Slice serves up a taste of the Med right here in London. With perfectly fluffy dough and an array of tasty toppings, you don't need to look far for a slice of heaven.
Lil' Watan
With a heavy focus on wholesome Lebanese dishes, Lil'Watan is a stall in Flat Iron Square that serves up some of the cuisines best.
Melt-in-the-mouth halal chicken, delicious falafels, and tasty hummus are all on the menu.
Visit Your Old Favourites from Flat Iron Square's Previous Location Too
Tap & Bottle
If you like wine (for the record: our hands are straight up in the air) Tap & Bottle is about to become one of your new favourite drinking holes in London Bridge.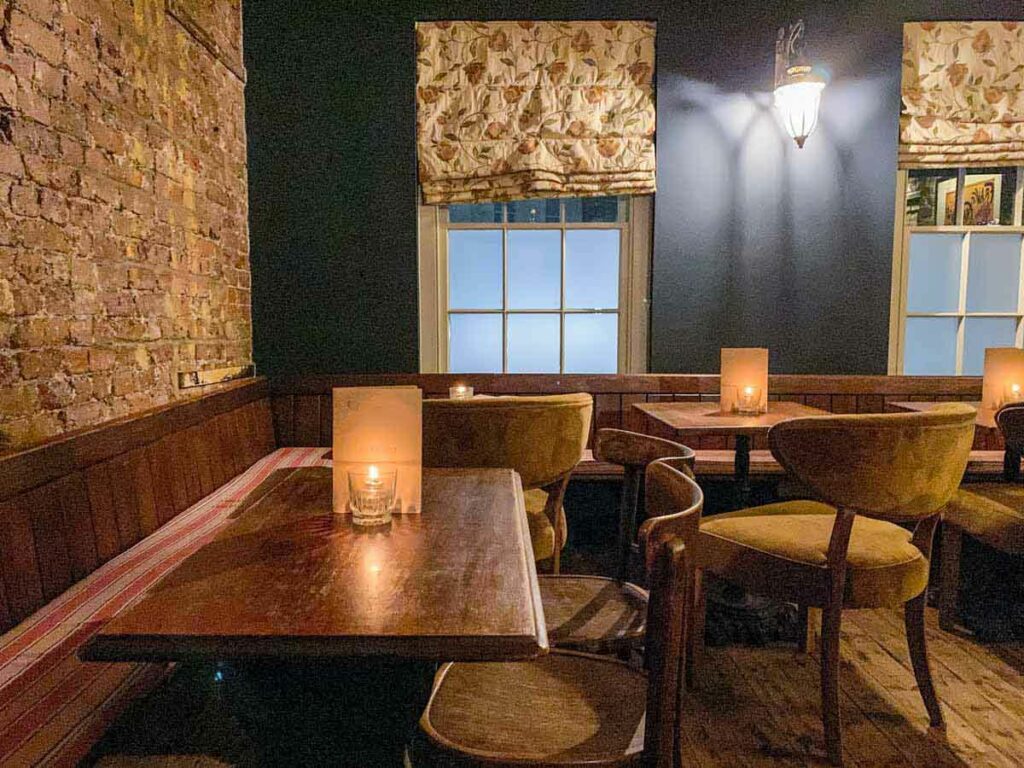 The Georgian building setting and decidedly unfussy decorations set the scene of a drinking den of times past, but this wine taproom has its foot firmly in modern times. There's the wine of course – served on tap it's more efficient, has less wastage, and is more eco-friendly.
It also just so happens to be delicious.
Located just around the corner from Flat Iron Square's new location, we think it's well worth the venture.
Arch 33 Bar
​​It doesn't come much cooler than the Arch 33 Bar. In fact, it might just be our favourite place to drink at Flat Iron Square.
A Victorian railway arch has been totally transformed into a swanky watering hole – with plenty of wine, beer, and cocktails to work through.
Bar Douro
Bar Douro has been making a bit of a name for itself with its small plates dishes hailing from (yep, you guessed it) the Douro Valley. Gorge yourself on the punchy dishes, bursting with flavour, and wash it down with some excellent Portuguese wine.
Where The Pancakes Are
Our continental neighbours realised many centuries ago that pancakes aren't just for pancakes day but us Brits have been a bit slow on the uptake.
Where the Pancakes Are founder Patricia Trijbits is bringing the revolution to London with her piles of steamy and delicious sweet and savoury pancakes.
And what could possibly pair better with pancakes than Prosecco? Nothing. That's what.
Smoke & Bones
The name of the game at this smokehouse is, of course, meat. Smoke & Bones 100% halal menu spans the globe, with the likes of steak frites and the Korean short rib popular offerings.
Ekachai
Pan-Southeast Asian street food is done right at this cool stall. Expect robustly-flavoured dishes straight from the hot wok and you won't be disappointed.
We particularly love the Pad Thai. Though, we wouldn't say no to Nasi Goreng either.
Lupins
Contemporary British food showcasing seasonal ingredients in a range of inventive eats. Lupins' ever-changing menu marries fresh and bold flavours with a sense of adventure.
Lupins is also responsible for the wonderful dine-in menu at Tap & Bottle – with little gems such as Cornish oysters and Welsh lamb on the curated (and ever-changing) menu.
Our tip? Leave room for dessert. The Szechuan peppery custard tart in particular. Delish.
Omeara
Mumford & Sons' Ben Lovett stands at the helm of this brilliant music venue just around the corner from the new Flat Iron Square location, hosting many of the city's best gigs and club nights.
Check the listings – Omeara's line-ups of upcoming nights are eclectic, yet all work well in the rather cosy Parisian-style music hall venue.
Pssst, if you're remotely interested in old-school R&B, Trevor Nelson's Omeara residency is an absolute must. Take it from us.
Practical Tips for Visiting Flat Iron Square in London Bridge
Address: 45 Southwark St, London SE1 1RU
The venue is well-connected, just a hop, skip and jump away from many transport connections – the nearest tube stations are London Bridge and Borough. London Bridge is well served by trains and buses too.
You should also pop into its sister venue, Vinegar Yard, which is just across the road from London Bridge station (Shard-exit side).
Looking For More London Bridge + Bermondsey Guides?