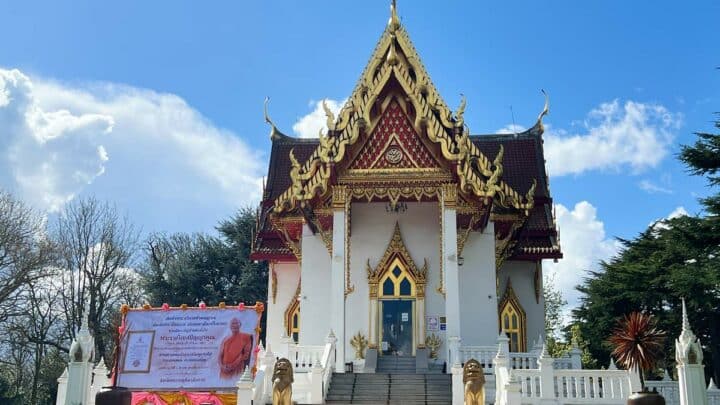 Discover the Buddhapadipa Temple in South London's Wimbledon Village. This stunning example of Thai Buddhist architecture is a must-visit for anyone looking to escape the buzz of the capital.
Wat Buddhapadipa, or the Buddhapadipa Temple, is Wimbledon's ornate Thai Buddhist temple. And, while there are about 150 temples in London, many of which are Buddhist, this one might just be our favourite.
Located just minutes from Wimbledon Common, Buddhapadipa Temple is set in four acres of beautifully kept grounds and offers visitors a slice of Thai culture(and tranquillity) in London.
Open daily, the temple welcomes everyone from all backgrounds and faiths and hosts numerous cultural events throughout the year. Here's why you need to visit.
Why Visit Buddhapadipa Temple
It's an Active Temple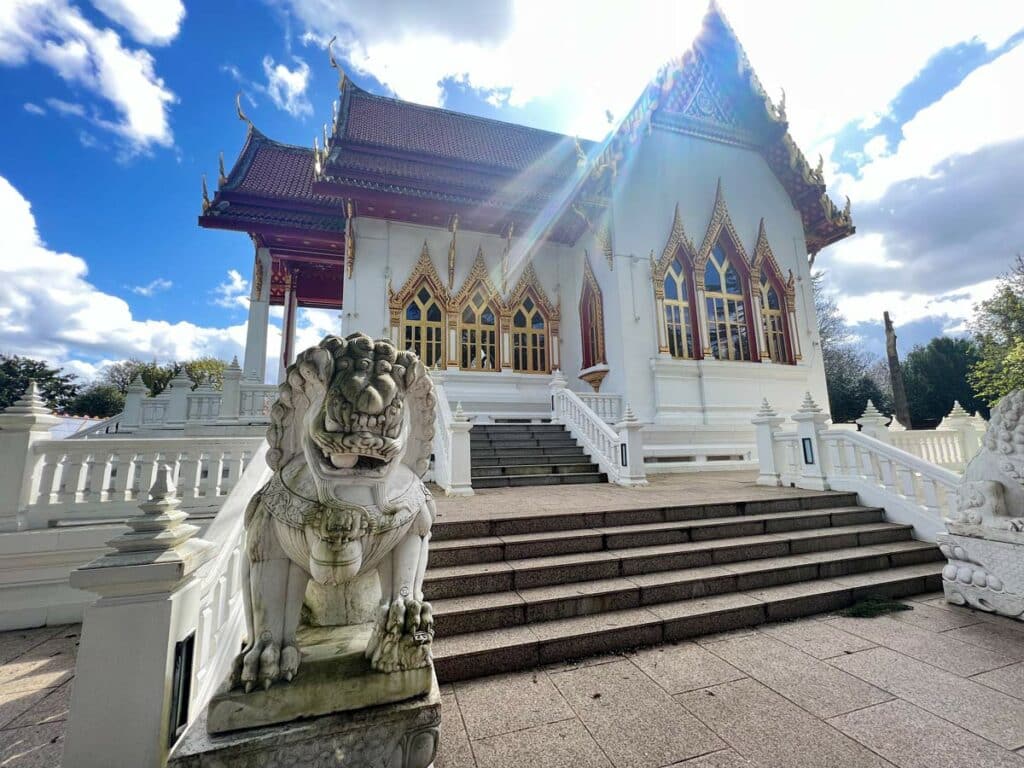 This fully active temple is open between 9 am and 5 pm and holds daily services in the Buddhist Theravāda tradition, common throughout Sri Lanka, Cambodia, Thailand, Laos and Myanmar.
Weekday services inside the temple and shrine itself are by appointment only, but the grounds are freely accessible for visitors to explore. As always, just remember to be respectful of the people worshipping.
Want to get involved? You're in luck – the temple hosts free meditation classes and talks available on Saturday and Sunday between 3 pm and 5 pm. The weekend schedule features chanting and talks in English from 3:00 to 3:30 pm, walking and sitting meditation from 3:30 to 4:30 pm and loving-kindness meditation from 4:30 to 5:00 pm.
In November, the temple hosts the Loy Krathong (Flower Floating) festival, which celebrates the full moon day of the 12th lunar month. It's a fantastic experience with Buddhist and Thai cultural songs, dance performances and authentic Thai food stalls.
Another major event is the Songkran festival (Thai New Year), taking place on the 16th of April, 2023. Songkran occurs from April 13th to April 15th and is known as the "Water Festival", with ceremonial water pouring symbolising washing away the old and welcoming the new.
The Songkran festival offers Buddhist and Thai cultural events, song and dance, Buddhist blessings, food stalls and Thai groceries. You can find details of events on the temple's Facebook page and Wimbledon Village events page.
Architectural Beauty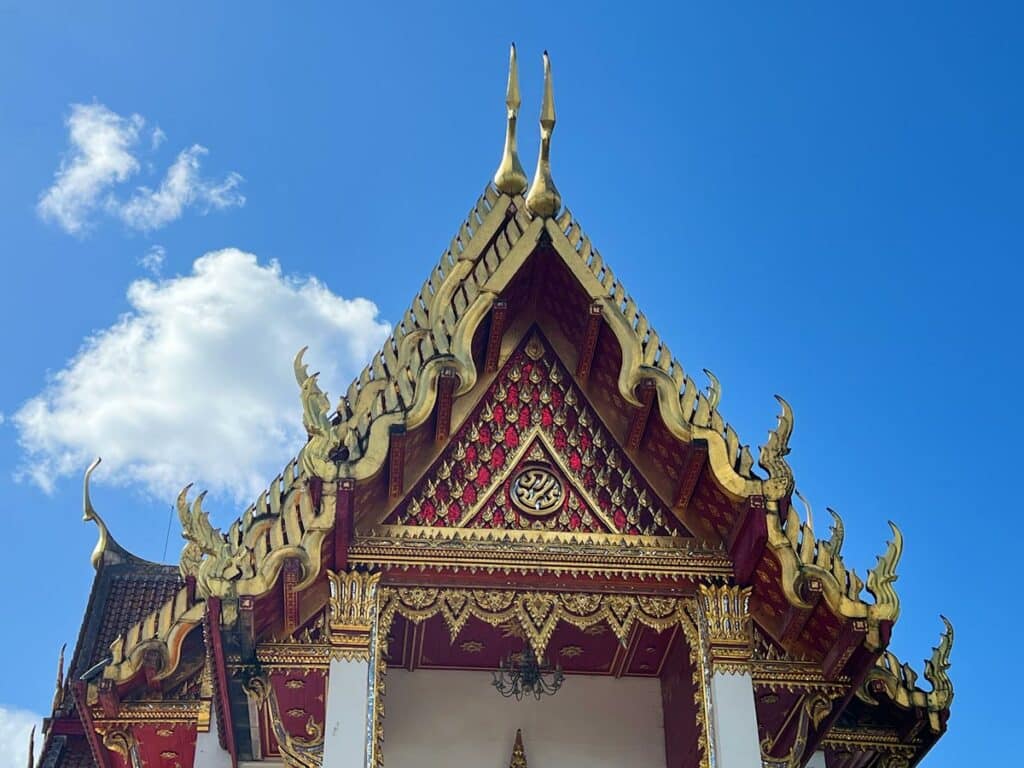 Among the capital's many Buddhist temples, London's Buddhapadipa Temple is a striking example of traditional Thai architecture, featuring ornate decorations and intricate craftsmanship. It's larger than it looks in photos, with white walls contrasting with detailed gold leaf detailing.
Within the temple chamber, the walls display a series of paintings illustrating Buddha's life journey, from his birth to his passing.
For the art adorning the temple walls, artists Chalermchai Kositpipat and Panya Vijinthanasarn chose a vivid, surreal style inspired by classic Thai murals, incorporating modern elements into scenes inspired by Buddhist mythology. The colours are incredible – this temple really is a work of art.
Above the main entrance, there's an impressive painting of Buddha meditating. To the right of Buddha are the furious figures of Mara's forces attempting to divert Buddha from attaining enlightenment. The term 'Mara' signifies delusion.
To the left of Buddha, Mara's army appears restrained and reverent, as they could not distract him from enlightenment. It's a visual story of Buddhism and Buddhist teachings.
Peaceful Atmosphere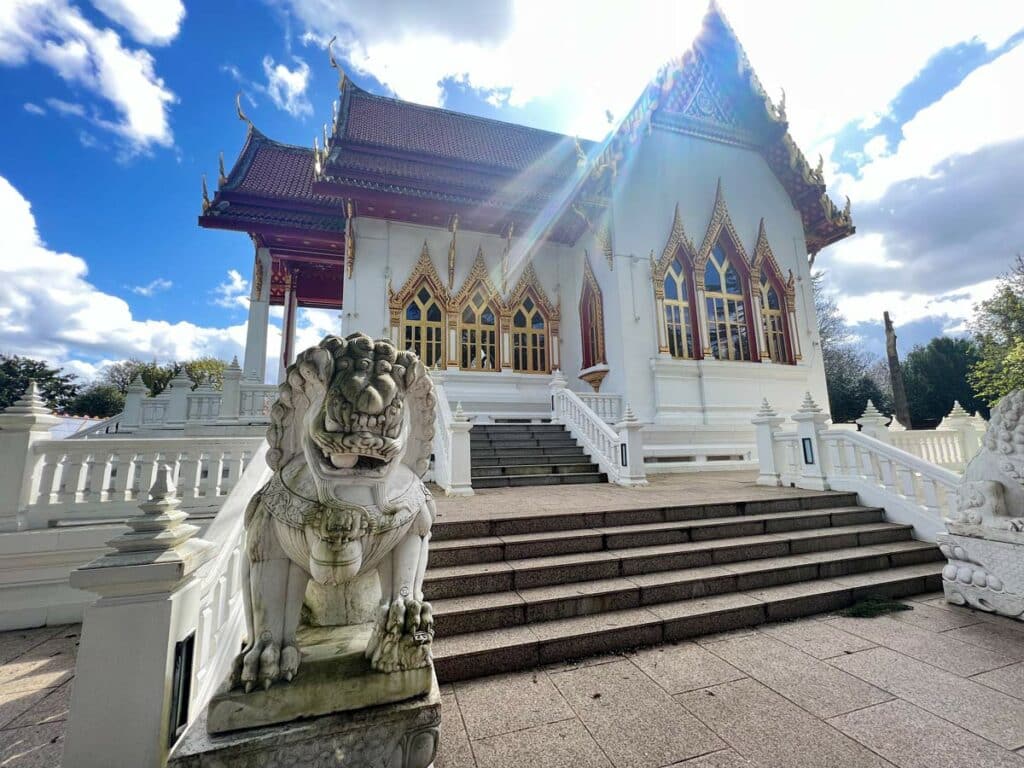 Amidst London's fast pace of living, the Buddhapadipa Temple provides a calm environment for reflection, meditation and contemplation. The temple grounds feature four acres of ponds, gardens and several picturesque bridges.
The beautifully landscaped gardens are quiet and serene – ideal for spending some quiet minutes or hours escaping the city. People of all backgrounds and faiths come here to simply enjoy the temple's aura of calmness and solitude.
Cultural Exploration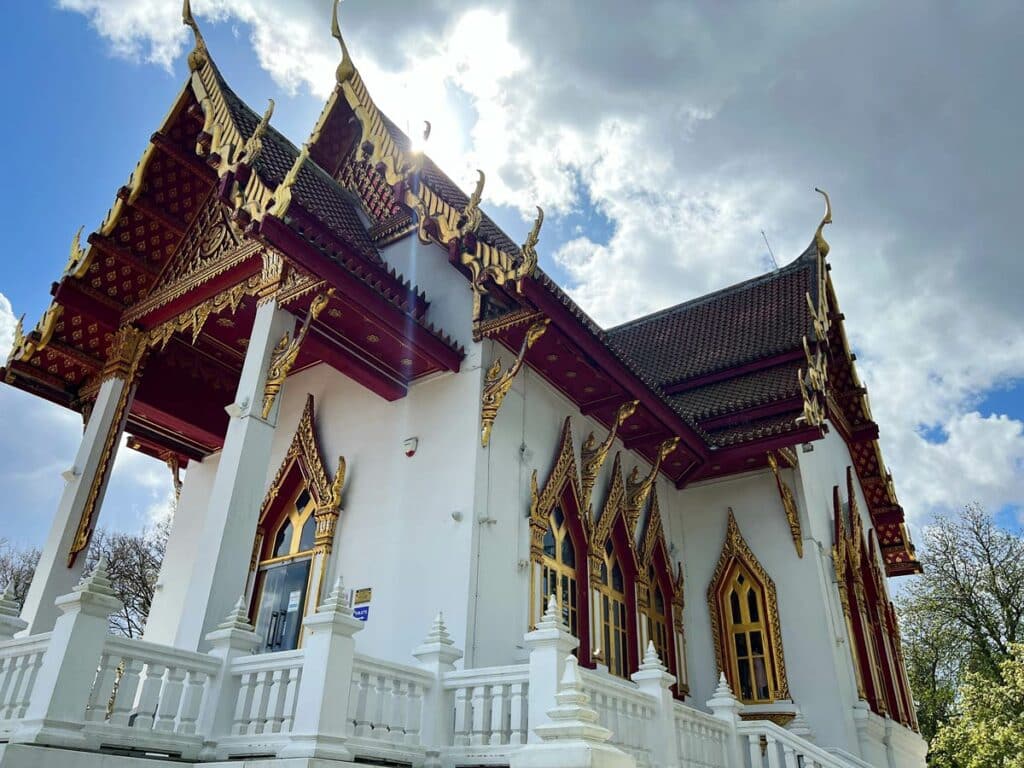 This Thai Buddhist temple London is yet another example of the city's diversity and multiculturalism.
Visiting the Buddhapadipa Temple is a beautiful opportunity to immerse oneself in Buddhist culture and learn about its fascinating history, traditions and practices.
The public can attend regular meditation classes, Dhamma talks or special events such as the Thai New Year celebrations. Explanatory placards have been placed around the grounds with insights into Buddhism and Buddhist history.
The History of Buddhapadipa Temple
First constructed in 1979 and finished in 1982, the Buddhapadipa Temple was the first Thai Buddhist temple built in the UK.
Part of the temple was constructed in East Sheen, Richmond, before being moved to Wimbledon. This fine London Buddhist temple was constructed in traditional Thai style, with white walls, contrasting gold and red details, statues and roof.
Wat Buddhapadipa was designed by architect Prawet Limparangsi, a prolific Thai architect named by the Thai Culture Ministry as one of the National Artists for Architecture in 1989.
A Thai Cultural Centre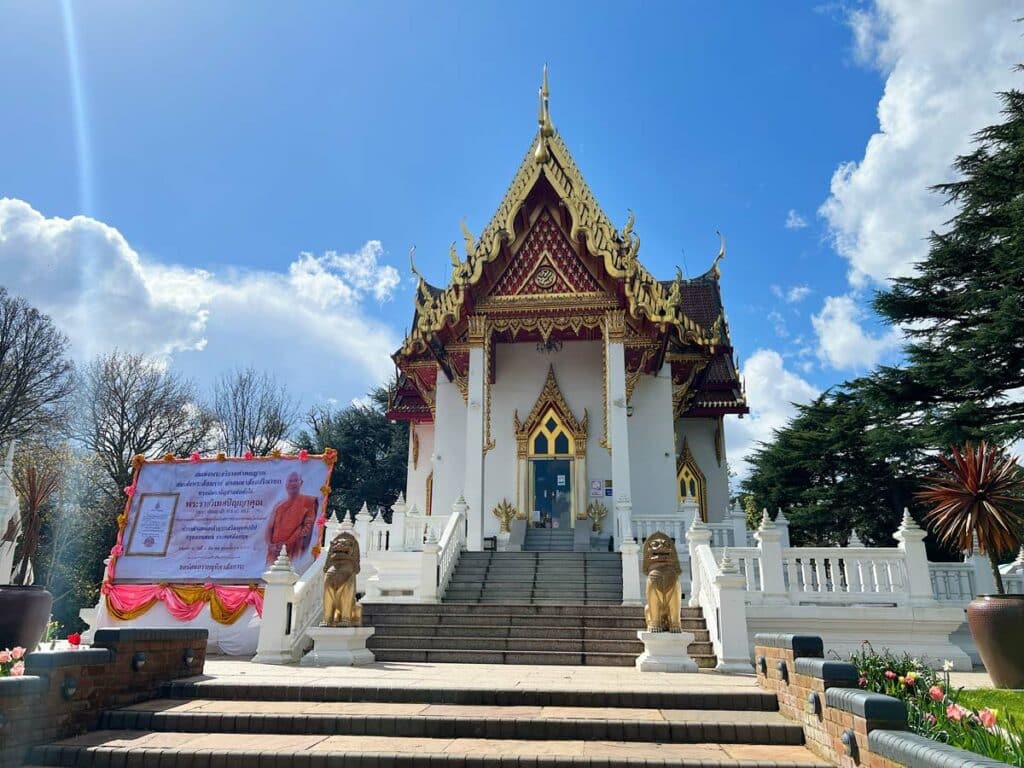 The Buddhapadipa Temple serves not only as a place of worship but also as an educational centre for Theravada Buddhism, the most common sect of Buddhism in South East Asia.
Over the years, the Buddhapadipa Temple has become an important spiritual and cultural hub for the Thai community in London and a popular destination for visitors looking to escape the sights and sounds of the city to explore, be calm and reflect in peace.
The Thai temple of Wimbledon continues to grow and thrive. As an active Wimbledon temple, Wat Buddhapadipa is linked to the Royal Thai Embassy and acts as the centre of Buddhist Thai culture in the UK.
Buddhapadipa Temple: Practical Information
Address: 14 Calonne Rd, London SW19 5HJ
Opening Times: 9 am to 5 pm
Tickets: Free
Buddhapadipa Temple: Map