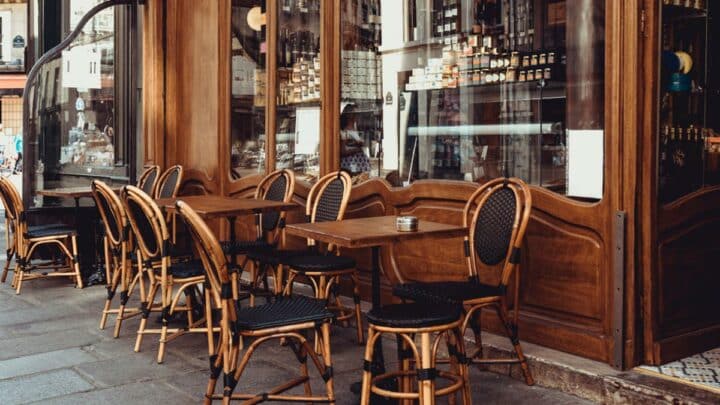 Looking for the best coffee shops in Wimbledon? These are the top spots serving near-perfect brews and tasty brunches.
Wimbledon is back on the radar and it's being swamped with cute cafes and coffee shops… And we're not complaining.
This area of the capital might not be as famed for their cuppas as the likes of Shoreditch or Fulham, but don't underestimate how excellent Wimbledon's cafes are.
These are the very best.
Best Cafes and Coffee Shops in Wimbledon
Saucer & Cup
The ethos behind the incredible Saucer & Cup is all about quality – and that's why they serve the best coffee in Wimbledon, along with some cracking seasonal options.
Some indie coffee shops can lean towards being snooty, but not here. They have the loveliest atmosphere and they've raised the Wimbledon café game with this gem – not only is the food ridiculously moreish, the portions are generous.
You can have good coffee and then you can have a coffee spiritual experience, and Saucer & Cup gives you the latte-r.
Wacka
An amazing addition to the many Wimbledon cafes, Wacka really knows how to serve high-quality coffee and food. Anywhere that has both maple bacon pancakes and Turkish eggs on the menu gets our vote.
The best part? Throughout the week you can also take your laptop and work from there without any disturbance. It does get quite busy over the weekend so we recommend booking if you can. They're a small café with a lot of demand. And we can see why.
Fire Stables
The best café in Wimbledon Village, we love Fire Stables. That said, it's more of a gastropub that knows how to serve a tasty breakfast. The Afternoon Tea is pretty stellar, too.
Huge French windows allow light to flood in, the staff are incredibly friendly and the food really is some of the best. There are also plenty of vegetarian breakfast options if that's what you're after instead.
Coolangatta Art Cafe
The Australian-run art café in Wimbledon Chase is a great place to have a tasty breakfast while admiring the work of local Wimbledon artists. Coolangatta serves delicious homemade smoothies along with some of the best freshly baked bread in the capital.
The breakfast dishes are pretty spectacular – everything tastes homemade and the staff are so friendly, you'll never want to leave. They also have some great soups if you fancy a light lunch in Wimbledon.
The locals say that Coolangatta serves the best coffee in Wimbledon and we'd have to agree, the coffee is incredible.
Maison St Cassien
Maison St Cassien is an independent café and restaurant in Wimbledon Village with a wonderfully varied Mediterranean and Lebanese menu. It's a real gem and a beautiful addition to Wimbledon with its relaxed atmosphere.
It's definitely a favourite for locals as well as a hotspot for tennis players during Wimbledon. Apparently Murray and Sharapova have raved about the little cafe, which is reason alone to give it a go, we think.
Located on a very bright corner, this Wimbledon Village cafe is the perfect place for breakfast in the sunshine. Great if you're looking for both a delicious and healthy breakfast along with very good coffee.
The Ivy Café
Apparently one of Lady Wimbledon's favourite breakfast spots, The Ivy Café is the place for you if you're looking for a slightly swankier coffee place.
With its beautiful interior and lovely garden-style terrace, everything about this place is 5*. We recommend going for the popular Eggs Royale and washing it down with a Peach Bellini.
It does get quite busy at The Ivy Café so we recommend booking if you can. It's a posh breakfast, but it's worth it.
601 Queen's Road
An all-day bar and café right next to Wimbledon station, 601 Queen's Road is handily located for commuters.
All the food is freshly prepared in house and the menu is one of our favourites. They have amazing caramelised banana and ricotta pancakes served with a mouthwatering butterscotch sauce and coconut yoghurt. DROOL.
Another one of our favourites is the creamy field mushrooms and butter beans on sourdough toast, served with tarragon and truffle. We're getting hungry just thinking about it.
A great location, incredible food and delicious coffee. It's also got a lovely homely energy to it that feels like you're getting far more than just a highstreet coffee spot – 601 Queen's Road, you've got our vote.
Paul Boulangerie
What we love most about this adorable French chain is that you know what you're getting at Paul Boulangerie.
Paul's is perfect if you're looking for a great cup of coffee and a delicious pastry to go with it. The cakes, pastries and sandwiches are always wise choices and great if you want a hot drink on the move in Wimbledon (the hot chocolates are equally delish).
Eat in or take away, you'll have enough choice to keep you in there for quite some time whilst you decide.
Rosy Lea Café
We love independent coffee shops where you can smell the delicious coffee beans before you even step in, and that's exactly what Rosy Lea Café does.
Feel-good hearty food, delicious coffee and a lovely atmosphere. Although it might not look like the most exclusive café, it has a lovely warmth to it.
Enjoy hot or cold sandwiches, coffees, smoothies and fry ups. We recommend going for the fry ups – one of our favourite full English breakfasts in Wimbledon.
Wimbledon Park Cafeteria
Who doesn't fancy a delicious breakfast in Wimbledon Park with lovely staff and a nice atmosphere? We wouldn't say it's the best for coffee, but this cafe serves breakfast with a lot of choice.
We love this Wimbledon cafe for those hot summer days, but this spot is equally as nice when you want to get away from the rain and need a little shelter.
Bill's
We know it's a chain, but Bill's in Wimbledon is too good to not mention. Whatever you're after, Bill's can make it. It's also one of the best places to work if you need to do a few bits on your laptop, the wifi is speedy and the coffee is like rocket fuel.
The sweet syrup-coated pancakes with fresh fruit is what we usually go for, but the savoury egg and avocado plates are equally as good.
If you're looking to do a birthday brunch then this is the place for you. It's a great spot if you're with a big group, but equally just as nice to go if it's just you and your laptop looking for some peace and quiet.
Wimbledon Cafe Guide: Map
Wimbledon Cafe Guide: Read Next