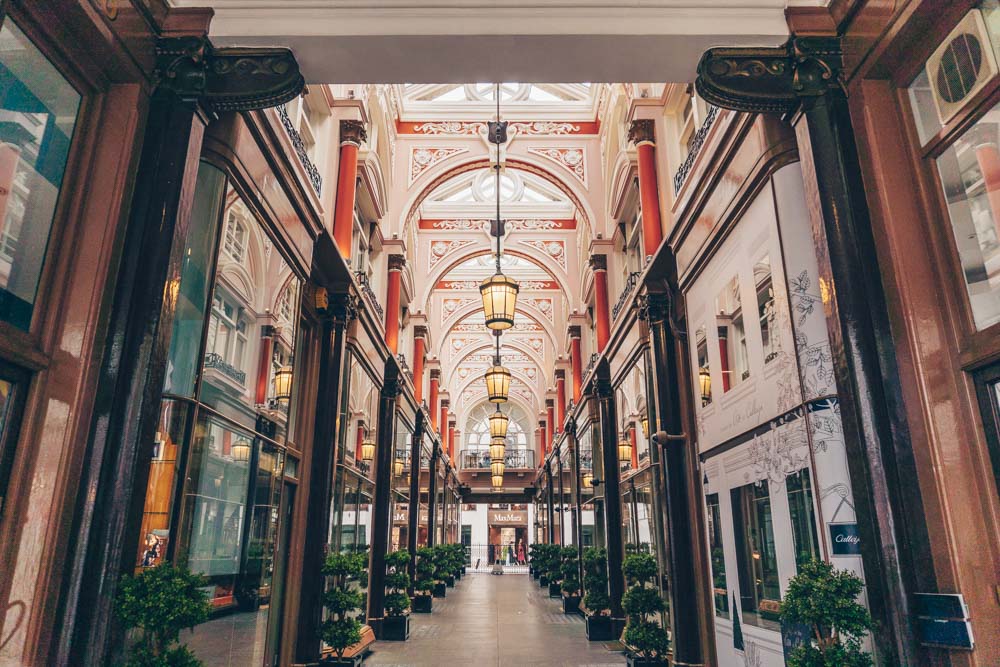 Home to great history and some of London's classiest window shopping, let's discover the Royal Arcade.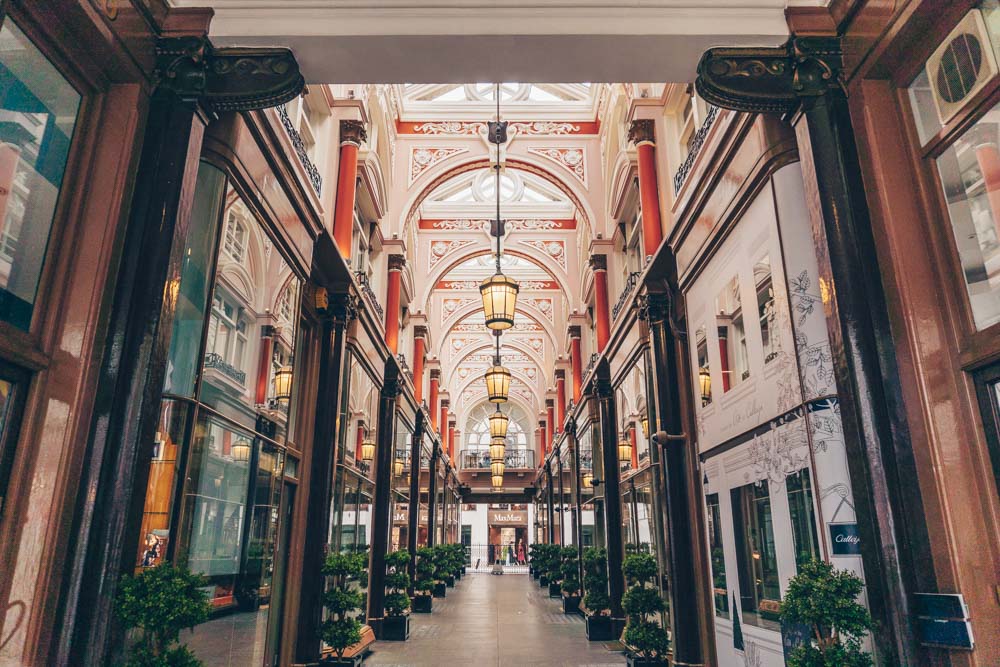 A lot of chat goes into Mayfair's gorgeous shopping arcades, much of it focused on the prestigious (and exceedingly pretty) Burlington Arcade.
However, if you stop halfway along Old Bond Street and turn your head at just the right moment, you'll find the entrance to the Royal Arcade – perhaps the fairest of them all.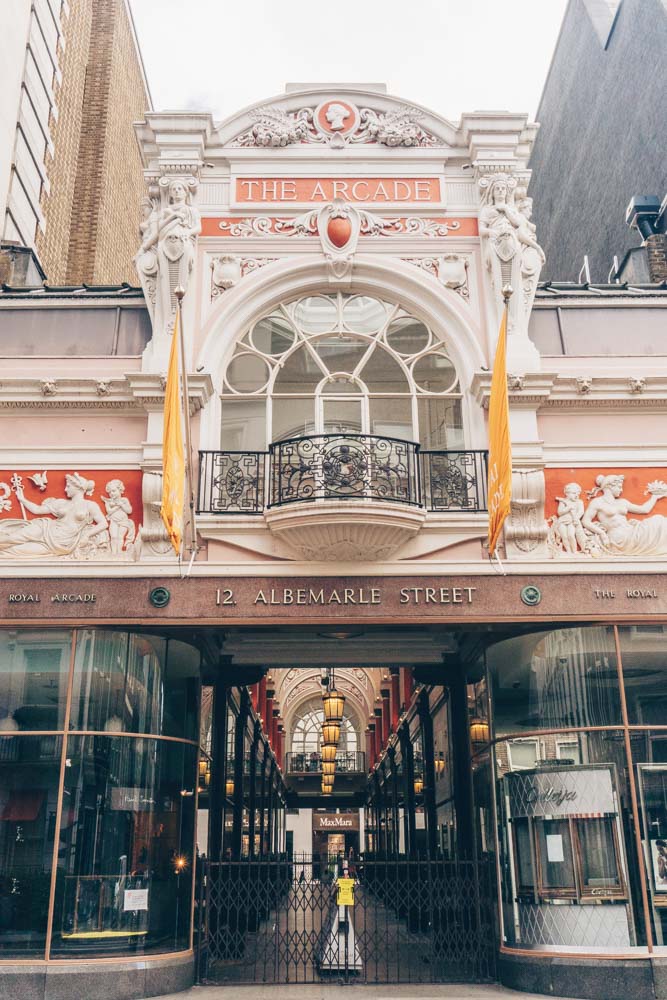 The arcade was built in 1879 as a discerning shopping destination for the city's monied class. Not much has changed in the intervening years: cast iron balconies, an eye-catching orange and white design and some seriously expensive shops still reign supreme.
Originally, a much longer arcade between Old Bond Street and Regent Street had been on the books – but the plans were severely scaled back due to the scale of demolition and work that would be required to bring them to life.
Instead, the revised proposal by architects Thomas Archer and Arthur Green suggested the arcade sit on the site of the former Clarendon Hotel, which had been demolished in 1870.
The revised plans were approved, and the ornate arcade we see today (at that time just called "The Arcade") opened in 1879. It's much more lavish than the older arcades that preceded it – St James's Arcade and Burlington Arcade among them.
Instead of plain ironwork and simple colours, The Arcade came complete with a preponderance of stucco, Ionic columns and sculpted lamps that positioned it as every inch the luxury shopping destination it was meant to be.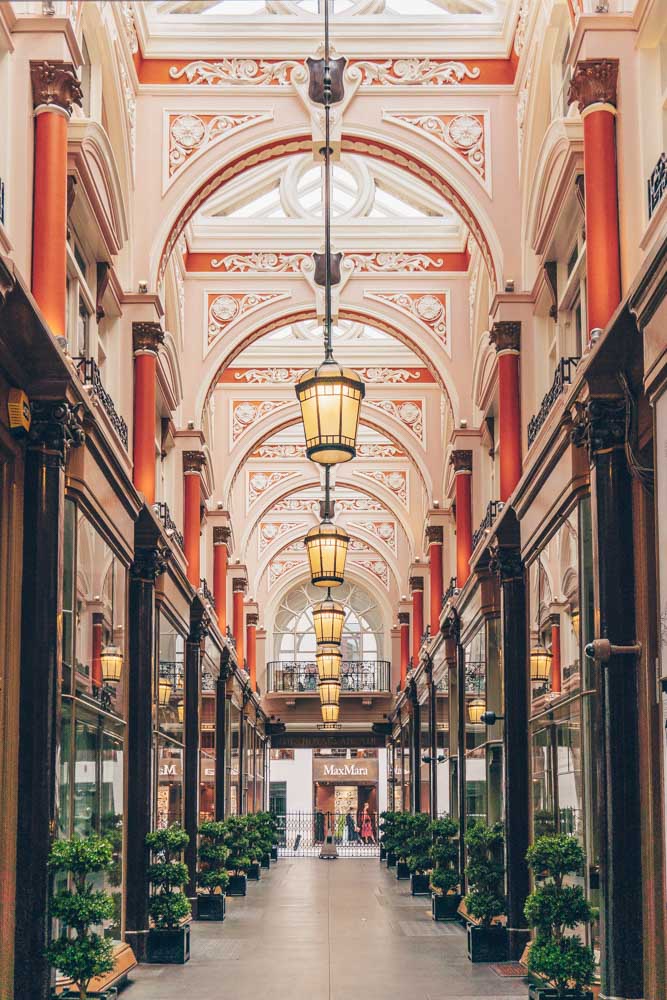 The "Royal" was to follow later – in the early 1880s when shirtmakers H.W Brettel was patronised by Queen Victoria.
The Royal ties are still in place today. Charbonnel Et Walker at shops number one and two hold a Royal Warrant. They make and sell chocolate at a very high-end quality (and with a high-end price to match), but what do you expect if you're chocolatier to the royal family.
In less royal – but probably more relevant to us common folk – news, The Royal Arcade has popped up as a set in many a film, including the Lindsay Lohan classic, Parent Trap.
Notable Shops in The Royal Arcade
Obviously all of the shops in the arcade are pretty notable, but here are a few of our favourites:
Beards
No. 14
Beards was founded in 1804 which makes it one of the oldest jewellery shops in England. You'll probably spot it from the staggering opulence shining forth from their shop window. Watches, gold, silver, diamonds and jewels of colours we didn't even know stones came in.
Simon Griffin Silver
No. 3
If Simon Griffin Silver wan't occupying a space on The Royal Arcade it could well be a very up-market Notting Hill boutique. They collect all sorts of antiques – but only if they're made of precious metals. The wares they collect and restore make some tip-top window shopping.
George Cleverly
No. 13
George Cleverly sells bespoke and ready-to-wear shoes. They've got a history of it too. The shop's namesake, born in 1898 to a shoemaking family, went on to become one of Mayfair's most noted cobblers. He even created a special type of shoe still known today as the Cleverly shape.
Erskine Hall & Coe
No. 15
Purveyors of ceramics and modern art, Erskine Hall & Coe are probably the Royal Arcade business with their head most in the contemporary world. They have a charming gallery space where you can see some truly gorgeous ceramic work from international artists in varying stages of their careers. It's most definitely worth a look.
Practical Tips + Map for Visiting The Royal Arcade London
You can visit The Royal Arcade at any time during its opening hours, you don't need to book or anything – just stroll on through and enjoy eyeing up the fancy wares.
You won't need long to soak it all in. With that in mind, perhaps it's best to combine this with some other Mayfair-based activities to really fill out your day.
Practical Information
Address: 28 Old Bond St, Mayfair, London W1S 4DR
Nearest Stations: Green Park, Piccadilly Circus
Opening times: Monday – Saturday 9am – 6pm, Sunday 10am – 5pm
Looking for More Mayfair Guides?