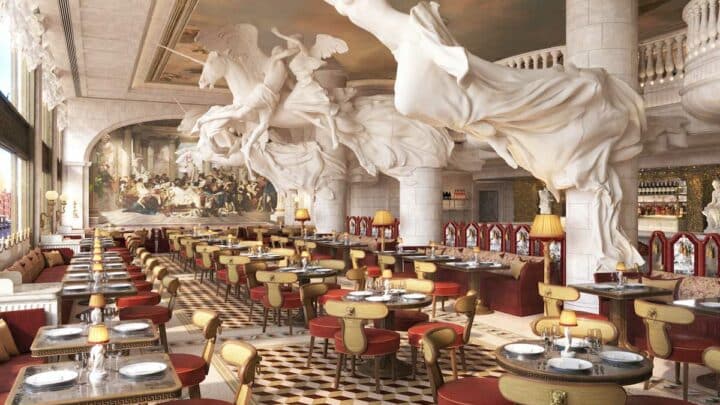 This new Mayfair restaurant features art works from Damien Hirst, 2000 year-old artefacts and is, obviously, very over the top. The dishes don't look too bad either…
The appropriately named Bacchanalia is the latest venture from restaurant mogul Richard Caring (The Ivy, Annabel's) and opens on the 24th of November.
In true Caring style, they've not held back. Bacchanalia is as over the top as its Mount Street address is swanky.
Bacchanalia What?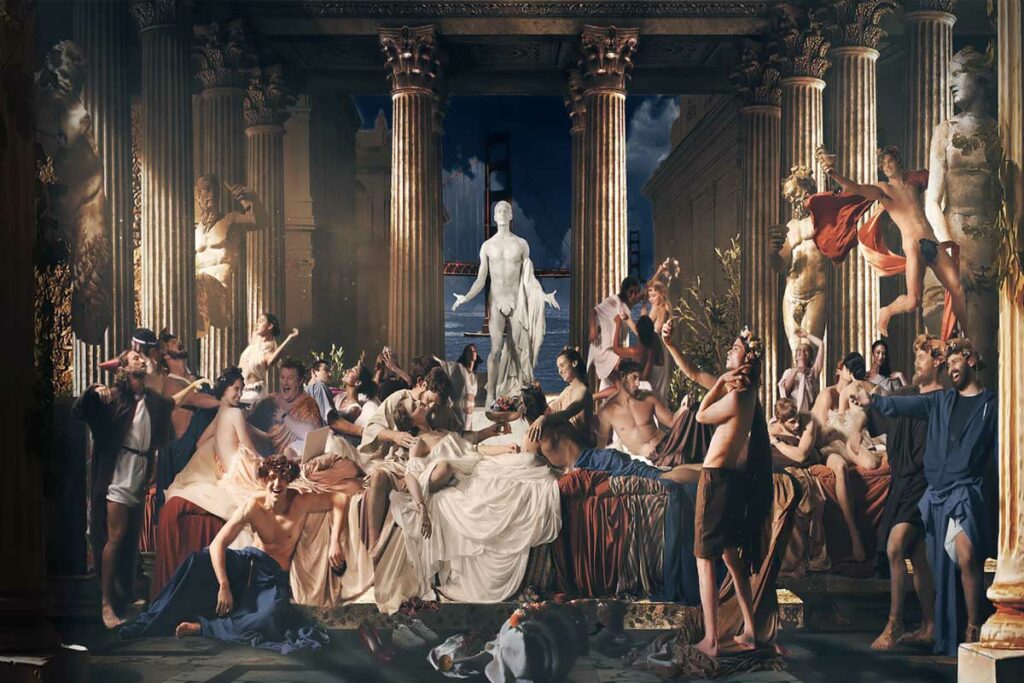 The Bacchanalia was an Ancient Roman festival of excess where Romans would eat, drink and, well… you know, to their heart's content, all in the name of the Bacchus – the god of wine and pleasure.
Seems an appropriate name for a restaurant as extravagant as the contemporary Bacchanalia aims to be.
Interiors of Excess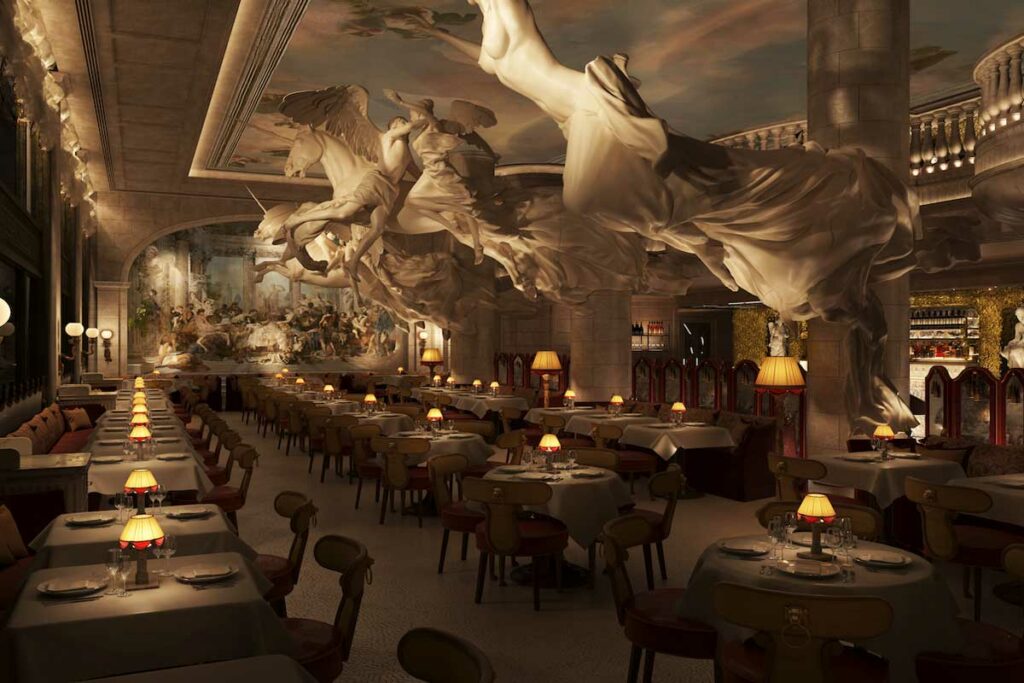 They've got in Damien Hirst, no less, to create four pretty monumental sculptures that hang from pillars over the dining tables – one of two lovers entwined on a unicorn.
A whole back wall has been given over to a floor to ceiling reimagining of Romans In Their Decadence by artist Gary Myatt, a muralist who often interposes contemporary subjects into classical styles – as he has done here.
Further murals have been hand-painted on the ceiling, and 2000 year-old antiques arranged for decoration that's already causing winces in the London x London team at what the consequences of a glass of wine too many might be in a place like this.
But the food and wine programs sound as luxurious as the decor so we're going to shelve that fear for now.
A Feast Fit For Bacchus Himself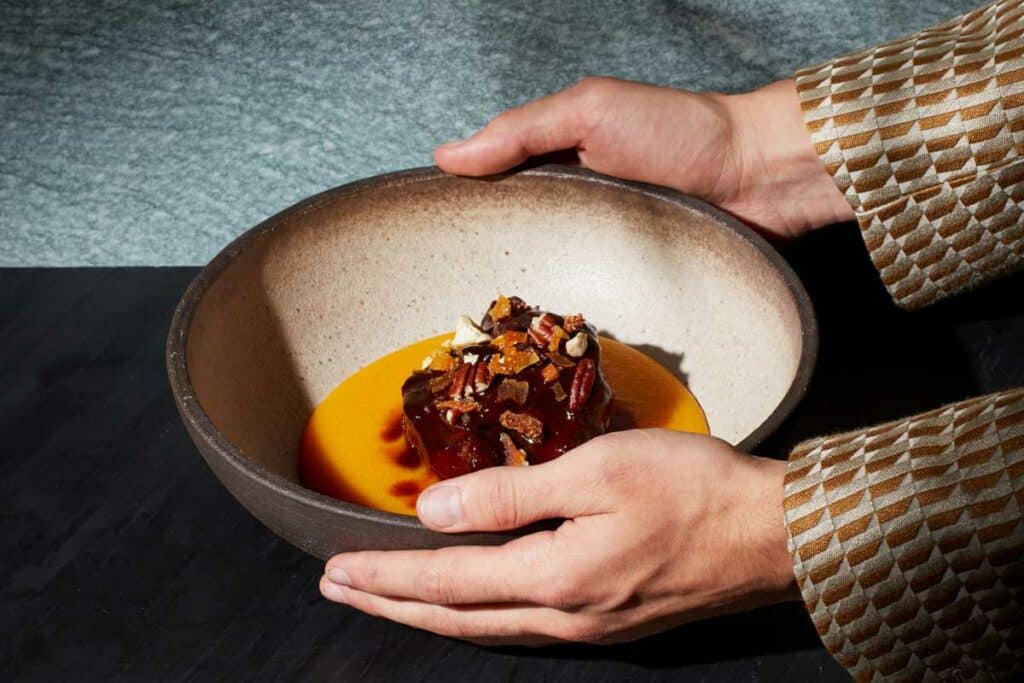 The food is a mix of Italian and Greek, but *elevated*. Chef Athinagoras Kostakos is in the kitchen and comes from a wealth of knowledge working in the Greek high-end restaurants scene and high-end Greek restaurant Mazi, in Notting Hill.
Some dishes on the menu will be permanent fixtures, others, like a decadent-looking crab salad, and a delicious-sounding sea bream carpaccio, are seasonal.
They've 650-bottle-long list of pretty exceptional wines – as they should for a restaurant named after the Roman god of the stuff, and a range of cocktails that look like they could hit some equally godly notes.
Oh yeah, and there'll be a terrace overlooking Berkeley Square for you to sip those drinks on al fresco.
Not your style? You could apply to be part of the exclusive members-only club Caring is incorporating into Bacchanalia. It'll give you access to VIP events, private dining rooms, and luxurious bespoke menus unavailable to anyone else…
Ancient Roman historian, Livy, criticised the festival of the Bacchanalia by saying it was an indication of Rome's inexorable moral decay. If that's what this place signals for London, sign us up.
Bacchanalia, Mayfair: Practical Information
Bacchanalia is opening on November 24th, but is already taking reservations. You can book a table here.
The address is: Bacchanalia, 1 Mount Street, London. W1K 3NA
Bacchanalia: Map