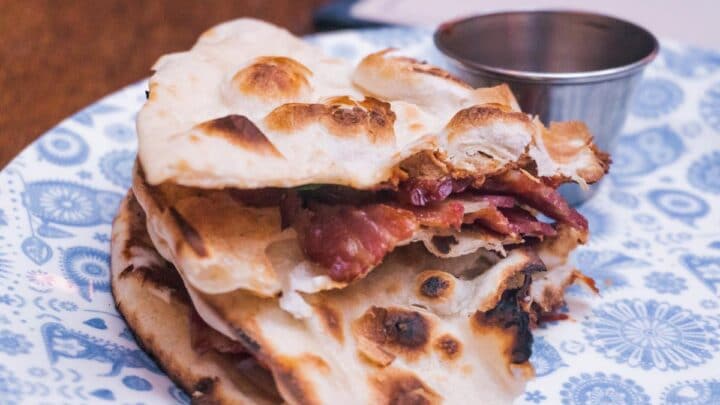 Sniffing out brunch spots near King's Cross is a smart move.
Not only does King's Cross have plenty of poppin' places where you can get yourself a classic Full English or a stack of pancakes, but you can also find many quiet cafes, and other more unusual breakfast options.
Ready to explore the best breakfast and brunch spots near King's Cross?
Best Breakfasts & Brunches in King's Cross
Caravan
Caravan is an ultra-cool restaurant with a relaxing atmosphere. They offer wonderful Australian dishes including coconut bread with lemon curd cream cheese, as well as an aubergine puree with poached eggs option.
If there are no tables available when you arrive, you can give them your name and take a walk by the canal – they'll send you a text when your table is ready.
They offer breakfast near King's Cross until 11:30am during the week and brunch until 4pm on the weekends. Ask for their smaller plates so that you can share because, trust us, you'll want to taste it all.
Morty & Bob's
Those who want to experience one of the best brunch King's Cross has to offer, head over to Morty & Bob's. The King's Cross restaurant is named after the grandparents of the owner, who started out their journey by making grilled cheese sandwiches.
Today, they offer the original grilled cheese, as well as snacks and large dishes for brunch – one of the favourite dishes is the smashed avocado on sourdough. They also serve cold press juices, along with coffee, and cocktails for people who want something stronger (yes, please).
The Lighterman
This restaurant is a local favourite because it offers a modern British menu packed full of European influences. The dining area is bright and airy, set over three floors and has pretty views of Granary Square and the canal.
The Lighterman serves up a wide range of breakfast items, including pancakes with all kinds of toppings. And if you're after something a little bit lighter, they have chai yoghurt pots, fresh fruit salads, and a hearty green superfood vegan bowl with mixed seeds, flax, and goji berries.
However, the multitude of egg dishes are the most popular – come on Saturday morning and kick the weekend off in style.
Vermuteria
Open all day in Coal Drops Yard, Vermuteria is an interesting brunch spot near King's Cross station. Created by Michael Sodeau and Chef Anthony Demetre, the cafe offers tasty dishes from France, Spain, and Italy, including a wonderful breakfast menu.
For something light, you can get fresh pastries or homemade granola and natural yoghurt. If you are looking for a heartier breakfast, opt for the poached eggs on sourdough. The chefs at Vermuteria strive to give diners the best seasonal produce available in fresh meals, and so they very carefully choose their suppliers.
Dishoom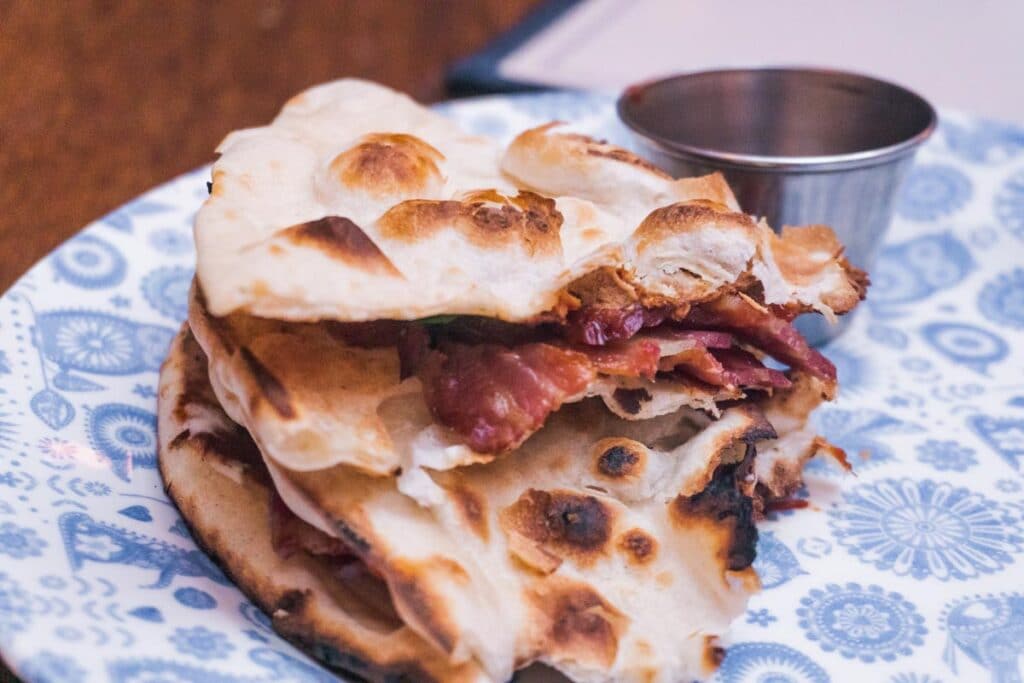 If an English fry up is less your style, head to Dishoom for an Iranian breakfast. Spicy scrambled eggs, chilli cheesy toast, and delicious bowls of porridge are all on the menu.
Try the naan rolls, which are baked fresh in a tandoor oven before being brushed with fresh herbs, cream cheese, and chilli tomato jam. You can add eggs, sausages, bacon, and more for a complete breakfast.
Wash down with lashings of chai latte and spend the rest of the day dreaming about it.
Cafe BAO
Cafe BAO has recently introduced a breakfast menu that you can try on the weekends, blending the East and West to offer your favourite classics.
You'll want to try the sausage hash brown breakfast, though the pancakes topped with bacon, egg, and cheese are just as tempting and mimic the egg crepes you can find at street stalls in Taipei.
The cafe also serves up some unique drinks, such as Hot Choc-otaro and peanut milk.
Drake & Morgan
For the best brunch in King's Cross, try Drake & Morgan. The pretty canalside location and floral facade draws people in, as do the Breakfast Martinis and Bloody Marys.
The extensive menu includes standard dishes as well as some more exciting offerings – you can order pancakes, eggs florentine, or smoked salmon on sourdough toast, which are all favourites here.
Arabica
Arabica strays from traditional British brunch, instead offering dishes from Lebanon, Istanbul, and Tel Aviv. You can find this restaurant on the ground floor of the Aga Khan Centre, and there's even an outside terrace that faces the Lewis Cubitt Park.
You can choose from a range of Arabic dishes, including pide, which is a Turkish pizza that is covered in egg, spicy sausage, peppers, and halloumi. Make sure to order the buckwheat pancakes and Za'atar bread on the side to share.
Searcys St. Pancras
Enter the brasserie for breakfast at St. Pancras Station and you'll be welcomed by private booths and vintage lighting.
Whether you're in the mood for healthy dishes or classic brunch, Searcy's offers everything. The Sunday bottomless brunch includes a range of dishes including salads, eggs Benedict, crispy Gressingham duck and spring onion omelette, as well as chunky burgers.
You can choose two courses with 90 minutes of sparkling wine or champagne, and add a pudding for your sweet tooth – puddings include a sticky banana pudding, vanilla creme brulee, and a chocolate torte.
Additionally, they also have a champagne bar that's the perfect place for post-brunch bubbles.
Lina Stores
Lina Stores opened their first deli in Soho back in 1944, but their King's Cross location is perfect for a casual brunch in the capital.
They bring together restaurant dining with a delicatessen to offer you a range of experiences – the authentic Italian breakfast menu includes the likes of truffle scrambled eggs and Tuscan fennel sausage. Veggie? Lina Stores also offer vegan and gluten-free options.
Their pastries are divine. Try the apricot pastry with vanilla cream or bomboloni doughnuts and thank us later.
Where to Have Brunch King's Cross: Map
Read More King's Cross Guides