Get it right and breakfast is one hell of a meal. Wave farewell to soggy cereal and burnt toast and hunt out the best breakfast in London at these fabulous spots.
Best Breakfasts in London You Have to Try
Duck & Waffle
It's no accident that Duck & Waffle is one of the most famous breakfast restaurants in London.
The original Duck & Waffle is on the 40th floor of the Heron Tower in the financial district. The location lets customers enjoy duck-inspired breakfast meals while enjoying one of the best views of the city.
The restaurant is open 24-hours, but when it comes to Duck & Waffle, breakfast is king. The signature meal is called the duck and waffle – a traditional waffle served with duck leg, fried duck egg, and topped with syrup. Drool.
No surprises then that ever since opening, they have sold over one million of the signature dish.
Thanks to its rocking popularity, the restaurant recently opened up a Duck & Waffle Local on Haymarket Street. While you won't have the impressive London view, the food is delicious enough to make either of its locations a favourite breakfast spot.
Terry's Café
Borough
For one of the best Full English breakfasts in London, you simply have to visit Terry's Café on Great Suffolk Street. The café was founded by Terry in 1982, a former butcher in Smithfield Market. Sticking to its roots, the café continues to source its meats locally from the market.
The café started as an casual eating spot for working men – builders and construction workers – to enjoy a filling breakfast before the work day. The café preserves its rustic atmosphere and remains a favorite place to eat for locals.
Unsurprisingly, the full English breakfast is the most popular meal. The café is known for serving gut-bustingly large portions to keep you going all day.
There's also outdoor seating to enjoy your breakfast on those rare lovely London mornings.

Florentine Restaurant
Waterloo
Foodies do their best to keep Florentine's reputation as one of the best breakfast spots in London under wraps because it's just so damned good.
There's plenty on the menu but there's no doubt that the giant ostrich egg Full English is the star of the show. The exaggerated take on the full English breakfast includes a large ostrich egg with gooey yolk in the center of the plate surrounded with bacon, bread, sausage, grilled tomatoes, Portobello mushrooms, and a side of baked beans.
This isn't any ordinary breakfast though. It's so large that it's recommended to share between at least four people – even so there's plenty of food for everyone.
The signature breakfast costs £75, and you must request it in advance to wait on a proper egg. Go hungry.
Chiltern Firehouse
Sometimes you just need a delectably delicious breakfast in a swanky setting – to hell with the cost – and in those times, you need to put Chiltern Firehouse at the top of your list.
It's no secret that Chiltern Firehouse has become one of the city's coolest eating spots. Located in a renovated old red brick fire station, it's a suitably plush place to treat yourself – not to mention the fact that it's a celeb favourite and you never know who you'll spot over your coffee.
With a menu crafted by Michelin-starred chef Nuno Mendes, breakfast here focuses on fresh ingredients and flavours.
Regency Café
Regency Café opened in 1946 and has continued to be a local favourite pretty much ever since so it's probably safe to say they know how to make a killer breakfast dish.
It's named after its prime cornerside location on Westminster's Regency Street. Its widespread popularity can have its line extending out the door, filled with locals and tourists.
The cafe was voted one of the top restaurants to eat at in London. Some people come for the great food and service, others come to enjoy the café ambiance, others just to ogle the straight up fabulous art deco interiors that make it one of the most photographed cafes in London.
Like most cafes, Regency Cafe takes breakfast very, very seriously – for bargain prices, you can enjoy some of the best fry ups in town.
Avobar
There's no denying the fact that the humble avocado has elbowed its way onto the breakfast menu and is here to stay. Little surprise then that there's a whole restaurant – Avobar – dedicated to our fave fatty fruit.
Avocado is paired with a host of superfood ingredients for stellar California-influenced dishes at this Covent Garden gem.
The restaurant is great for conscious eaters, with all of the food ingredients sourced from ethical farms and locations. It also promotes sustainability.
You can enjoy the all-day brunch menu at Avobar for a great selection of superfood-influenced dishes. Some of the must-try menu items include avocado-topped toast, Matcha pancakes, or popular bowls filled with a mix of your favorite ingredients.
The Breakfast Club
Various
The Breakfast Club has been shining a beacon for delicious breakfasts in London since 2005. It all started with the Soho branch, before it started popping up all over the city.
Be sure to arrive early as the delicious 'Brekky' menu lasts until noon. The restaurant gets crowded with hungry breakfast-goers with lines reaching outside – it's definitely worth the wait.
The Breakfast Club has breakfast for everyone! It's an American-style diner with options like the All American pancake breakfast, waffles, breakfast sandwiches, bowls, Benedicts, and oats. You can also find the local favorite, the Full Monty, which comes in a Full Vegan version as well.
Borough Market
As one of London's best markets, it makes sense that Borough Market also happens to be one of the best places to have breakfast in London. The vast marketplace features food vendors selling everything from fresh ingredients to street food snacks to prepared meals.
You can stroll aimlessly throughout the market in search of a worthwhile meal, but to save you some time, set your destination to Maria's Market Café. It's one of the most popular breakfast eateries in the market and attracts locals and tourists.
You'll be full from the hearty breakfast, where you can get a fried egg, black pudding, bacon, and the signature bubble and squeak dish. There are also small tables for dining in.
If the queues are a bit long, take your pick from nearby options such as the Northfield Kitchen or Monmouth Coffee.
Palm Vaults
Hackney
I'm betting that the first thing you'll notice about the Palm Vaults café is the incredible aesthetics and décor. Located in Hackney, it's one of the hippest cafes in London – it's designed straight from the '80s with lots of pink color accents and exposed brick detailing.
As if the beautiful décor isn't enough to keep you around, Palm Vaults also serves up a delicious breakfast. It caters to customers seeking healthier breakfast options such as avocado toast, breakfast bowls, and vegan options.
Palm Vaults has some of the most Instagramable food in London, with a decorative presentation representing a combination of art and flavor.
Oh, and they do brilliant coffee too. Winning all round.
E Pellicci
Bethnal Green
Family-owned E Pellicci is one of London's best greasy spoons – in fact, it's been a favorite destination for locals for over a century.
E Pellicci is an Italian-style café with an Italian and English-inspired menu. It's famous for serving an authentic full English breakfast – Cumberland sausage, egg, bacon, mushrooms, tomatoes, and your choice of fried bread or toast.
Don't forget to order a cup of authentic Italian coffee.
The small café gets packed every morning, so there's a chance of sharing a table with a few locals enjoying the same breakfast. It's a great place to feel the local atmosphere with lots of small talk and conversations all around you.
The Coach
Clerkenwell
The Coach gives off old London vibes with an updated look when you dine in at the restaurant for breakfast. It has selective breakfast hours – served Monday-Friday from 8 am to 10:30 am, and Saturday from 8 am to noon.
Located in London's city centre in the Clerkenwell neighborhood, The Coach offers a comfortable atmosphere and excellent food. Even more, the pub-style diner also includes exclusive accommodations for a bed and breakfast experience in London.
Customers can enjoy a range of breakfast options from the signature Coach breakfast, its take on the full English breakfast, or a quick meal of porridge and fresh fruit. The Coach also serves tasty, freshly-brewed coffee.
Dishoom
Various
Dishoom exploded onto Londoners' radars a few years ago and has been popping up in ever more locations across the city including Shoreditch, King's Cross, Carnaby and Covent Garden ever since.
The most popular meal at Dishoom is the Bombay breakfast. They serve a variety of breakfast naan rolls, stuffed with your choice of breakfast meat and a fried egg. They also serve made to order omelets and delicious Chai tea lattes.
Where to Find the Best Breakfasts in London – Map
Love This? Save and Share on Pinterest!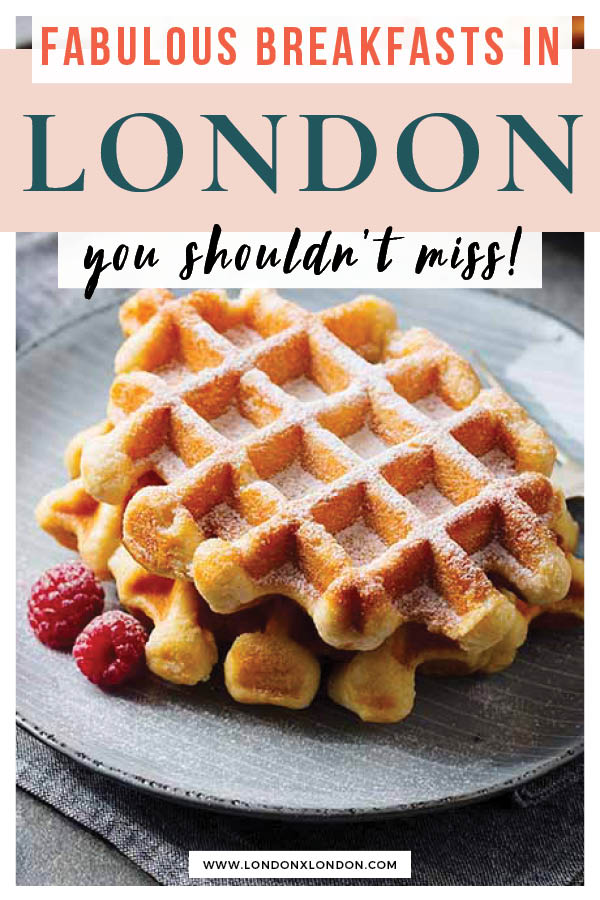 Looking for More London Food Guides?
Check these out…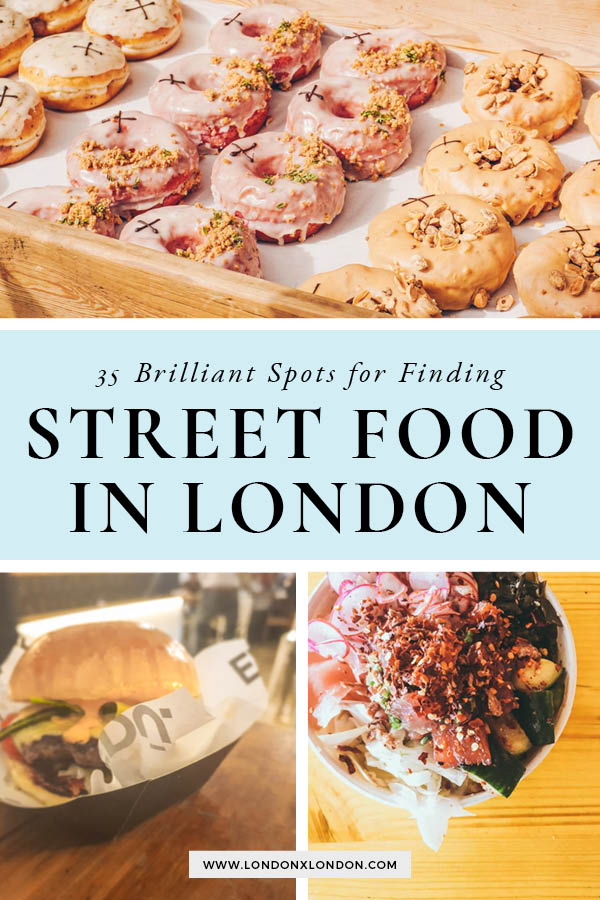 The London Street Food Guide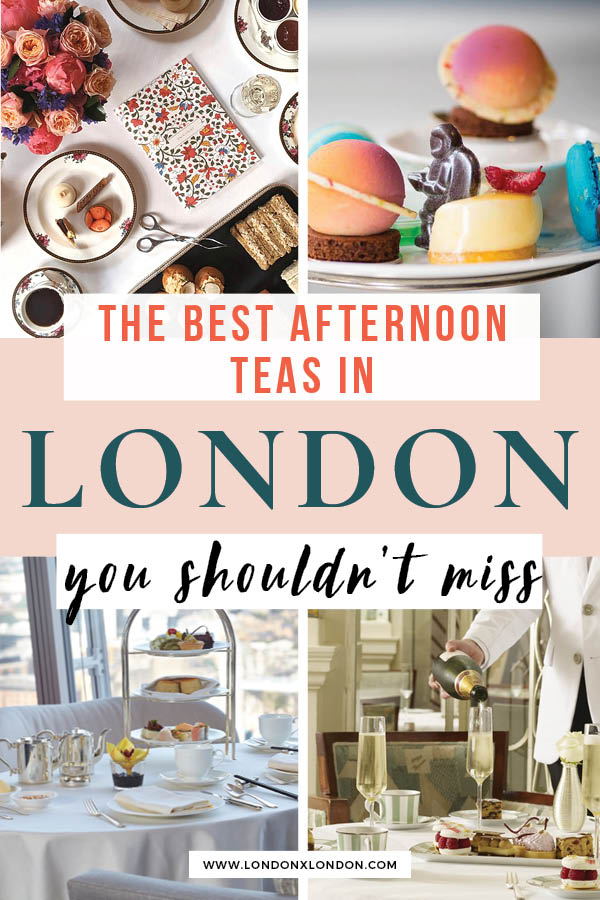 Best Afternoon Teas in London