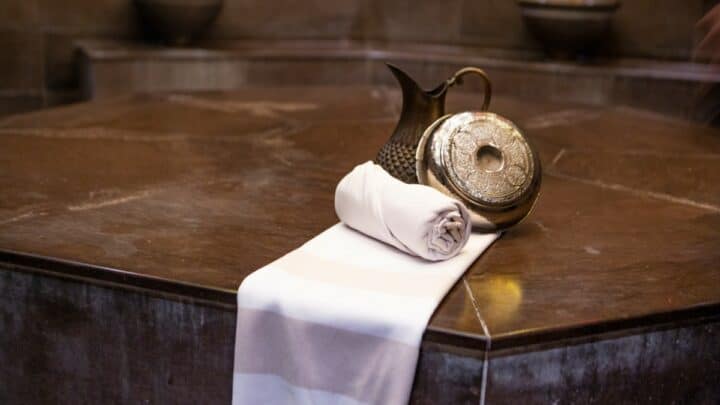 Looking for the best hammams and Turkish baths in London? Sweat your stresses away at one of these fabulous London spas.
We'll let you in on a little secret that not many people know: London is home to some of the best hammams and Turkish baths in the world. Well, outside of the Middle East, anyway.
Historians don't know the exact reason why people suddenly started to bathe indoors, but the influence came from the Roman bath concept (both in architecture and concept). They adapted it to Turkish tastes, and voila – in comes the hammam.
Public hammams are a huge part of Middle Eastern culture, both socially, spiritually and simply to relax. There's so much magic and tradition hidden in the hammam's, and it's the perfect way to do something a little different in London.
Ready? Here's the hottest guide (quite literally) to the best hammams in London.
Best Hammams & Turkish Baths in London
Porchester Spa
The most authentic Turkish spa experience you'll get in London, by a mile. Situated in the most stunning 1929 building, visiting The Porchester Spa is like stepping into a little slice of history.
Said by locals to be the hottest steam in London, Porchester spa is a no-nonsense hammam boasting three hot rooms and one plunge pool to cool down in between the heat, and plenty of chill out areas.
The best and most affordable Turkish bath in West London – but be warned, this isn't your usual fluffy towels and white slipper experience. It's rejuvenation-focused, authentic and an absolutely brilliant hammam spa in London.
The Beaumont Spa
Now, if you're in the mood for a little more glitz and glamour, The Beaumont Spa at the Beaumont Hotel is for you. It's Art Deco, intimate and sleek AF.
Head to the spa and circuit your way around the steam room, sauna, marble plunge pool, and warm hammam slab, as well as a couple of treatment rooms and a stunning relaxation area.
Massages, body treatments, mega therapeutic facials – you will leave a totally different person and feel like you're floating on a cloud (until you get outside and are reminded you're in London by all the traffic and buses).
You can also opt for the complete beauty experience (includes hair styling, nails, the whole shabang). We'd advise starting small and just head in for a sauna, don't get too carried away on your first time…we know it's easy to do.
Casa Spa
Edgware Road
The best women-only Hammam in London! There are plenty of reasons why you'd want a single sex Turkish bath experience, and Casa Spa has got all your needs covered.
The stunning spa offers traditional Hammam rituals, as well as tailored ones just for you. The authentic hammam and ghassoul rituals unveil the purifying and detoxifying secrets that Moroccan women have enjoyed for many centuries.
You can combine your hammam spa London experience with a black soap body scrub for cleansing and leave with the softest skin known to man, or go for a relaxing mud mask to draw out those toxins.
Le Kalon Spa
South Kensington
Inside the Bentley Hotel, Le Kalon Spa is a wonderful place to relax and sweat away any of your daily stresses.
Proudly authentic with a marble Hammam, Le Kalon Spa has kept its rituals as traditional and true to its roots as possible. You can choose from a list of packages all with the aim to de-stress, cleanse and rejuvenate.
You can also opt for a private session in the marble hammam if you're seeking a little alone time – a rarity in the buzzing capital. Make sure you book as the spa operates by bookings only.
New Docklands Russian Banya & Steam Baths
Canning Town
Started in 1977, these baths have a very strong presence in the boxing community though anyone is welcome. Although not purely Turkish baths, these baths are one of the last standing bath houses in London and definitely worth a visit for the history alone.
If you've never seen a hilarious video of Russian banya – which features the relaxee adorning a fetching hat whilst being pelted by leaves – you're in for a real treat. It's bizarre, but go with it. It truly is relaxing.
This spa also offers hammam-style steam rooms as well as indoor and outdoor plunge pools. Known for its tradition, simplicity and very hot heat, these guys claim to be the most authentic DIY spa experience in London.
The Spa
Pimlico
The Spa has luxury and over-indulgence written all over it, and we're not complaining.
The incredibly luxurious spa is inspired by the essence of Morocco where guests are immersed in both the history and benefits of purifying rituals. Guests can even experience a mix of both ancient and modern philosophies and therapies.
You can experience Moroccan hammam, rhassoul, and salt-infused steam rooms with all sorts of treatments, as well as mineral rich water drawn from the only working artesian well in Westminster. It's worth it just for the water if you ask us.
Akasha Holistic Wellbeing Centre
Piccadilly Circus
Over at the Hotel Cafe Royal, Akasha is more of an all-round wellbeing and spa as opposed to just hammam central. In this wonderful spa, you have the options of 9 different treatment rooms including a double treatment Akasha suite.
Akasha is also home to London's first Watsu pool for tailored hydro-treatments and guided meditation. With a West-meets-East mentality, Akasha Holistic is a palace for all things well being – with a wonderful hammam, too.
The Old Hammam & Spa
Edmonton
The Old Hammam & Spa is North London's top spa experience. This hidden gem offers luxury and comfort in one, with unforgettable authentic Persian/Turkish hammam and multiple treatment rooms.
This spa follows the traditional routine, starting off with a hammam room session and followed by a scrub and a truly-indulgent massage. This is, without a doubt, the best Turkish hammam London has to offer.
Practical Tips for Booking a Hammam in London
A luxurious spa retreat and an authentic hammam experience will be totally different. Make sure you know what to expect from your treatments before you book.
An authentic hammam experience will follow a series of steps: introduction to the heat, the steam room portion, rinse, and scrub. Prepare to feel totally rejuvenated.
Hammam Spas London: Map
Discover More London Wellness Guides