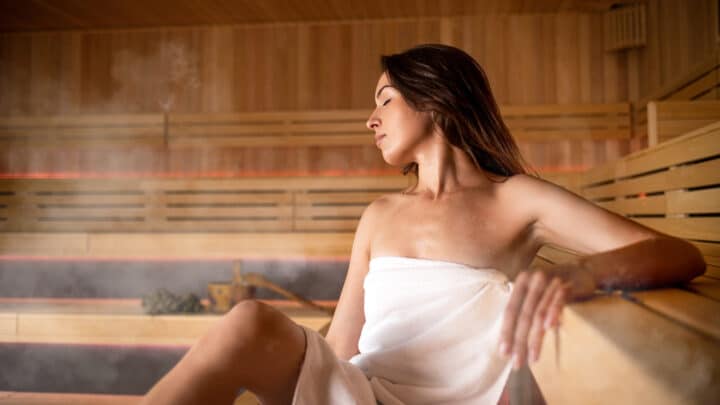 Looking for the best saunas in London? Clear your calendar, as the capital's top saunas will have you hot and heavy for a good ol' pamper session.
Whether it's pounding the pavement to see the top London attractions or the daily hassle of getting through the day unscathed, you deserve a little pick-me-up. And what better way to alleviate stress than by squeezing it out of you in sweat form?
From cosy nooks in actual churches (yes, really) to luxurious spas in the city, saunas in London are available in abundance.
Unsure where to find the sweaty self-care sanctuaries of this city? Read on to discover the very best.
Best Saunas in London
K Spa
Kensington
A pampering establishment that's a top contender for one of the best stress-free sanctuaries in London, you'll need a mere hour at this place to feel its healing effect.
K Spa has a Scandinavian style sauna with a wonderful aroma to transport the most stress-out individual into a state of pure bliss. We've even stayed at the hotel, which you can read about here.
Spoiler: We loved it.
Price: £30 for access to the spa facilities if you have not booked a treatment.
Finnish Church in London
Rotherhithe
While generally known for being a place of worship for individuals of Finnish descent, the Finnish Church in London also has a beautiful sauna in its midst.
The Finnish refer to this practice as the löyly, which refers to the heat and steam rising from the sauna stove. With options of a private or public session, you'll be able to alter your sweat-induced session to your liking at this Finnish sauna in London.
Price: £10 per person for a public session.
Banya No.1
Hoxton
A spa and health club that is sure to knock your socks off (and into some fluffy slippers), Banya No.1 is the ultimate choice if you're looking for something a little bit different.
With a unique twist on the traditional steam sauna experience, this spa features Taiga Banya experiences. This is where steam is within log cabins, called banyas, fuelled and heated by timber logs for an authentic feel.
Price: £140 in off-peak time for up to 10 people (with a minimum of two hours).
York Hall Spa
Bethnal Green
While technically situated in the York Hall Leisure Centre, York Hall Spa is an exceptional experience for individuals seeking a sauna session without breaking the bank. This session includes a 90-degree celsius room made to produce proper perspiration for a cleansing feel afterwards.
Price: £13.50 for a female or male-only session at this establishment with a sauna in East London.
Porchester Spa
Porchester Spa is an excellent choice to leave your troubles behind and immerse yourself in the wonders of a good sweat session (without the gruelling efforts of exercise).
When booking access to spa facilities, you'll gain entrance to various areas, including the sauna, which includes Turkish baths, a plunge pool, and a cafe. This allows you to turn your simple session into an entire day of tranquillity.
Price: £25.70 for full use of spa facilities.
The Old Hammam & Spa
Edmonton
A Mediterranean marvel catered to make you feel like royalty, The Old Hammam & Spa is the place if you're looking for a proper escape.
This establishment has a dry sauna on the premises, which provides a heated experience with numerous possible health-related benefits – including alleviating the muscle pain that undoubtedly comes from being crammed into the tube at rush hour.
Price: £40 per person with access to all the spa facilities.
yue float
Wandsworth
If you're looking for an infrared sauna in London, yue float is your best bet. While a traditional sauna experience focuses on stimulating the sweat glands as much as possible, an infrared experience has a different approach.
An infrared spa session is all about creating heat with the help of naturally formed light with complete control over your desired temperature. If this won't clear your looming hangover, we don't know what will!
Price: £35 for a 30-minute session.
Jubilee Hall Gym
Known as one of the best gyms London has to offer, this recreational and fitness haven is a wonderful place to sculpt your body and turn it into a calm puddle afterwards. With a handy sauna session, you'll have something to look forward to after your workout.
Jubilee Hall Gym also allows individuals to sign up for a free day trial, which will make your first sauna session on the house. Though, you'll be itching to return.
Price: Free on the one free day trial at this gym with a sauna in London.
Practical Tips for The Perfect London Sauna Experience
Read the instructions and warnings beforehand – Sauna facilities are not all the same, so be sure to read any labels or signs. This might include an advised period to remain in the chamber of steamy pleasures.
Keep hydrated – It's no secret that you'll sweat… a lot. As your body loses water, you'll want to take a water bottle in your bag to keep you balanced and prevent dehydration.
Saunas in London: Discover More London Guides
London Saunas: Map